Announcement
Culture Amp launches Develop, career development for a modern world of work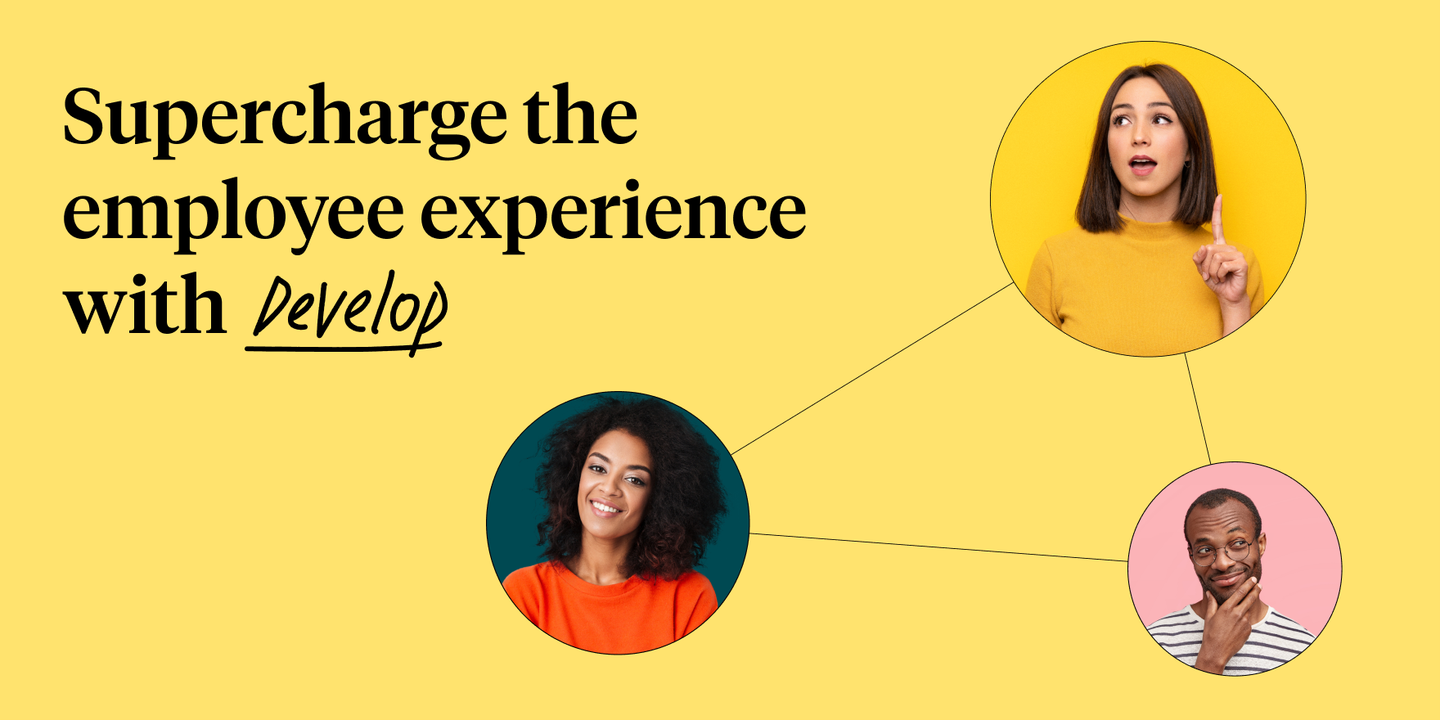 Data from more than one million employees reveals that if a manager doesn't show interest in their career, direct reports are 43% more likely to leave; and
Companies that have created a culture of development grew on average 24% points more than those who didn't
7 June 2022, SAN FRANCISCO, LONDON, MELBOURNE – Culture Amp, the world's leading employee experience platform, has today released Develop. This new set of capabilities reimagines career development for how we work today, recognizing that development must be personalized, continuous and measurable to be effective. Develop allows employees to chart their own career path, and gives managers the tools to proactively support their teams, and HR leaders the data and insights to guide effective programs.
This comes as Culture Amp data from over one million responses reveals that if a manager doesn't show interest in their career, direct reports are 43% more likely to leave, and data collected from more than three million employees revealed that companies that have created a culture of development grew on average 24.3% points more than those who didn't.
"Culture Amp data clearly shows that the number one reason employees leave is due to a perceived lack of career development. Our new Develop module guides employees and managers through a modern career development approach that we have designed from the ground up to draw upon the latest research in People Science in how to engage your people, no matter if they're clear about what they want or not," explains Culture Amp Co-founder and CEO Didier Elzinga.
"Getting development right is the biggest lever you have to retain your people and to drive engagement. What's most exciting is that our own data shows that companies that create a culture of development experience significant growth when compared with those that don't.
"Our data gathered from thousands of companies and millions of employees shows that Develop will meaningfully change the way people engage with their career paths inside their organizations, and at the same time give managers and HR teams the data and insights to help them manage development at scale ," he said.
Delivering step change in satisfaction with development
The early access program of the new Develop capabilities indicated clear outcomes. Those that participated in the pilot program saw a 30% increase in those who agreed they have a clear sense of their development goals (from 50% to 80%), and a 36% increase in those who agreed they have a clear understanding of the skills and knowledge needed to develop (from 64% to 100%).
The future of development is personalized, continuous and measurable
Culture Amp's team of people scientists draws upon 625 million data points collected from more than 5,500 organizations, and this is continuously fed back into product development. To be effective, development must be:
Personalized: Help employees see a motivating future at their company with personalized development plans. Driven by the employee and guided by the manager, Develop balances business needs with the employee's motivators and aspirations.
Continuous: Foster continuous development via easily accessible, adaptable plans. Helpful reminders and trackable development goals also encourage frequent growth conversations.
Measurable: Prioritize development initiatives and demonstrate positive impact via valuable data on development progress, focus areas and effectiveness.
Early access participant, money management platform M1 is using Develop to guide career conversations.
Liz Francis, HR Operations Manager at M1 said, "Being a first time manager and trying to not only grow your own career, but then grow the careers of your direct reports is really challenging. We're trying to get as much content and material into manager hands as we can, so they can keep growing their employees. The number one reason why people leave jobs is career growth. If you don't see a path at the company that you're at, then you're going to try and find that somewhere else."
Global Industry Analyst Josh Bersin said about Develop, "Companies have been trying to build employee development plans for years, with mixed success all over the world. What Culture Amp has done is flip the model completely and let employees explore and discover the growth they want, and then bring managers and HR into the process in a scalable way. This "individual-centered" approach is very powerful, and I applaud Culture Amp for delivering this at scale."
For more information on Develop, visit https://www.cultureamp.com/platform/employee-development.
Read the Culture Amp report, Why employee development should be HR's top priority
---
About Culture Amp
Culture Amp revolutionizes how over 25 million employees across 5,000 companies create a better world of work. As the global platform leader for employee experience, Culture Amp empowers companies of all sizes and industries to transform employee engagement, develop high performing teams, and retain talent via cutting-edge research, powerful technology, and the largest employee dataset in the world. The most innovative companies across the globe, such as Salesforce, Unilever, PwC, KIND, SoulCycle, and BigCommerce depend on Culture Amp everyday.
Culture Amp is backed by 10 years of innovation, leading venture capital funds, and offices in the U.S, U.K, and Australia. Culture Amp is recognized as one of the world's top private cloud companies by Forbes and one of the most innovative workplace companies by Fast Company.
Learn more about how Culture Amp can help you create a better world of work at cultureamp.com.