Case study
How AppsFlyer went from startup to a people-centric pioneer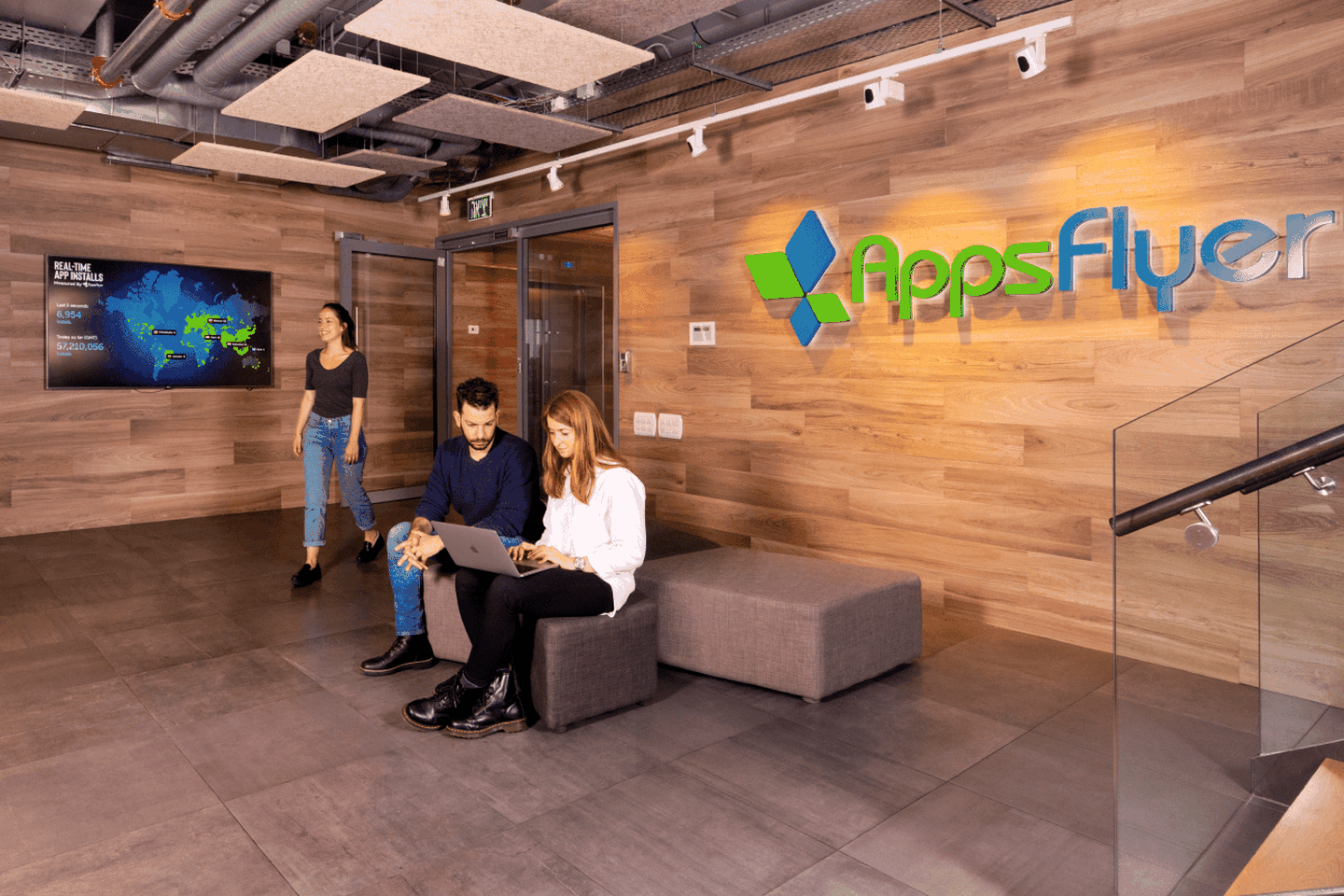 Statistics
1,400+full-time employees

93%employee participation

90%employee engagement
In 2019 mobile marketing analytics start-up AppsFlyer was about to enter hyper-growth mode and needed to amp up its approach to scaling its transparent and continuous improvement beliefs when it came to employee feedback. With 450 full-time employees at the time, leadership faced the challenge of how to manage and scale basic employee data, including ways to gain insight into employee satisfaction, measure overall engagement, and identify specific focus areas that would help the team strengthen its unique culture and values. Three years, four surveys and one pandemic later, AppsFlyer has boosted engagement, kept employees happy and empowered them to stay healthy, improved diversity and inclusion, and introduced many positive changes which helped strengthen its people obsessed reputation on a global scale. Here's how data-driven insights from Culture Amp's platform contributed to AppsFlyer's unique journey.
Challenge: Winning executive buy-in, building trust, retaining talent
AppsFlyer grew extraordinarily quickly from its startup status when it was founded in April 2011. For a long time, its culture was typical of successful startups, with the view that if employees had an issue, they could approach managers one-to-one and raise it themselves.
Generally, when businesses grow, issues arise and this model of people management needs to adjust in order to scale. Smarter tools are required, detailed metrics, and the ability to course-correct ongoing issues based on accurate data. What's more, due to the Covid-19 pandemic and the 'great resignation' wave that sprang from it, retaining top talent becomes a critical challenge for an organization lacking information on its employees.
"As a smaller company, up until a certain point the organization thought it was okay to have an open feedback loop, and if you have something to share, just go and talk to your manager or the C-level," Orit Cohen, Director of People Analytics explains. As we grew, we realized it was becoming very difficult to differentiate the noise from the signal, and to be able to segment and prioritize all the feedback we were getting – and to do this in a more structured manner, to build trust in a way that doesn't hurt the culture we have as a company.
AppsFlyer started looking at a number of employee engagement solutions, including Culture Amp.
Solution: Using Culture Amp to drive impact and thoughtful change management with multiple stakeholders
Due to Culture Amp's high Net Promoter Score and reputation in the local Israeli market, as well as its user-friendly interface, and the ability to connect to existing HR systems, it was "not a difficult decision" to pick the platform. Orit had experience with Culture Amp at her previous company and felt confident it'd enhance AppsFlyer's continuous feedback loop.
Before getting started, AppsFlyer CPO Lisa Zaythik raised concern that the anonymous responses in Culture Amp surveys were at odds with AppsFlyer's values of transparency and trust. Ironically, one of the purposes for bringing Culture Amp on board was to build trust. However, senior leadership needed convincing through a change management and stakeholder engagement program.
To achieve this, Orit asserted that anonymous feedback was essential from a psychological safety perspective - employees would be able to share their true feelings in the surveys, with the understanding that they were protected while doing so. Having explained positive scenarios around employee feedback to AppsFlyer leadership, she then proceeded to bring managers onboard that not only is it a trusted platform, but that the People Analytics Department would make sure its implementation was in line with AppsFlyer's unique culture and values.
This included bringing managers in early, to prioritize the kinds of questions that would be asked for the first company-wide survey, so they were involved from the start and could champion the new approach. Additionally, Orit led an employee-facing initiative so that employees understood what was important about the surveys, what the company was planning to do with the results, and reassurances that their data would be protected.
With these elements in place, AppsFlyer conducted its first Culture Amp engagement survey in October 2019. The outcomes soon proved the platform's worth.
When the first engagement survey was issued in Q4 2019, the company was pleased to find a high engagement score of 91% with 97% on employees feeling proud to be part of the company, and an overall participation rate of 89%. But it also learned that there was no one-size-fits-all approach to the sentiment or concerns of AppsFlyer employees.
"I think the first big 'aha' moment for the CEO and executive leadership, was to understand that people's perceptions about different topics isn't the same," says Orit, adding that HR and all relevant managers were able to fine-tune their action plans over the coming year to address these.
This was especially evident with the many offices AppsFlyer has around the world, where, for instance, the onboarding process varied. To solve this, AppsFlyer hosted roundtables, therefore improving engagement and demonstrating that the corporate office was indeed listening.
"We learned that written feedback isn't enough, so we took action from the engagement surveys and emphasized to our people what we would be doing," says Orit.
Results: Greater well-being, improved engagement, and better diversity and inclusion - all based on employee feedback
By the following survey in April 2020 and the unusual conditions created by the pandemic, AppsFlyer found that employees felt that their well-being had been taken seriously, confident that it was looking after employees and customers during the outbreak. Even though headcount had doubled to 1,000+ employees in this time, and employees were working from home, AppsFlyer pride score reached 95% favorable, and the participation score grew to 91% – and employees reported that work life, communication, and leadership were greater priorities than before. As a result, leadership expanded efforts around work-life balance and social activities so AppsFlyer employees would feel more connected.
A year and a half and two additional surveys later, social activities, additional benefits to accommodate work from home etc., were starting to have a positive impact – and despite the pandemic, employees felt more connected than before.
By the time of its most recent survey in November 2021, AppsFlyer scored its highest participation rate yet, at 93% along with an engagement score of 90%, which Orit credits to the actions that the company took as a result of using Culture Amp. Meanwhile, the platform helped AppsFlyer raise difficult conversations with underperforming managers and teams alike, so that appropriate action could be taken – more evidence that leadership was listening.
What's next?
It wasn't only engagement and employee participation that saw beneficial change. Even though the latest survey on November 2021 survey was largely positive, employees were reporting that diversity and inclusion could be improved. Although gender representation at AppsFlyer is higher than the average for tech companies in Israel, Orit acknowledges there's more to be done, including bringing women into technical and leadership roles.
As a result of the engagement survey insights, AppsFlyer has expanded its parental leave policies not only for mothers, fathers, and LGBTQ+ families, but for grandparents too.
"People vocalized their opinions, and fathers wanted parental leave. We didn't have that and now we do. We're very family oriented and we added benefits to support families of all shapes, sizes, and different stages of life."
Next, AppsFlyer hopes to promote career development, growth and internal career opportunities so that talented employees grow within the company. This includes allocating budget to each employee, so every individual can enjoy tailor-made career plans to support promotions or lateral moves – and AppsFlyer has introduced new KPIs to hold managers accountable to achieving this.
For AppsFlyer, Culture Amp has been instrumental in helping the company scale in understanding employees' feedback just as fast as it grew in headcount.
The secret? Culture Amp is a great tool for managers and HR, says Orit, but combining it with a People Analytics department has been the real "secret to our sauce": "There's only so much you can do just by handing over feedback to HR and leaders – the added value comes from having a dedicated people analytics team analyzing the insights, highlighting possible trends, and giving the feedback context. This has been hugely beneficial for AppsFlyer."
Headquarters
Herzliya, Israel
CHALLENGE
Winning executive buy-in, building trust, and retaining talent
SOLUTION
Using Culture Amp to oversee change management with multiple stakeholders
RESULTS
Greater well-being, improved engagement, and better diversity and inclusion - all based on employee feedback
Build a world-class employee experience today