How to use onboarding data to predict employee performance
Onboarding employees is a big task. You only get one chance to make a good first impression and help solidify your new employee's choice to join your company. It's challenging enough to have everything in order from day one when new hires are coming to your office, but what if they're all starting their first day from home?
For companies with an entirely remote workforce or the many who embrace remote hiring in addition to offices, onboarding employees becomes even more complex. Not only do you need to make sure they're set up logistically from afar, but you need to make sure they start to feel part of the team without ever meeting in person. 
With 800 employees working remotely from over 28 countries, InVision is no stranger to remote employee onboarding. Julie DeBuhr, Senior Director of Employee Engagement, leads the People Development team in creating exceptional experiences for their employees. 
A different kind of intimacy and belonging is created on a team of remote people, and onboarding plays a critical role in setting up their initial success – and, as InVision learned, employees' long-term performance. 
The role of employee feedback at a remote company 
In any company, employee surveys are the start of the conversation with your people. They won't replace in-person conversations, but in a company where employees are spread out worldwide, surveys are an especially integral part of driving people-based decisions. 
"We use Culture Amp to take what is often implicitly understood in an in-person environment and make it explicitly available to us remotely. While we can't rely on serendipity to connect with each other or understand what's happening across the company, we can intentionally design opportunities to truly see and hear each other—and our employee feedback platform is an important way in which we do that," details Julie.
At Culture Amp, we often talk about the process employee feedback loop as consisting of three steps: collect, understand, and act.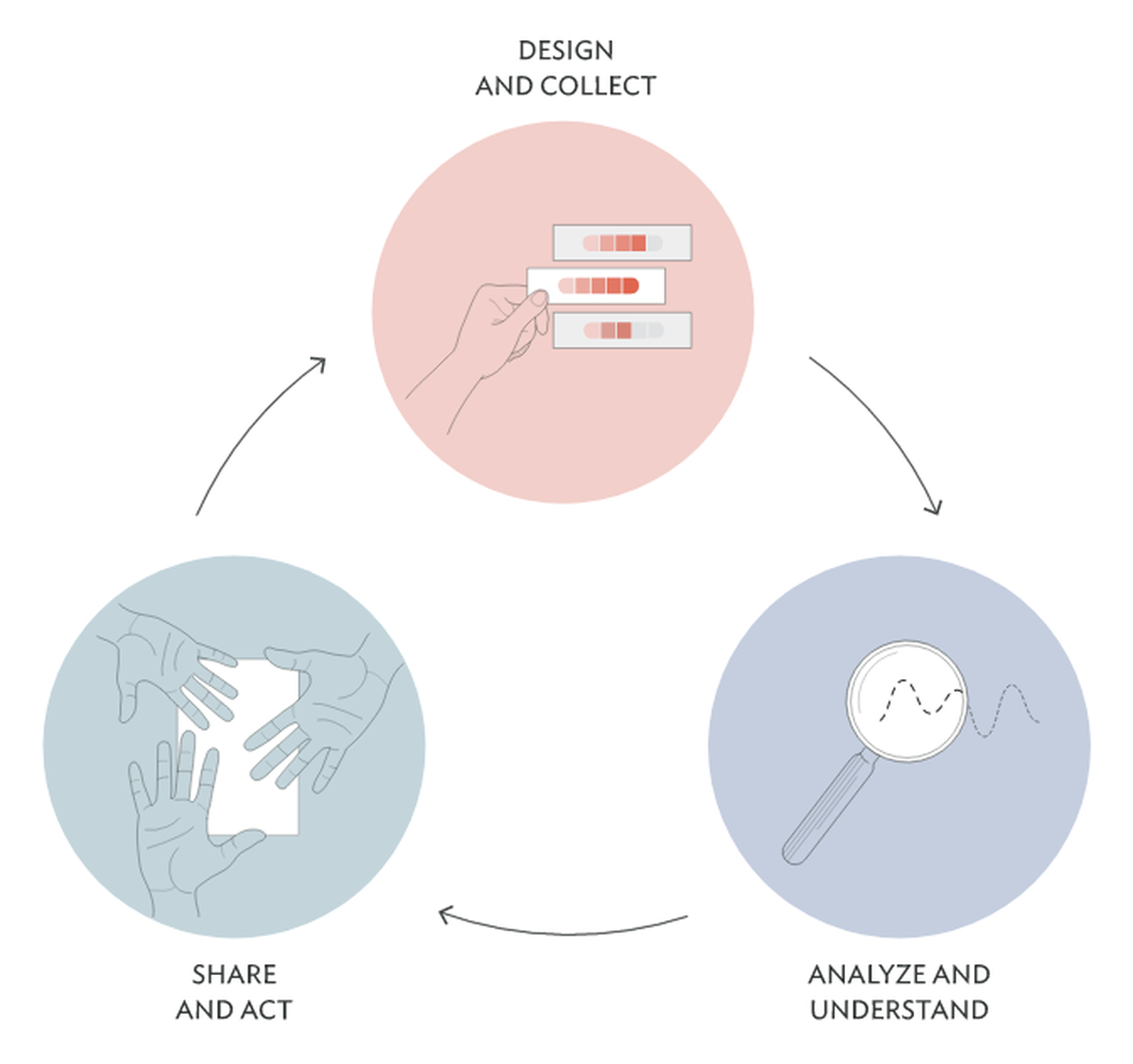 An onboarding survey, an engagement survey, a performance review, or any other feedback collection tool is simply an input into your strategy. Helping you understand those data points and how they work together is the job of an employee experience platform like Culture Amp. By consolidating data and surfacing the insights you need to take action, you can easily and directly take action where it's needed and most effective. 
When employees know they have multiple channels to provide feedback and see action being taken because of their feedback, they're more apt to buy into the system, creating a virtuous cycle. This is particularly true for remote employees, who have few other avenues for delivering their thoughts.
How to predict when employee performance is at risk
At InVision, the HR team wanted to know how their onboarding program, known as Xenia, influenced employee performance down the road. With this knowledge, they could then take action to drive greater success earlier in the employee journey. 
Using Culture Amp's Performance and Engagement tool alongside our Foresight Engine, InVision was able to access unique insights that they would not have been able to before.
By connecting their employee onboarding data with their performance data, they found three key risk factors that can hurt employee performance:
1. Are employees feeling productive?
New hires who responded favorably to the onboarding survey question, "I am feeling productive," were 4.2 times more likely to be high performing (vs. low performing) at their 1-year mark. 
Julie recalls conversing with a new hire who had mentioned not feeling productive in her first few weeks. While generally an action item to follow up on, the new insights from their employee feedback platform increased the need to address it fast. Julie knew that setting up a meeting with her to identify ways to capture quick wins could help improve that employee's engagement and increase the likelihood of her future success at InVision.
2. Is employee induction thorough and effective? 
New hires who responded favorably to the question, "My induction program was thorough and effective," were 3.8 times more likely to be high performing (vs. low performing) at their 1-year mark.
Onboarding at InVision is a week-long program that is designed to give new hires a solid foundation on company culture, community, remote life, and design.
"Xenia is hosted in a way that feels real to 'InVision life,' where new hires are welcomed as whole human beings and are invited to break through the screen as their most authentic selves," says Marie Kretlow, Senior Experience Designer, People at InVision. 
Julie adds, "You get out of training what you put into it. In order to get a lot out of training, you have to be fully engaged and committed. If you're disengaged, that carries through to your success over time. We want to make sure we understand when and where new hires aren't connecting well with the training methods. The onboarding survey helps us do that."
3. Does the new hire's experience match their expectations? 
New hires who responded favorably to the question, "My experience of the organization has matched my expectations," were 3.1 times more likely to be high performing at their 1-year mark.
Working remotely can sometimes seem like the ideal option – you can work from anywhere, are likely to have flexible hours, and don't have to go through a commute! However, there are real challenges that can come with remote working, and it's not the right fit for everyone. 
After seeing unexpected levels of turnover 6-12 months in, InVision needed to investigate. Data from this survey question and others highlighted a mismatch between expectations and reality (i.e., that remote life can sometimes feel disconnected and isolating). InVision has since refined their recruiting messaging to provide a more realistic preview of remote life. 
The value of connecting performance and engagement data
Collecting, understanding, and acting on employee feedback is not a "one-and-done" initiative. At InVision, they know more insights will come from their engagement and performance data. 
"I'm sure that my team, with Culture Amp, will find that there are more examples of these critical moments along the employee journey. Where we can see how putting effort into developing something extraordinary for each team member has a huge payoff. That's what I'm really looking forward to diving into next," says Julie.
Build a world-class employee experience today