Retention Insights: A tool for retaining high-performers
We work with over 100,000 HR practitioners globally, and almost all of them struggle with retention. We've heard countless times that replacing high performers is a nightmare – not only because it costs 2x their salary upfront but also because the overall cost of disrupted productivity among remaining employees is even higher.
While companies keenly understand the cost of turnover, very few are able to connect all the data they need in order to accurately predict and prevent it.
Today's organizations face three main limitations:
Inability to slice-and-dice data to understand different groups. Companies aren't able to access the level of detail they need to understand the experience of different groups as it relates to retention/turnover. For example, most companies want to know if their high-performers will likely stay or leave, but they can't access this data at the group level.
Difficulty combining and analyzing the data. Although companies have access to a lot of data, they can't comprehensively analyze it to get the insights they need. They have access to their actual turnover numbers, data from employee surveys, as well as benchmark data – but they can only look at each source individually. When organizations have the ability to combine and analyze multiple data sources, they uncover important group trends and can more effectively predict and prevent turnover.
Limited people data expertise. Even when HR can ask other teams to integrate these data sets, those teams are not people data experts like you. As a result, the process is painful and inefficient and produces dashboards that are rarely fit for your purposes.
And the worst part of all of this? The absence of trusted data on the risks and drivers of turnover for specific groups has made it almost impossible for HR leaders like you to generate and maintain leadership buy-in for your retention initiatives.
Introducing Retention Insights
The product teams and People Scientists at Culture Amp are thrilled to introduce our latest tool. Retention Insights is the only solution that helps you predict and prevent the turnover of high-performing employees – before it's too late. We designed this tool to help organizations overcome the limitations listed above, and we're beyond excited to offer it to our Engage customers.
With Retention Insights, you can identify the earliest turnover warning signals and predict which groups are at risk and why. This allows you to drive leadership focus and buy-in for the actions that will keep your most valued people working productively at your company. Plus, you can do all of this from one easy-to-use dashboard that surfaces comprehensive answers to your previously unanswerable turnover questions.
Best of all, Retention Insights is proven to work. Customers using our approach to target the multifaceted needs of key groups have reduced regrettable turnover by up to 50% in those areas.
Here are three ways you can harness the power of Retention Insights to drive your employee experience strategy forward:
1. Prove the value of your engagement program with Retention Trend Analysis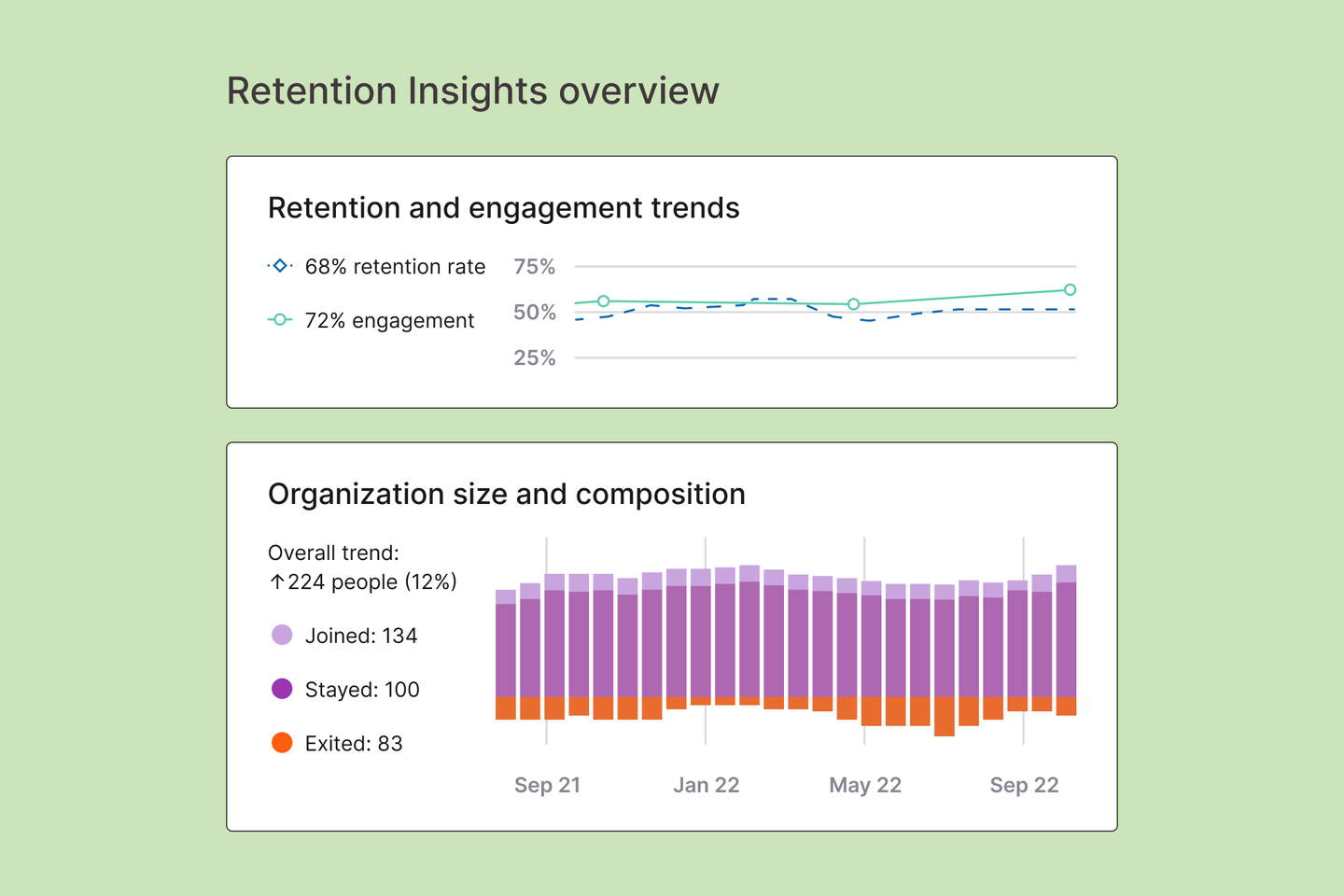 Retention Trend Analysis brings your HRIS and survey data to life, enabling you to visualize key trends and relationships like never before. Now, you can clearly demonstrate how the employee experience drives retention and sustainable growth in all parts of your organization over time. By helping everyone understand the link between engagement and retention, you can not only prove the value of your existing employee engagement programs, but also elevate these initiatives as business critical priorities for leaders and managers across your company.
2. Prevent future turnover by tapping into Commitment Motivators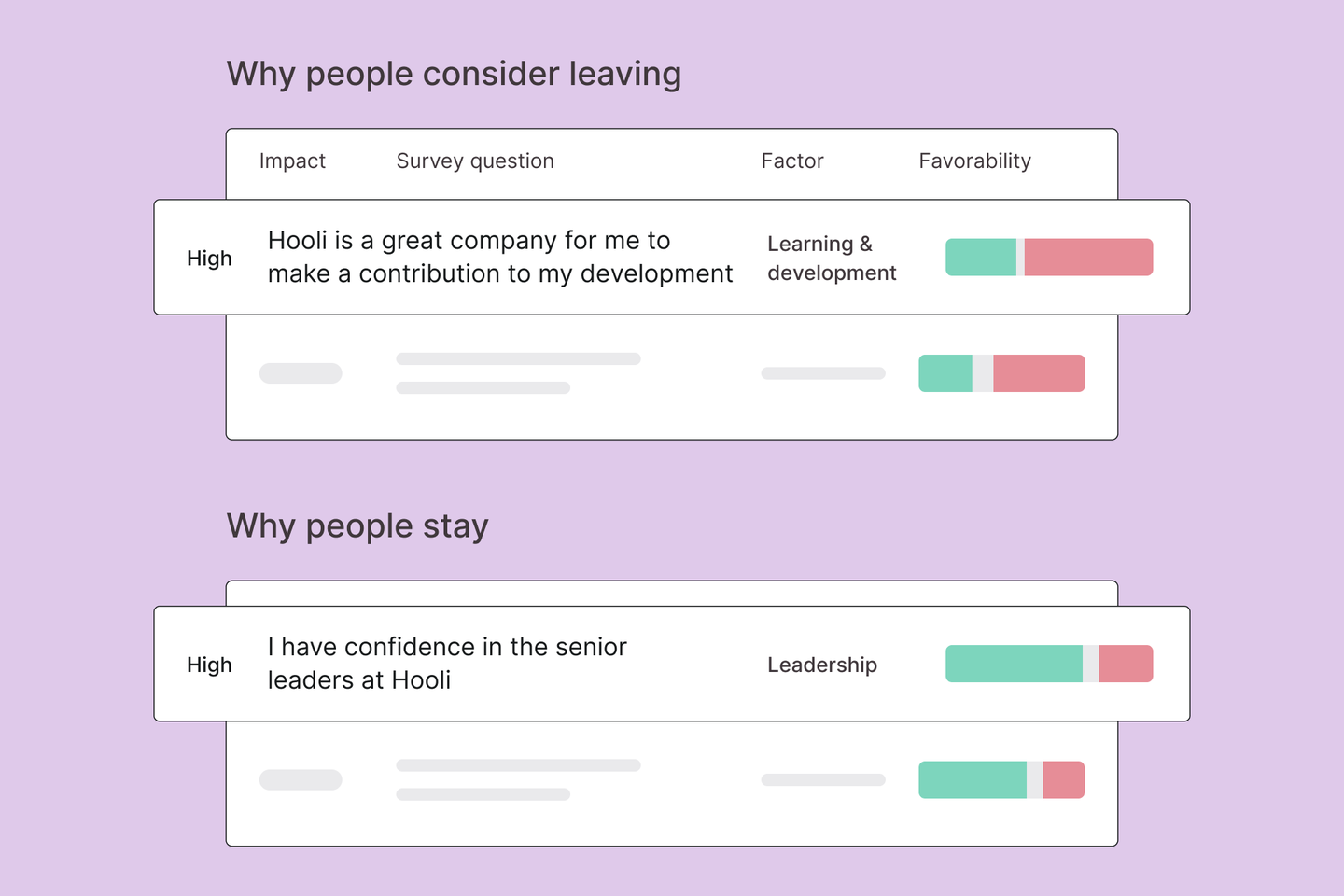 Commitment Motivators empowers you to answer turnover questions you could not answer before. Now, you can identify drivers of both retention and turnover for any group of 25 or more people. This new and unique functionality combines employee and turnover data with data around intention to stay and desire to leave. The resulting analysis will help you accurately predict and prevent future turnover across every group in your organization.
The Commitment Motivators functionality lets you learn which aspects of the employee experience motivate different groups to either stay or leave. Use it to precisely target your retention initiatives for maximum impact.
3. Drive focus and accountability among leaders using Group Turnover Analysis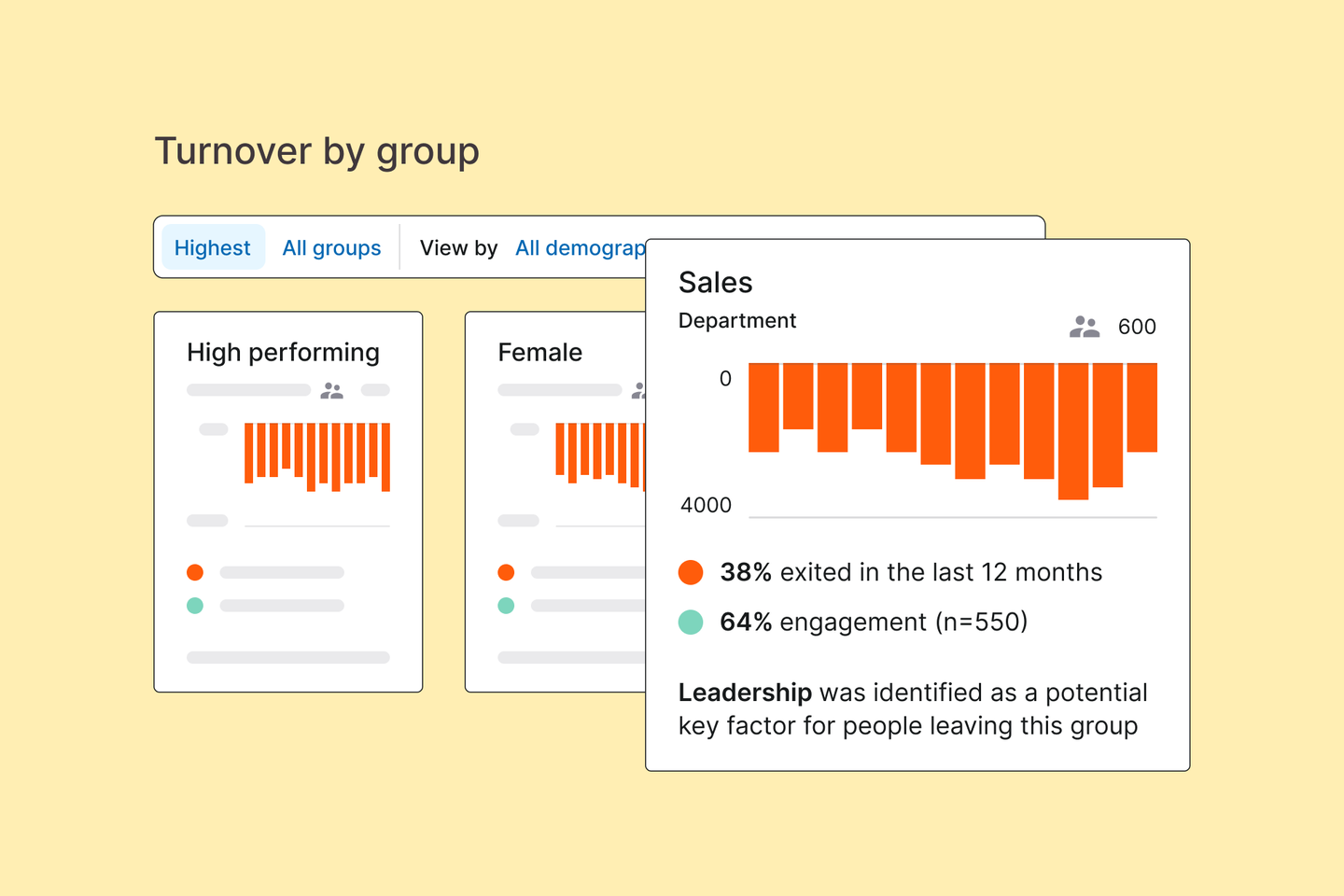 With Group Turnover Analysis, you can quickly diagnose and monitor turnover issues for key groups. This allows you to hold leaders across your organization accountable for focusing on the right things and driving action within their area.
For example, one HR team used Group Turnover Analysis to present their Chief Sales Officer (CSO) with retention and turnover insights for high-performing Account Executives in all locations. They were able to show the CSO exactly where they risk losing the most high-performing salespeople and why. HR then strategically partnered with this key leader to help drive the action necessary to mitigate future turnover in this area.
The tool combines data from across the organization to help you identify where new initiatives are likely to have the biggest impact and exactly which targeted strategies will reduce future turnover. You can also pinpoint and celebrate the retention initiatives that have been the most successful. Use the insights to secure the buy-in necessary to take effective action that will prevent future turnover.
Retain your high-performing employees with Retention Insights
We know that the retention of key groups is one of the most important challenges companies currently face. With competition for talent raging against a backdrop of persistently tight labor markets, holding on to high-performing employees and key leaders has never been more critical to your company's success.
We're here to help you tackle this challenge with our latest product innovation. Retention Insights is the only solution in the market that:
Provides you with the earliest actionable turnover signals for groups across your organization.
Leverages sophisticated analysis – combining employee and turnover data with data around intent to stay or leave so that you can uncover the most important group trends.
Empowers you and other leaders across your business with a comprehensive, people-science-informed framework for combining HRIS and survey data to accurately understand, predict, and prevent future turnover.
At Culture Amp, we've helped more than 100,000 HR practitioners from around the globe build a better world of work. And most often, that starts with retaining critical employees. Reach out to us now to learn how we can help you predict and prevent the turnover of your most valued employees before it's too late.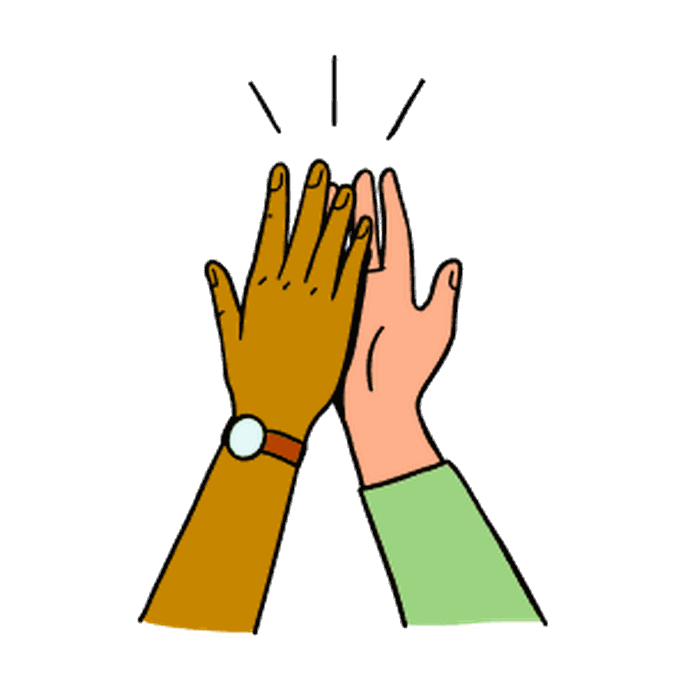 Stop turnover in its track with Culture Amp
Book a demo
Build a world-class employee experience today