How to write employee wellbeing survey questions
Measuring wellbeing in the workplace is possible, and it's important. You can look at sources like absenteeism, sick days, productivity, retention, and employee feedback to gauge the wellbeing of employees at your company. With the rise of in-house people analytics capabilities, companies can take this analysis further with employee wellbeing surveys.
Most employee wellbeing surveys tend to only focus on two components: measuring individual wellbeing levels and evaluating the benefits of various initiatives. But understanding wellbeing requires more than that just that. We suggest measuring these five components to understand the factors that might be supporting or hindering the wellbeing of your employees:
Company
Culture
Manager
Individual
Programs
Asking a few questions in each category will get you an overview of wellbeing at your company. Using the feedback from your employees, you can take action where needed and ensure everyone's wellbeing is supported. Now, let's look at a few example wellbeing questions that you can use to address each of the five components.
Company: Is your organization dedicated to employee wellbeing?
For employee wellbeing initiatives to be most effective and sustainable, wellbeing should be a priority for your company and not simply championed by a wellbeing group. Most importantly, this means that the wellbeing of employees is considered when discretionary budget decisions are made around performance, work environment, and rewards.
These questions can help you to understand if employees believe that the company cares about their wellbeing or if they think the company is just paying lip service:
[My company] demonstrates a commitment to the wellbeing of employees.
I believe employee wellbeing is a priority at my company.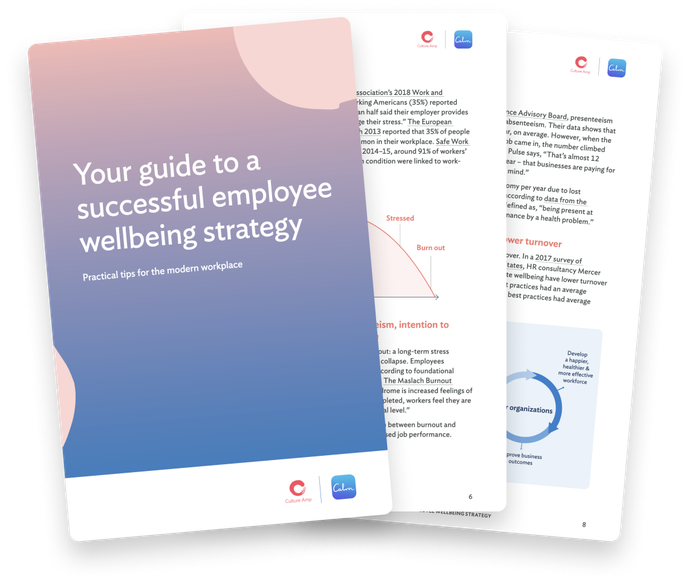 Learn how to create an effective wellbeing strategy
Get the guide
Culture: Does your culture support employee wellbeing?
No matter how strong your wellbeing initiatives are and how many resources a company is willing to put towards it, your wellbeing efforts will fall flat if the culture doesn't support them. Consider the scenario where a company provides an on-site gym and encourages employees to use their lunch breaks or finish work early to exercise. Yet, a new employee who is excited to take advantage of this benefit might notice that none of the managers do this, and important meetings happen during suggested "exercise times." Thus, new employees might end up following the manager's lead and reinforce the tendency of deprioritizing wellbeing.
These questions can help you to understand if your employees feel the company culture supports their wellbeing:
Managers: Do your managers care about wellbeing?
According to our data, whether a manager cares about an employee's wellbeing is one of the top 10 drivers of engagement for tech companies. Companies with managers that prioritize their direct reports' wellbeing experience significantly different engagement scores than companies that don't - even if these companies are doing similarly great on other aspects of engagement.

Ask this question to understand the relationship between managers and employees when it comes to wellbeing:
My manager genuinely cares about my wellbeing.
Individual: How are employees' personal health and wellbeing?
This section is intended to understand how people are doing in the organization overall. Often, this is the only thing an employee wellbeing survey will measure, but you need to understand the other four aspects to get a holistic image of wellbeing. It's also essential to remember that companies also have a moral imperative to act when asking questions about personal wellbeing. In other words, don't ask a question unless you expect to be able to take action to improve on it.
These are personal wellbeing questions you can ask:
When I am stressed, I feel I have the support available to help.
I tend to bounce back quickly after challenging times.
I usually feel I am making progress at work.
Programs: Are organizational initiatives driving value?
This is the piece that most companies get excited about. Wellbeing programs are tangible and actionable ways to demonstrate that your company cares about wellbeing. Collecting regular feedback about your wellbeing programs ensures that you are providing the most valuable initiatives for your people. A great way to approach this from a data perspective is to list your current offerings and simply ask employees which one they get the most value from.
For example, you can ask this question:
I get the most value from these wellbeing initiatives.
(List and ask to select up to 3)
You can also ask about future initiatives and whether employees believe they have the tools to manage their stress and wellbeing.
Lastly, it is great to include core engagement questions in your wellbeing survey. This helps you understand if wellbeing is driving engagement.
Build a world-class employee experience today