DEI in 2022: Key trends and findings
Now, more than ever, organizations are beginning to recognize the urgency of advancing diversity, equity, and inclusion (DEI). While many companies made racial justice commitments in the summer of 2020, few have made meaningful progress beyond hiring some DEI staff and making small investments in programming. The urgency has never been greater: the workforce of the future is more diverse than ever, and Gen Z is heavily prioritizing company values in their employment decisions.
So the question becomes: what should companies be doing to accomplish more effective and measurable change? While the challenges to building a representative workforce and an equitable culture are complex, they are not insurmountable. Culture Amp's latest research shows that while many companies are making commitments, they're often not collecting data on these issues, strategically investing in programming that actually moves the needle, or holding their leaders accountable for change.
In this article, we lay out the key trends in the DEI space and share where companies should be investing to drive true, structural change.
Key trends in the DEI landscape
Below, we share six key DEI trends, which we've compiled from our 2022 Workplace DEI Report.
Companies "value" DEI, but aren't investing at the right levels to drive change
Our research shows that while many companies believe that DEI is valuable, leadership is not investing adequate resources to create significant change.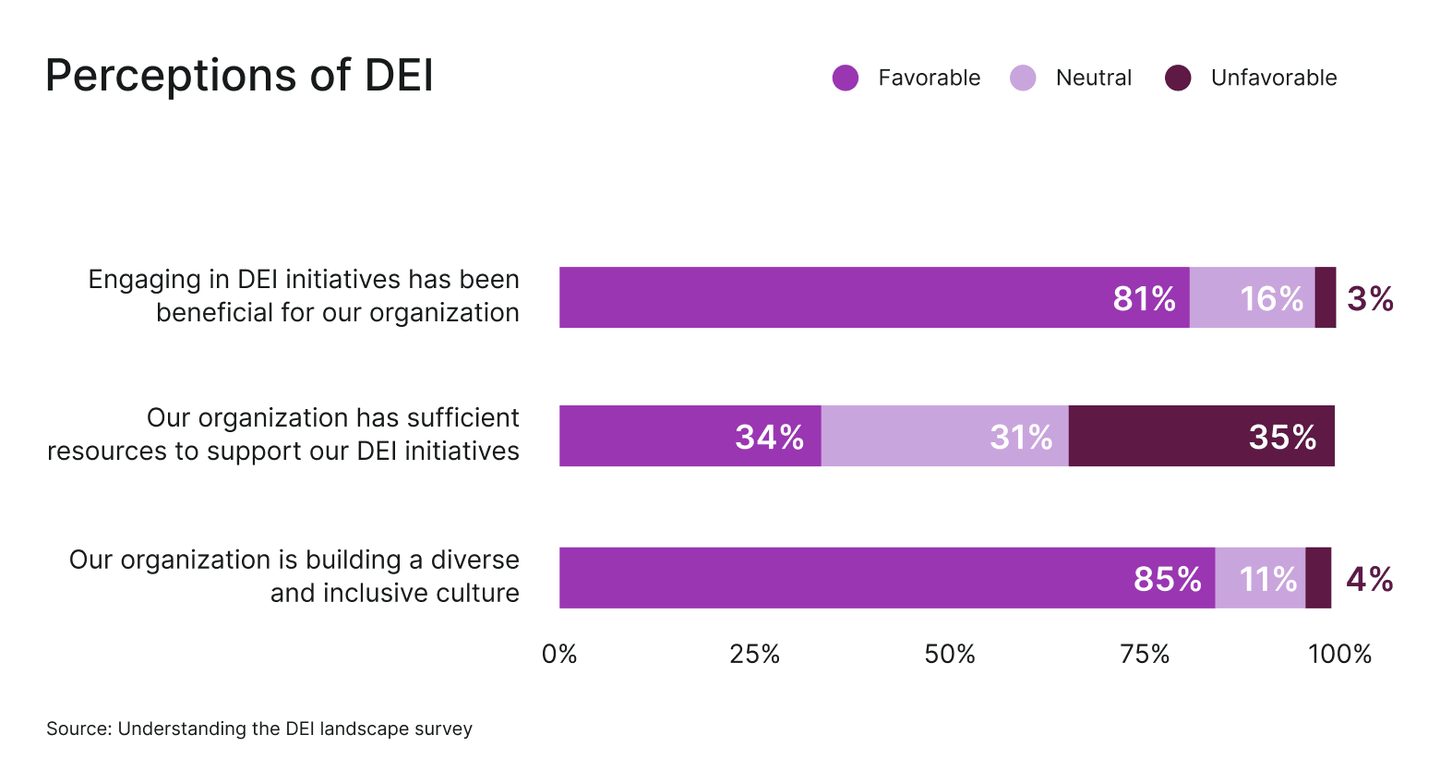 In our survey of HR and DEI practitioners, 81% reported that they believe that DEI initiatives are beneficial to their organizations. Yet, only 34% of respondents reported having enough resources to support their DEI initiatives. Surprisingly, despite lacking resources to drive change, the overwhelming majority (85%) of respondents agreed that their organization is building a diverse and inclusive culture. While this might reflect that companies are getting "credit" for high-visibility actions like making diversity commitments, the low level of investment means that change is unlikely to be substantial or sustainable without additional resource allocations.
Though organizations are making commitments to DEI, they aren't necessarily making it a strategic priority.
While 63% of companies reported hosting events and DEI-related discussions, only 50% of surveyed companies reported having a DEI mission statement – a crucial part of creating the organizational alignment necessary to create change – and only 49% have a strategic diversity plan in place. This suggests that while company leaders may be responding to employee interest in DEI, they largely aren't yet prioritizing this work at the highest levels.
Fortunately, more organizations are investing in DEI staffing and specialists
Though nearly 60% of companies reported not having any DEI specialist role, 40% said they are investing in building out the specialized expertise needed to build successful equity & inclusion programs. These roles also tend to be new: 80% of DEI roles have been hired in the last 18 months, meaning that most companies are at the beginning of their change journeys and we may yet see additional progress.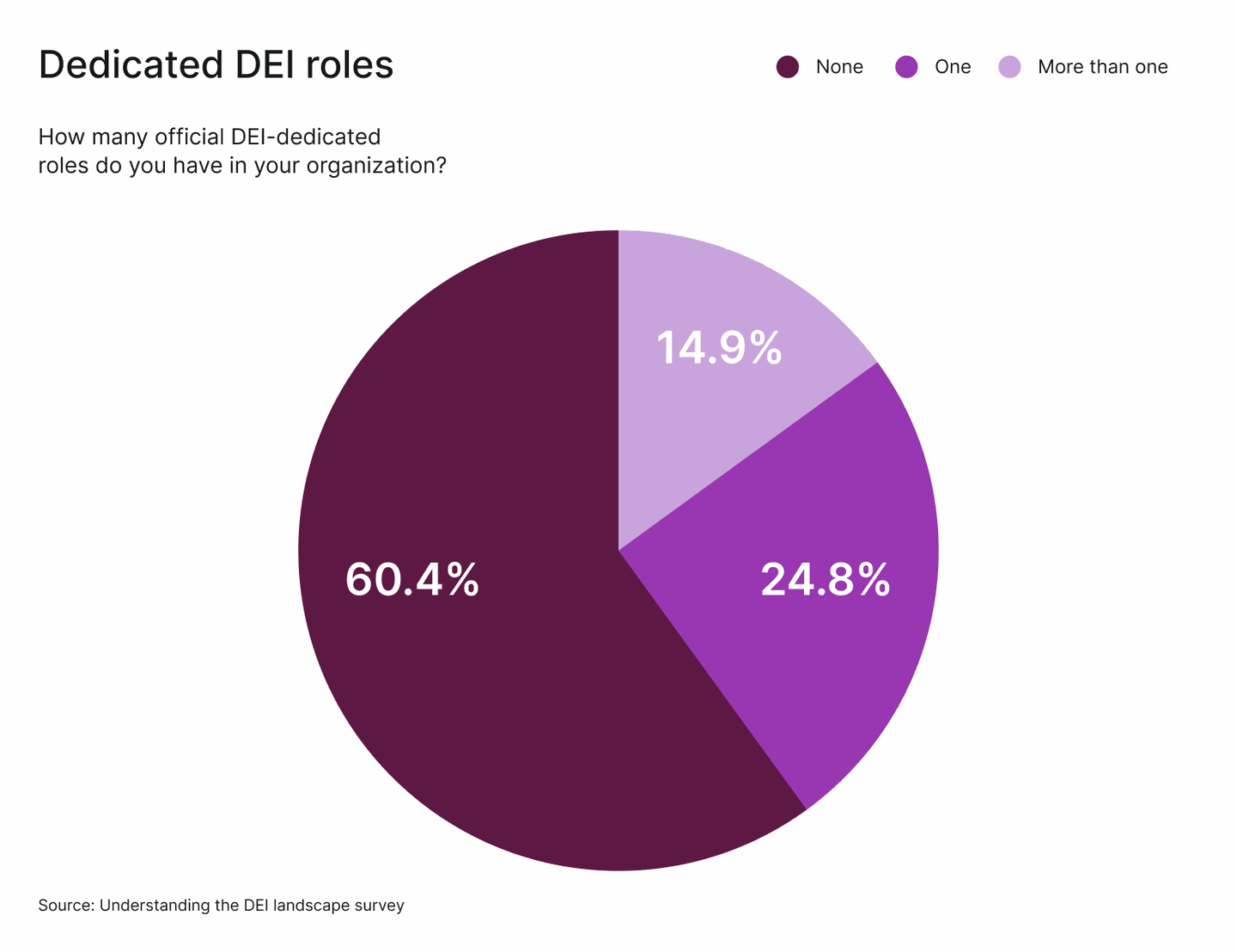 Activism has proven to drive organizational investment
During the last year, the experiences of Black and Asian employees largely improved, while Latinx and LGBTQ employees' experiences declined. While Black employees still experience a gap in "perceptions of equal opportunities," and Asian employees still report they lack voice at the leadership level, we believe that overall improvements in their workplace experience were driven by coordinated activism from groups such as Black Lives Matter and Stop Asian Hate. This speaks to a need for organizations to also pay attention to and invest in communities without a prominent, organized movement, as their experiences at work may also be falling behind.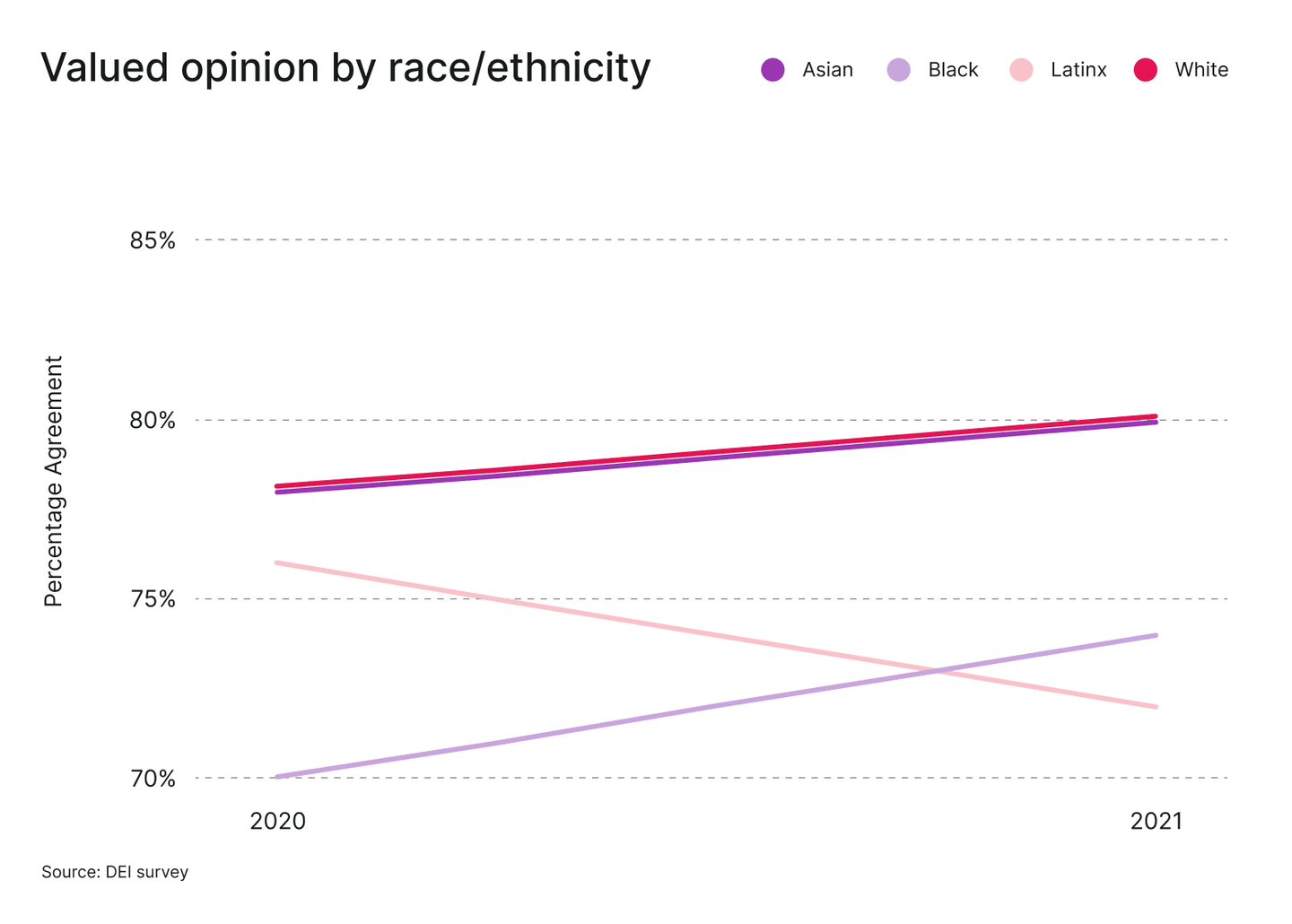 Companies haven't done enough to support working parents and caretakers
We found that companies weren't investing enough into helping caretakers and working parents during the COVID-19 pandemic. Our data shows that these investments would have been especially beneficial for women, as women reported a 3% point decrease in agreement to "My workload right now feels reasonable for my role" and a 7% point decrease in agreement to "I am able to manage any caring responsibilities while transitioning back to work".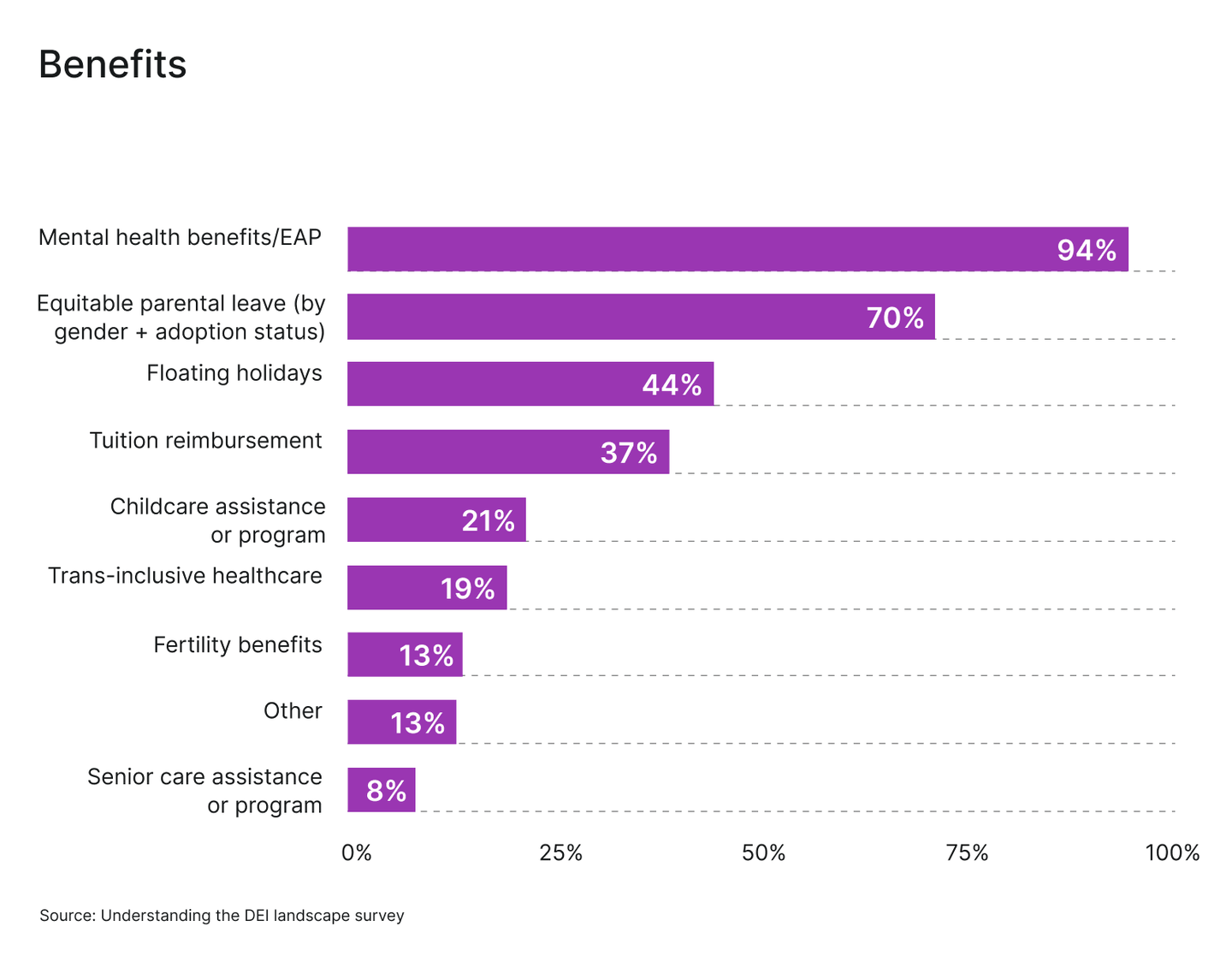 Moreover, though most companies (94%) reported providing some type of mental health benefit, only 21% said they provide child care assistance, and less than 10% of respondents reported providing senior care benefits. In order to create a better world of work, companies will need to flex their benefits to better serve the urgent needs of their employees.
DEI initiatives that make the greatest impact
By connecting specific initiatives to the outcomes they drive, Culture Amp's People Scientists were able to uncover the greatest drivers of diversity, equity, and inclusion. Unfortunately, we also found that most companies aren't prioritizing the full suite of initiatives that will move the needle.
Diversity
Our study found that the greatest drivers of a more diverse workforce are:
Having a diversity policy
Implementing a strategic plan
Using DEI data to make decisions
Despite these activities being nearly identical to what's required to drive other types of organizational priorities, we found that less than half (49%) of companies have a strategic diversity plan, and only 34% share DEI data with all department leaders.
In order to make progress on representation, companies need to collect more data on the demographics and experience of their workforce and use it transparently to help drive leader awareness and action, as well as provide accountability to their employees. Our research also shows that only 40% of organizations are conducting DEI-specific surveys (a key driver of inclusion), speaking to the broader deficit of data collection for companies pursuing this work.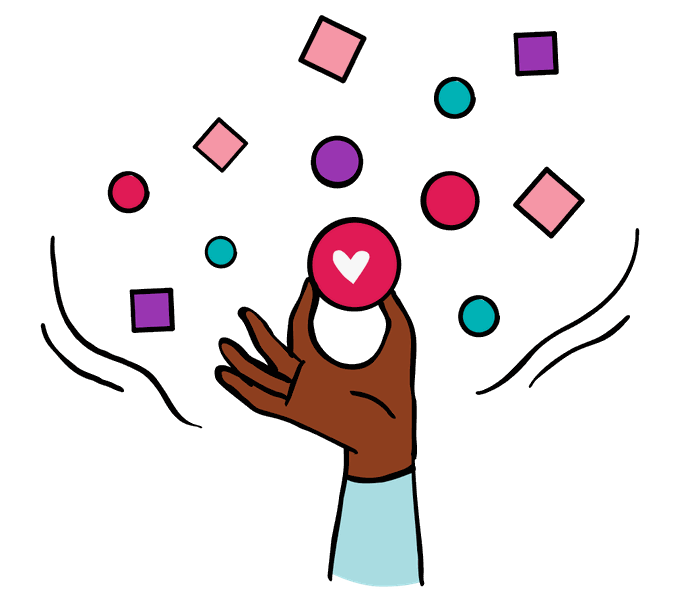 Understand the experience of every employee
Measure how inclusive your organization is with Culture Amp's Inclusion survey
Learn more
Inclusion
While some companies have made a concerted effort to foster inclusion in the workplace, more can and still needs to be done. Nearly half (48%) of organizations we surveyed have at least one employee resource group (ERG), and they are most often centered on identities like race/ethnicity, gender identity, and LGBTQIA* status. These groups are traditionally leveraged to build community and foster psychological safety for employees. ERGs are especially important for inclusion because they are often responsible for leading (or participating in) DEI-focused discussions and DEI events – two of the most impactful initiatives for driving inclusion.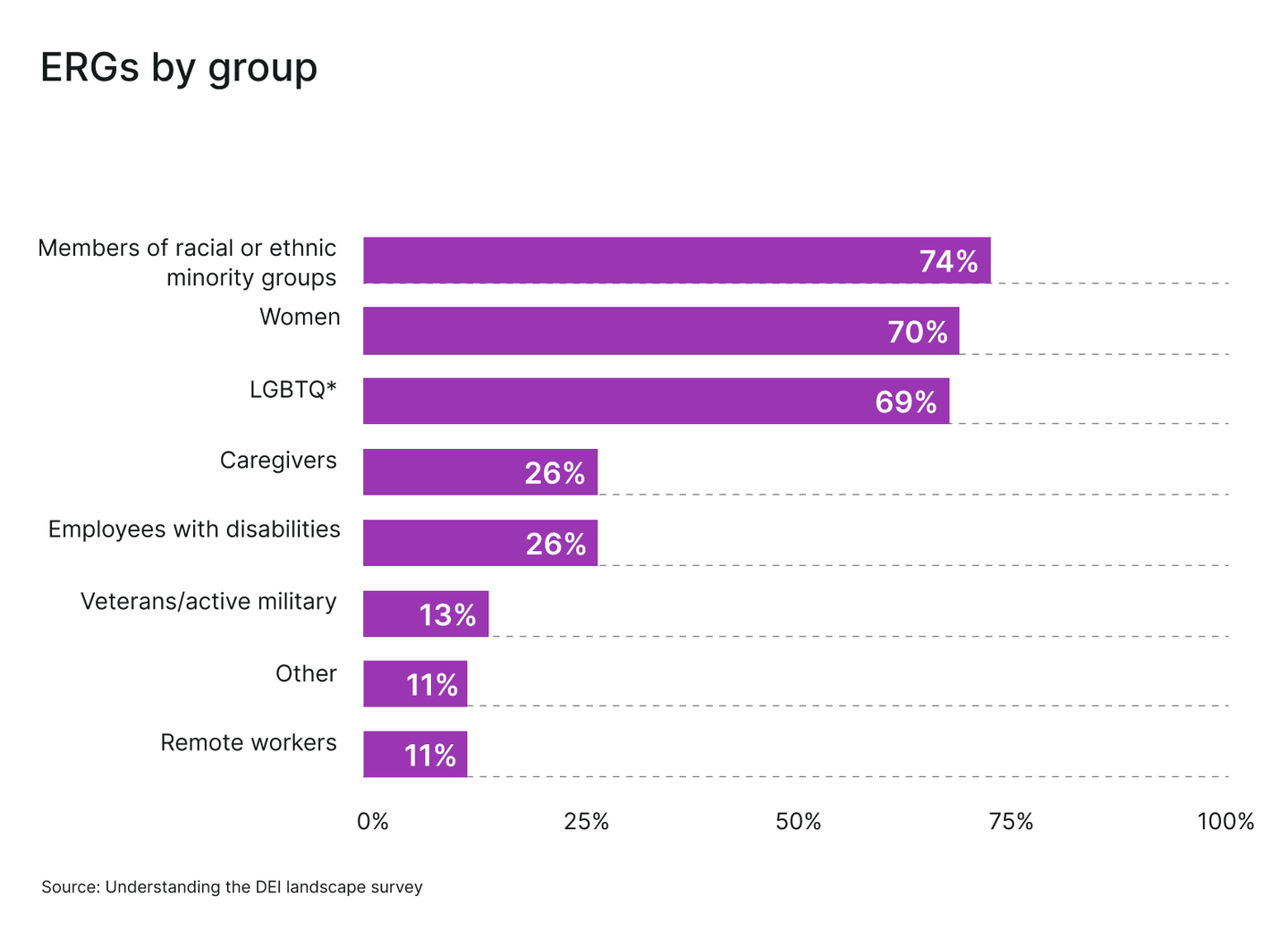 While the relatively high number of organizations with ERG may represent progress, it's also important to highlight building ERGs can deepen instead of solve for structural inequality. This is because ERG leaders are often doing ERG work without pay and on their second shift, despite most often being members of historically underrepresented or marginalized groups. In order to ensure that your inclusion efforts are driving real change, strongly consider compensating your ERG leads.
Equity
In order to build a diverse and inclusive workplace, companies need to build fair, equitable processes. Our data shows that improving the transparency and consistency of core organizational processes is the best way to drive equity. These initiatives are particularly effective at driving equitable outcomes:
Implementing employee recognition programs
Having formal mentorship or sponsorship programs
Creating clear advancement processes
Explicitly sourcing underrepresented candidates
Greater investment in the above areas will better set companies up for achieving the change they've committed to.
Take a data-backed approach to DEI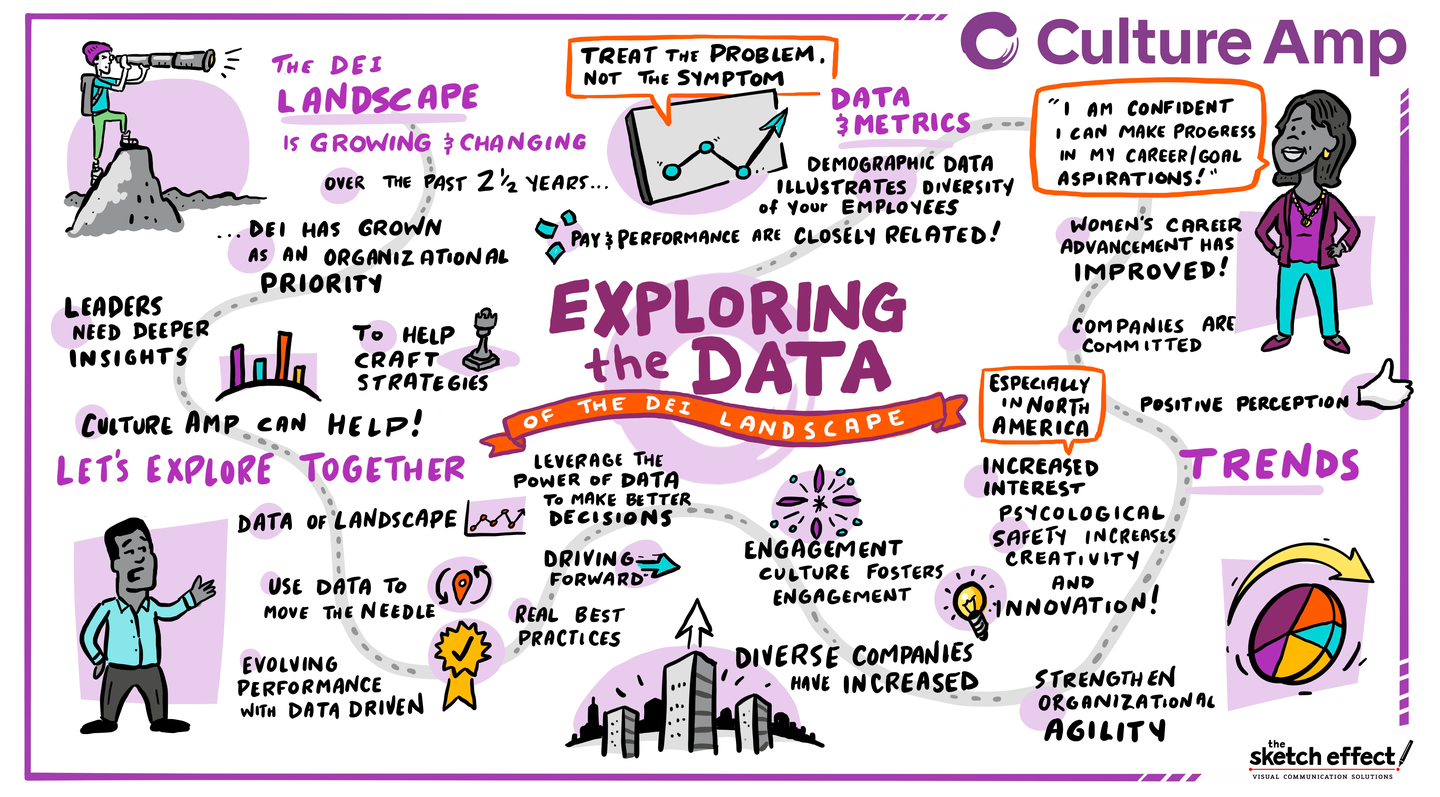 With an increased focus on DEI from employees, candidates, and the broader public, now is the time to make investments to drive change. The 2022 Workplace DEI Report shines a science-backed light on where resources can be deployed for the greatest impact, and which initiatives drive certain components of diversity, equity, and inclusion. We hope that these insights will help you transform your organization as you progress in your journey to building a better world of work for all.
Build a world-class employee experience today