Top 5 highlights from Culture First APAC 2022
The Culture First 2022 global event series kicked off on October 26 with our APAC virtual event. We brought together thought leaders, industry experts, and the community for thoughtful conversations exploring the role of culture, science, and innovation in building resilience.
The world in which we live – and work – is in a constant state of change. How you respond is what's going to prepare you for future uncertainty, and keep you on the path to success. At Culture First APAC, we explored this "how." Below, we're recapping just five of our favorite sessions from the event and sharing insights that can help your organisation now, and in the future:
1. Build a better and fairer world of work for everyone – feat. Dylan Alcott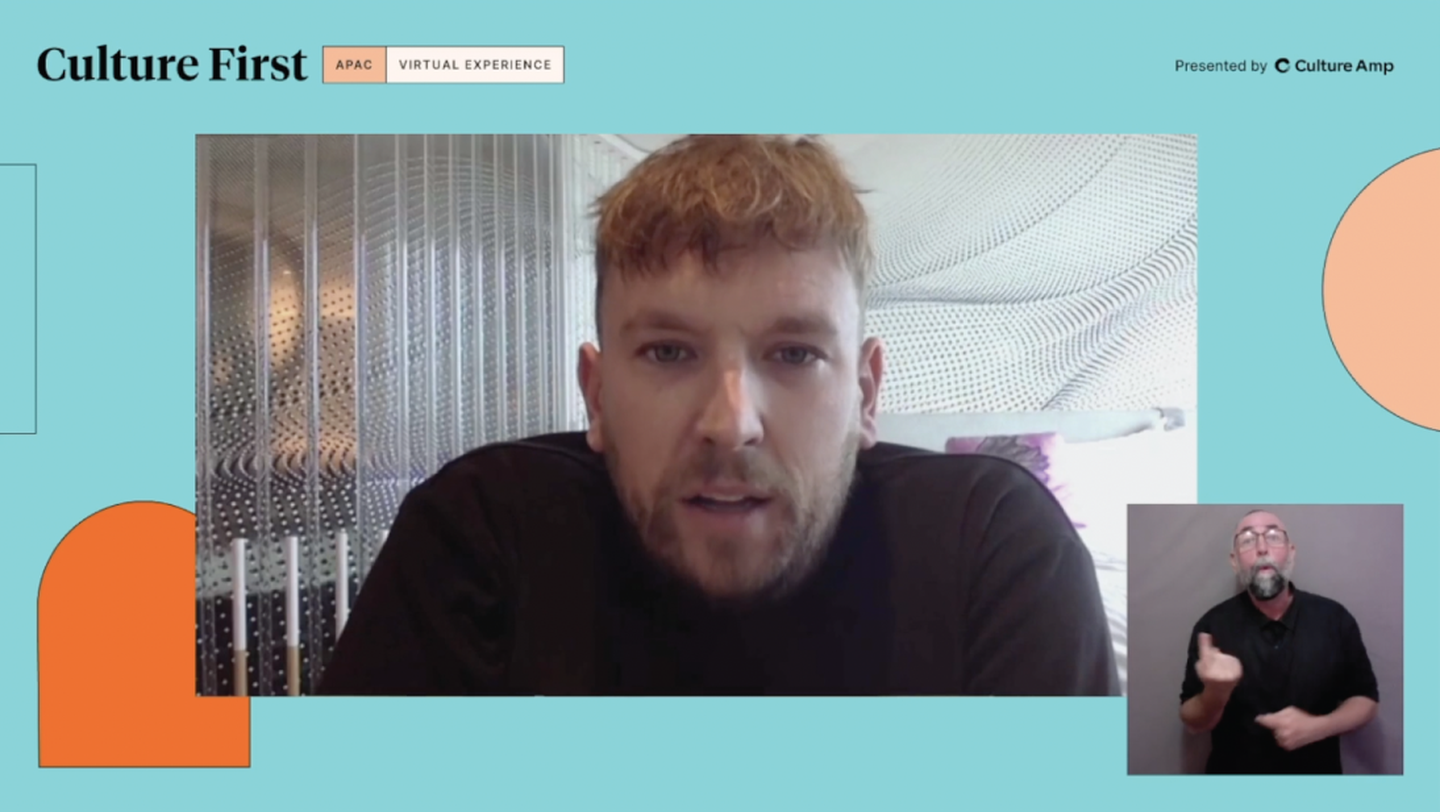 At Culture First APAC, we heard from Dylan Alcott, former Australian Paralympian, Grand Slam champion, and 2022 Australian of the Year. Dylan has navigated paraplegia since birth and talks us through the struggles – and barriers – he's faced in his career as a professional sportsman and the importance of disability inclusion.
During our virtual chat with Dylan, he reflects on living with a disability and how too often, it was like being 'wrapped in cotton wool' – where his disability was perceived as a bad thing, othering him and leaving him vulnerable to the world around him. Dylan decided to break this narrative and live the life he wanted. His goal was, and is, "to change perceptions so that all people around the world with a disability can get out and live the life they deserve to live."
With that said, how can your organisation build a work environment that's inclusive of and equitable for those living with a disability? For Dylan Alcott, the key to success lies in representation.
"You've got to provide spaces where [those with disabilities] can be themselves. You need to create safe and inclusive spaces where they can thrive, not just survive."
— Dylan Alcott
Paralympian and Disability Activist
To break down barriers to disability inclusion, you can:
Catch Dylan Alcott's full session on-demand here.
2. From insight to action: How to make work "work" for women – feat. Jamila Rizvi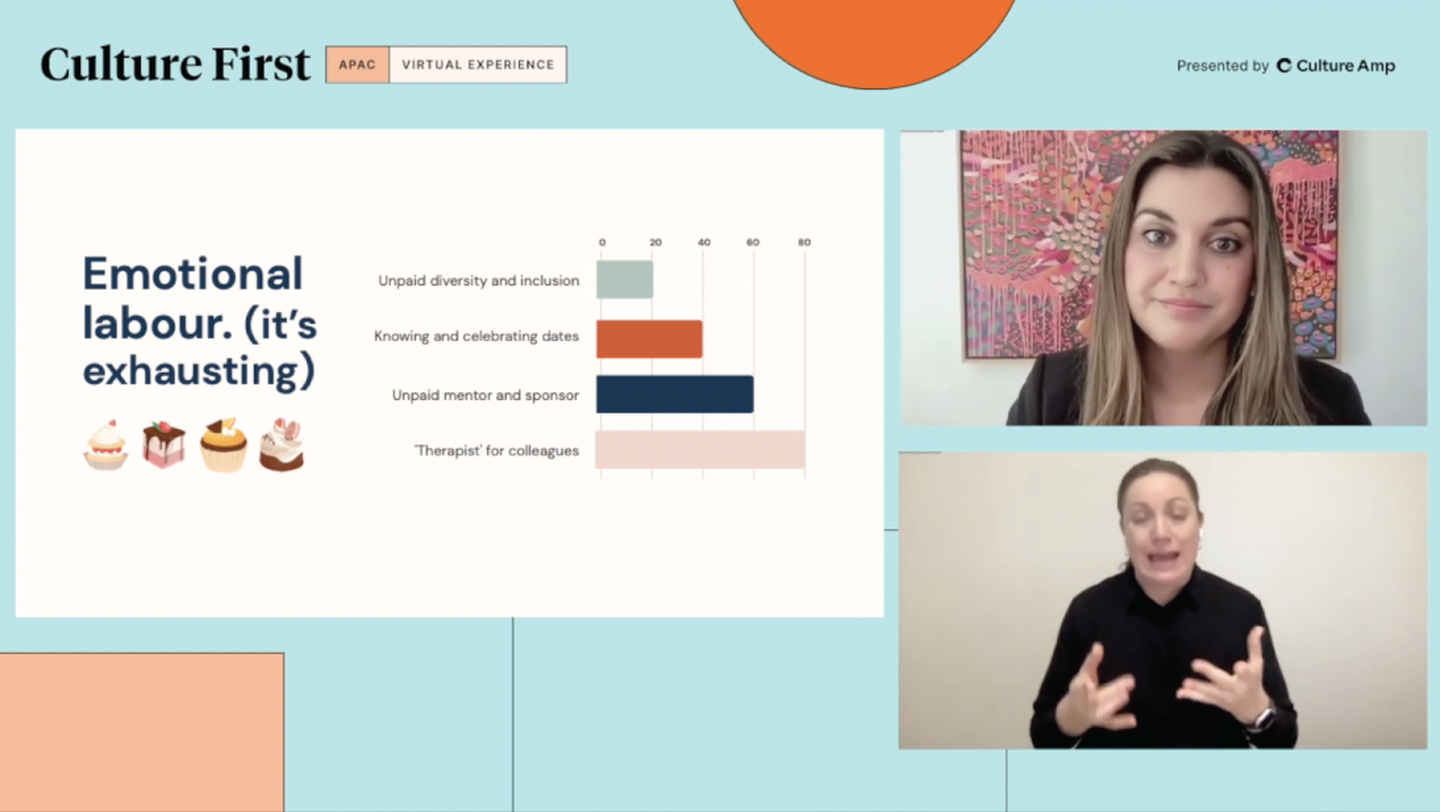 Did you know that during the pandemic, women's jobs were 1.8x more vulnerable? To unpack this, Jamila Rizvi, Deputy Managing Director of Future Women joined us at Culture First 2022.
Future Women is an organisation that helps women connect, learn and lead in the face of inequality. At Culture First, Jamila shares the reality women deal with at work and how to navigate the gender divide that still exists today. A recent study that Jamila presented showed that 60% of women who regularly work from home are excluded from important meetings, and 51% feel less optimistic about their career prospects today than in 2019.
When women constitute nearly 40% of the paid workforce globally, why are they accounting for 59% of job losses and such a decline in prosperity?
According to Jamila, gender bias is embedded in the human brain – meaning it's also inherently embedded into the workplace. From prioritizing safety at work for women to reducing the gender earnings gap, Jamila shares some practices that your organisation can take to start making work "work" for women.
"Recruiting, retaining, and promoting women is not just the moral thing to do – it's the smart thing to do."
— Jamila Rizvi
Deputy Managing Director, Future Women
According to Jamila, you can better support women in the workplace by:
Offering training for leaders to respond to sexual harassment
Conducting payroll audits to identify and immediately correct instances of unequal pay
Investing in women-targeted leadership and development programs.
Supporting men to be gender equality advocates
For more insights into creating a more gender-equitable world of work, tune into our Culture First chat with Jamila Rizvi on-demand here.
3. Creating an employee experience to better the future of people and the world around them – feat. Chin Yin Ong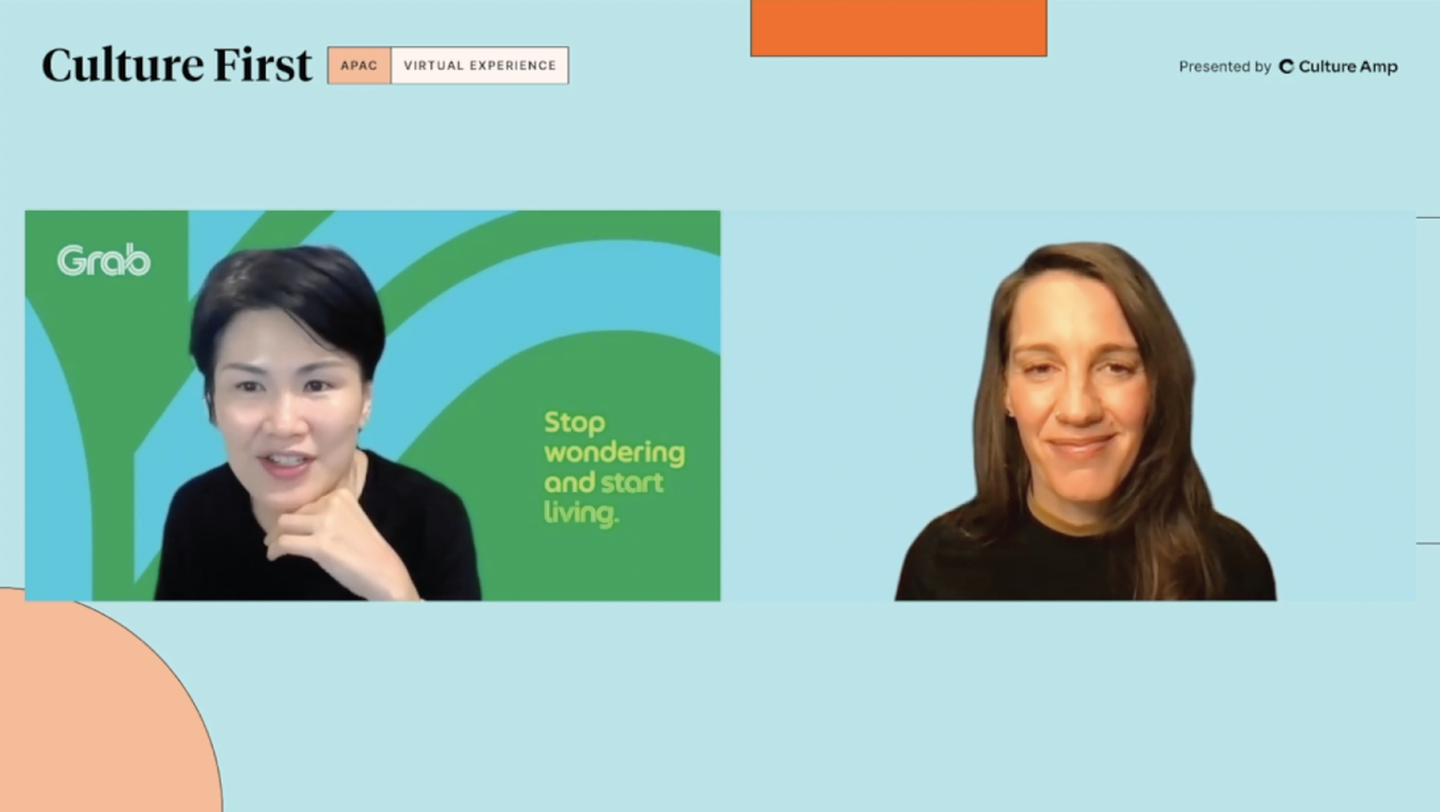 Creating a better world of work is a huge endeavor but a necessary one for today's organisations. More than ever, employees care about whether their jobs and their employers are creating a positive impact on the larger world – and will look for organizations that provide them with a sense of meaningful purpose. As a matter of fact, one survey found that 93% of employees believe companies must lead with purpose. To explore this further, we heard from Chin Yin Ong, Chief People Officer at Grab, on how Grab is creating a company culture that empowers its employees to feel a sense of belonging, fulfillment, and purpose.
Grab's mission is to empower the economy – and people – in Southeast Asia. When joining the company in 2015, Chin Yin recognised the company was still in its infancy and needed to focus on building a unique culture internally, a culture with heart and soul. Without a defined culture and set of values, how could Grab attract top talent? Now, Grab operates with a workforce in the thousands.
A huge part of Grab's culture is reflected in its mission to improve the world in general. Chin Yin explains, "How can we help people who are living in far-flung towns or cities or villages so they can actually participate in the digital world? How can we ensure that the social gap and the earnings gap within our country and communities narrow instead of widens? [...] Grab is trying to solve that problem so that we as a community can progress together and not leave anybody behind. I think it's a responsibility and a meaningful problem set to solve."
"An organisation needs to reflect the needs of the world in its time."
— Chin Yin Ong
Chief People Officer, Grab
During the session, Chin Yin offered the following insights and pieces of advice:
Be truly authentic internally and externally by clearly defining your unique company culture and values – and then bring them both to life.
Look for a meaningful problem set that your company can help solve – work can feel meaningless if the company isn't trying to solve a real-world problem.
Ensure your perks and benefits actually benefit your people and what they most need or value.
Learn more about Grab's approach to bettering the world of work by watching the full session here.
4. Leadership survival skills – feat. LifeLabs Learning
As the world of work changes, so does the necessary skills your leaders need in order to thrive. For Jack Nicolaus, Facilitator at Lifelabs Learning, "relationship skills are the foundation of all leadership skills."
Entering a new era of anything will present new challenges, questions, and never-before-experienced situations. Today, interpersonal and relationship-oriented skills are no longer just nice-to-haves – they are essential for being a good leader. With new emotional complexities arising in the workplace during the pandemic – like isolated and disconnected employees – leaders need to learn to take a human-first approach at work.
According to Jack, we need to move away from archaic, command-style leadership, but too often, this is inherited and can be hard to change overnight. With the right strategies in mind – or "survival skills" in place – leadership and the larger organisation can stay agile and better keep up with our ever-changing world.
One of these survival skills is deblurring – which is when you can identify words that are open to multiple interpretations and take the initiative to ask "What do you mean by that?" For example, when somebody says "We need to survive," what does it mean to "survive?" By removing ambiguity from communication, you can create clarity and ensure alignment on next steps – something that is especially important during unfamiliar and challenging times.
To hear more about these strategies, and some real-world examples, watch Lifelabs Learning at Culture First on-demand.
5. Evidence-backed ways to strengthen your culture based on your unique company type
It's no secret that we're operating in an employee's job market. Your top talent can – and will – find a role elsewhere if your culture is lacking. And with culture at the core of your company, it's essential that you find ways to build a better culture that truly motivates and engages your people. Why? Your culture can influence the following:
Your ability to pivot. How quickly can you adapt during times of change?
Employee commitment. Are employees willing to go above and beyond?
Employee sentiment. Do employees feel that your workplace hurts or helps wellbeing?
At Culture First 2022, our Culture Amp's Lead Researcher Fresia Jackson dives into some evidence-backed ways that you can leverage to strengthen your unique culture to navigate the ambiguity of the future.
The session is based on Culture Amp's latest research, Putting culture first to overcome uncertainty, which draws from employee survey data from 1.9 million employees across 2,400 companies. In the session, Fresia talked about the two main factors that influence the employee experience, the 4 types of companies (and each type's unique set of traits), and how to identify what company type you are.
"As a leader, it can feel like so much is out of your control. But what is in your control, is your culture."
— Fresia Jackson
Lead Researcher, Culture Amp
To get a deep dive into the data, tune in to Fresia at Culture First 2022 on-demand here.
Looking forward
Never before have organisations like yours faced so much change. With this change comes uncertainty around the future, but you don't have to go it alone. From the Culture First global event series to Culture First Chapters and the People Geek Slack community, there are plenty of opportunities to connect with the community, work through challenges, and find a way forward, together.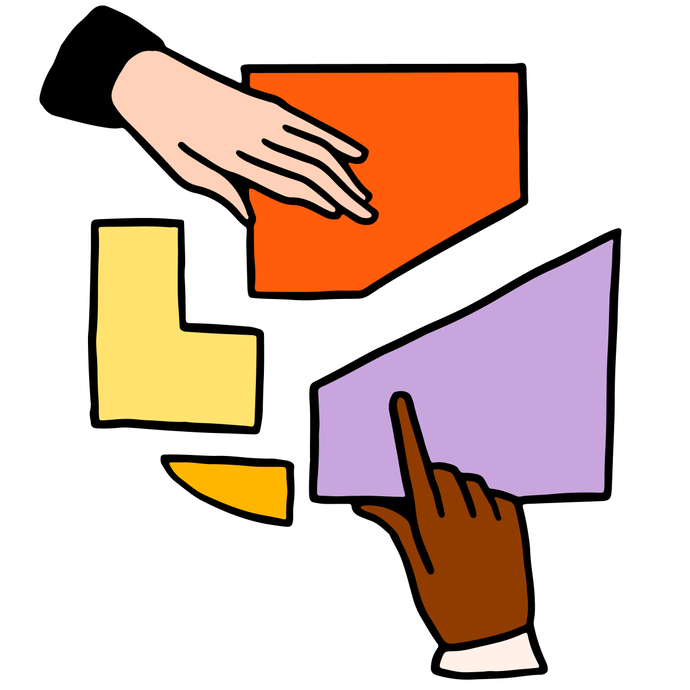 Join us at Culture First EMEA
Register now to explore the intersection of culture, science, and innovation on March 22, 2023!
Register now
Build a world-class employee experience today