Humanity at work: A people-centric approach for a new era of work
At Culture Amp, our mission has always been 'to create a better world of work'. That's why I am so excited this week to announce the launch of our new brand and website. As we all grapple with the new world of work, we're here with a renewed focus on not only everything we're learning about the employee experience, but also everything we can do to help you improve it at your organisation.
This last year, definitely a year for the history books, has spurred us to consider our purpose, our vision, and how we are intentionally spending our time and energy.
We've long talked about the future of work. Well - after decades of light-speed technological evolution and a rapidly evolving global economy, suddenly underscored by a global pandemic and a worldwide response to racial and social justice - the 'future of work' is here. It's now.
So what do we, as business leaders, do? How can we lean into this next epoch so that our business and our workforces not just survive, but flourish?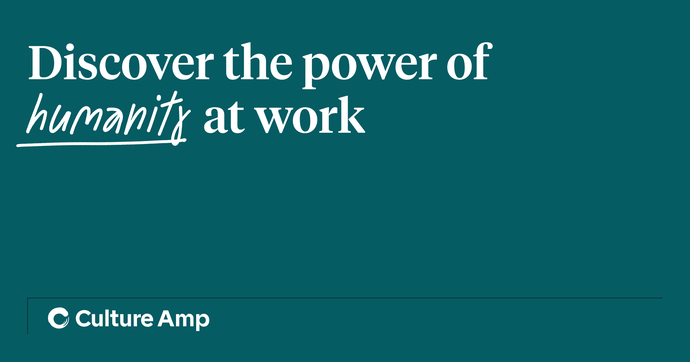 Build an employee experience that people love
Learn more
The most successful business leaders put their culture first. We have seen it first hand in the companies we work with. These companies understand that their competitive advantage is their employees: people with unique skills, diverse backgrounds and needs. Before anything else, they focus on creating an experience and environment that supports employees to be purpose-driven, do their job well, and have a clear path for career development and growth. They recognise not just the power of humanity at work - but what it means to focus on the humanity of that work.
At Culture Amp, we help those companies take a data-driven, three-pronged approach to building an employee experience that people love.
1. Listen to your employees
Episodic surveys and listening tours after something big, like a global pandemic or big company merger, isn't enough. Organizations with the most engaged employees have a proactive, multimodal, science-backed approach to understand how their people feel. They leverage follow-on insights and tools (and executive sponsorship) to implement meaningful action that creates real change.
2. Build high-performing teams
Performance development is more than a process. It's ongoing feedback: conversations and inclusive coaching built right into your flow of work and seamlessly connected to the applications and devices that your employees use most. It's bringing decades of research into how to build psychological safety, and into focusing not just on performance management, but on how to lean into the development of that performance.
3. Develop your people
In driving employee experience, we need to focus on driving the capability of your managers and leaders to have the right conversations at every level. In this globally-dispersed, always-on world of work, your people - especially your managers - must have access to just-in-time learning and development to help them identify, learn, and practice the skills that will make them more impactful, and better performers and leaders. They don't just need knowledge - they need an overarching framework that changes the way they behave for the better, and that draws on the data available not just in your company but in thousands of others like yours.
---
We know that these three pillars - employee engagement, performance, and development - are inextricably tied together. It's a proven, uncomplicated relationship that has been the cornerstone to our customers' innovation, customer satisfaction, and profitability.
And now, we're doubling down on it. Starting today, with the launch of our new brand, we're offering our guided 1-on-1s tool to every Culture Amp customer. Research shows that employees who regularly participate in 1-on-1s have a 33% higher engagement score and are more likely to have a sense of belonging at their organization. With this quick lever to improve motivation, performance, and employee retention, those with our Engagement solution can now empower their managers to have more meaningful conversations and motivate their employees.
If you're a Culture Amp Engagement Customer, reach out to support@cultureamp.com to get started with 1-on-1s at no extra charge.
Build a world-class employee experience today