Top 5 highlights from Culture First Americas 2022
Our Culture First global event series continued with our Americas event on October 26. We brought together thought leaders, industry experts, and the community for thoughtful conversations exploring the role of culture, science, and innovation in building resilience.
The world in which we live – and work – is in a constant state of change. How you respond is what's going to prepare you for future uncertainty and keep you on the path to success. At Culture First Americas, we explored this "how." Below, we're recapping five powerful sessions from the event and sharing insights that will benefit your organization now, and in the future:
1. Building an equal, inclusive, and diverse workplace, with Valerie Jarrett
This year at Culture First Americas, Culture Amp CEO Didier Elzinga sat down with Valerie Jarrett, former Senior Advisor to President Barack Obama, CEO of the Obama Foundation, Board Chairman of Civic Nation, and Co-chair of the United State of Women.
Valerie recalled having to compartmentalize her life early in her career in order to be taken seriously as a professional, confident lawyer. She discussed how exhausting it was to hide her authentic self and the importance of sharing who you are at work to avoid burnout. She said, "If you're in an environment where you can't say who you love, that you have children, that you have passions and responsibilities outside of work – all of this is a part of who you are."
In order to foster a workplace culture that allows employees to show up and share their authentic selves with others, Valerie emphasized the importance of the following:
Mentorship: "People at the top have the ability to empower, or completely deflate [employees]," said Valerie. For a true values-driven culture to work, leaders need to act as mentors – both guiding employees in their career path and modeling the behaviors desired for the organization. She recommended that mentors advocate for those around them, including direct advocacy for things like promotions, and advocating for employees to own their decision-making.
"You have to live the way you want your culture to be."
— Valerie Jarrett
CEO, Obama Foundation
Listening: To create a sense of belonging for employees, Valerie said you must listen to the marginalized groups at your organization. Simply recruiting diverse employees is not enough. Without a truly inclusive and equitable culture, you'll struggle to retain your workforce. Understanding the experience of marginalized employees and making changes to help them thrive is key to both initiating a true culture shift – and gaining a competitive edge – according to Valerie.
To hear more from Valerie Jarrett on removing workplace barriers, watch the session on demand.
2. How Snooze Eatery built a resilient company culture rooted in data, action, and care, with Jeremy Edmonds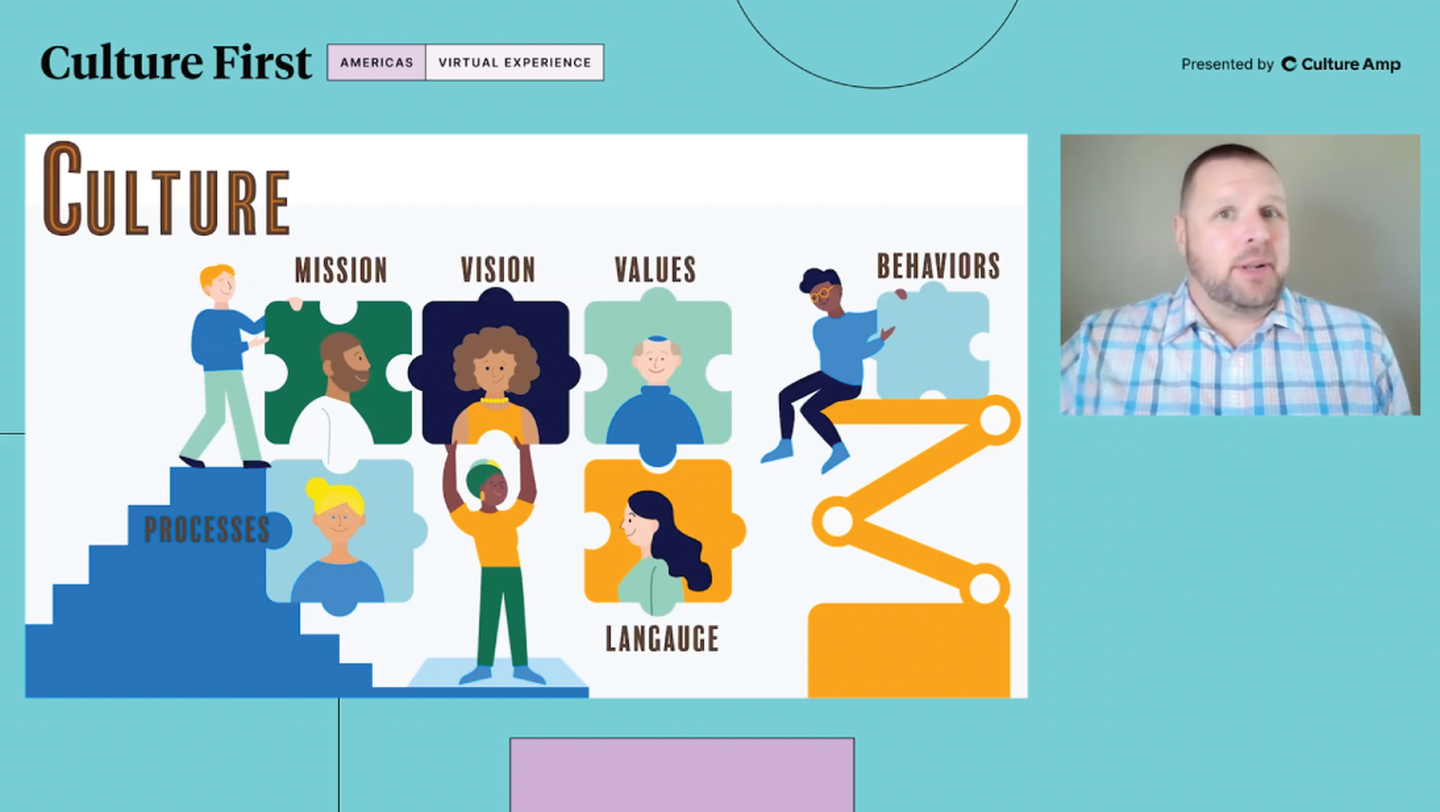 Snooze Eatery is a chain of restaurants committed to redefining the breakfast experience, but they didn't get to where they are without facing some challenges.
Jeremy Edmonds, Director of People and Culture at Snooze, shared how the company approaches engagement, the role of data in defining their approach to engagement, and the relationship between behaviors and action. Jeremy reflected on the pandemic and how even during periods of instability, layoffs, and a pause on physical dining, the commitment from employees at Snooze remained strong.
What it ultimately boils down to for Snooze is the role company culture plays at the organization. Jeremy unpacked the importance of embedding positive behaviors into the workplace, explaining, "When you create positive behaviors, and your employees are living those behaviors, that in turn creates a positive output."
To achieve this, foster an environment where behaviors like continuous listening and feedback, recognition, development, and leadership take center stage. When asked why these behaviors are so important for Snooze, Jeremy said that they lead to more engaged employees, which leads to better retention, allowing Snooze to meet the needs of their customers. Jeremy recommended the following three steps for aligning desired behaviors to action:
Define and articulate the cultural behaviors which support the engagement of your employees
Design and implement programs, systems, and processes which support that behavior
Leverage tools and resources which provide the data you need to validate the effectiveness of that process, system, or program
To learn more about Snooze Eatery and how they put culture first to navigate challenging times, watch Jeremy at Culture First Americas here.
3. Bittersweet: The surprising key to creativity, connection, and authenticity, with Susan Cain
"Bittersweetness" – for Susan Cain, author of the New York Times bestseller Bittersweet: How Sorrow and Longing Make Us Whole, it's a state of mind that explains how sorrow and longing affects our lives. At Culture First Americas, she explored how embracing feelings of bittersweetness can help you build a more connected and supportive culture.
According to Susan, one third of us have a tendency to judge ourselves when we manifest feelings of sadness or longing, especially in a work setting. We don't always feel comfortable speaking about our true emotions at work, because we've been programmed to hide those feelings instead of sharing them with colleagues. Susan believes that by tapping into these emotions, we can reframe them as powerful opportunities.
So, how do we make this shift? According to Susan, it starts with leaders, who should "open up and share what's comfortable." That means being honest and vulnerable about both the sorrowful and the joyful aspects of your life.
Susan emphasized that the key lies in striking a balance between both spectrums of emotion – the more in touch you are with feelings of sorrow and joy, the more you'll be reminded of the broadness of the human experience and how one employee's experience differs from another. Embracing these feelings creates space for honesty and transparency, ultimately opening the door to creativity.
Watch Susan Cain's full Culture First session on demand to learn more about the value of bittersweetness at work.
4. Time management for mortals, with Oliver Burkeman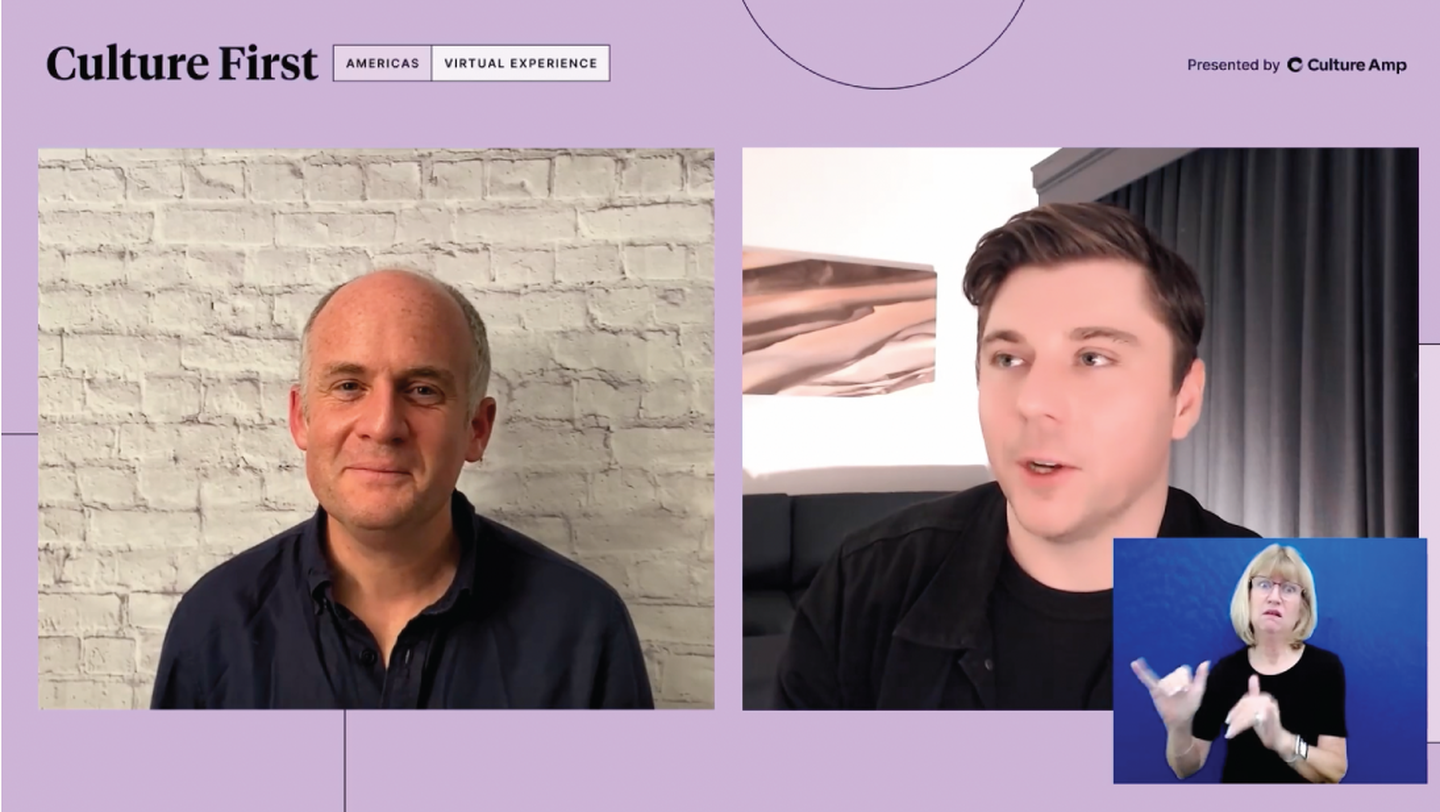 Oliver Burkeman, journalist and author of the New York Times bestselling book Four Thousand Weeks: Time Management for Mortals, spoke at Culture First about productivity, time management, and how we as humans can better maximize our finite lives.
With many competing demands on our time, and new technologies continuing to emerge to help us manage our lives, trying to make the most of our days can feel overwhelming. According to Oliver, the systems and processes we rely on to stay efficient are actually oversaturating our lives, leaving our minds "always on."
Oliver discusses a phenomenon known as "joyless urgency," where as a collective, we're continually trying to get through things in the hopes that we'll finally be able to reap the rewards of our actions later. That endless pursuit of productivity could be holding you back. Oliver said, "Being a finite human means you'll never be able to do all the things that you want to do, and you'll have to let go of certain goals to focus on others."
In his session, Oliver offered the following pieces of advice:
Accept that prioritization requires giving things up. In order to focus and take action on the things that really matter to you and your organization, you need to neglect what Oliver calls "dangerous middle-level priorities." These priorities are the ones that distract you from the things that really make the most meaningful impact. In other words, achieving your top 5 priorities requires you to "avoid the "other 20 priorities like the plague."
Harness the power of patience. Individuals and teams should "become comfortable with the discomfort of not racing towards a conclusion," according to Oliver. By taking your time and letting go of the desire to be hyper-productive, you and your organization can find better, more imaginative solutions to business challenges and dilemmas.
To learn more about Oliver's radical approach to time management and productivity, watch his full session on demand here.
5. Half a shade braver: The foundations of conversational leadership, with David Whyte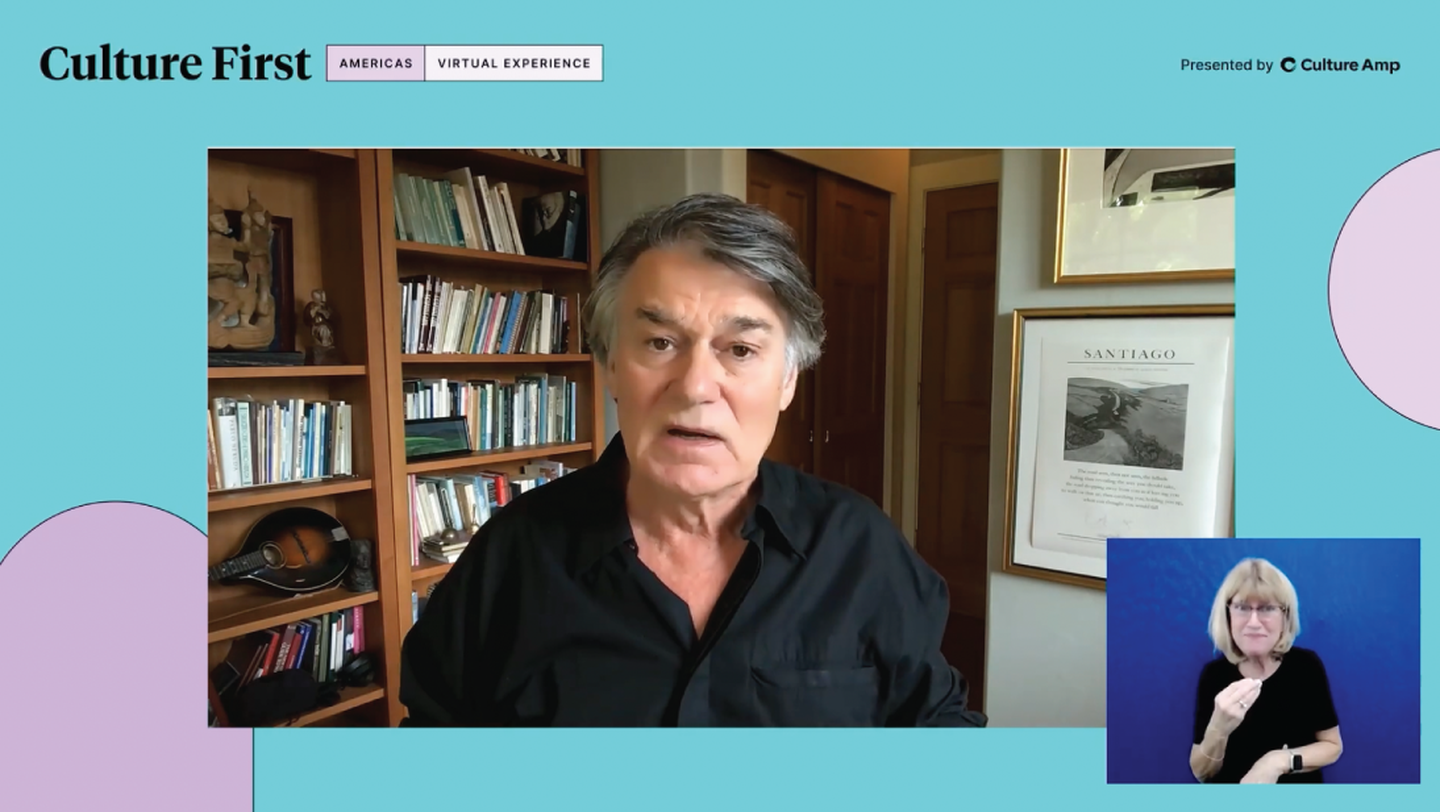 David Whyte, an internationally renowned poet, and author, joined us to explore the concept of conversational leadership and how to harness it to become a better leader.
According to David, one of the hallmarks of leadership is visibility – and this applies whether you're just speaking at a meeting or you're an acknowledged leader with a title. Either way, that visibility means the people around us "have not only seen our powers and our virtues, but they've also immediately seen our weaknesses. And quite often they've intuitively felt where we're afraid of conversations."
Instead of avoiding a necessary conversation out of fear, conversational leadership is about being brave enough to extend what David calls an "invitation," because "there is never any real conversation without a real invitation." He elaborated, "When you walk into a new room as a supposed leader, what everyone is asking unconsciously is 'What invitation is this person going to make to me?' And one of the most existentially disappointing dynamics in the workplace is when this person finds out that no invitation is going to be made." Furthermore, these invitations also invite people to move beyond their surface identities and to share their truer, more authentic selves.
For leaders looking to embrace conversational leadership, David encourages you to ask yourself the following questions:
What invitation are my people looking for from me? Am I giving it?
What invitation are people making to me?
What lies beneath the surface conversations that are happening?
How can I create conversations that allow people's deeper identities to emerge?
Watch David's full session on demand to learn more about the role of bravery in conversations, how to start having more genuine conversations, and more.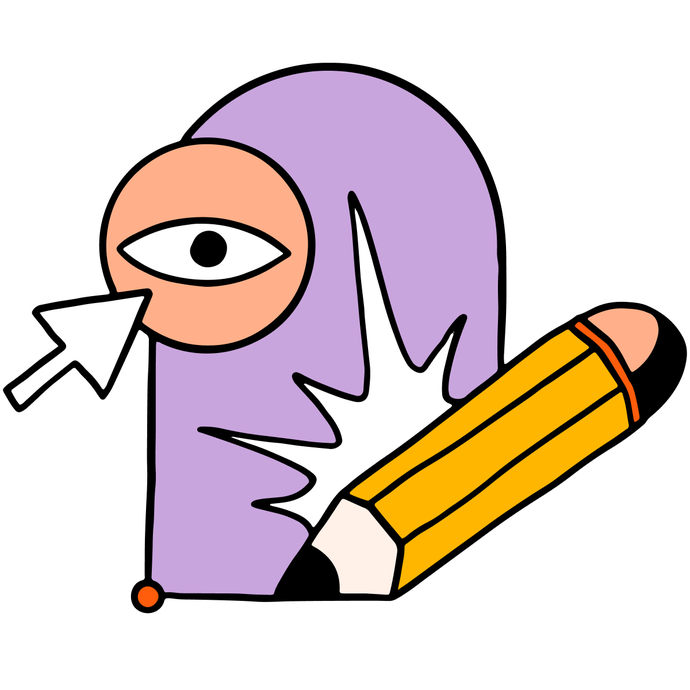 Join us at Culture First EMEA on March 22, 2023!
Register now
Our Culture First Global event series continues on March 22, 2023, with our EMEA event. We're gathering to hear from leading experts and thought leaders on building culture-first foundations, designing an impact employee experience, and creating a better world of work.
Build a world-class employee experience today