The company lifecycle: Understanding how it shapes engagement
For a business to grow, it must be able to provide innovative products and services at scale. Innovation requires a culture of openness, employees with a certain level of autonomy, and a workforce that is engaged, motivated, and curious. If a business leader is looking to successfully maintain high levels of employee engagement while also growing their company, creating a workplace environment that fuels innovation is essential.
How can leaders prioritize culture as their business grows? To answer this question and others, Culture Amp analyzed data from over 4,000 organizations in our report, Culture Crunch: Top trends throughout the company lifecycle. We looked at data by funding stage, company size, and company growth trajectory to better understand how employee expectations and engagement vary at different stages of the company lifecycle.
In this article, we'll share a few of the top takeaways from the report as well as tips for overcoming the most common growth challenges. Here's a closer look at our findings:
1. Engagement declines as companies scale, but employees are more likely to stay
When it comes to culture, the most common topic of discussion is actually the outcome – engagement. At Culture Amp, we define engagement as the level of emotional connection and commitment an employee feels towards their employer. We assess it by asking people about their agreement with these 5 statements:
Recommend (eNPS): I would recommend [Company] as a great place to work.
Motivation: [Company] motivates me to go beyond what I would in a similar role elsewhere.
Pride: I am proud to work for [Company].
Present Commitment: I rarely think about looking for a job at another company.
Future Commitment: I see myself still working at [Company] in two years' time.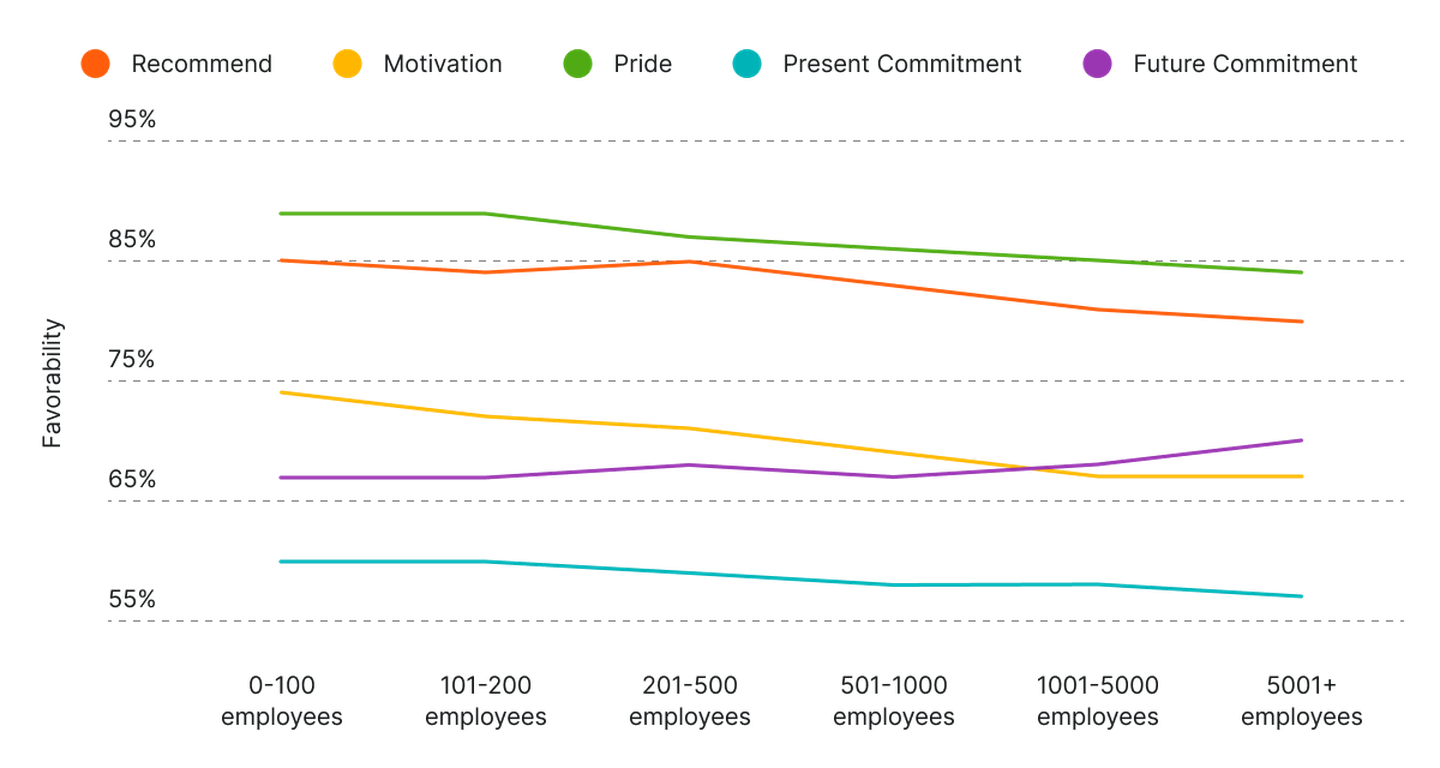 When analyzing engagement by company size, we see an interesting pattern: an employee's emotional connection to their organization generally declines as a company gets larger. Why might this be? One potential reason could be that it's increasingly difficult for employees to connect to the company's mission, vision, and values as a company scales. There's also the possibility that the employee experience varies greatly from team to team, so one individual's experience might differ wildly from that of a colleague on another team.
But, while employees at larger companies are more likely to think about looking for another job, they are less likely to actually act on that thought than their counterparts at smaller organizations. This could be because these employees value the stability that a larger organization can provide; while looking for a new role can be tempting at times, that stability could make them hesitant to take a risk and start over.
Tip: Regardless of your company's size, it's important to ensure your employees feel connected to your business's mission and vision. Without this sense of connection, your employees may feel more tempted to look for a new job and leave your company. While strengthening these connections is difficult at scale, employees who feel connected are more likely to go above and beyond, which can positively impact your business's bottom line. Here are some resources to help you build a sense of belonging within your team:
Engagement isn't the only thing that declines as a company grows. For more insight into how company size impacts the employee experience, download the full version of our Culture Crunch: Top trends throughout the company lifecycle report now.
2. What matters to employees differs depending on organization size
While it's well known that employees' needs and expectations change over time, your company's size also plays a role in shaping these elements. In our report, we found that employees in small, mid-sized, and large organizations all have different, distinct needs. Here's a closer look at how company size affects employee expectations:
Employees in smaller organizations want to feel confident about the company and its processes.
Company confidence is in the top 5 engagement drivers for companies with fewer than 5,000 employees. Because smaller companies may be less stable than larger, more established businesses, their employees want to feel confident in their employers and the direction in which the company is moving. Similarly, since smaller organizations generally lack "red tape" and defined processes, employees appreciate when companies have taken the time to implement effective processes.
Tip: If you're a small business, focus on communicating a strong vision to instill confidence in your employees, while ensuring they have the systems and resources in place to efficiently and effectively do their jobs.
Mid-sized company employees want to be appropriately recognized.
Appropriate recognition is a key driver of engagement for mid-sized companies, especially when employees know their colleagues well. Because of the organization's size, individuals generally have a good understanding of who on their teams works hard, and seeing these deserving people get recognized and promoted can positively impact morale.

Tip: Regularly acknowledge the hard work of your employees whether it's in 1-on-1s, department meetings, or company all-hands so every one of your employees feels seen and valued. Here are some helpful ways to recognize your employees:
Employees in large organizations want autonomy and transparency.
While autonomy generally decreases with company size, its importance to employees increases. Oftentimes, autonomy is a scarce resource in larger companies due to role specialization and formal processes. But, as your business scales its company culture, building a workplace that trusts employees to make their own decisions can surprise and delight your employees while driving engagement for your business.
A common employee complaint in 5,000+ businesses is that it's difficult for employees of all levels to stay informed. Company size and internal silos often impede the flow of information and keep employees in the dark, which can foster anxiety and uneasiness. While keeping employees informed is more difficult to do in large companies, those that prioritize transparency and passing on information to all their employees will reap the benefits.
Tip: To understand what matters most to your employees, use regular engagement surveys to understand what elements of the employee experience can be improved, and act on your findings to drive change.
While it's important to meet the needs of employees at your current business size, employers that are able to provide the benefits of all other sizes (e.g. large organizations that provide autonomy, or small organizations that have effective processes) are better equipped to meet and exceed their employees' expectations. That said, every organization is different. Explore other ways your company's size could be impacting your employees and workplace culture.
4. Collecting employee feedback becomes more difficult as companies grow
If you've struggled with employee survey participation, then it will come as no surprise to you that collecting employee feedback becomes more challenging as your business grows. We found that, on average, larger organizations see lower participation than smaller companies on their first engagement survey. While 0-100 employee companies had an average survey response rate of 87%, that number drops to 80% for workplaces with over 5,000 employees.
Unfortunately, participation problems generally get worse over time. While all companies see declining participation when comparing their first survey to their average across multiple survey cycles, larger companies see much greater declines. We found that participation rates decrease by 5% for the smallest organizations and by 12% for the largest organizations. In larger companies, it is often more difficult to communicate the survey's importance and how the results will be used, which can impact participation rates. Another way to interpret these results is that employees in smaller organizations are more likely to trust that their voice will be heard and that their feedback matters.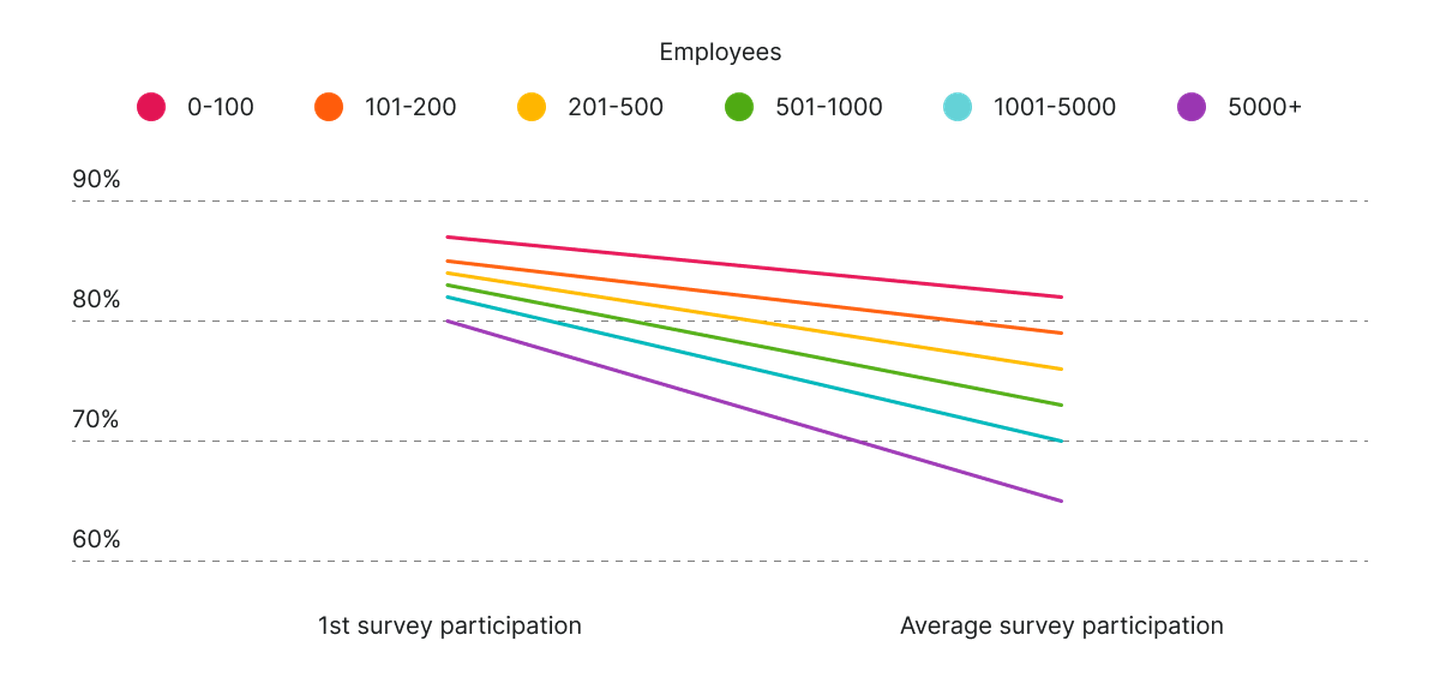 Tip: For businesses of any size, it's imperative that your employees feel like their participation will lead to action. To boost participation rates, share the results of your next survey with employees, discuss the results as a company, and explain how your business is responding to the findings. This transparency and accountability will show your workforce you are listening and taking action to improve the employee experience based on what they've shared. Your employees are more likely to participate in your next survey if they believe their feedback will bring about meaningful change.
Learn how your company's lifecycle phase impacts your employee experience
The employee experience differs widely based on your funding stage, company size, and whether or not your company is growing rapidly, stable, or rightsizing. Knowing what phase your company is in allows you to better understand what your employees expect from your business and how to change your culture to ensure you meet their needs. It's also helpful as you plan for where you'd like to be in the future. Understanding how company lifestyle affects employee experience will help you evolve your workplace culture to prepare for new challenges and employee expectations that arise in the next chapter of your business.
While this article includes a snapshot of the findings from our Company lifecycle report, the report contains many more rich insights that can help your business, no matter what phase you're in.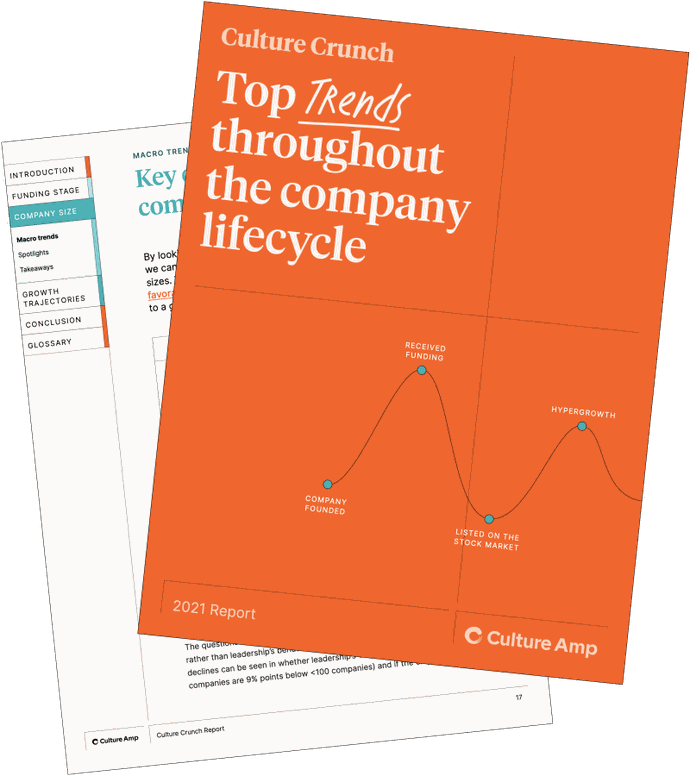 Scale culture as you grow
Understand and identify the high-impact actions that successfully take a company and its people to the next phase of its journey.
Download the full report
Build a world-class employee experience today