Adapting organizational culture during an economic downturn
For the first time in history, a healthcare crisis has shut down the global economy, which, the UN suggests, puts as many as half a billion jobs at risk worldwide. In attempts to mitigate the impact of the economic downturn and prevent mass layoffs, countries all over the world are utilizing different forms of support schemes to subsidize employee wages. 
Australia, for example, offers wage subsidies for employees of businesses that are experiencing a substantial decline in revenue connected to the pandemic. In the US, employees who have been furloughed have been made eligible for unemployment benefits. In contrast, governments across Europe are taking more aggressive approaches to protect the labor market. In many European countries, new job retention schemes have been implemented. For example, Germany has extended its short-time work support ("Kurzarbeit") until the end of 2021, while in the UK, the furlough scheme has been extended to the end of March. 
It is important though to acknowledge that these measures fundamentally reshape the workforce with some employees either working reduced hours or not working at all for a substantial period. Adapting your culture to these new realities is critical, as these new work arrangements will impact the individual employee and their relationship with their employer and colleagues.
The psychological impact of new work arrangements
On the individual
Doubtless, having some paid work or a continuing connection to paid work is better for positive health than not having any work at all. However, that does not mean that those still employed will necessarily be feeling positive about their situation, and even those who were relishing the time away from work or reduced hours may now feel an impact on their well-being.
Decades of research show that work is important to us beyond just providing a salary. For example, work can give a sense of identity and self-worth. For those who live on their own or feel isolation and loneliness, work can also be a place for friendship and connectedness. In short, taking employment away from employees in a climate of uncertainty can tremendously impact their well-being and mental health. 
On the employer/employee relationship
Employees who are furloughed and thus wholly taken out of the day-to-day or who have to reduce their hours may experience this as a violation of their psychological contract with their employer. Employees may ask themselves why they have been selected over a colleague. They may also question when or if they might be able to go back to work full-time. This can lead to a loss of trust in the employer, reduce an employee's commitment and increase feelings of insecurity.
On colleague relationships
These new working arrangements not only impact the relationship between the employee and employer, but they can also create rifts between colleagues. Those who worked through the initial months of the pandemic may feel frustration due to higher workloads during this time, while those returning may feel a shock coming back to a workplace that is very different. Meanwhile, those who were furloughed or placed on short-time work may feel less valued and insecure about their future.
Consequently, each group may feel the others in the organization can not appreciate what they are going through and could regard each other with suspicion and even jealousy. Working remotely does not make the situation more manageable, and less communication to and between employees increases the chance of misunderstandings and misperceptions. 
Taken together, these various job support schemes change how different groups of employees may feel about core elements of your organizational culture, including the transparency of communications, their trust in the leadership, the sense of connectedness with others, or the extent to which they feel appreciated and recognized for their work. Instead of treating everyone the same, it is critical to pay attention to the differences these changing working arrangements create among employees.
Ways to adapt your organizational culture to the new realities of work
This pandemic and the economic fallout is stress testing organizational cultures. However, several steps can be taken to adapt and even strengthen your culture.
Listen to your employees
Collecting feedback specifically on employee wellbeing enables you to understand their overall emotional, social, and physical well-being and to take targeted actions to support them. A well-being survey can also signal your commitment to their physical and mental health, which can have positive effects.
With the pandemic redefining the workplace, it is equally important to keep a pulse on your employees' engagement and to find out what matters most to them. More generally, gathering feedback is also a way to stay connected, build trust, and strengthen relationships with employees irrespective of their current work status.
Understand your employees' experience
Paying attention to how different groups of employees are affected enables you to understand the experience across your organization and to decide whether action should be taken at the organizational level or a group level (e.g., employees working short-time or reduced hours).
Finding out what matters most to them and especially how it differs between different groups of employees is critical (e.g., if some feel left out and less recognized for their work due to their status). Tools like Culture Amp allow you to survey your employees via heatmaps, allowing you to compare different sub-groups within your organization visually. This lets you quickly identify any highs or lows in your overall results and prepare targeted actions.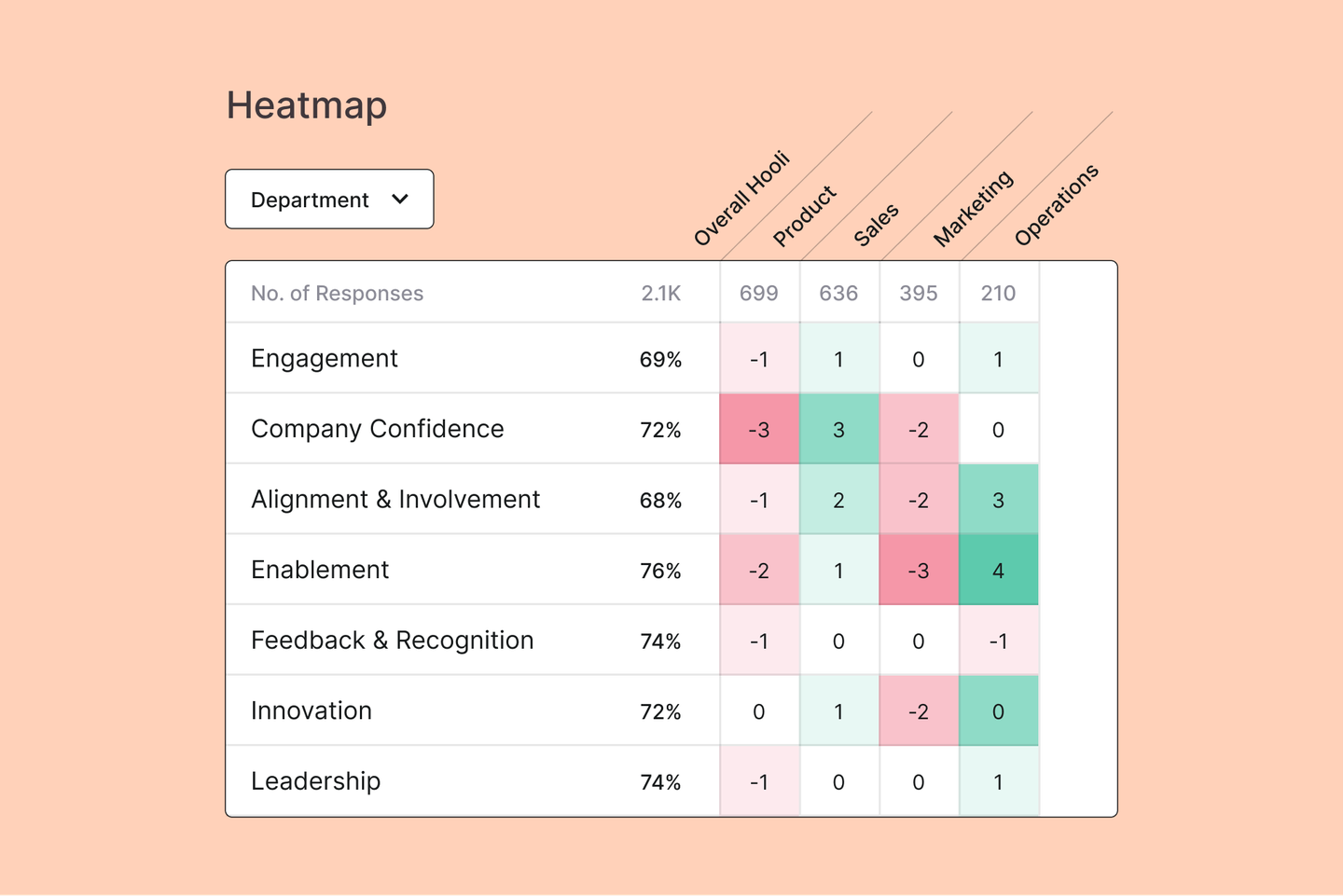 Take action to support your employees
When taking action to support employees and adapt your culture, managers and leaders play a pivotal role. Culture Amp can support them in their response to the current challenges on a team and an individual level.  
Establish empathy and understanding of their situations within the team
Once you collect employee feedback, we recommend discussing your results as a team. That creates transparency and establishes a shared understanding and empathy among employees for each other's personal circumstances. Involving your team actively in this process also increases their commitment and leads to more successful implementation of any actions you plan to take. 
Have honest and transparent conversations with your employees
Throughout this period of uncertainty, it is absolutely critical for managers to have regular, open, and transparent conversations with their employees. Culture Amp's 1-on-1 conversation tool supports managers in having more meaningful discussions with their employees. The tool helps to create a safe space in which employees can share their concerns about their current situation. In addition, it establishes commitment on both sides and enables them to stay connected even if employees may not be working full-time or in the same place.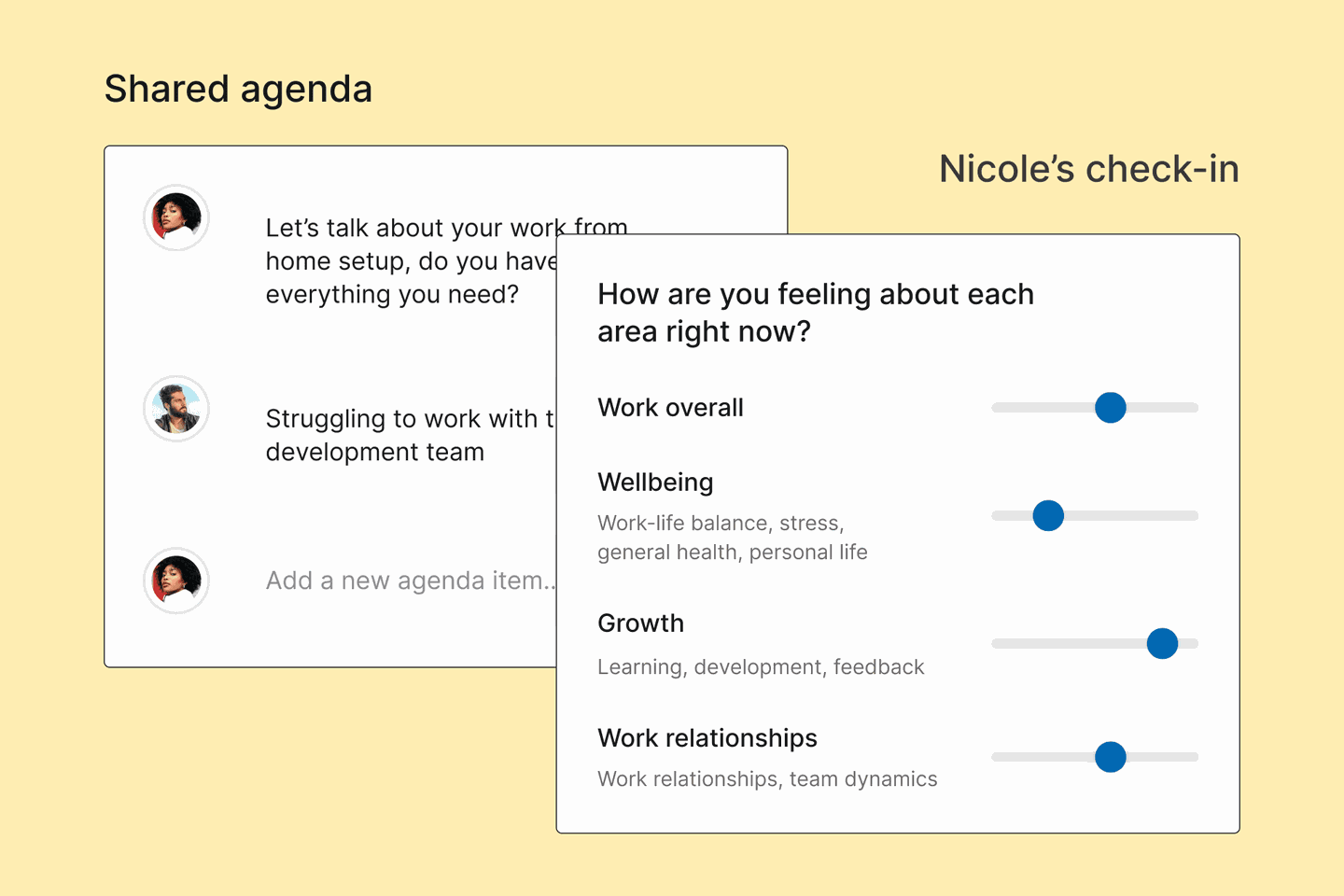 Support your employees' well-being and build their resilience
Culture Amp offers a variety of tools and resources that allows managers to coach and support their employees and improve their overall resilience. For example, the Playbooks – a library of ideas, videos, and other resources – helps managers get better at leading a remote team and supporting their wellbeing. Having access to these resources equips managers to address the disparity within their team by responding to the unique needs of each employee.
Keep your team connected
Facilitating regular social catch-ups and finding ways for all employees to connect keeps your team engaged and can boost their morale. Staying closely connected can also bring your employees together and overcome any disparity whether they are put on short-time work, returning from furlough or working full-time. The Culture Amp platform can provide managers with more inspiration from our global community on facilitating social team catch-ups to ensure that your team has more meaningful social interactions. 
This year has not been easy, and although we do not know exactly what the next months will bring, it is fair to assume that it will remain challenging beyond 2020. Employees who feel supported during these difficult times can become champions of your organizational culture. This will not only help you to navigate through this unchartered territory but will make your culture even stronger moving forward.
Build a world-class employee experience today