Meet your people where they are: feedback in the flow of work
The rhythm of work as we know it has changed. For many of us, the office commute and conversation at the watercooler are things of the past. We now find ourselves hopping from one video call to the next—and think of jeans as 'home office fancy'. While it may no longer be possible to walk by a colleague's desk to connect or share feedback, it's still possible to find opportunities for learning and growth. And we know that is vital to the employee experience.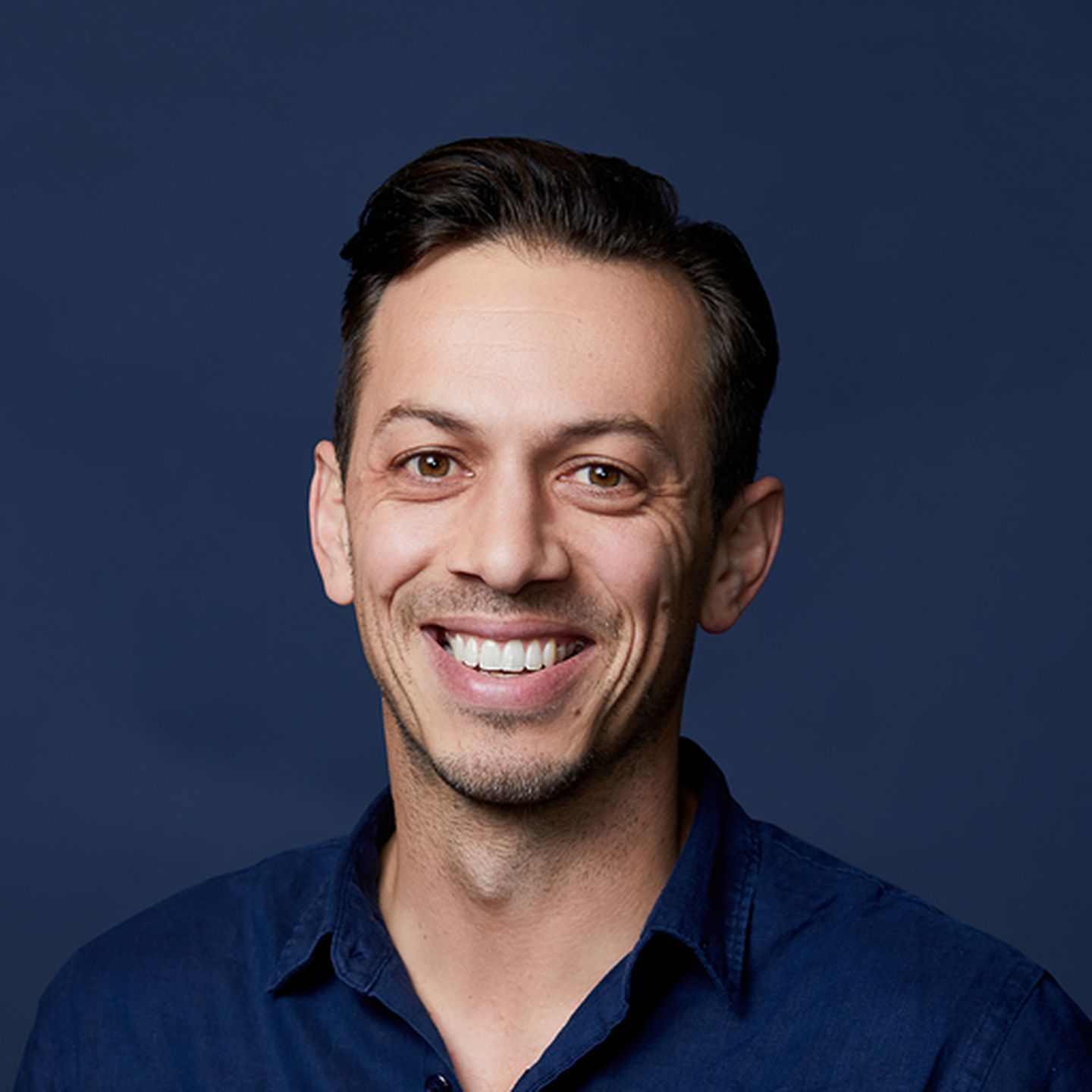 "These are testing times. More than ever, we need to put culture first. Businesses navigating the COVID-19 pandemic and mass migration to working from home have realized the importance of collaboration and communication. We need to actively seek out new ways to share feedback, as without the incidental interaction that happens in the workplace, employees can feel disconnected or invisible."
- Rod Hamilton, Chief Product Officer, Culture Amp
Feedback to connect, inspire, and motivate
With employees working remotely and adjusting to new routines, fostering a sense of connection has become a key priority for leaders of dispersed teams. A Culture Amp study of 140,000 employees found that only 63% of employees feel they're 'spending enough quality time interacting with others'. Additionally, having meaningful ways to stay connected as colleagues is one of the top drivers for employee wellbeing during this time. Employees that were unable to stay connected as a team are not adapting; only 45% believed that the company is able to support customers through the COVID-19 pandemic.
In addition to fostering connection, companies that regularly share feedback see higher levels of employee engagement and performance. In companies where managers give employees actionable feedback on a regular basis, employees respond 67% more favorably on being motivated to go above and beyond compared to employees who don't. Additionally, employees who get better manager feedback are 1.9x more engaged.
Your new integrations for feedback in the flow of work
While our usual channels to share feedback may have changed, technology can help to bring us back together. Since March 2020, tens of millions of employees working remotely around the world have adopted a variety of communication tools for the workplace. For many of us, working hours are spent on a variety of communication tools, such as Microsoft Teams and Slack. At Culture Amp, we believe in bringing the power of feedback to you — so it's a seamless experience no matter what tool you use.
That's why we've developed integrations with Microsoft Teams, Slack, Google Chrome, and Outlook, making feedback just a click away.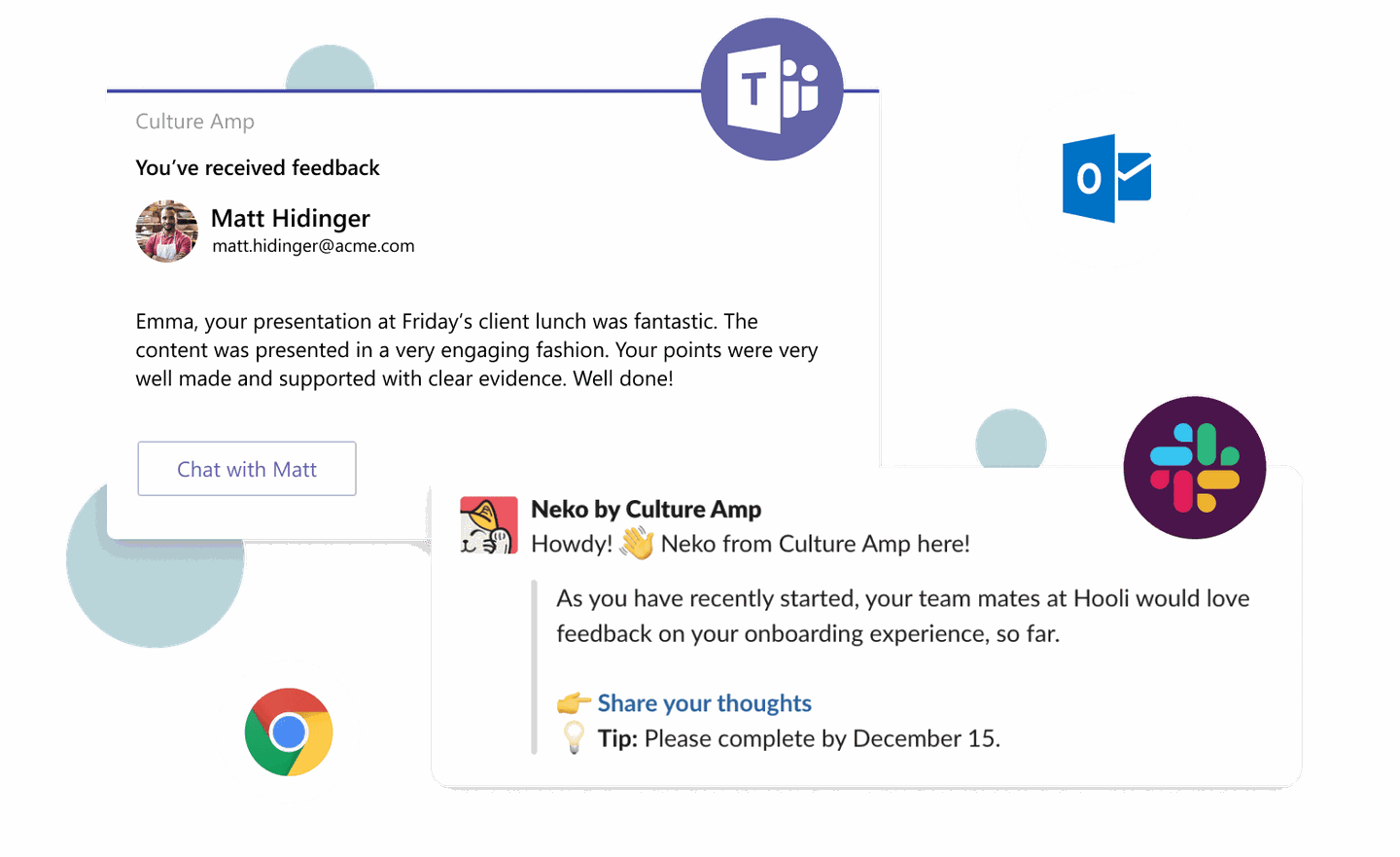 Let's take a look at what you can do in the new Microsoft Teams and Slack integrations.
Give feedback
The best feedback is timely, specific, and actionable. That's why we've made it really easy to give feedback where work is happening. Simply type the name of the person and provide your feedback.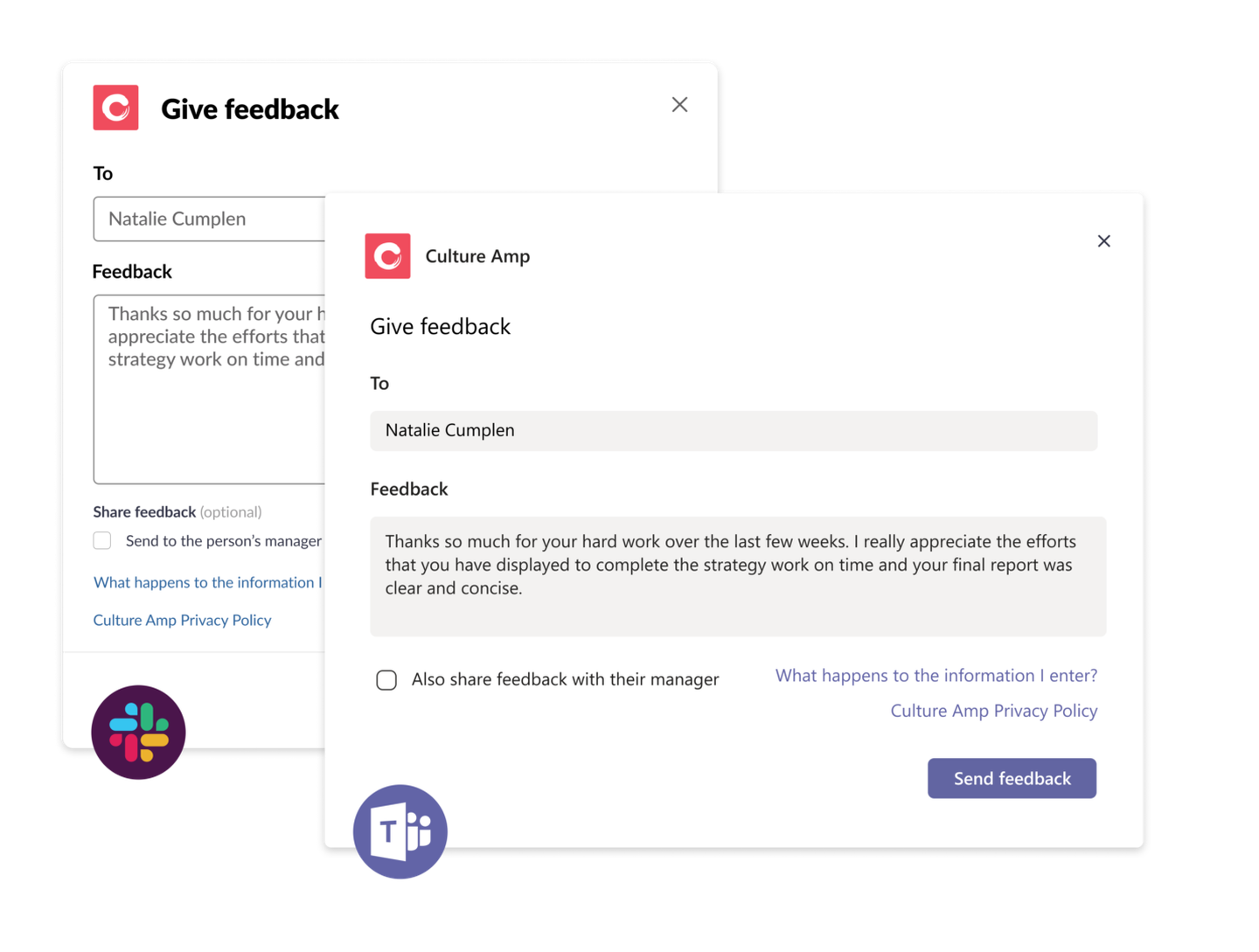 Receive feedback
Be notified and read the feedback without having to leave Microsoft Teams or Slack. The feedback is saved on your Culture Amp profile and can be made available for managers to review — allowing for more impactful coaching conversations and mitigating recency bias during the performance review process.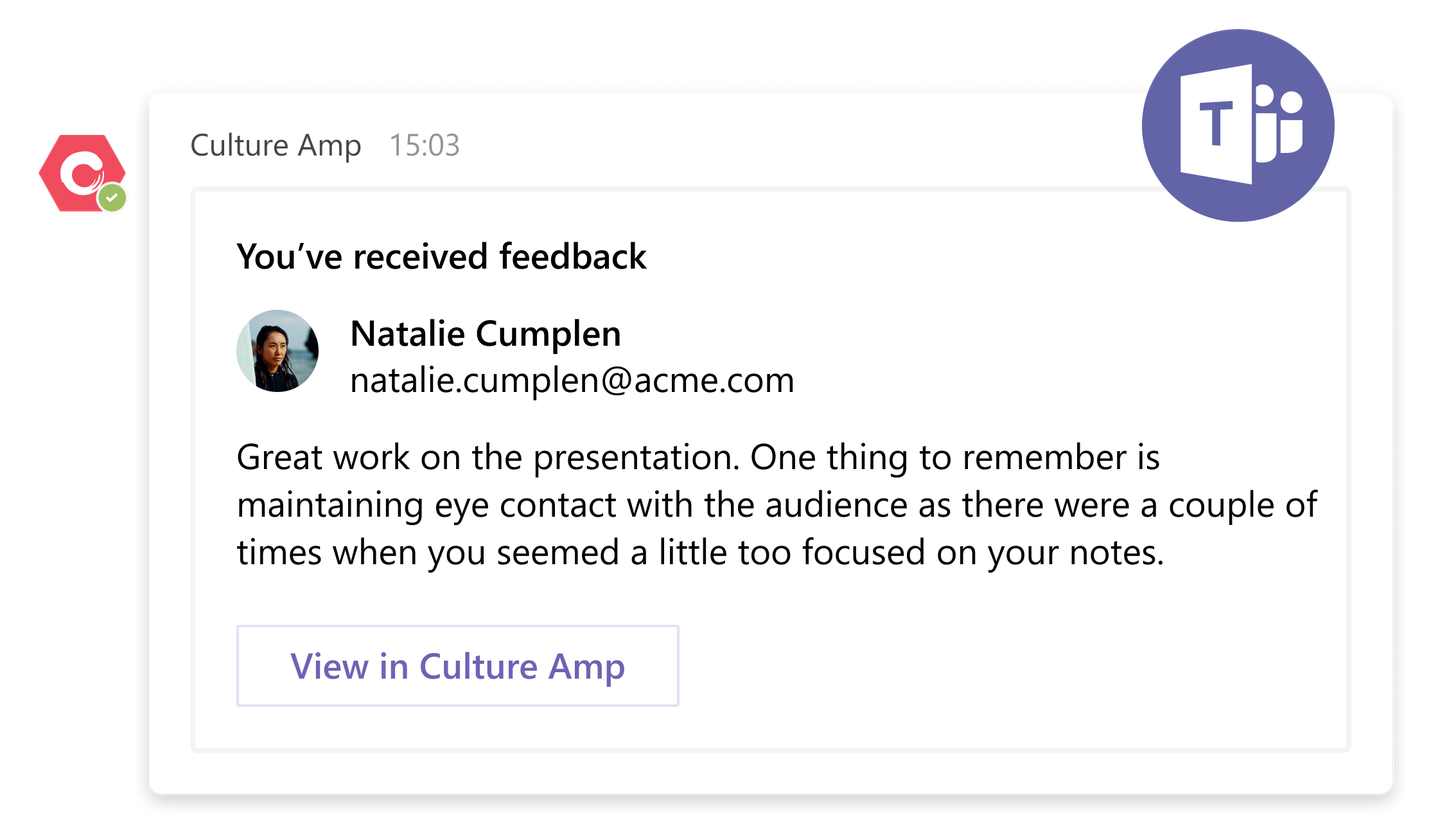 Ask for feedback
Simply type the name of the person you'd like to get feedback from and include a message to provide context on what you would like feedback on.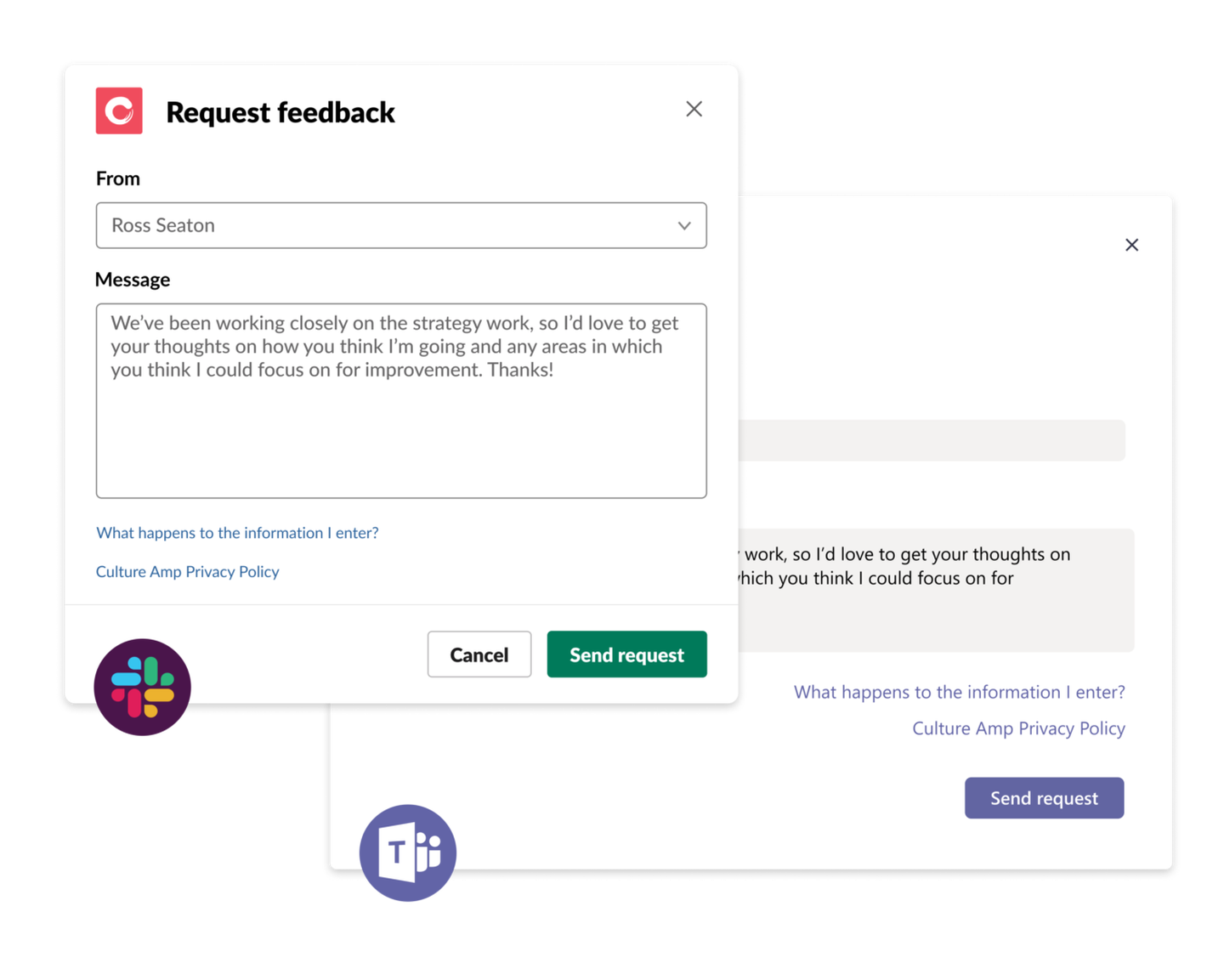 Receive timely notifications about your people & culture
Stay up to date on any new insights, whether that's surveys that require your attention or new reports you have access to.

Make it easy for your people to give and receive feedback.
Learn more about Culture Amp today.
Get started
Building a culture of feedback
Companies that successfully develop a culture of feedback make it part of their natural rhythm of work. They do that by increasing the opportunities for employees to share feedback and making it frictionless. A study by Deloitte validated this and found that high-performing organizations are 2.2x more likely to integrate performance management technology with other workflow systems than low-performing organizations.
Rachel Bondi, Chief Partner Officer at Microsoft Australia says in this new normal, it's vital to create more opportunities for feedback and connection.
"The collaboration with Culture Amp makes it easy for organizations and their employees to give and receive feedback from Microsoft Teams. With remote working the new normal, we've seen Microsoft Teams usage increase to over 75 million daily active users globally. Timely, relevant, and actionable feedback can transform organizations and we're excited to work with Culture Amp who are leading the way in making this a reality for companies around the world," said Ms. Bondi.
Arturo Arrarte, Head of Enterprise, Asia Pacific at Slack says a strong culture has always been a good predictor of success, and that has never been more true than right now.
"As we have shifted to remote work at an unprecedented speed, it is those organizations that are intent on fostering their culture and supporting their people who are faring better and pivoting faster. Culture Amp is at the forefront of a critical shift in measuring employee engagement continuously, and importantly online, rather than relying on legacy feedback models like the annual face-to-face meeting in the office. Integrating the Culture Amp app with Slack is just another way we're making work simpler, more pleasant, and more productive," said Mr. Arrarte.
---
Culture Amp customers can get started with the Microsoft Teams, Slack, Google Chrome, and Outlook integrations today. Giving and requesting feedback from Slack will be available by the end of July.
To learn more about Culture Amp and to help your employees find their new rhythm of work, get in contact.
Build a world-class employee experience today