Case study
How FreeAgent identified opportunities to enhance employee engagement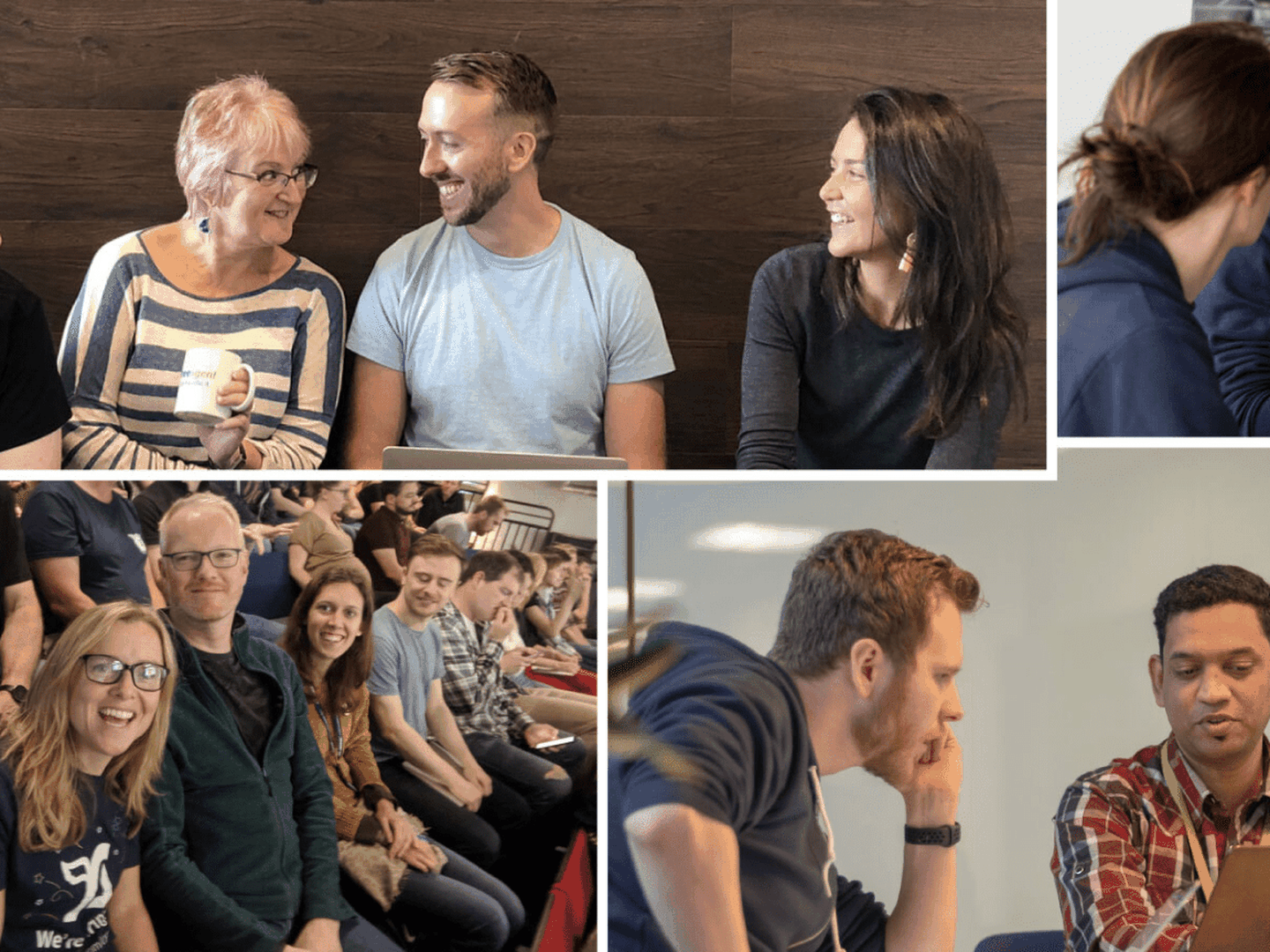 Statistics
260employees

100,000customers
Created in 2007 by three freelancers who wanted a better way to stay on top of their business finances than using spreadsheets, FreeAgent has since grown into one of the UK's leading accounting software companies. More than 100,000 small businesses and freelancers now use FreeAgent to raise invoices, record expenses, track time against projects, file tax returns, and collaborate with their accountants so they can get on with the work they love – not the paperwork.
Donald Lindsay, People Operations Director, joined the company in 2016, having spent 16 years working in finance, legal and fast-moving retail environments. He was also chair of the South-East Scotland branch of Chartered Institute of Personal Development (CIPD) for four years.
When Donald joined, FreeAgent was a thriving start-up with around 70 employees and no internal HR team in place. With an IPO pending, Donald was tasked with bringing structure to the organisation from a people perspective in order to support the company through the rapid growth and changes that the new investment would bring.
"There was a real opportunity to develop our people proposition in order to ensure that the HR side of the business reflected what was expected of a public company," Donald explains. "However, we still wanted to maintain the culture that had been crucial to the company's growth and success. The biggest challenge was knowing where to start."
Challenge: Establish an HR department in a rapidly scaling business 
Donald's first order of business at FreeAgent was looking at how things worked and which tools, if any, were being used.
"The engineers and designers at FreeAgent spend their days making user-centric software that's easy to use. So naturally, they don't have much patience for poor systems. Past experiences with bad interfaces in HR software meant the FreeAgent team didn't have a lot of confidence in the providers on the market."
Donald knew that in order to make informed decisions that could move FreeAgent forward, he needed reliable data.
"Engagement tools that I'd used previously were either laborious to use, asked complex questions, or required significant additional investment in order to interpret the data. Some systems were so focused on the data that they lost sight of the individuals who'd be using it.
"Culture Amp was the complete opposite. As well as being easy to use, Culture Amp's understanding of people reflected our own values and it felt as though significant thought had gone into the platform in order to encourage individuals to engage with it."
The fact that Culture Amp also worked with other software companies provided Donald with added reassurance that the platform could be accepted by the FreeAgent team. Integration with Slack also meant that the platform could be incorporated easily into the company's existing systems and culture.
With Culture Amp in place, Donald was able to both gain a clear understanding of how the different functions of the business were feeling and identify where action could drive the biggest impact.
Solution: A tool which provides clarity
The initial employee engagement survey identified 'learning and development' and 'feedback and recognition' as areas with opportunities for improvement, scoring 61% and 53% respectively.
FreeAgent had been providing staff with an annual pay rise in January, which was linked to inflation, in addition to awarding promotions throughout the year. The Culture Amp platform highlighted an opportunity: FreeAgent staff felt they would be happier if they had a clearer understanding of how their actions influenced their promotions and how their salaries were calculated.
To address this, FreeAgent introduced salary bands and documents that detailed the expectations associated with each level. This gave staff clear career pathways and progression frameworks in which to develop.
From a learning and development perspective, it was apparent that while people at FreeAgent were generally good at focusing on their own development and training, they could have benefited from a consistent learning resource. Donald was keen to introduce a more rounded approach to learning and development, which took into account on-the-job learning, mentoring and external courses.
As a result, FreeAgent introduced a varied programme to support learning and development across the company. This included personal development planning, the introduction of a learning management system, a dedicated manager training programme and strengths-based coaching.
Leveraging transparency to support change
In 2018, FreeAgent was acquired by NatWest Group and has been run as an operationally independent entity ever since.
"Launching a Pulse survey proved to be particularly valuable around the time of the NatWest Group acquisition," explains Donald.  "Understandably, there was some concern from the team that being acquired by a large corporate financial institution would affect our existing culture and day-to-day operational practices."
Prior to the acquisition taking place, one of the key questions the survey asked was 'do you think the NatWest Group acquisition will provide a positive opportunity for FreeAgent?'  73% of people responded favourably, only 3% responded negatively and the rest indicated that they were going to wait and see before deciding.
Survey comments were used as part of an 'Ask Me Anything' session with senior NatWest Group management, allowing the real-world concerns of FreeAgent team members to be addressed in person.
In the 12 months following the NatWest Group acquisition, 100 more people joined FreeAgent, which almost doubled its workforce. Despite the inevitable pressure, this placed on Donald and the People Operations team, Culture Amp proved to be invaluable in keeping the employee voice at the core of decision making.
Donald continues, "candidate entry and exit surveys help us understand the onboarding process and what is important in helping people feel engaged and enabled as they join the company.  As we've grown quickly, it's been even more important to get this right."
FreeAgent's three-day onboarding programme is designed to optimise the 'quiet time' that people have when they first start a new job. The programme not only teaches new starts how to make the most of their FreeAgent experience, it also allows for some valuable breathing space and the chance to get to know their colleagues.
The work by the People Ops team paid off, with employee support for the acquisition growing in the 12 months that followed. When the Pulse survey was repeated the following year, 77% of respondents said that the NatWest Group acquisition was a positive opportunity for the company.
Small changes making a difference
Creating a culture of inclusion was a key focus for FreeAgent as it grew. Culture Amp's D&I surveys still play a role in helping FreeAgent focus on new initiatives.
While 98% of respondents said that FreeAgent was an inclusive place to work, the data highlighted that employees felt there were issues when it came to accommodating food allergies and specific diets.  Since then, contributions to the company's bake sales are now accompanied with an ingredient 'tick-list'.
As Donald comments, "it's not changing the world but it's making a difference to some people, and that's important."
As Culture Amp has gained credibility across FreeAgent, the organisation has started to look at other ways of collecting feedback using the platform, such as 360 surveys. "There was initially some hesitation about 360s, so we started with the executive team," says Donald.  "With the execs on board, we're better placed to get the rest of the organisation involved. We're considering encouraging managers to initiate their own 360s moving forward."
Results: Low attrition, despite change
Since implementing all these initiatives, scores for Learning & Development and Feedback & Recognition have increased to 78% and 63% respectively in repeat engagement surveys.
FreeAgent's staff attrition is also low, at 7.6%, well below the technology industry average of 13.2%.
One of FreeAgent's three strategic anchors is investing in people and culture to ensure a happy, high-performing and diverse team and Culture Amp plays a key role in supporting this.
"Culture Amp has been a real game-changer for the People Ops team, providing a good measure of what's happening in the company," concludes Donald. "For example, when the Covid crisis first hit, as part of our ongoing engagement survey cycles, we were able to use Culture Amp as a means of checking-in with our teams to ensure they were ok.  This has helped us demonstrate that at FreeAgent we don't just listen to people; we take practical actions to address what we hear from them.
"As such, we've been able to keep our people engaged while ensuring that new joiners feel engaged and empowered to embrace the FreeAgent culture. This is particularly important for our remote workforce.  There's a very high level of engagement among our teams and it's great to see people across the company collaborating effectively to deliver a great product and service to our customers."
Headquarters
Edinburgh, United Kingdom
Challenge
Establish an HR department in a rapidly scaling business
Solution
A tool which provides clarity
Results
Low attrition, despite change
Build a world-class employee experience today