5 ways to fight "diversity fatigue"
According to Atlassian's 2018 State of Diversity report, employees were 50% less likely to participate in diversity, equity, and inclusion (DEI) initiatives than they were the previous year. "Diversity fatigue," or exhaustion from discussions around diversity, equity, and inclusion, is a genuine issue at many companies. At Peoplism (a D&I+ consulting firm), we see many organizations where employee and executive interest around DEI is fizzling out. 
People feel discouraged, disheartened, or disillusioned about whether progress is possible, so they give up trying to make any. And when companies and employees give up, quite predictably, progress stalls. That's why "diversity fatigue" is a real threat, and why you should be taking steps to prevent it at your company. Here are 5 tips that can help you fight "diversity fatigue."
Tips for fighting diversity fatigue
1. Set realistic expectations around DEI work
Issues related to diversity, equity, and inclusion are infinitely complex, and no silver bullet will solve them overnight (or even over many nights). At their heart, they deal with inequities in race, gender, etc. that have been baked into the fabric of our culture. This means that progress will be hard-fought over a long period of time, require significant resources, and, in some cases, require taking two steps forward to take one step back.
The better you can communicate the long-term nature of this work, the less disillusioned people will feel when your DEI issues are not magically solved after one or two years of effort. Of course, while you're on that uphill climb, it's completely possible to have small wins, and necessary to celebrate them along the way.
2. Set small-win goals that are clearly defined, discrete, and measurable
If small-win goalposts are unclear, progress can't be seen. An often overlooked area where companies can set small tangible goals is around inclusion and belonging. You can clearly articulate and measure goals around inclusion and belonging in two ways.
First, you can focus on efforts, for example: "Host 6 lunch and learns where employees talk about an important identity to them" or "Put all managers through a workshop series about running more inclusive teams." At the end of the year, you either took those actions or didn't. 
Another way to articulate and measure goals around inclusion and belonging is by adding inclusion and belonging questions to your yearly or quarterly engagement survey. Then, set goals around percentage agreement to inclusion statements overall (e.g., percent of underrepresented employees who agree to the statement "I feel like I belong at Company X").
Alternatively, you can set goals around reducing the gaps between different demographics who agree to certain questions (e.g., reduce the 10% gap that exists in agreement with the statement "I feel included on my team" between men, women, and underrepresented genders.)
3. Communicate your efforts to the entire company regularly
Many employees are kept in the dark about their company's DEI efforts. Employees hear an executive declare diversity, equity, and inclusion as a priority, then hear little else. As a result, people (understandably) get cynical. It's important to keep your employees up-to-date about your actions to increase diversity, inclusion, equity, and belonging.
We recommend that all our clients announce overarching details about their efforts quarterly in full company meetings. We suggest articulating how each effort is helping to meet a larger company goal around DEI, details of how that effort was advanced in the past quarter, and the outcome of the effort. We also recommend that, at least yearly, someone gives a report to the entire company about progress made toward overarching DEI goals and announces new goals for the coming year.
4. Empower individuals to take action
While there's no magic bullet, employees need to be empowered with small tips and tools for ways they can help build a more inclusive workplace. Having an idea of specific things they can do and creating space for them to generate and act on some of their own solutions helps to fight the sense that DEI work is "all talk" and "no action." Some examples of concrete tools and resources include:
5. Don't dodge the elephant in the room: address "isms" and systems of oppression head-on
Biases and stereotypes are major contributors to the lack of diversity and inclusion plaguing most industries. No company will be able to fully achieve its diversity, equity, and inclusion goals without leaders (and all employees, really) doing the hard work of challenging their own biases.
While unconscious bias training can be a good starting point, becoming aware that bias exists is not the same as becoming less biased. Companies serious about moving the needle should engage in conversations that undermine systemic biases and stereotypes, help participants identify and challenge their personal biases, and understand how bias plays out at your company.
Stop "diversity fatigue" in its tracks
DEI work can be draining. But keeping motivation around this work high is our only shot at making real progress and driving real change. Setting clear expectations and goals, regularly reporting on progress, giving employees small wins, and addressing these issues at their core is our best bet for preventing "diversity fatigue" from becoming full-blown diversity burnout.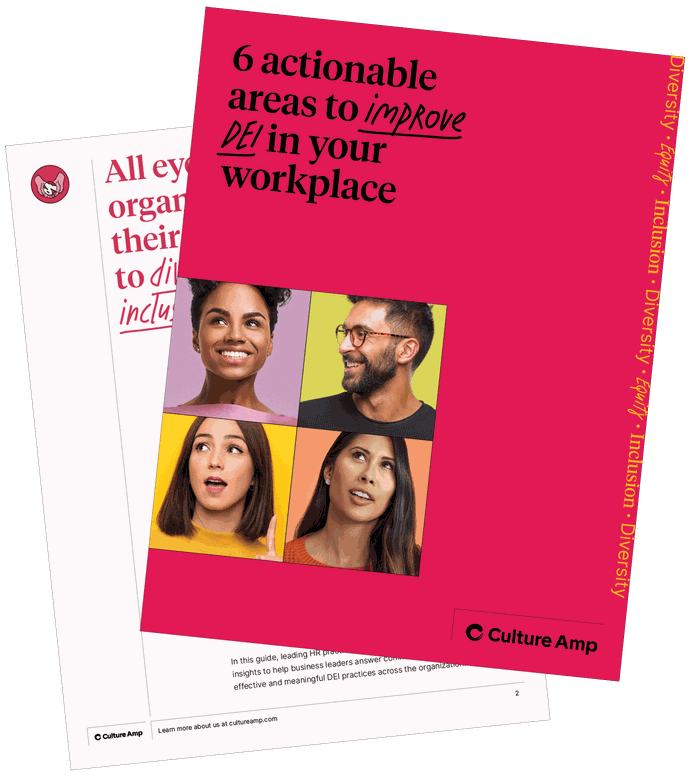 Build a workplace where everyone can thrive
Get 6 actionable areas for improving DEI in your workplace.
Download the ebook
Build a world-class employee experience today