Elevate your Culture Amp customer experience
Bringing on a new tool isn't easy. Not only does it require building a solid foundation of partnership, it also requires developing strategies to increase adoption, providing resources to employees, setting expectations around the tool's functionality – and more. Ultimately, the process can leave leaders and employees questioning whether it was worth it to bring on a new tool at all.
At Culture Amp, we're dedicated to providing an exceptional experience to our customers every step of the way. That's why we're excited to launch the Customer Experience Hub, a central page where new customers can find key resources to help them learn how to use the Culture Amp platform faster – and to its full potential.
With the Customer Experience Hub, customers can spend less time figuring out the Culture Amp platform and more time crafting an intentional culture that delivers results for their people and their business.
Introducing the Customer Experience Hub
In the Customer Experience Hub, users will find important resources that will help them familiarize themselves with the platform, guide them through how to effectively leverage the platform's many tools, and connect them to our thriving Culture First Community.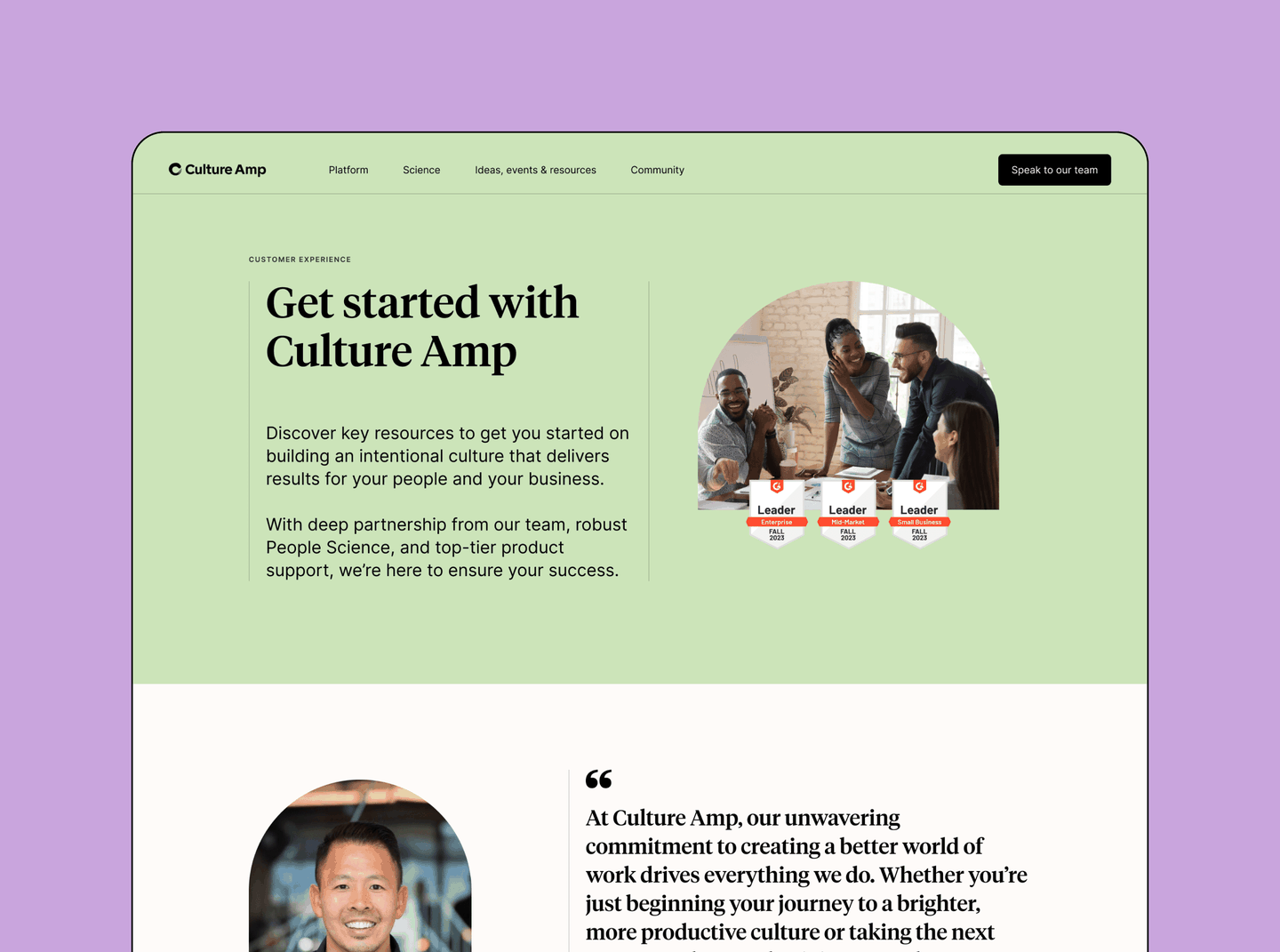 Get started with the quick start guide
Here, customers will find the first steps they should take in their Culture Amp partnership. This one-stop shop contains:
Culture Amp Training: Expert-led training courses for admins, managers, and employees
Support Guide: Advice and answers to technical- and product-related questions
Culture Amp partner ecosystem: An overview of Culture Amp's trusted network of best-in-class technology and consulting partners
Culture First Community: The largest HR community in the world, where customers can connect and collaborate with fellow culture leaders
Learn from peers with Culture Amp case studies
In this section, customers can explore how leading companies around the world are successfully using Culture Amp to transform their culture and achieve success. Users can take inspiration from peers and apply proven strategies to drive effective culture initiatives at their own organizations.
Explore the latest insights from Culture Amp
Culture Amp is built on a deep foundation of ongoing People Science research – which we continuously deliver to our customers. In this section, users will be able to find top tips, guides, and templates that can help them craft impactful people strategies that are backed by the latest science.
Customers can also stay informed about the newest developments in the Culture Amp business and how these changes will benefit them.
Our vision and what's coming next
Today, the Customer Experience Hub is a one-stop resource that helps new and existing customers access top-tier support and key information. However, our vision doesn't stop there.
Our goal is to grow the Customer Experience Hub to include even more resources, host a wider range of events and webinars, offer service details by tier, and ultimately, make it easier for every customer to find what they need to be successful with Culture Amp.
We thank all of our customers – past, present, and future – for your partnership with Culture Amp. Our mission is to create a better world of work, and our customers are an incredibly important part of how we achieve that.
Build a world-class employee experience today