Do you know these 3 modern HR practices?
There was a time when HR practices were seen as a bit cold. Human Resources was the place where papers were filed, and complaints were voiced. From the outside, it seemed the main goal was to make sure employees were productive and the business gained value from the outside.
Fortunately, today's HR practices are more focused on putting people first. HR professionals strive to create the best employee experience possible so that people are engaged in their work. 
However, these goals and challenges require different skills and HR tools to succeed. To keep up with modern HR practices, you need to know about the latest trends. And, more importantly, how those can improve the organization.
In this blog, we'll unpack three modern HR practices that are essential for success today. We'll also provide tips for putting these three practices into action. 
1. Focus on empathy
There is no magical divider at the door to every office that prevents people from bringing in other aspects of their lives. Having empathy as an HR professional helps you understand that people will bring their whole selves to work. As Dawn Sharifan, Head of People at Slack, recently told us, it's hard to be a person.
"Life is complex, and things happen," she said in Culture Amp's Modern HR Playbook. "Who we are in our personal lives is who we are at work. If you're getting a divorce, if your kid is sick, if you got in a car accident on the way to work, that all affect your ability to go and do things like creating the board presentation or marketing materials."
The workplace should be a place where people feel safe and supported. This means going beyond a sympathetic pat on the back. People in an organization need to be there for each other.
Tip: Take a look at participation rates for different benefits you offer. Seeing what's popular and what's not shows you ways to make changes that will better support people.
As an HR professional, that means providing employees with resources in their time of need and letting them know what options their benefits package offers. For example, if your company provides mental health services, make sure everyone knows how to take advantage of them if need be. In other words, modern HR recognizes and embraces humanity at work.
2. Dig into data
From performance to employee engagement, there are now ways to record and track data about everything. Numbers are an HR professional's new best friend. In fact, a 2017 Deloitte report found that 71 percent of organizations now see people analytics as a priority in their organization.
Why? Because people analytics bridges a gap that exists in many organizations between the HR department and executive leadership. Before, if an HR professional proposed a new initiative, it wasn't easy to win over the C-suite because they wanted proof it'd be worth the investment.
Data can quantify many aspects of the employee experience in a way that makes sense to leaders. They can now see why engagement is important and how it affects the bottom line.
Tip: Using our five-beat strategy ensures that you understand and utilize all of your people's data - getting a complete picture of what's going on. 
Pictured below, the five-beat strategy starts by establishing a baseline, and then connecting the survey to the employee experience. Next, you monitor progress and develop employee effectiveness. Finally, you identify primary issues and conduct a deep-dive study to gather more information on what's going on.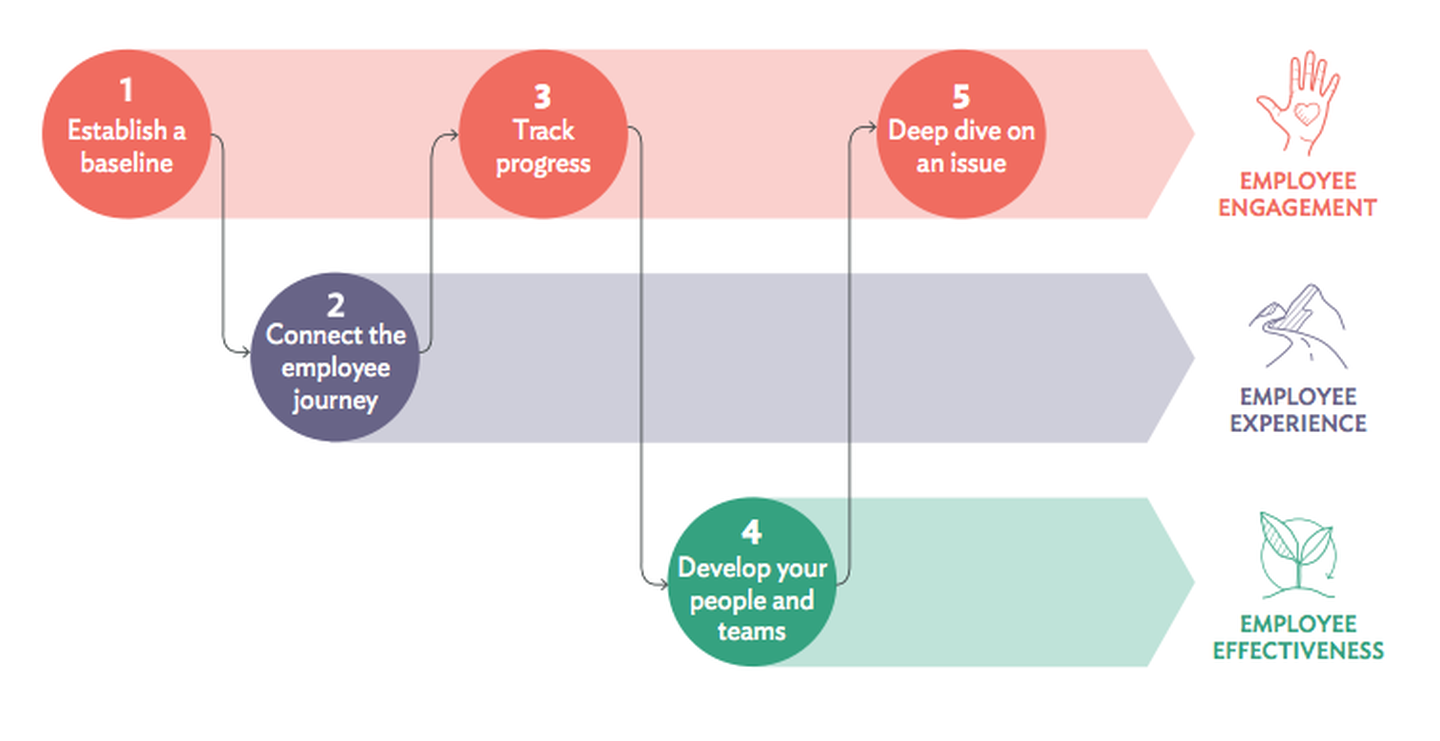 3. Turn analysis into strategy
While people analytics provide valuable insights to an organization, the next step is finding a way to apply HR practices in a strategic way to create change.
If the data says the organization has poor retention and low employee engagement, you need to find a way to fix things. By working with other company leaders, you can connect all the dots and create a course of action.
Considering all that HR professionals juggle, that's not always easy. But being involved in everything from the employee experience to payroll budget to learning and development gives you a unique perspective. And once there's a plan in place, it's up to HR professionals to execute and adjust as necessary.
Tip: Never stop formally collecting feedback from people. In fact, we recommend the following feedback for continuous improvement.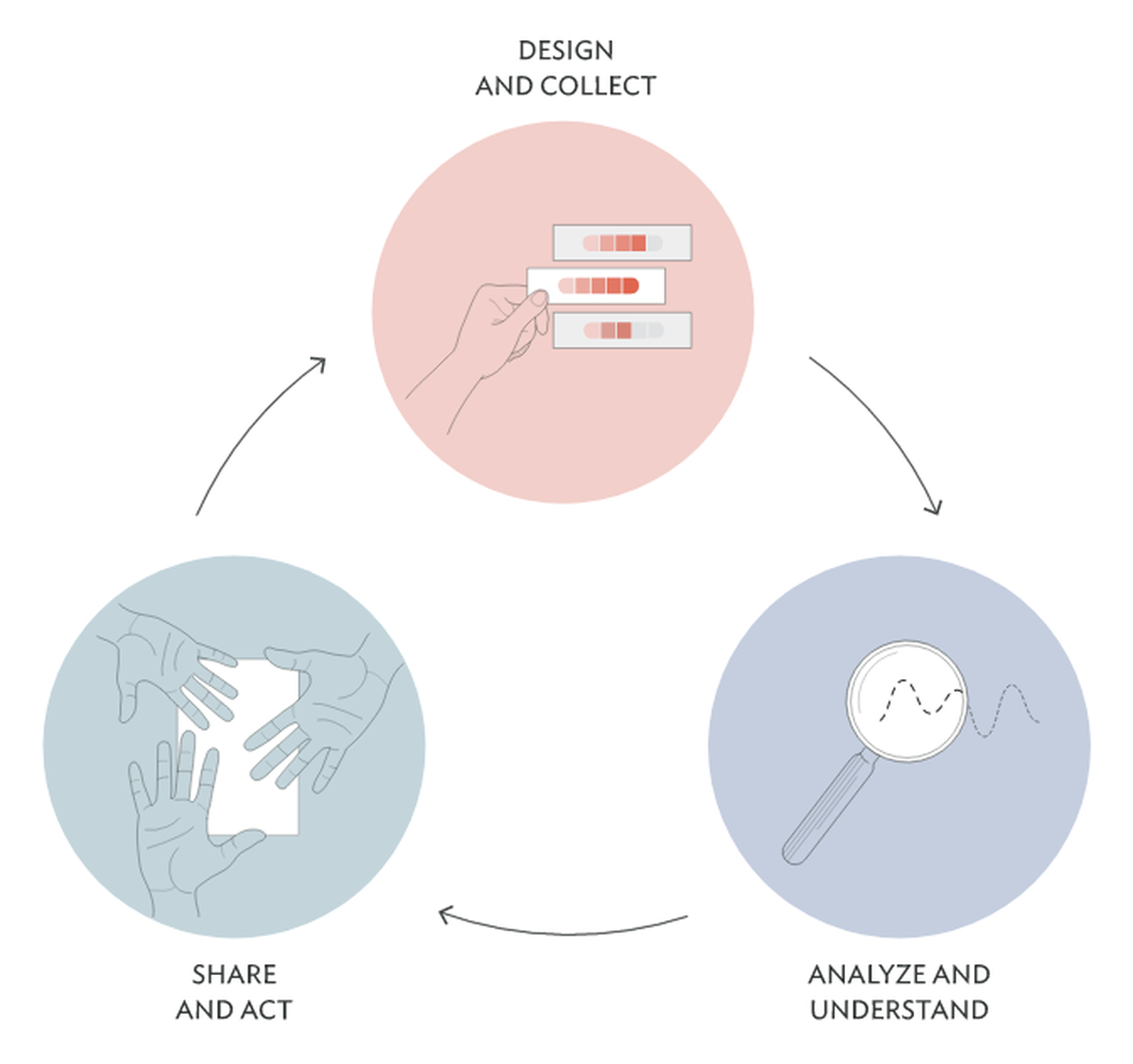 The employee feedback loop starts when you're designing your survey. This involves choosing the right questions and gathering the responses for the situation you're dealing with. Next, you look at the results and compare them to other industry benchmarks. This will help you decide what actions to take, which is the final part of the loop. You share the results and the plan to make improvements with the organization. Then the cycle starts over again with a new survey.
Modern HR in practice
Embracing empathy, focusing on data, and enabling analysis to drive strategy are the three modern HR practices that today's leading organizations implement. Although change and transformation rarely come easily, there are easy-to-use tools and platforms that can help you take your people practices to the next level. If you're not sure where to get started, check out Culture Amp's employee engagement surveys, 1-on-1 meetings tool, and Skills Coach, a daily coaching tool for managers.
Build a world-class employee experience today