Case study
How Pampered Chef uses Shoutouts to boost employee recognition and foster company culture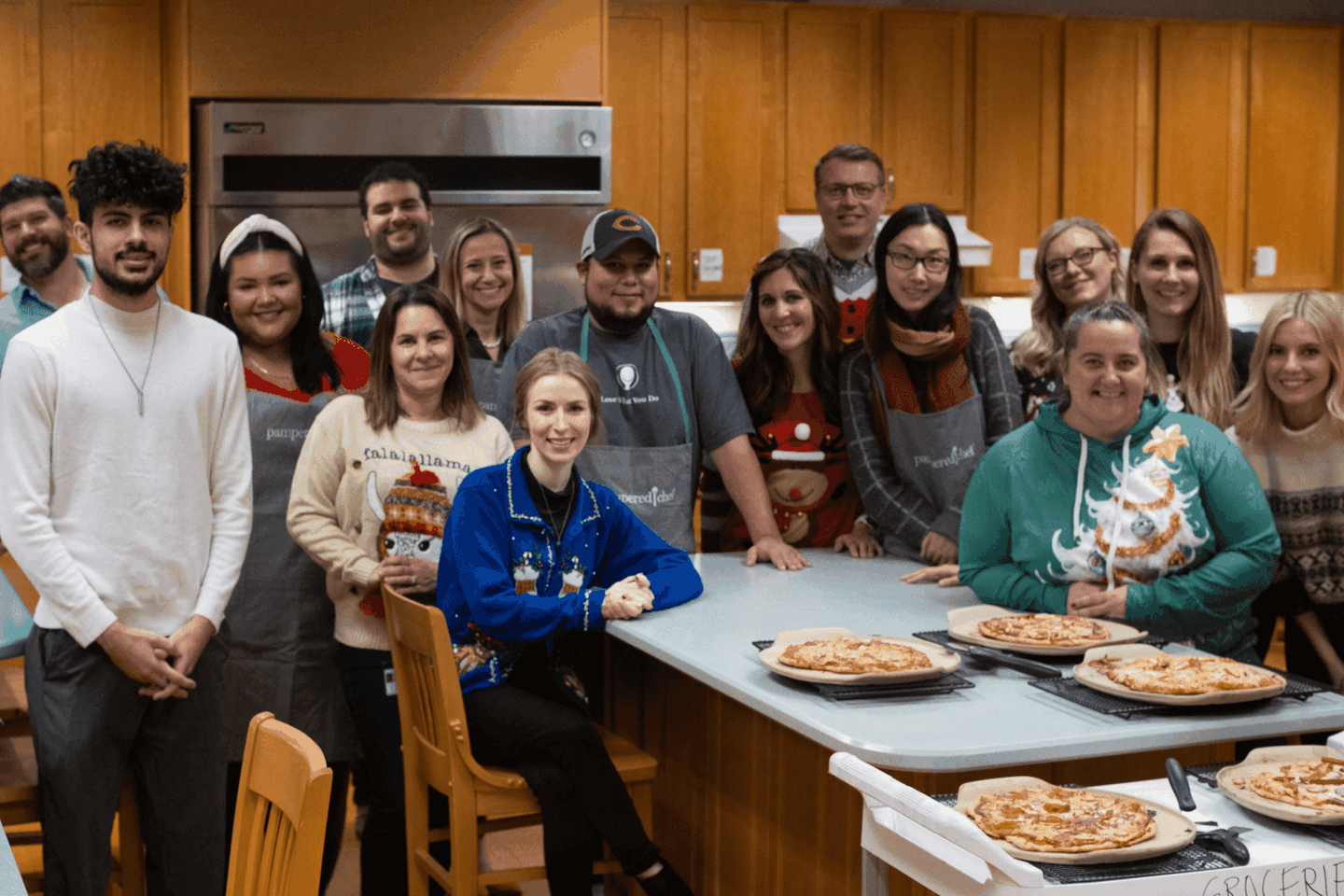 Statistics
310employees

20+hours saved on survey distribution and reporting

276%increase in recognition tool adoption

188shoutouts in a 3-month period
Pampered Chef needed an employee experience platform that would make their internal employee data more accessible, help measure the data against external benchmarks, streamline the reporting process, and improve employee recognition. To achieve these goals, they used Culture Amp's employee engagement solution, including Shoutouts, for peer to peer recognition.
Pampered Chef specializes in kitchen tools, cookware, and food products and has an international community of more than 65,000 consultants who host in-person and online parties. Their company goal is to help bridge the gap between the ideal mealtime experience and the realities that get in the way by providing customers with more confidence in the kitchen, recipes that help families enjoy mealtimes together, and a flexible business opportunity for their consultants.
Jackson Mackowski originally joined Pampered Chef as an analyst on the HR team and was recently promoted to Talent Partner. In his new role, Jackson is responsible for all the in-house employee experience touchpoints – gathering employee feedback, building and promoting company culture, and overseeing performance management and development.
Challenge: Streamlining employee feedback processes, unifying data, and incorporating new culture pillars into the employee day-to-day
Prior to partnering with Culture Amp in November 2022, Pampered Chef utilized another employee experience platform, but it didn't provide the ease of use that the HR team needed:
There wasn't a log-in dashboard where data could be analyzed or compared to previous metrics.
Reporting was difficult to generate.
Benchmarking was limited.
There weren't any resources to tie employee engagement results to action items.
Leadership teams tracked key performance indicators (KPIs) in a spreadsheet.
The whole in-house workforce tracked employee recognition in Pampered Chef's human capital management (HCM) system.
"Our biggest struggle was understanding what actions leaders were taking, or if they were even taking action on employee feedback. Also, since we didn't have benchmarking, we didn't know what to prioritize," said Jackson.
The HR team also struggled to get the leadership team and employees to use the employee recognition tool within their HCM system.
Pampered Chef had launched new culture pillars in 2022 and hoped tying them to employee recognition would emphasize their importance across the organization. Since the company operates on a hybrid-work model, frequent reemphasis on these culture pillars was especially important to create unity, collaboration, and a cohesive work environment.
However, the HCM platform required a separate log-in, which employees often found cumbersome. They would forgo sending recognitions altogether or let their recognitions stack up and submit them in batches. This meant recognition wasn't timely or consistent, and the culture pillars weren't often mentioned by the employees themselves.
Between the need for better surveys and better employee recognition, Jackson started the search for a new employee experience platform. He discovered Culture Amp when it was recommended by a coworker.
Solution: Implementing Culture Amp's surveys and Shoutouts to tie culture pillars to employee recognition
Pampered Chef's HR and leadership teams loved the transparency and simplicity of Culture Amp's reporting and the platform's ability to compare data to external benchmarks. Culture Amp's survey templates also made survey set up and implementation much easier.
"We have confidence that the questions are carefully curated by Culture Amp's People Scientists. Employees have the ability to add comments to their rating questions. The surveys are so easy to build and schedule, and they're easily customizable," said Jackson.
As Pampered Chef onboarded the employee engagement solution, Culture Amp was also launching its pilot program for Shoutouts – a real time, peer- to-peer recognition solution that makes showing timely appreciation, easy, genuine, and scalable. Since Jackson had mentioned the need for an employee recognition tool, Culture Amp invited them to be part of the pilot.
In less than 30 minutes, Pampered Chef set up Shoutouts in a company-wide Slack channel. Then, they added company-specific emojis that represented their new culture pillars to each recognition, promoting the culture pillars across the organization and keeping them top of mind for every employee.
Results: Creation of internal benchmarks, an increase in timely employee recognition, and more visibility to culture pillars
Within three months, Pampered Chef conducted a performance diagnostics pulse survey to get a better idea of their employees' experience and create internal benchmarks and goals. They combined the findings with results from onboarding and exit surveys and were pleasantly surprised to discover that they aligned with the top 10th percentile of mid-sized companies in North America when compared to external benchmarks.
Jackson estimates that Culture Amp saves him 20+ hours of time per survey – time he used to allocate for manual tasks dedicated to planning, survey setup, and building custom dashboards for reporting. In particular, he's impressed with the functionality of Culture Amp's admin's action dashboard and heatmaps.
"They're so dynamic. With the action dashboard, I can see what reports have been shared and how many leaders have selected, created, and completed actions. With the heatmaps, I can click into individual questions and scroll down through the different factors. This view accelerates how we share data and helps us visualize, analyze, and map the data to areas of improvement that we might not have before," he said.
Success with Shoutouts
Shoutouts has also been a huge hit with employees. Pampered Chef's workforce gave:
188 shoutouts within the first three months
In the previous tool, Pampered Chef's employees had only submitted 50 recognitions over a similar three-month period. Also, there was a 10% positive increase in response to "I receive appropriate recognition for good work at Pampered Chef" on the most recent employee engagement survey.
"There's also a lot of engagement around the shoutouts. People react with emojis in Slack, or attach photos or screenshots. They respond and say thanks. Coworkers will reply and tag on with other comments. So, there's additional shoutouts within the original shoutouts," said Jackson.
As a result, the culture pillars have become more ingrained in employees' everyday behaviors as they continue to be mentioned on a much more frequent basis.
Looking ahead
Pampered Chef plans to launch both a yearly employee experience survey and a timely pulse survey to get feedback on employee engagement and recognition. They're also in the process of redesigning their performance management program, and Jackson hopes to include Culture Amp's performance management system as part of its new initiative. And, of course, the company will actively pursue their use of Shoutouts.
"I'm really confident that employee recognition will continue to increase because of how our coworkers feel about Shoutouts. It's already off to a really strong start. I can't wait to continue measuring the feedback, and then tie that feedback to our business results and performance. I'm excited for what's to come, and I have thoroughly enjoyed our relationship with Culture Amp," said Jackson.
Headquarters
Addison, Illinois
INDUSTRY
Consumer Staples
CHALLENGE
Streamlining employee feedback processes and incorporating new culture pillars into everyday employee interactions and communications
SOLUTION
Using Culture Amp's employee engagement solution and Shoutouts tool to tie culture pillars to employee recognition
RESULTS
Better internal benchmarks, more consistent employee recognition, and frequent mention of culture pillars
Build a world-class employee experience today