Tech company cultures are not all the same
The infographics in this article were updated on February 26, 2020.
A key thing we have learned over the last five years measuring technology startups and growing tech giants' cultures is that despite the stereotypes, there is no singular tech culture. Pied Piper is not Hooli and Google is not Uber (whose leadership and culture have been the subject of much recent media attention).
There's been a lot of chatter about Silicon Valley workplace cultures on the back of Travis Kalanick's decision to resign from Uber. No doubt there are New Tech organizations that have grown quickly without nurturing healthy cultures, but we believe they're the outliers.
At Culture Amp we have the benefit of being able to view employee engagement data across hundreds of New Tech companies over the past five years. We've just released a report sharing insights on our current benchmark data: What New Tech employees need - Insights for driving engagement and retention. We believe our access to employee feedback uniquely positions us to have a data-supported view of Silicon Valley and New Tech organizational cultures.
Here's what we know. There are quite a few areas where New Tech employees have more favorable views of the workplace and organizational culture than employees at non-New Tech organizations.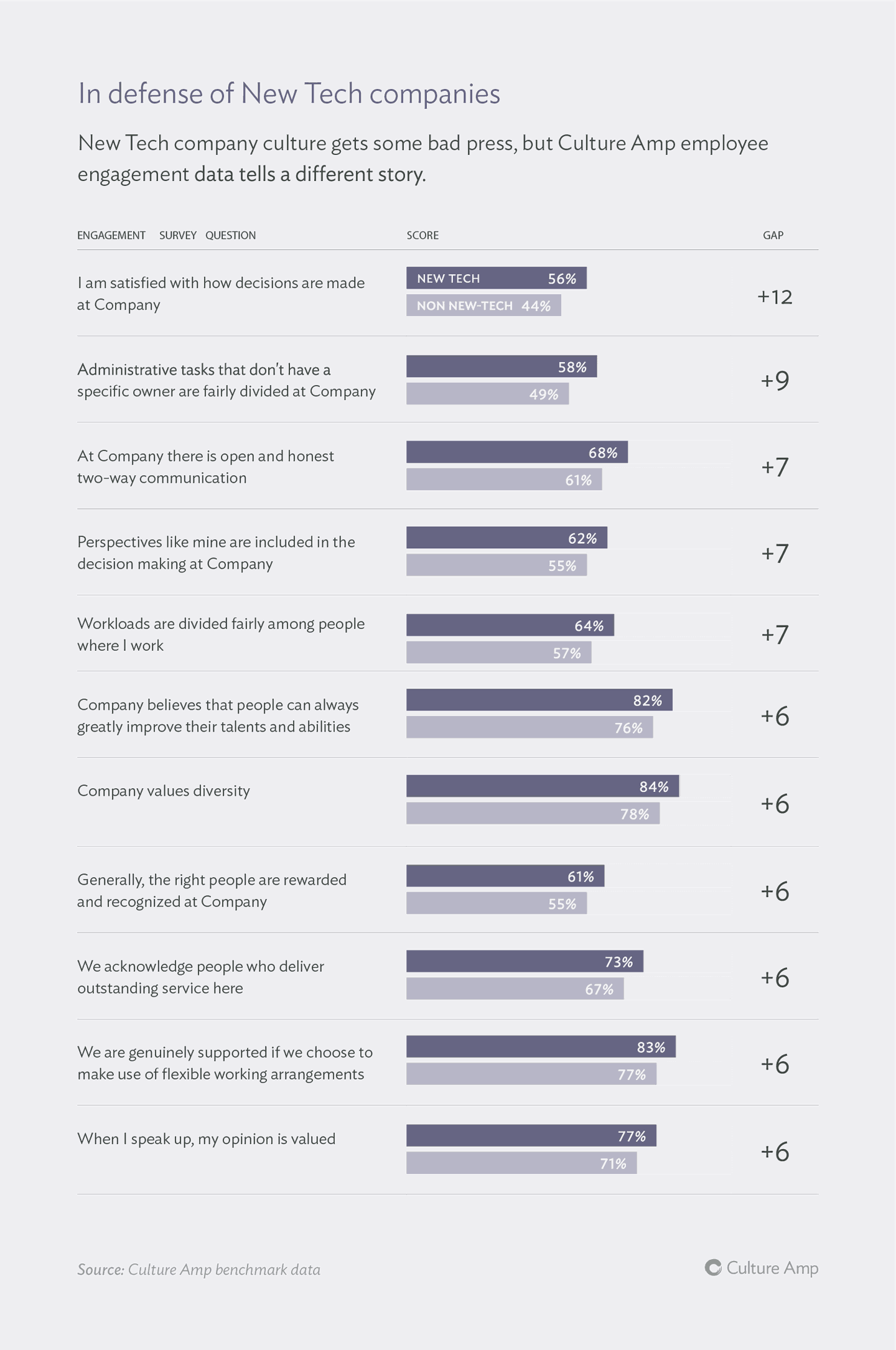 As you can see from the above results, New Tech organizations take the lead in:
Workplace flexibility (likely not surprising but reinforcing of the many anecdotes)
Perceptions of fair reward and recognition
Fair division of workload
Motivating people
Leaders of New Tech organizations know they're competing for talent with other New Tech organizations, and organizations outside the industry. Employees know there's competition for their skills too. Employee feedback data suggests that organizations that invest in understanding what's important to employees and creating a great work culture gain a competitive advantage as employers.
When we compare the New Tech companies that are highly effective at engaging their employees with the average New Tech company, we see notable differences in growth scores, Glassdoor ratings, and employee intention to stay at the company. Creating that emotional connection to your company is clearly an important part of a new tech company's sustained success.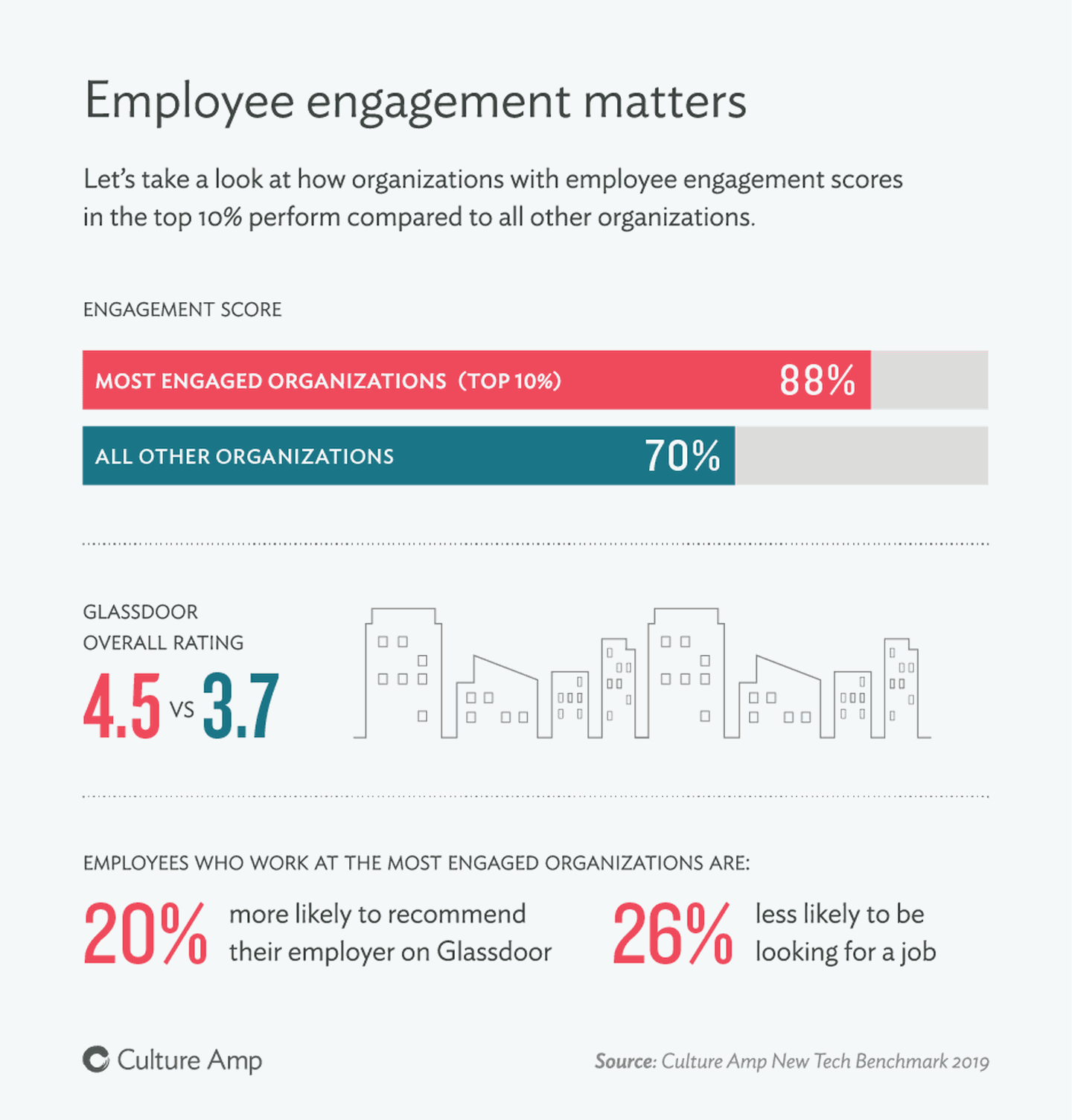 How do the best tech companies differentiate from the rest when it comes to establishing and sustaining employee connection to the company? They have leadership that demonstrates that employees matter, provide great learning and development opportunities, and establish confidence in the direction of the organization.
As you read articles over the coming weeks noting concern about Silicon Valley culture, please also consider the data in our latest report that suggests many Silicon Valley companies are creating healthy cultures. Just because Hooli doesn't seem right you shouldn't write off Pied Piper.
If the current storm of activity has taught us anything, it's that workplace culture not only impacts the above metrics but can spiral outwards to an entire brand. If we needed another reason to care about workplace culture (we didn't), there's one.
See how Culture Amp can help you improve company culture
Contact us
Build a world-class employee experience today