Setting you up for success in 2020 - Q4'19 updates
It's a new year and we're excited to share new tools and resources so you can get a head start with your 2020 priorities. Read on for some of our favorite highlights. And if you're a customer, check out the training course below for a full run-through.
Training whenever you need it
Culture Amp Training allows our customers to learn about employee engagement, employee experience, and performance management. There are over 40 courses available on-demand. In these courses, you can learn best practices from our in-house experts, test your knowledge with quizzes, or register for live sessions with a Coach. 
Check out our newest courses to learn about: 
"Culture Amp customers have long been able to take advantage of our Coaches' advice and our People Scientists' expertise in real-time - we're excited to offer the same quality guidance on-demand so you can use our platform with confidence."—Bailey Edgell, Customer Education at Culture Amp
What is new in Engagement?
Build a better company with diagnostic, deep dive, and pulse surveys with powerful analytics and action planning.
Simplified report configuration 
Sharing reports with managers is a key first step in taking action after a survey. We have redesigned our report sharing so it is easier and faster for you to share survey results with the rest of your organization. 
This update simplifies setting report configurations so you can confidently create suitable reports for the most common stakeholder use cases. When you go to share reports, you will see a simplified report creation page, which offers guidance and recommendations on what information to share with whom.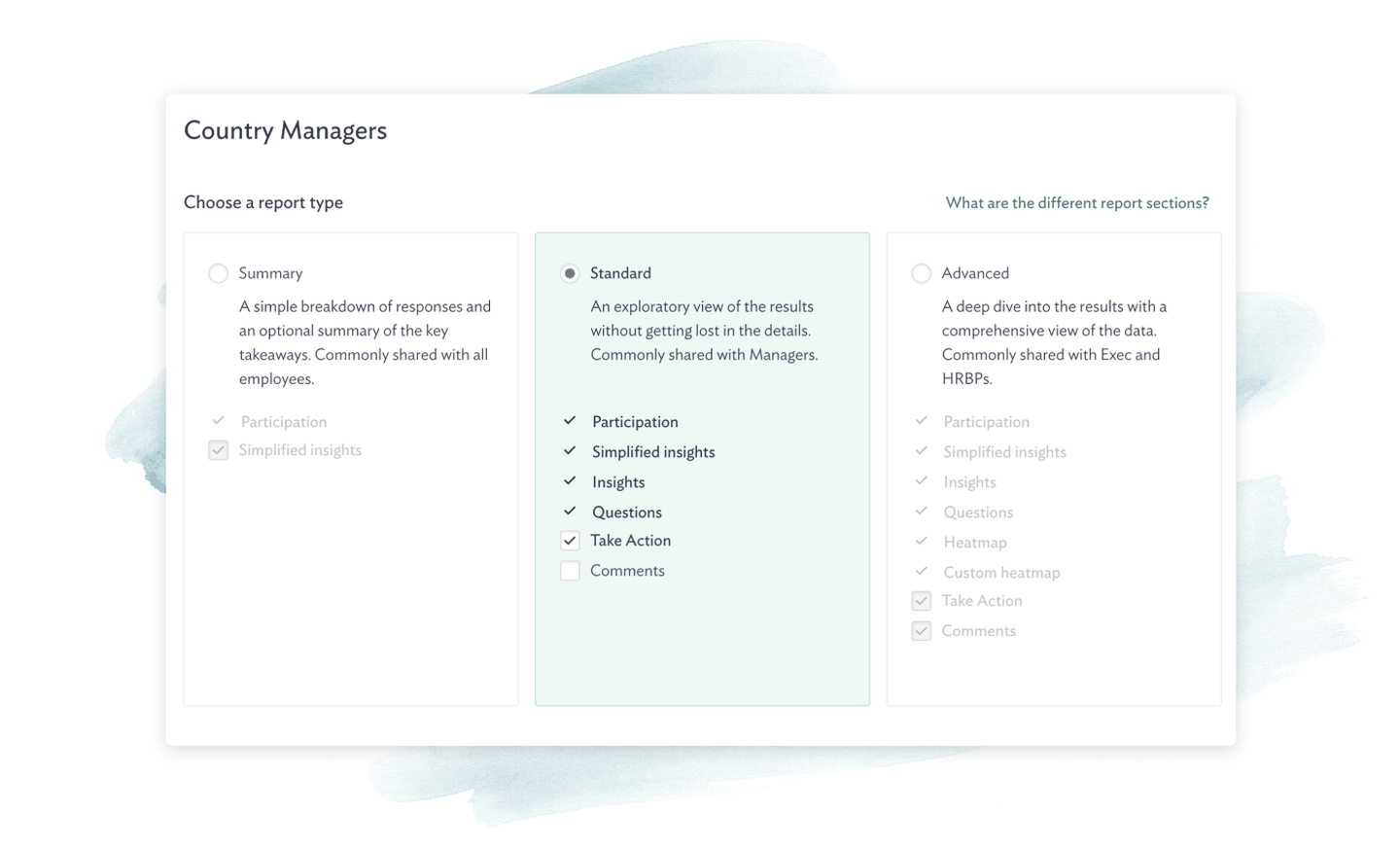 Inspire more action with redesigned inspirations
Inspirations in the platform provide suggestions on addressing some of the opportunity areas uncovered by your survey. 
We have redesigned all inspirations so they have implementation instructions and information on why they can help inspire action in your company.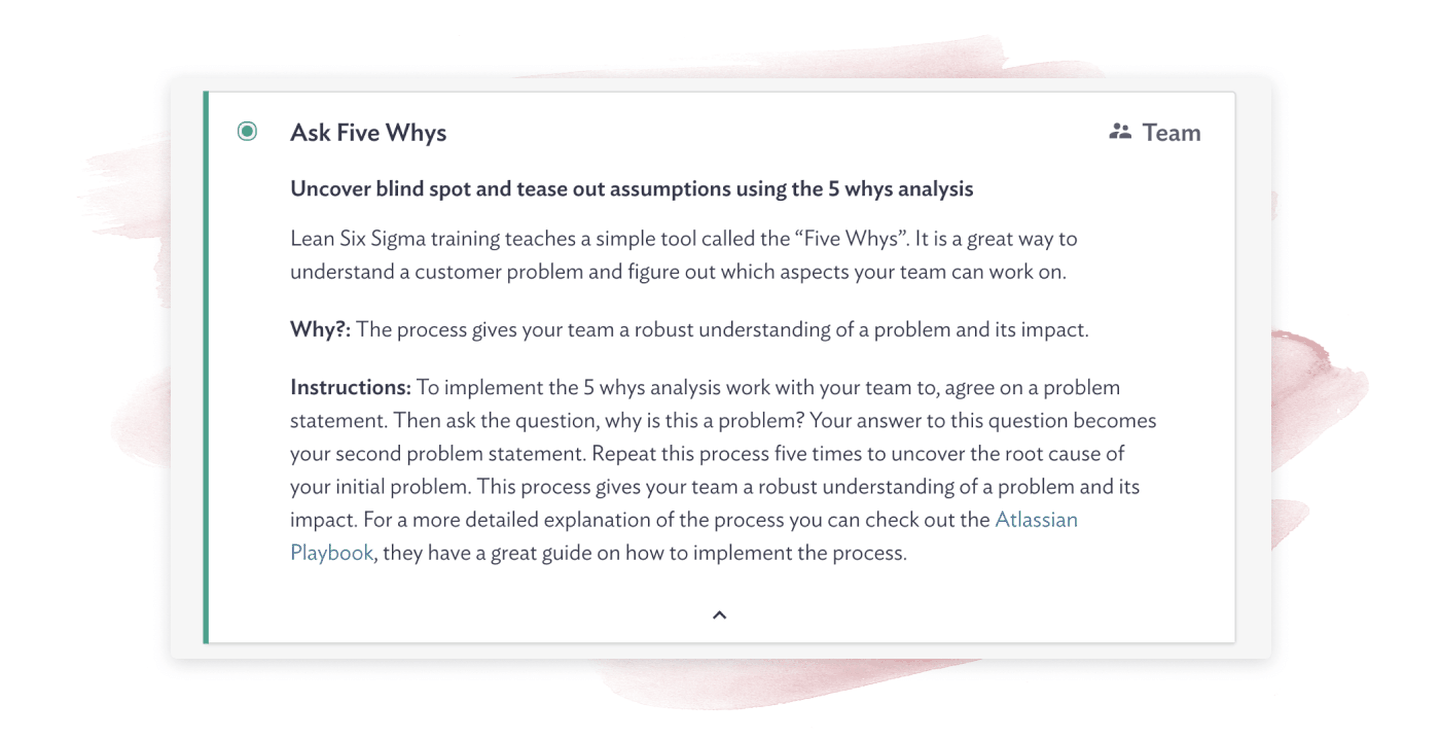 "One of the barriers to taking action is not knowing if something will work or where to start. So for all of our inspirations, we've now added the 'why' behind the idea, who it is intended for, as well as clear instructions on how to get started. These new additions make it easier for people to choose and implement action by gaining a quick understanding of the benefits and steps involved."—Chloe Hamman, Director of People Science
Gain additional context from your heatmap comparisons
The heatmap report brings your results to life so you can quickly uncover the different experiences of people within your organization. It's now possible to use the heatmap to compare your results to any other benchmark, not just your own company average.
What is new in Performance?
Truly develop your people with performance reviews, goal tracking, continuous development, and 360s. 
Recognize your employees with Praise 
With Public Praise, it's now possible to provide that peer-to-peer feedback while also capturing it for easy reference during a subsequent performance cycle.
"Positive feedback is an insanely effective tool for building confidence, trust and morale across an organization, and is an important part of any healthy and active feedback culture, which is why we're so excited to bring Public Praise to Performance."—Nick Del Vecchio, Senior Product Manager
Culture Amp Performance's Praise Wall enables your team to share public kudos about anyone in your organization. It makes it easier to celebrate colleagues, thank teammates for a job well done, and give quality feedback.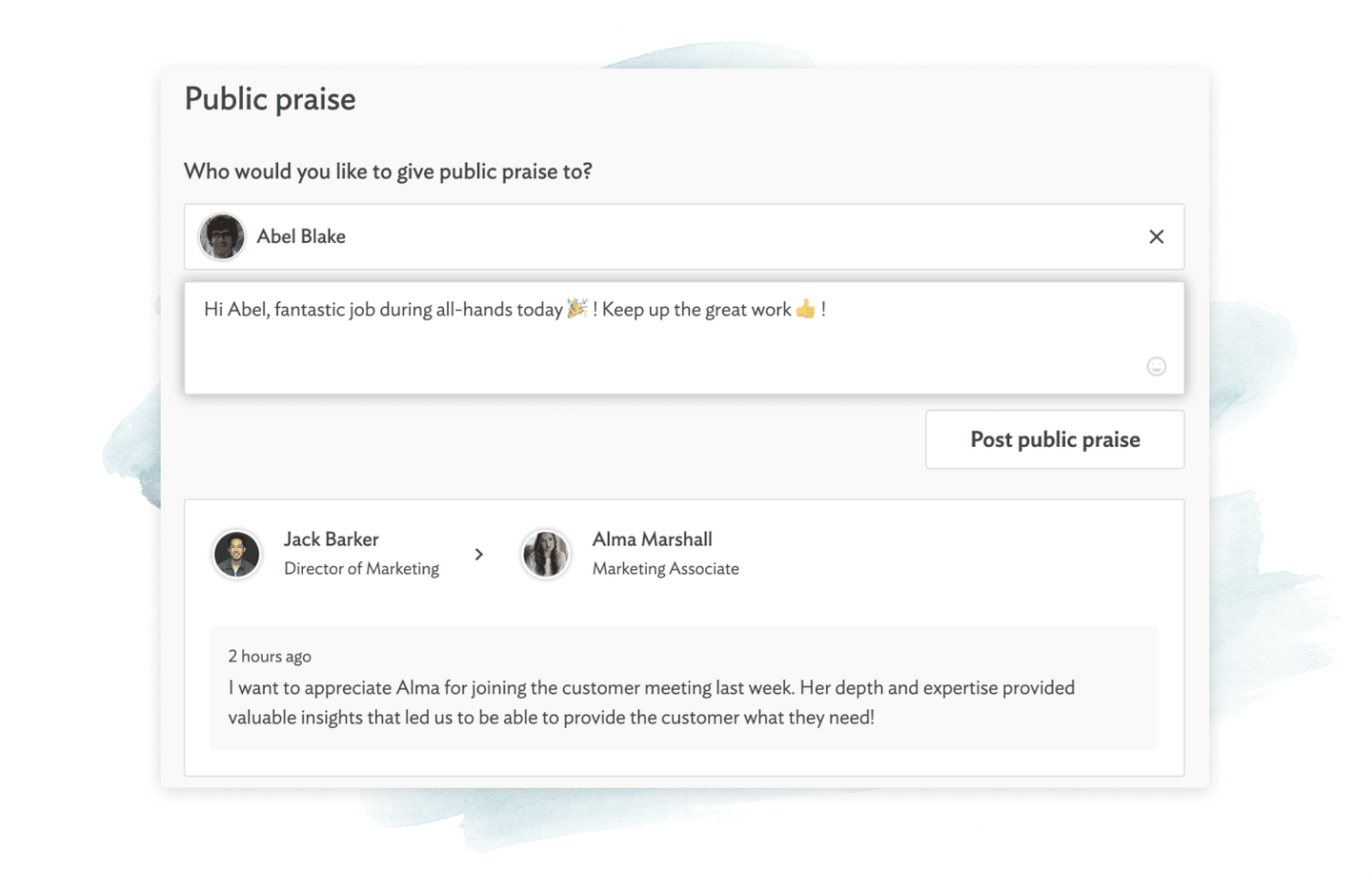 More control with additional exports and admin functionality
We have released a collection of updates so Performance is even more flexible while remaining easy to administer.  These updates include quickly duplicating and making draft cycles, exporting more types of data, and sharing evaluations in PDF format.  
---
See the latest product updates on Culture Amp Training – your one-stop shop for live training sessions and on-demand courses.
We'd love to hear how these updates work for you. Send your feedback to us at support@cultureamp.com. 
Build a world-class employee experience today