How GroupM APAC treats change as a springboard
Providing an exemplary employee experience feels challenging during the best of circumstances. But when your organization navigates a major change – like a layoff or a merger – that challenge is undoubtedly magnified.
In the thick of it, some organizations cover their ears and look the other way, hoping that the employee experience eventually rebounds or normalizes over time. Others throw up their hands and assume there's no way to manage or combat the fallout of major changes.
Here's the truth: Major changes will impact your employee experience, perhaps even significantly. But as a people leader, you aren't along for the ride – you're the one steering the ship.
Through close client collaborations, Dylan Choong, Chief People Officer, APAC, at GroupM, has learned a thing or two about enduring organizational shifts. In our recent webinar with HRD Asia, he chatted candidly with Devshree Bhatt, Senior People Scientist here at Culture Amp, about the most important things organizations can do when navigating change.
1. Regularly solicit employee feedback
"I've seen some organizations practice a bit of an ostrich syndrome," Dylan says about companies that avoid conducting surveys or soliciting feedback during a major change. "They think, 'I'm worried about what this is going to tell me, so I'm not going to do it.'"
However, asking for employee insights – even if they're hard to hear – is your opportunity to mitigate the impacts of change as best as you can.
Asking for feedback also can't be a one-time initiative. "The data set that comes through is often a snapshot of one moment in time," Dylan says. "You see employers asking once a year and that informs a two- or three-year strategy."

Instead, feedback is best collected regularly and frequently to get a more accurate and up-to-date sense of how employees feel so you can adjust your strategies accordingly.
2. Continue to prioritize your employee experience
Following a big change, many organizations switch into "survival mode." They're treading water while everybody adjusts to a new landscape (and, in many cases, grapples with fewer resources). This is especially true after a layoff, when remaining employees may feel overwhelmed and even betrayed.
"You build up such a promise and a lived experience and then that psychological employee contract is broken," Dylan says.
Culture Amp data shows that organizations will see a decline in employee engagement following a layoff – and it typically doesn't rebound until 12-18 months post-layoff, when the company starts bringing in new employees who didn't live through the major change.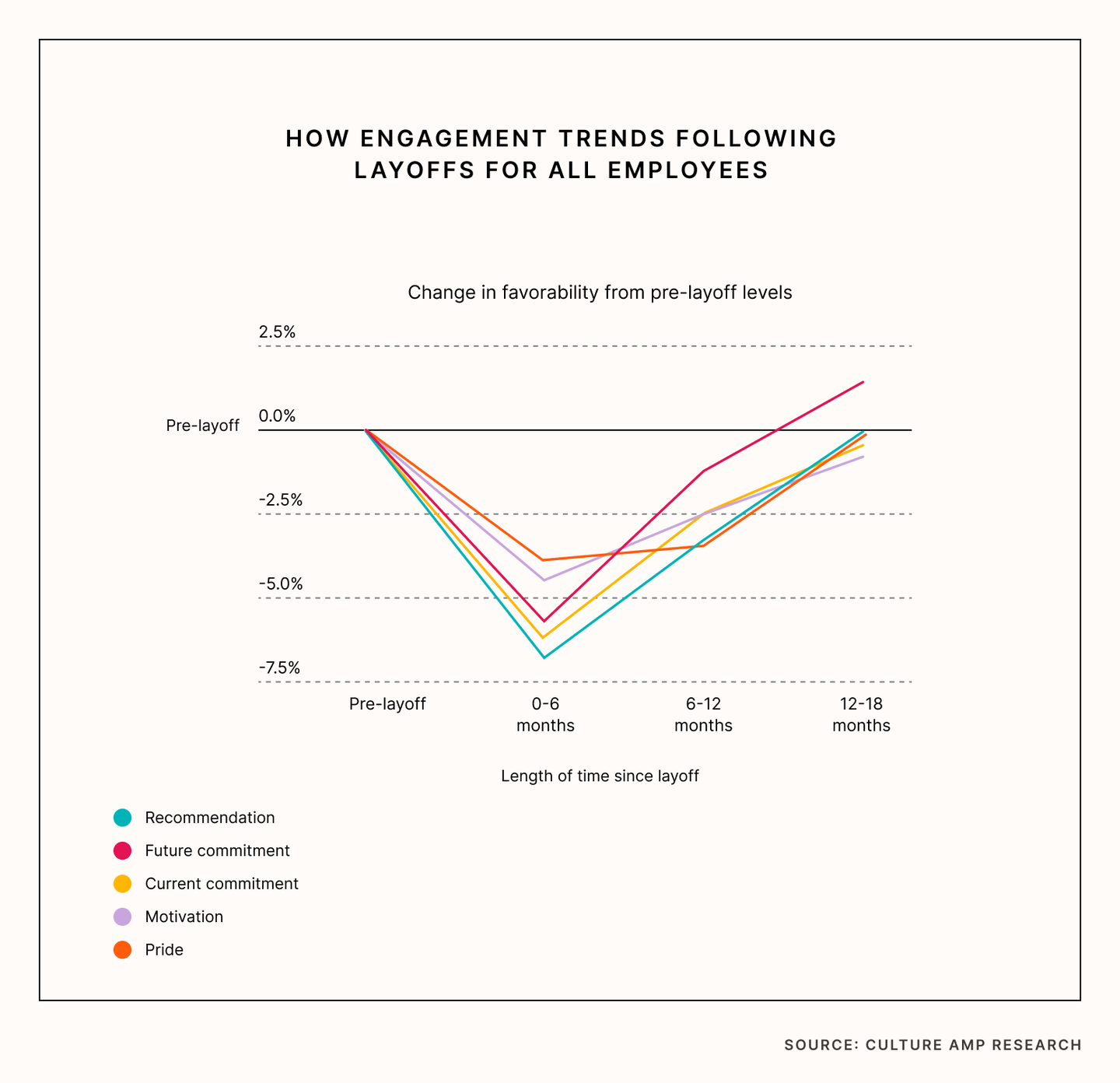 But an inevitable dip in engagement isn't a hall pass to let the employee experience slip. Dylan cautions companies that focusing on the employee experience is far more than a way to combat the potential fallout of layoffs. If you're thinking about it as a cautionary measure rather than an organizational priority, you're thinking about it all wrong.
Prioritizing a positive experience – even after a significant situation or event – is a "response and a commitment to the rest of the employees who are still around," Dylan adds.
Culture Amp's people scientists dispell four common myths about employee engagement after layoffs.
3. Renew opportunities for existing employees
Continuing to focus on the employee experience means paying especially close attention to the employees that remain with your organization following a significant change – even when hiring resumes and new energy comes in.
"We cannot forget the employees who are still around," Dylan says. It's worth investing effort and resources into providing renewed development experiences and opportunities for those employees – like having updated career conversations or finding ways to expose them to other parts of the business.
Dylan says leaders can even ask employees if there are new things they'd like to try or do within the organization. "Renewing those experiences will potentially allow existing employees to feel like new employees again," he adds.
4. Supplement your employee data
Data is powerful – but it doesn't always tell the whole story. For that reason, Dylan recommends that organizations supplement their data with other methods and interactions.
"I go to meetings. I speak to people one-on-one to supplement my data," he explains. "Data exists in all forms. A conversation is a data point. Seeing, experiencing, talking to people is all another way of doing it."
These observations and lived experiences help you add color and context to your data that you'd miss entirely if you didn't explore those other avenues. "So, supplement your data sources," Dylan advises. "And do it consistently over time to inform your strategies." That way, you can use your data to tell a story.
Change as a springboard, rather than a setback
For most of us, change represents uncertainty, risk, and the unknown – and that's especially true when it comes to difficult organizational changes like layoffs.
Workforce reductions are hard for everyone involved, and they'll inevitably and understandably bring about dips in employee engagement and overall morale.
But ultimately, it's what employers do from there that matters most. As Dylan concludes, "The biggest moments in which you have an opportunity to pivot and springboard to higher levels is during moments of change."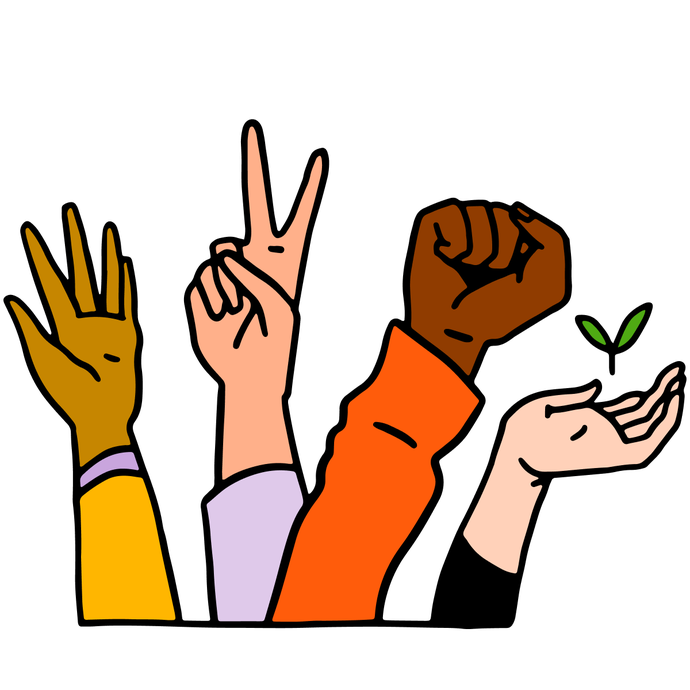 Learn more about Dylan's tips for navigating organizational change and bouncing back with renewed energy.
Watch the full session
Build a world-class employee experience today