New product updates supporting agile teams
The way companies structurally organize themselves is changing. Across industries and company sizes, the structural norm is shifting from hierarchical silos to cross-functional teams. Culture Amp is continuing to build solutions to help People leaders support today's new world of work, and help business leaders build the resilient and innovative organizations of tomorrow.
Product teams have been working in an agile methodology for decades. The concept of team networks is now on the rise and spreading across all sectors of the business. Both Deloitte and McKinsey have highlighted supporting teams and a company's organizational structure as priorities for leaders in 2020. 
Instead of the traditional hierarchical pyramid, where a decision is made on the top and filtered down the line, companies are embracing purpose-built or cross-functional teams. These teams have the agency to move fast and they are proving to drive higher productivity.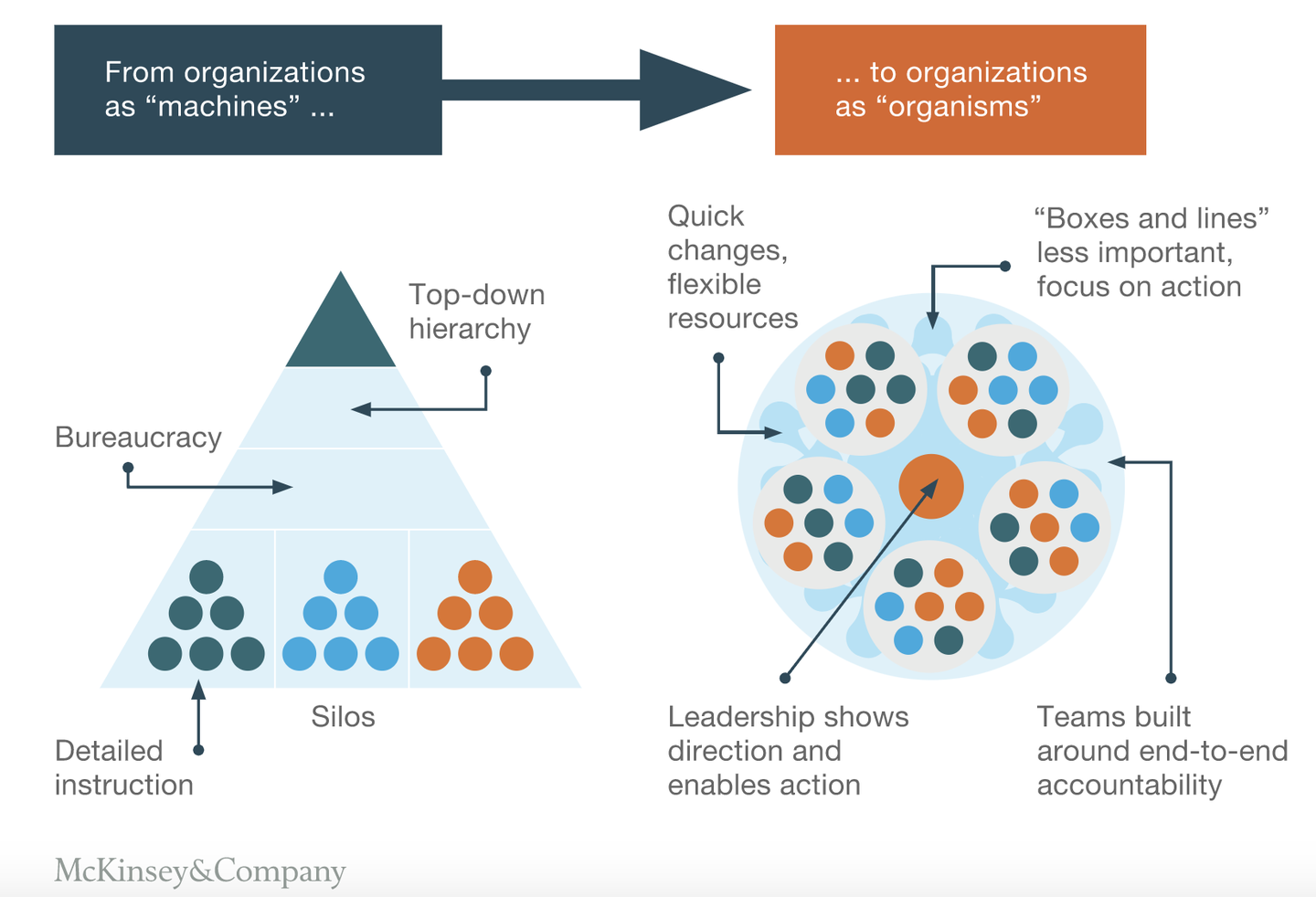 So how can people leaders anticipate these agile teams' needs and successfully get ahead of this organizational shift?
Team structure and flexibility
Agile teams don't work in a hierarchical fashion, so trying to make them fit into one will not get you far. For example, when an employee works in a project-based team, their manager probably won't have the most relevant feedback for them. Getting useful feedback from the people on the project-based team this employee is a part of is a much more relevant option.
Culture Amp's latest Agile Performance release offers the possibility to create and collect feedback on agile teams. This functionality enables both the manager and the employee to trust that they're getting the whole picture when performance evaluations come around.
Want to turn on team feedback in your Culture Amp Performance instance? Reach out to support@cultureamp.com.
Team clarity and alignment
Agile teams have the ability to make decisions on their own, and it's, therefore, vital for them to have high visibility into the company's key objectives and strategy. The last thing a company needs is to have teams working on initiatives that don't impact its larger goals. That's why goal tracking is integral to success in this new way of working.
Culture Amp enables People leaders to align goals across the business, and design agile teams' goals that line up with company objectives. In Culture Amp Performance goals can be shared with the whole company for visibility, and employees can easily update progress and flag if a project is blocked. Thus creating a space for discourse and communication keeping projects moving forward.
If you want to turn on Team Goals in your Culture Amp Performance instance, reach out to support@cultureamp.com.
Not sure how to start setting goals?
Check out our workshop guide.
Download now.
Timely and relevant feedback
The key to agile teams' success is to develop adaptability and a growth mindset. To support this type of workflow, you need to create a culture of feedback in which development and growth take the front seat.
Within the Culture Amp Performance solution, employees can provide ongoing feedback to peers and managers, without needing to wait for evaluation cycles. This allows employees to receive the feedback they need in order to get better at their jobs every day - not just whenever evaluations come along.
Additionally, employees can provide this feedback in the flow of work! Our integration with Outlook, Chrome Extension and IOS App make it easy for employees to quickly update progress on goals or provide actionable feedback to peers without leaving the tools they already use on a day-to-day basis.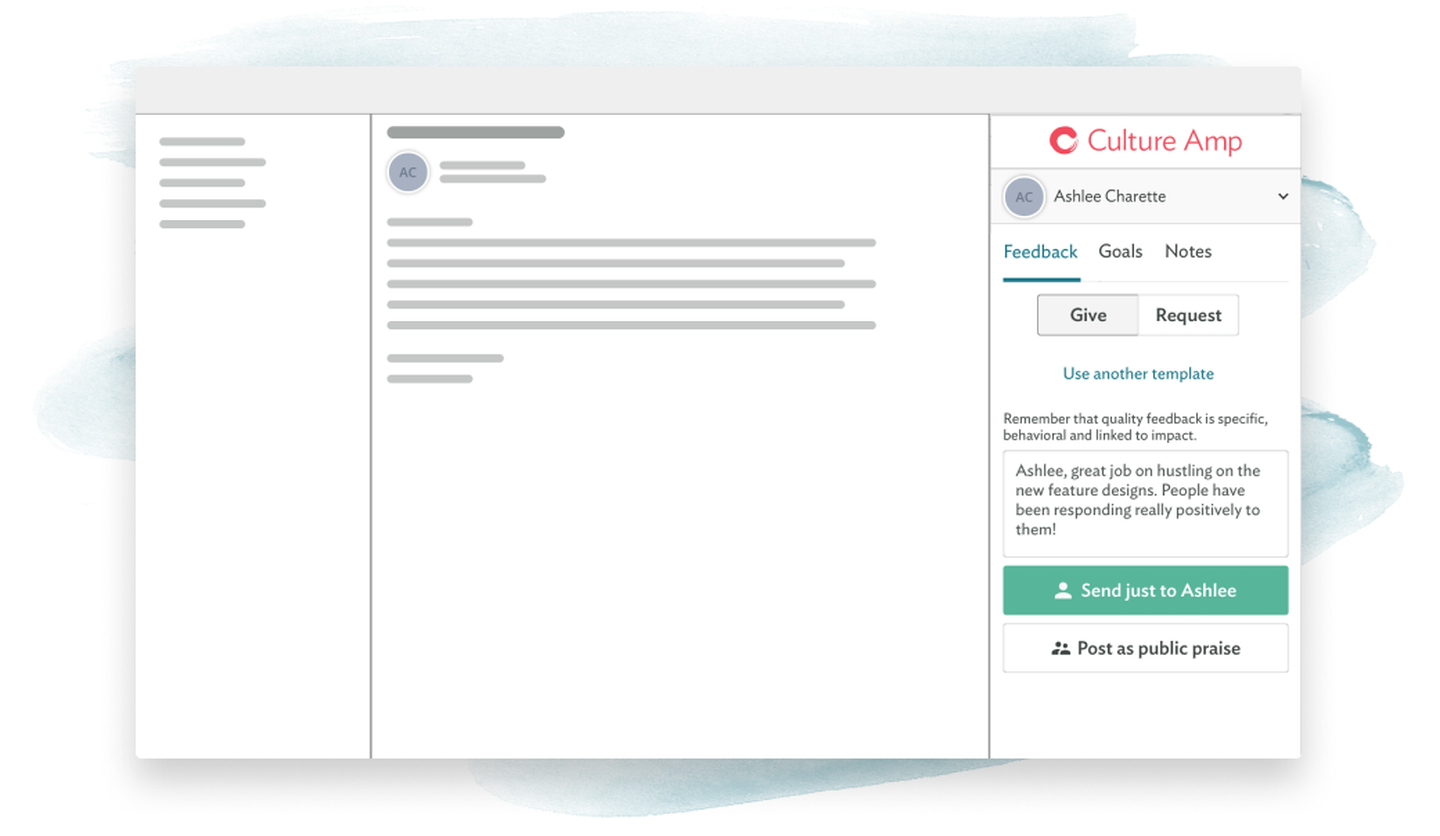 Get a customized demo of Culture Amp Performance
Get started
Build a world-class employee experience today