Introducing the survey summary: Giving employees the transparency they're asking for
The way we work is changing – as many as 41% of workers globally are said to be thinking about handing in their notice in what is being called The Great Resignation.
Why is that? In the wake of the COVID-19 pandemic, many employees want more from their companies. They want a voice in their career journeys and their experience at work. They want more flexibility and humanity in the workplace, and they are willing to leave if they aren't getting it.
So how do you give employees that voice? It starts with transparency, acknowledging that you care how they feel, and a commitment to taking action to improve their experience.
Based on the data we've seen from working with over 4,500 companies (that have launched more than 8 million surveys), our team of people scientists has found that two areas are directly impacted when survey results are shared. First, participation in the following survey goes up on average by 7 percentage points, and second, employees rate questions related to action-taking more highly. It's easy to see that sharing results lead to employees feeling that their feedback is heard.
When you share results with employees, you invite them to participate in the bigger conversation around opportunities, prioritization, and what actions the company should be taking to improve the employee experience. When you seek employee input and participation, you'll be able to drive more meaningful change at your company.
Introducing the survey summary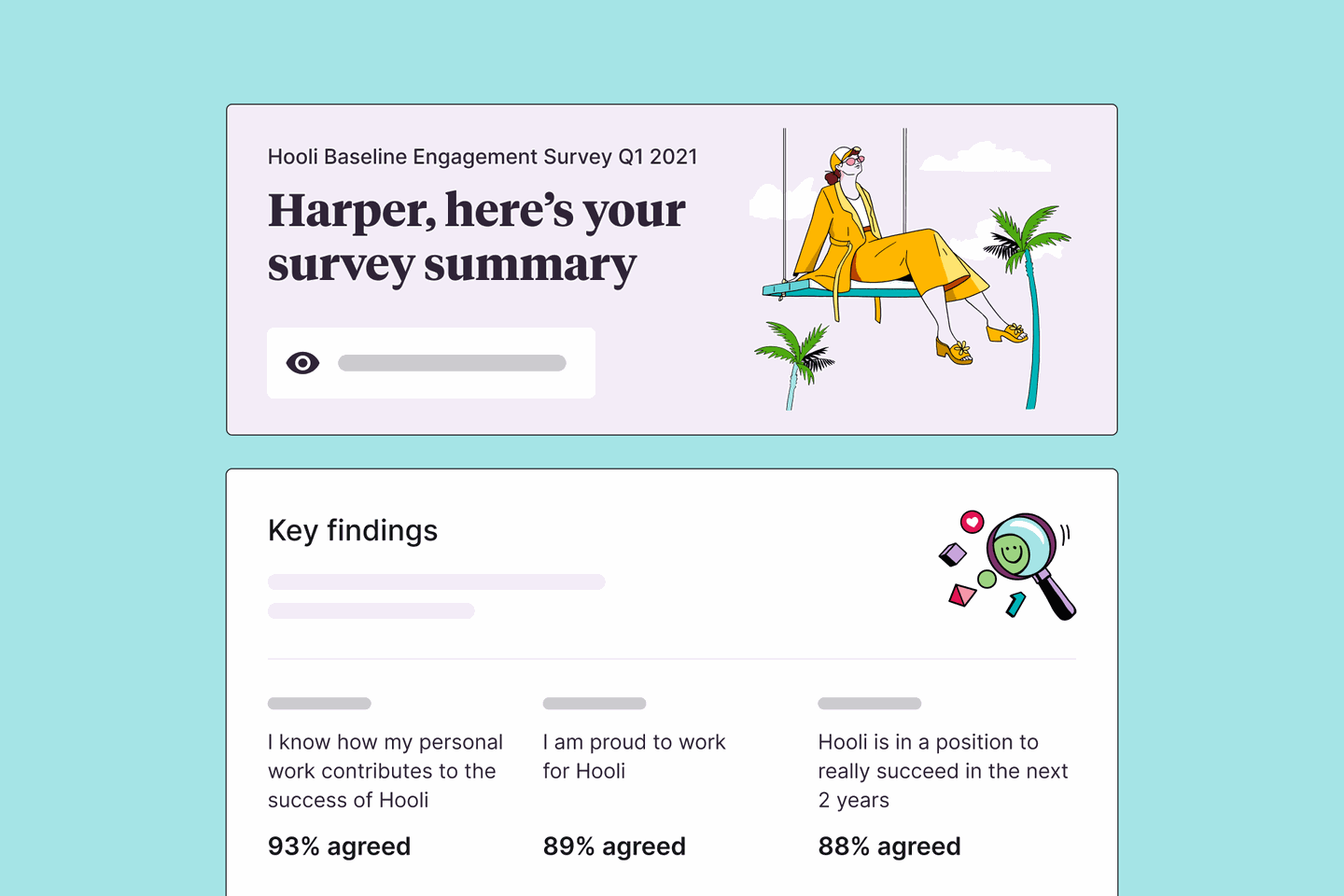 To encourage companies to share more information with their employees, we're revolutionizing how survey results are shared. Not just for leaders or managers, our latest product release is designed to be shared with everyone.
Incredibly easy to create and share with others, the survey summary acknowledges the high-level company findings and includes personalized insights for each employee. This tool streamlines the process of sharing results so you can immediately experience all the benefits while building trust with your employees through meaningful transparency.
Share with context
Because the survey summary is meant for all employees, it's critical to provide context. That's why this tool makes it simple for company leaders to include their thoughts or details on how these results will shape company priorities. The survey summary allows leaders to add a personal touch, thank employees for participating, and show that the company truly values the results.
We know that not every employee may know what "employee engagement" is or how survey confidentiality works. Moreover, we've included explanations and definitions right within the tool to help make it easy for everyone to understand the results.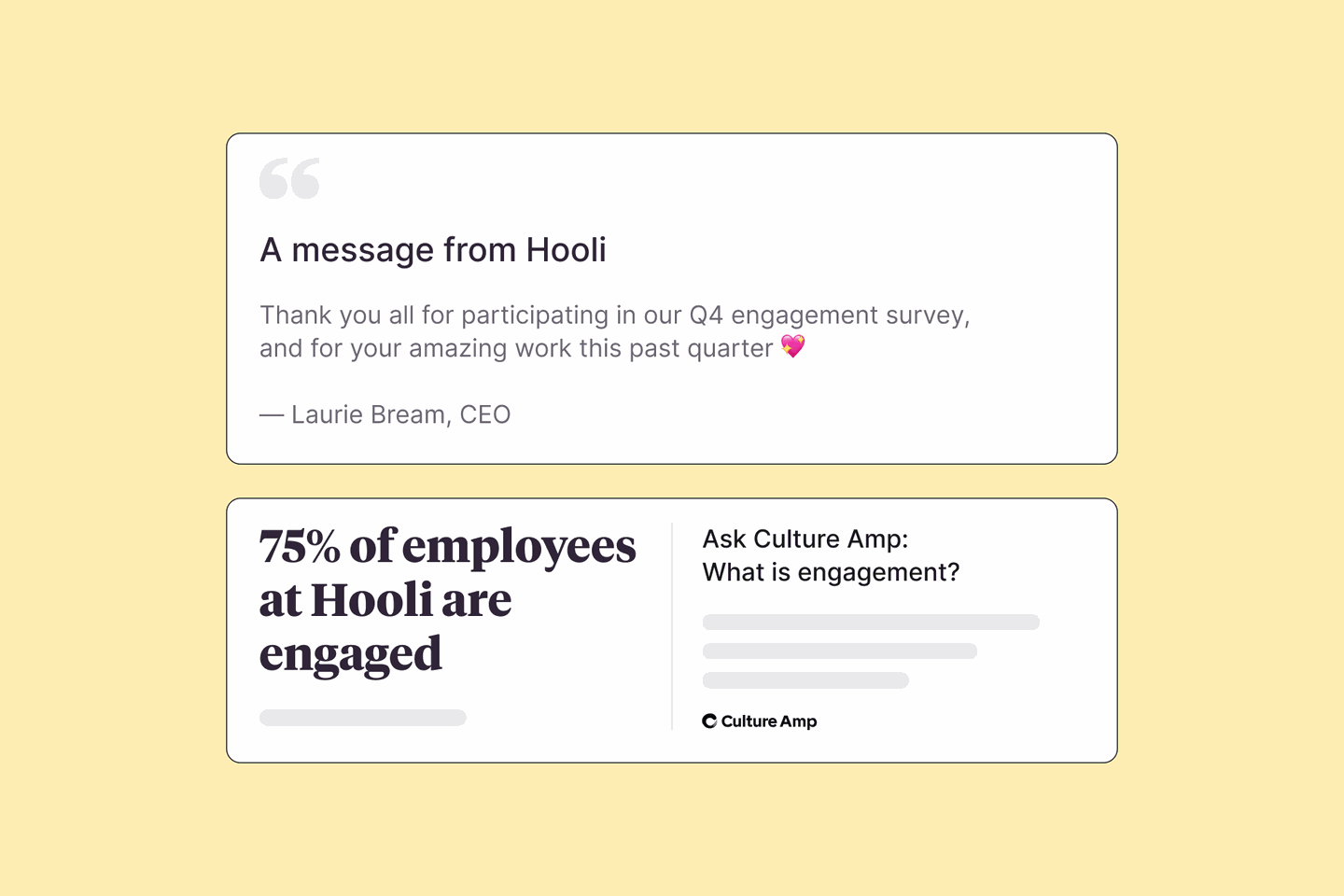 Personalize the results
The survey summary contains high-level company results and customizable tabs for other demographics like team or department. Additionally, it drives personalized insights by allowing employees to access and remember how they responded to survey questions.
The combination of sharing the company findings along with the individual's own response works to superpower employee engagement and motivation. By providing employees with the overall context on where the company needs to focus, they can see the direct connection between the company and their individual experience at work. Further, by connecting high-level results back to the employee's results, employees can recognize opportunities that both individuals and the company can take action on.
Deliver immediate value
The survey summary delivers immediate value for your company because you can share it as soon as the survey closes. Doing so acknowledges that you're listening and planning to take action on the results. You can also invite your employees to share their perspectives and discuss what's next with their managers and teams.
To go one step further, the survey summary links directly to our coaching tool, Skills Coach, which delivers conversational micro-learnings directly to employees in the flow of work – in Slack, Microsoft Teams, or by email.
We've found time and time again that one of the biggest drivers of employee attrition is a lack of career growth opportunities. And now more than ever, employees want a say in their learning and development. By making Skills Coach a part of the survey summary, if L&D comes up as a focus area (as it does for many companies), employees can get started right away on a course that will fit into their schedule.
Skills Coach empowers individuals to:
Improve their own at-work experience with courses focused on productivity and resilience skills.
Improve the experience of people around them with courses focused on giving great feedback or facilitating meetings.
And if they are leaders, improve the experience of their people with courses focused on how to be a better coach or thinking strategically.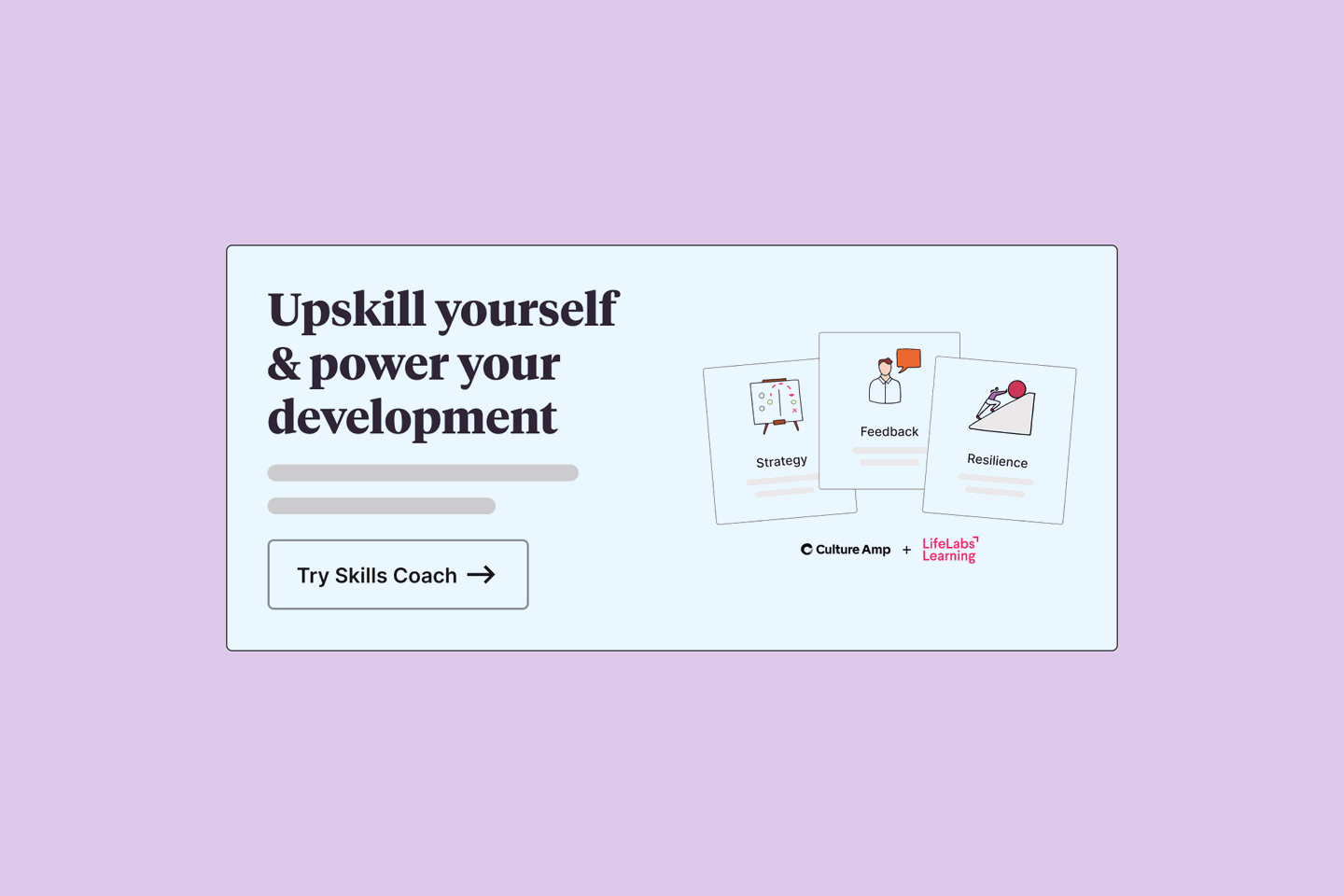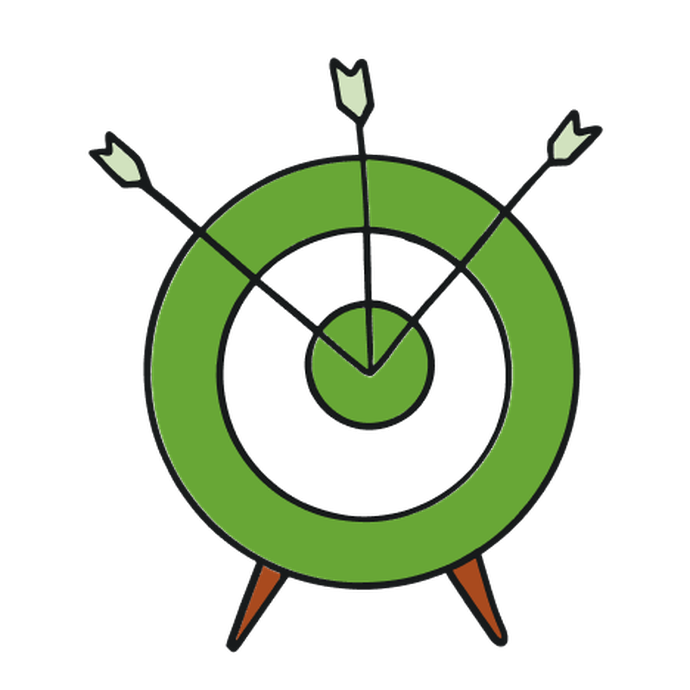 Engage and retain your people
Learn more about the survey summary and how Culture Amp can help you improve your employee experience to keep your best employees.
Let's chat
Build a world-class employee experience today