How we infuse company values into our people practices
As mentioned previously in this series, what's most important about company values is what you do with them. Values are most impactful when they are intentionally crafted. Only then can they permeate the key aspects of your organization and help drive positive behavior and good decision-making.
This blog explores various ways we at Culture Amp incorporate our values into our people processes and operations – from recruiting and hiring to onboarding, mentoring, recognizing, and developing our fellow Campers. I'll also touch on how our values influence how we work with our customers and the People Geek community.
For quick reference, here's a recap of our values at Culture Amp: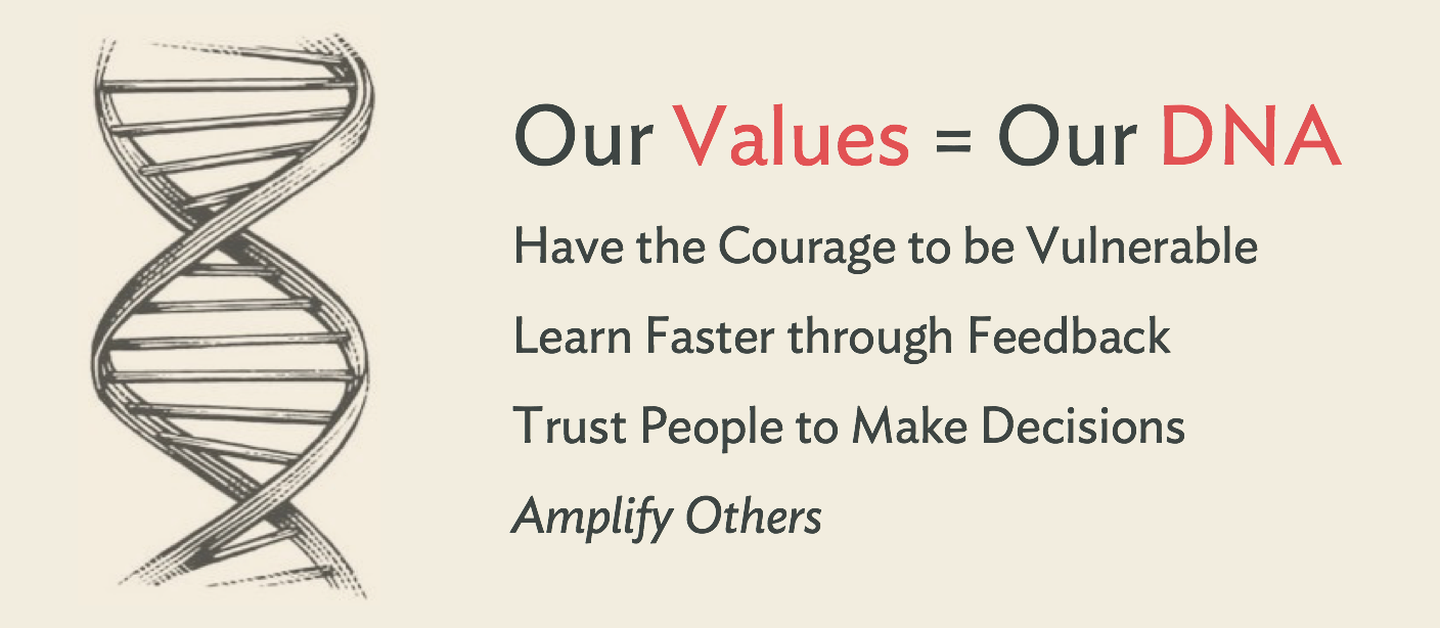 Company values in the recruitment process
Strong values resonate with kindred spirits, so it's important to share your organization's values early on in the recruiting and hiring process. Ideally, your organization's values should be present in your employer branding, and they must be a core component of your interviewing and selection process.
At Culture Amp, many of our candidates are first exposed to our values and culture through our Geekups, various networking events, and online videos. Deeper two-way values exploration conversations typically happen in the first one or two interviews during our hiring process.
Specifically, Campers are encouraged to walk candidates through our values and share stories about how they've seen them come to life at work. Interviews also give us the opportunity to learn what's truly meaningful to each candidate and start thinking about how we can help bring their values to light if they join our company. 
Openly sharing who we are (and aren't) helps create an atmosphere of trust and candid communication, and it lays the groundwork for a great onboarding experience. Further, I've found that many candidates appear more relaxed and energized following these conversations, except in the cases when our Values don't really connect with theirs (which is perfectly fine and part of the goal of learning in the hiring process).
An important caveat: Values alignment is different than "culture fit." We're looking for future Campers who are energized and inspired by our values, as well as people who bring new backgrounds, perspectives, and experiences. Like many forward-thinking organizations, we focus on culture contribution to avoid the "similar to me" pitfall (one of the strongest and most common sources of bias associated with culture fit). We've recently added bias and "fit risk" training into our hiring enablement program.

The goal: Diversity united by values.
Company values in new Camper onboarding
The impact of a thorough, thoughtful onboarding program has been well-researched and is a core component of our new Camper program that focuses on values and culture. Here's what a Camper learns about our values in their first few weeks at Culture Amp. 
Week One
One-hour Culture & Values Induction to learn about Culture Amp's history and how we discovered our Values. These inductions are hosted in each location (or remotely) by a trained Values Storyteller.
The new Camper's Mentor follows up one-on-one to introduce our Book of Signs process and kick off an in-depth two-way conversation about values.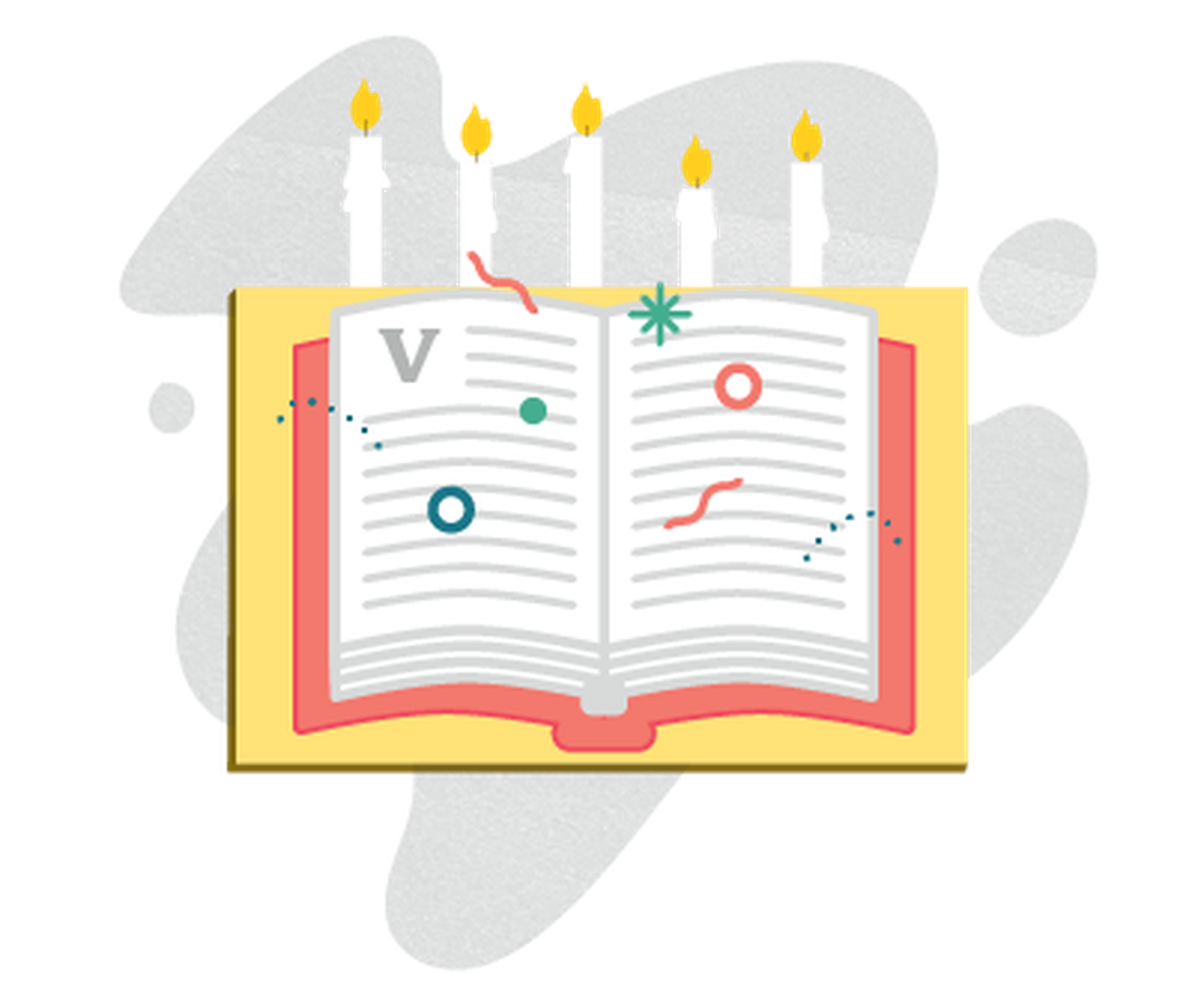 Our Book of Signs (named so because we think of our Values as road signs that help guide us) is both a thing (currently a slide deck) and a process. This process aims to help new hires better understand the meaning, relevance, and mutuality of our values. It also helps start a conversation around what each new Camper values and how we might help bring their values into their work.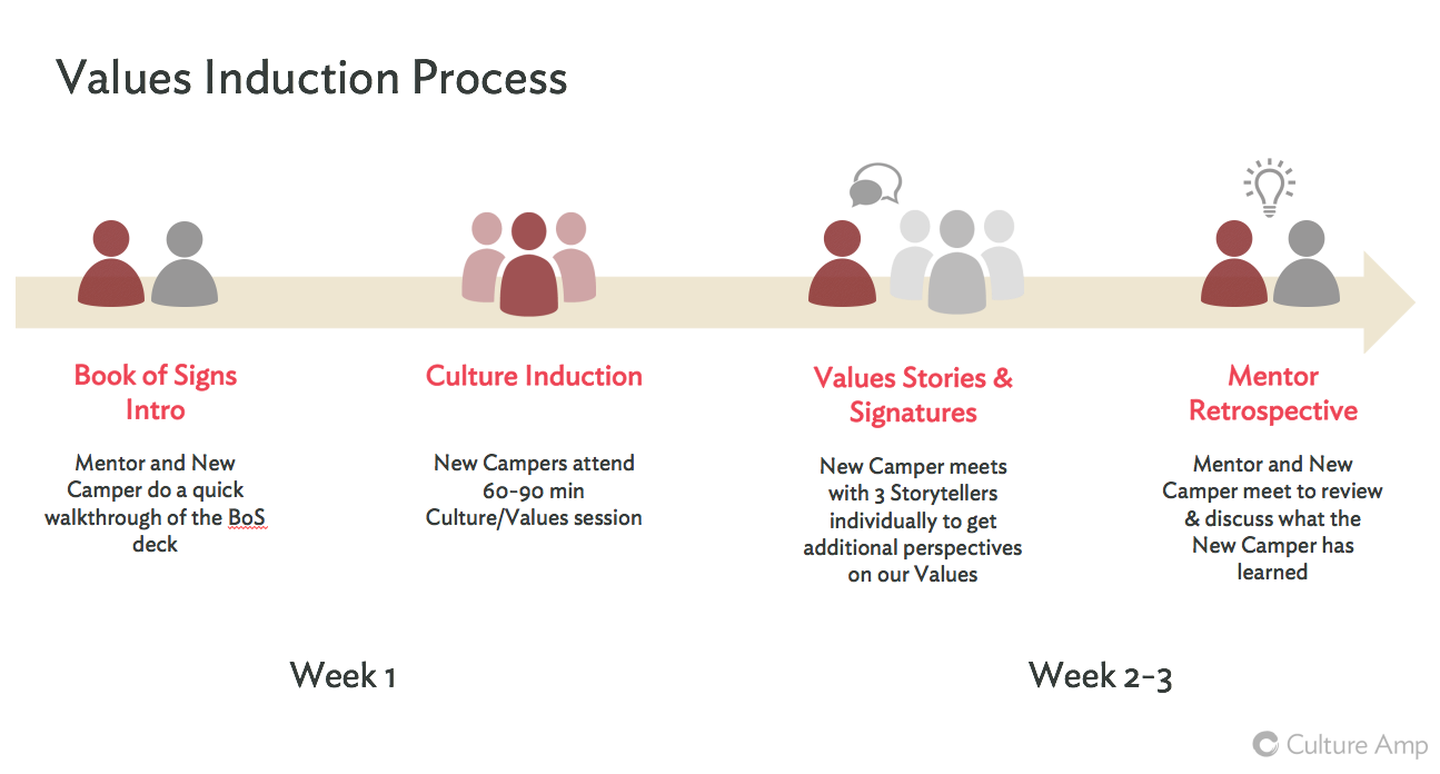 Week Two-Three
During the second and third week, new Campers meet with three Values Storytellers to:
Foster connections outside of the new Camper's Team
Hear stories of how our values have been exemplified (or conversely, stories of values failures)
Explore how the new Camper's values have shaped their career and life decisions
Many people have never sat down and identified their core values, so we provide a few exercises that help them do so.
After these discussions, the new Camper and their Mentor meet again to discuss what was shared and learned in the process, and the Camper is encouraged to share their thoughts in our #values_stories Slack channel in addition to sharing with their team.
The importance of recognizing and rewarding values in action
Intrinsic alignment with our values drives most Campers to step out of their comfort zones and be vulnerable, learn faster through feedback, trust colleagues to make important decisions, and amplify others. However, we still feel it's important to recognize and reward people who truly exemplify these values. 
In late 2017, we rolled out a new quarterly program called Amplify Our Values. Campers can nominate a colleague they feel has consistently demonstrated our values through their behavior at the highest level. Campers submit their nominations via video, in writing, or however they choose to in our #amplify_our_values Slack channel. Like the #values_stories channel, this is an open, public forum where new and tenured Campers can find inspiration around our core values, 24/7.
Each submission is reviewed by a panel of five Campers located around the world and evaluated along three dimensions:
Exemplification of values (of the person being nominated)
Emotional impact of the story
Creativity of the submission
We received amazing submissions (all by video) in Q4 of 2017, and all were inspiring and heartwarming to watch. Some Campers recorded their stories on their phones, and others dressed up in costumes and submitted their highly-entertaining nomination as a group. The "winner" wrote and sang a song while playing acoustic guitar… to a Taylor Swift track, no less! If that doesn't exemplify Courage to be Vulnerable – I don't know what does.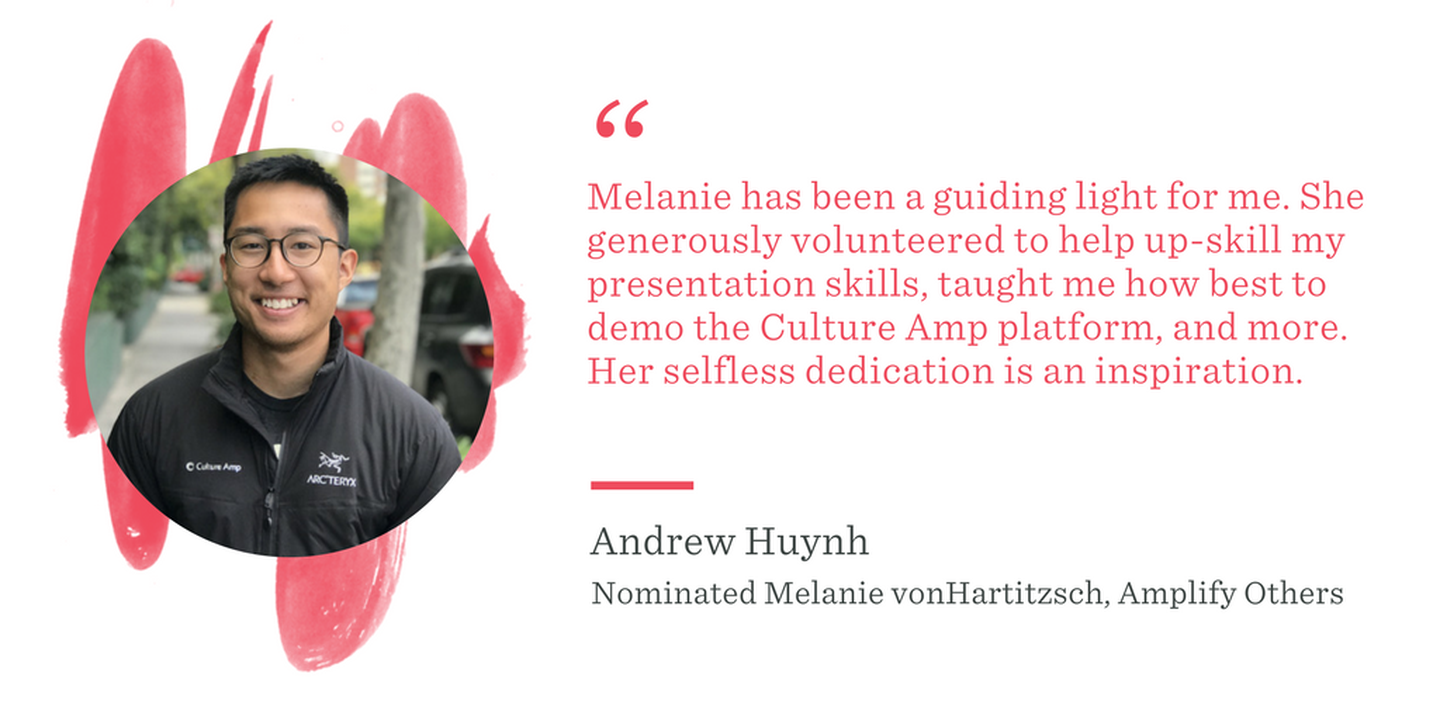 For the winning submission, both the storyteller and the Camper they nominated received an awesome Arc'terxy jacket with a Culture Amp logo on the front.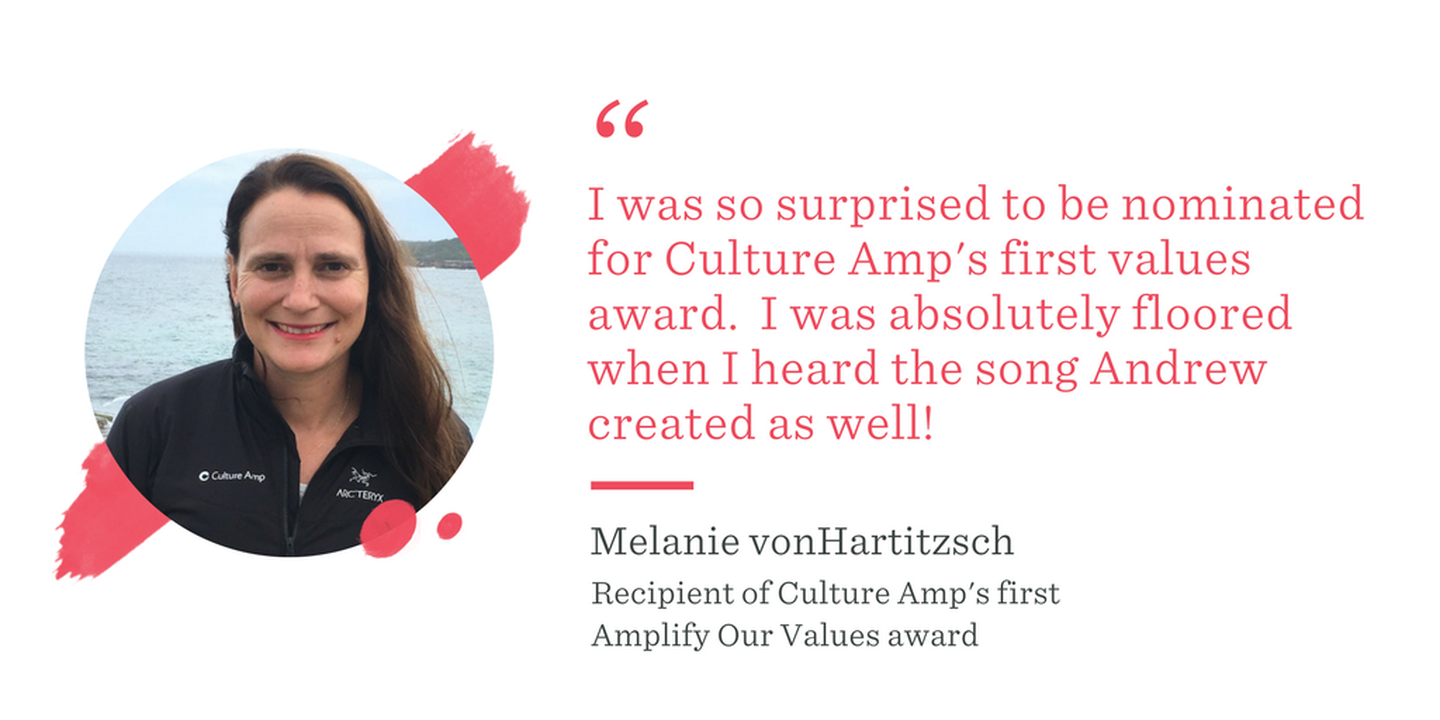 Based on the enthusiasm we've seen for the Amplify Our Values program thus far, I'm really looking forward to seeing Campers share over the next year.
Company values and performance feedback conversations
One of the most important commitments we make to Campers is helping them develop their professional (and to an extent, personal) aspirations. In addition to encouraging frequent, candid developmental conversations between Mentors and Mentees, we're rolling out a more structured quarterly performance feedback process that incorporates our company values. 
Within this process, Campers are assessed on three dimensions:
Progress: What progress has been made, and what they have learned
Values: How Campers go about their work and achieving outcomes
Growth Path: Where they are in exploring and mastering their current role
Within the values dimension, Mentors and Campers are asked to consider the following:
Has the Camper demonstrated vulnerability? Have they created the space for others to be vulnerable?
Have they provided constructive feedback to others? Have they been open to receiving feedback? Have they approached problems with questions rather than assumptions?
When trusting others, have they accepted that the path might not look identical to their own? When being trusted, have they committed to including stakeholders, owning outcomes, and sharing learnings?
Is the Camper committed to uplifting others through their own work? Are they respected for their contributions and what they bring to their team? Do they make an effort to help others even when there's no direct gain for themselves? 
Continuing to share Culture First stories 
I've been with Culture Amp for over two years, and I continue to be inspired by my fellow Campers. It's exciting to see how our Product and People Science teams find new ways to harness the knowledge of People Geeks to improve organizations. Our platform is built on Collective Intelligence which crowdsources the most effective people practices from innovative companies around the world. 
Helping to improve people's work lives and doing so on a foundation of values that resonates with me is why I'm as excited about the work we're doing now as the day I joined Culture Amp. As a fast-growing company, we're developing and refining many of our internal practices. It's an iterative process and one we'll continue to explore and share externally.
Read the previous blogs in our series on company values
Build a world-class employee experience today