Announcement
Culture Amp & Unmind incorporate mental wellbeing into employee experience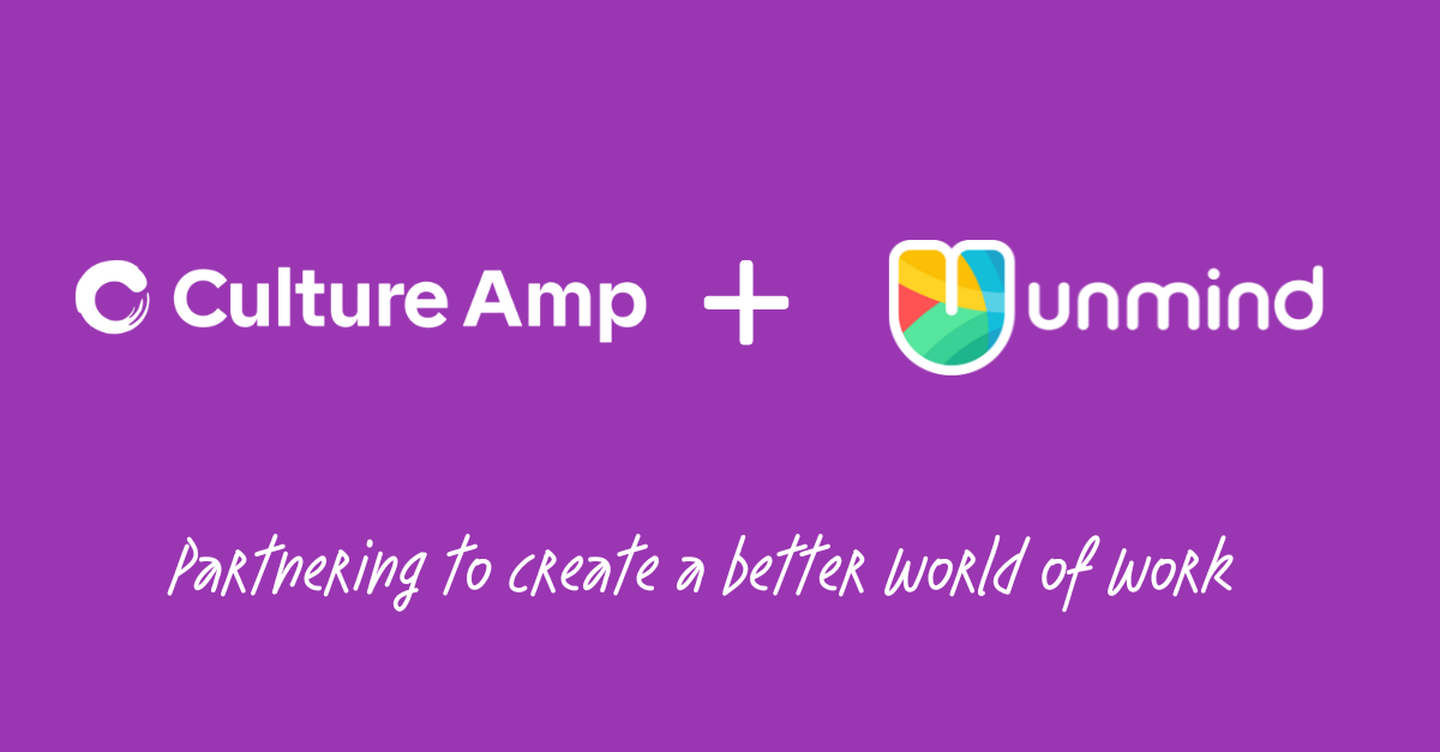 Partnership brings improved performance, talent retention and psychological safety at work to organizations
New York/London/Sydney — October 10, 2022 — Culture Amp, the employee experience platform, and Unmind, the workplace mental health platform, announced a strategic partnership that brings together science, people, and technology to drive positive cultural change within organizations.
This collaboration, launched on World Mental Health Day, will harness the companies' shared skills and depth of research around employee experience and mental wellbeing.
World Mental Health Day is marked every year on 10 October – to raise awareness, while also providing support to the 1 in 5 adults who experience mental illness.
With this strategic partnership, organizations are able to better track the impact of their investment in the mental health of their employees, while giving managers the skills they need to support their teams. This, in turn, can improve performance, talent retention, and psychological safety at work. The collaboration brings together the best of technology and people science by collecting, understanding, and acting on these key insights, backed by the latest science.
Given the many global crises unfolding right now, and high rates of work-related issues such as burnout, employees are craving better work-life balance and financial stability.
Recent Culture Amp and Censuswide research* shows that rising fear of an economic crisis is UK employees' top concern:
7 in 10 employees feel troubled by the rising living costs.
5 in 10 employees are worried about how the state of the world might impact their employment prospects.
 4 in 10 believe their company doesn't care about the mental health and wellbeing of its employees.
When every employee feels safe, seen, and heard, the entire organization thrives, and customer experiences improve too. In contrast, employees experiencing financial stress and burnout suffer decreased emotional energy levels, which ultimately impact performance, innovation, and overall company culture.
Research from Unmind and WELCOA found that mental health training for managers, followed by resilience and leadership training, were the top professional training services companies were planning to invest in for the first time in 2022-2023. Employee participation, satisfaction, and performance levels ranked as the top KPIs for wellness programs.
Nick Matthews, General Manager and VP EMEA, Culture Amp comments, "Organizations have realized throughout the course of the global pandemic that employee mental health is now a crucial part of the employee experience. Organizations that have mental health as part of the strategic agenda see positive impacts on employee engagement and a differentiator in a highly competitive talent market. The Culture Amp and Unmind partnership solidifies the importance of organizations measuring the ROI of workplace mental health, and demonstrates that employee wellbeing is not only a duty of care, but can also lead to higher business performance."
Dr. Nick Taylor, Co-Founder & CEO, Unmind adds, "Culture Amp, like Unmind, are on a mission to drive cultural change. We do this together through thought leadership, community building, and a complementary platform offering. Backed by science, our partnership brings together expertise in listening, understanding, and acting to build psychologically safe teams, inform people strategies and transform cultures. Our partnership is where purpose meets end product."
To learn more about Culture Amp and Unmind's focus on creating mentally healthy company cultures, attend their upcoming webinar

---
About Culture Amp
Culture Amp is the world's leading employee experience platform, helping organizations build a better world of work. Culture Amp is a Culture First certified B Corporation used by 6,000+ customers including Aegon, Airbnb, Go Cardless, KIND Snacks, McDonald's, Salesforce and Slack. With offices in San Francisco, London, New York City and Melbourne, Culture Amp is recognized as one of the world's top private cloud companies by Forbes and one of the most innovative workplace companies by Fast Company. Culture Amp is backed by leading venture capital funds, including Index Ventures, Felicis Ventures, Sapphire Ventures, Blackbird Ventures and Sequoia Capital China. Learn more at cultureamp.com.
About Unmind
Unmind is the leading workplace mental health platform, helping organizations to drive cultural change through taking a whole-person, whole-organization approach to wellbeing.
Underpinned by clinical psychology and driven by data, Unmind's expert-led training, self-care tools, wellbeing insights, and community of experts are already helping 2.5 million employees measure, understand and improve their wellbeing. Uber, Major League Baseball, Ogilvy, Gymshark, and the NHS are some of the many organizations that have partnered with Unmind to create a world where mental health is universally understood, nurtured, and celebrated. Further information about Unmind is available at: https://unmind.com/
*About the research: On behalf of Culture Amp, 3074 full time employees in Germany, the Netherlands and the UK were surveyed by an international market research company Censuswide between 15th and 20th May 2022.