Announcement
Culture Amp named to Fast Company's annual list of the World's Most Innovative Companies for 2021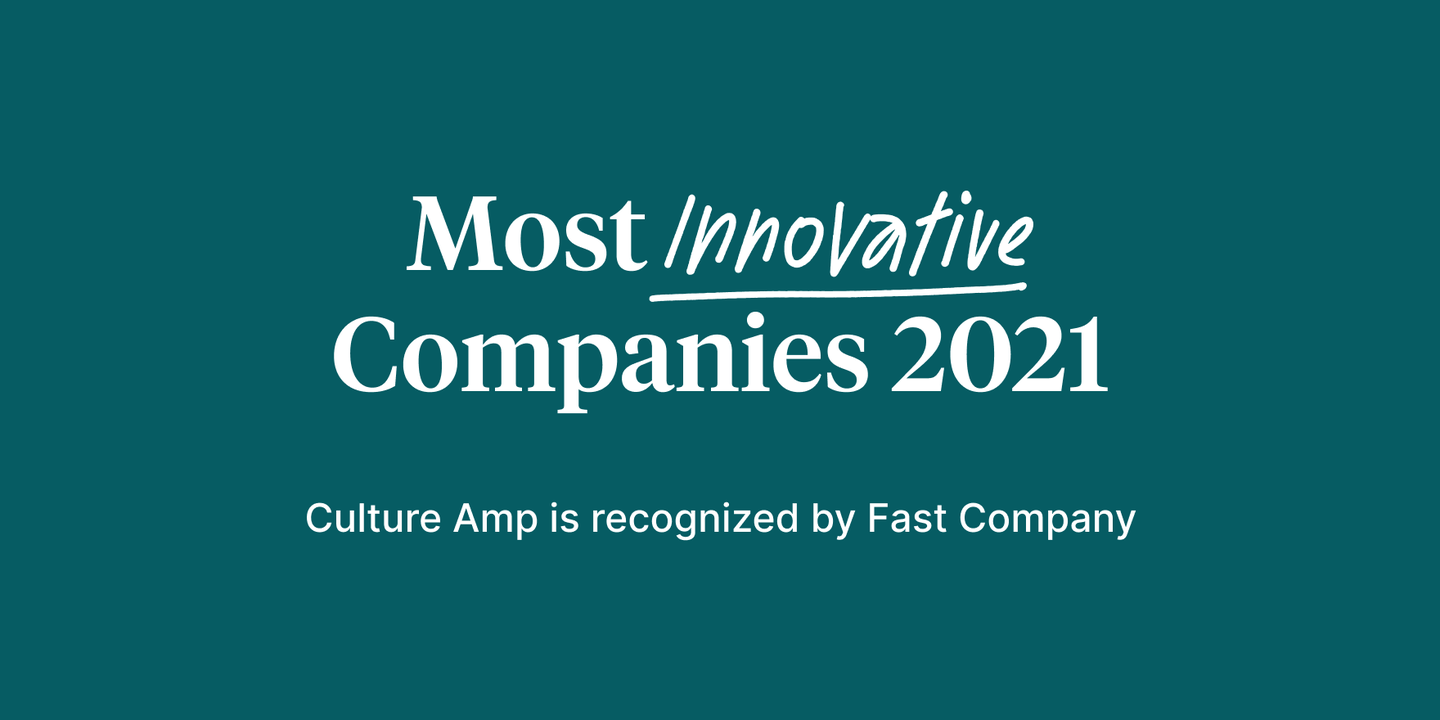 SAN FRANCISCO, USA / LONDON, UK / MELBOURNE AU (March 9, 2021) -- Culture Amp has been named to Fast Company's prestigious annual list of the World's Most Innovative Companies for 2021.
The list honors the businesses that have not only found a way to be resilient in the past year, but also turned those challenges into impact-making processes. These companies did more than survive, they thrived—making an impact on their industries and culture as a whole. This year's MIC list features 463 businesses from 29 countries.
"Culture Amp is delighted to debut on Fast Company's 2021 Most Innovative Companies List as part of our drive to shape a better world of work globally," said Didier Elzinga, CEO & co-founder, Culture Amp. "The past 12 months have highlighted the value of prioritising culture as a strategic priority. Amongst so much uncertainty and change, the way organizations intentionally create and shape work culture and influence the employee experience is more important than ever - and we're here to support them on that journey."
Culture Amp helps its 6,500+ global clients to understand the engagement of their employees, to retain top talent and to foster the individual development and growth that leads to greater impact. They now work with nearly 4 million people on a daily basis and their insights on the world of work are shared publicly to identify key workplace trends and guide organisations in their strategic responses.
Alongside their powerful engagement and performance tools, Culture Amp launched new employee development capabilities in 2020 to directly support managers and their teams in adapting to the new world of work. The capabilities help managers to identify key areas for focus and improvement through measurement, development and coaching resources.
"With distributed, remote workforces, leaders today need greater insight into employee engagement and productivity, teams need new ways to foster culture and keep human connection alive, while managers need regular mechanisms and processes to stay abreast of the problems, questions and fears of their teams - and new skills to manage uncharted areas," said Mr Elzinga.
"We know that leading during uncertain times is hard and that managers, organizations and HR teams are challenged. Now more than ever, we need empathetic, agile, human leaders and we're constantly working to deliver the tools, insights and support to help organisations support their talent. We thank everyone of our 400+ employees and over 3,500 customers for joining us on this journey and helping us to create, shape and deliver a better world of work."
Fast Company's editors and writers sought out the most groundbreaking businesses across the globe and industries. They also judged nominations received through their application process. The World's Most Innovative Companies is Fast Company's signature franchise and one of its most highly anticipated editorial efforts of the year. It provides both a snapshot and a road map for the future of innovation across the most dynamic sectors of the economy.
"In a year of unprecedented challenges, the companies on this list exhibit fearlessness, ingenuity, and creativity in the face of crisis," said Fast Company Deputy Editor David Lidsky, who oversaw the issue with Senior Editor Amy Farley.
To coincide with the issue launch, Fast Company will host its first-ever Most Innovative Companies Summit on March 9 and 10. This virtual, multi-day summit will celebrate the Most Innovative Companies in business, provide an early look at major business trends, and offer the inspiration and practical insights on what it takes to innovate in 2021. Fast Company's Most Innovative Companies issue (March/April 2021) is now available online here, as well as in app form via iTunes and on newsstands beginning March 16, 2021. The hashtag is #FCMostInnovative.
About Culture Amp
Culture Amp is the world's leading employee experience platform, helping companies take action to improve employee engagement, retention and performance. Culture Amp is a Culture First certified B Corporation used by more than 6,500+ customers including Aegon, Airbnb, Go Cardless, KIND Snacks, McDonald's, Bon Secours Mercy Health, Salesforce and Slack. Started in Melbourne with offices in San Francisco, London, and New York, Culture Amp has raised $150,000,000 USD from leading venture capital funds, including Index Ventures, Felicis Ventures, Sapphire Ventures, Blackbird Ventures and Sequoia Capital China. Learn more at www.cultureamp.com.
About Fast Company
Fast Company is the only media brand fully dedicated to the vital intersection of business, innovation, and design, engaging the most influential leaders, companies, and thinkers on the future of business. The editor-in-chief is Stephanie Mehta. Headquartered in New York City, Fast Company is published by Mansueto Ventures LLC, along with our sister publication Inc., and can be found online at www.fastcompany.com.
Contact
Kate Dinon +61 487 328 738 | kate@ofcharacter.com
Sarah Gundlach +61 403 793 609 | sarah.gundlach@ofcharacter.com