Case study
How ZS Associates created a continuous approach to improving engagement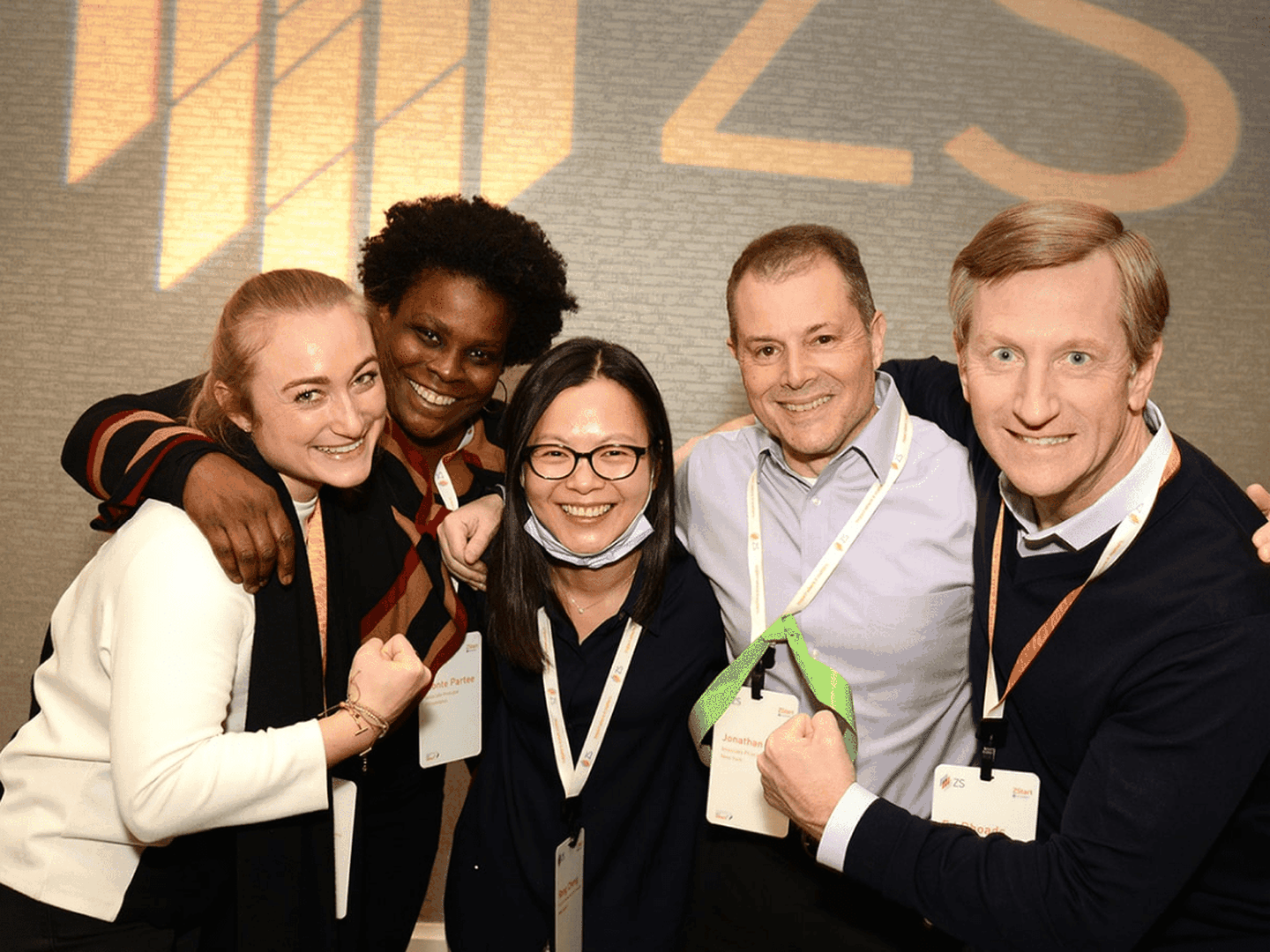 Statistics
7,500+employes

28offices worldwide

35+years in business
ZS is a professional services firm that works side-by-side with companies to help develop and deliver services that drive customer value and company results. They leverage their deep industry expertise, leading-edge analytics, technology, and strategy to create solutions that work in the real world. With more than 35 years of experience and 7,500+ ZSers in 28 offices worldwide, they are passionately committed to helping companies and their customers thrive.
Carly Anderson is the Human Resources Specialist – Engagement, Inclusion & Diversity at ZS and has been with the organization for six years. During that time, ZS has been evolving their engagement strategy, transitioning from one-off census surveys into a more holistic and continuous approach. One of the changes ZS was looking to make was to wrangle all of the data into actionable insights for hundreds of leaders throughout the organization. ZS turned to Culture Amp to help it make this change and enhance its approach to engagement.
Challenge: Building momentum instead of a "one-and-done" survey
When you talk to ZS people, the first thing they say is how great the culture is and how everyone champions and embodies cultural hallmarks like collaboration. While people aren't afraid to share their love for ZS, the company had taken a fairly formulaic approach to measuring engagement, running an annual census survey for the past ten years.
Carly says, "It felt like this big one-off thing each year." This meant that it was hard to maintain momentum: They'd run the survey, get results, and gradually forget about the insights they'd gathered. "Because the insights stopped, we stopped paying attention to it partway through the year," explains Carly. They had to start from scratch, rebuilding excitement and enthusiasm every year when it was time to run the survey again.
In addition to creating a more continuous approach to engagement, ZS wanted a vendor that would take a more active role as a partner: "We wanted guidance on how we could really best support our people and help them to be successful here."
As a global team, ZS also requires an agile approach to problem-solving. ZS leaders need to be empowered to access and act upon data rather than waiting for updates from a central office. Carly explains, "Each leader at ZS is responsible for the engagement of their own team. But that has its own challenges, like time zones, working styles, and the different types of work that have to get done within one single team."
Solution: Finding a true partner to explore the theory and practice of engagement
ZS knew that they needed a solution that would drive engagement continuously and empower people throughout the organization with insights. Beyond this, they needed to prioritize finding a partner that would guide the transition and further embed engagement methodology and theory into their work.
Overcoming the fear of leaving the consultancy model
The ZS team was initially looking for a consultancy because they didn't want a cookie-cutter approach — their goal was to find a true partner who would get to know ZS and their people, priorities and strategy. Carly explains they were nervous about moving from a consultancy-based vendor to Culture Amp, worrying that they might not get the guidance and support they needed. "To our surprise, though, we've found true partners in the Culture Amp team."
That level of trust and care still stands today. Carly adds, "They've taken the time to learn about us as a company — our culture, our engagement history, the challenges we've faced, what's important to us moving forward. We never get a boxed-approach answer or suggestion. We are always given advice that is unique to us."
Describing the process of transitioning to Culture Amp, Carly says, "It was way smoother than we imagined it would be. It was personal. They were attentive, responsive, and no matter what kind of question we had, they took the time to talk us through it."
Empowering everyone with insights
With the previous model, the engagement team was responsible for building out presentations, creating dashboards, and conducting analyses. With Culture Amp, leaders throughout the company have access to the data that's relevant to them. Carly says, "Now everybody is able to own the data and feedback for their respective teams." This adds amazing value for the entire organization: "When we can hand people their feedback and say, 'This is yours to use. We'll partner with you on how to address these things,' now it's in the hands of ZS leaders and this is how it starts to become part of our culture."
The ZS team also finds that Culture Amp goes beyond simply supporting data collection. According to Carly, "I think we've gotten way more with Culture Amp than we've ever gotten with a consultant." Carly explains that company leaders want to make sure their people are engaged, but in the past, the lack of information and tools prevented them from taking action. Culture Amp's in-depth support and recommendations have enabled and empowered leaders at ZS to take action.
Weaving Culture Amp into the entire ZS employee experience
ZS continues to do a yearly census engagement survey and pulse surveys with Culture Amp. They are also planning to launch a new hire onboarding survey and an exit interview survey in Culture Amp as well. "It's really becoming this recognizable part of ZS. It's a tool that you interact with throughout the lifecycle of being here," says Carly.
Weaving Culture Amp into the entire ZS experience creates consistency for people taking the surveys, but also for the stakeholders using the reporting part of the tool. "We organize ourselves in an interesting way — by office, by location, and by space (which is determined by the client and type of work you're doing). So, our office leads and our space leads get access to data for their teams specifically."
The ability to scale providing insights to their complex and globally-distributed workforce is key. "Hundreds of ZS leaders are getting feedback delivered directly to them from the people in their respective office, location, or space, while maintaining the confidentiality of our respondents. I think that's been the most meaningful thing that Culture Amp has done for us — really getting data quickly that's both easy to understand and easy to act on."
Results: A data-driven but people-centered approach to improving engagement
Moving away from the traditional consultancy model and transitioning to Culture Amp has allowed ZS to build a customizable, flexible, and powerful employee feedback platform that measures and improves their culture on an ongoing basis.
Embedding engagement into company culture
ZS has felt an immediate impact since launching Culture Amp. Because the tool is so easy to use, leaders throughout the company can now quickly access all of the data they need. Carly says, "It has really empowered our people to own engagement and feedback for their teams. It has become a part of who we are at ZS, and I think that's a better result than we ever could have asked for."
It's not just about the Culture Amp tool, either. Carly says, "Both the tool and the team have helped us to embed Engagement into our culture and make it a priority for leadership."
Thinking of people — not just numbers
ZS has always prided itself on being a data-driven company, which is part of the reason the easily accessible data within Culture Amp was a big selling point. But the Culture Amp team has also helped ZS look beyond data and build their understanding of psychology: "The People Scientists have changed the way we look at the process as a whole. It's not just about data, it's about human psychology and what makes people tick. Culture Amp has helped us rethink our approach and change our internal Engagement practice as a whole."
Accessing and acting upon data more efficiently
Prior to engaging Culture Amp, ZS was looking for quick access to and translation of data into meaningful reports: "In the past, by the time we got anything to our people, the feedback felt irrelevant." Now they can access data — and start to act on it — right away. Carly says, "It allows us to address feedback and pivot really quickly. And a lot of the analysis is, thankfully, done by the tool so there's not a ton that we have to do outside of that."
As ZS prepares for the next phase of integrating Culture Amp surveys throughout the people experience, Carly shares her enthusiasm: "We're true partners. Culture Amp really has an understanding of who ZS is. It goes beyond just troubleshooting. It's a forward-looking partnership."
Headquarters
Evanston, IL ZS
Challenge
Building momentum instead of a "one-and-done" survey
Solution
Finding a true partner to explore the theory and practice of engagement
Result
A data-driven but people-centric approach to improving engagement
Build a world-class employee experience today