Case study
How Rapido Solutions Group used employee feedback to create a culture based on trust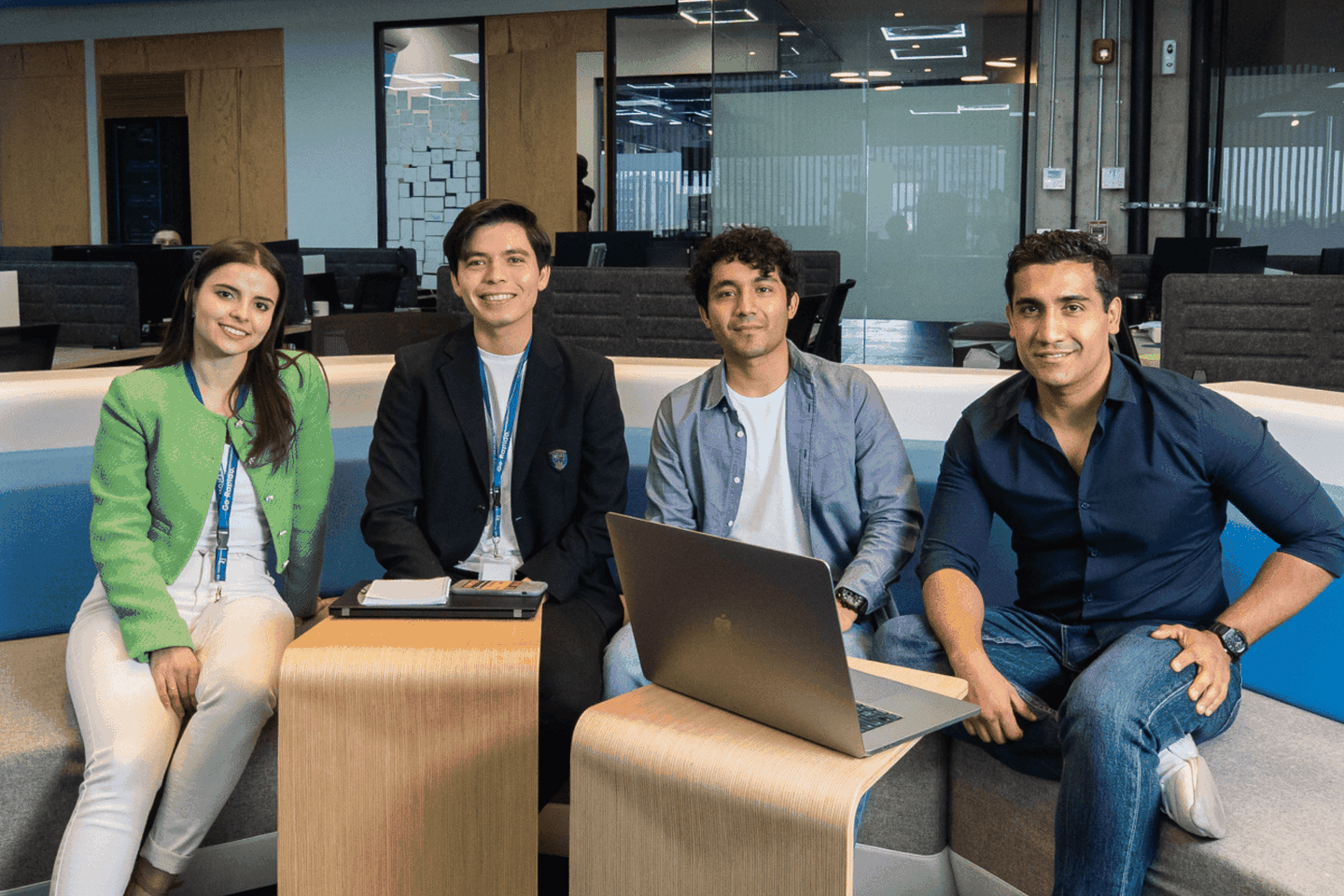 Statistics
600+employees

84%employee engagement score

28%increase in survey participation rate

91%participation for 1-on-1s
Rapido is a leading provider of talent and management services for logistic companies. In three years, Rapido experienced 1,900% growth, expanding from 30 employees to over 600 employees placed at logistics companies worldwide. To establish a stronger company culture and enhance the employee experience, Rapido turned to Culture Amp. With Culture Amp's help, Rapido has been able to build a solid foundation of employee trust, create more career growth opportunities, improve client relations, and boost employee engagement.
Rapido Solutions Group is a nearshore staffing company based in Mexico. Founded in 2020, Rapido recruits, trains, and manages talent for a wide variety of logistics positions in addition to providing payroll, legal communication, and performance management services. Companies use nearshore staffing when they want to outsource work to an employee or team in a region that's closeby. The employees Rapido manages for these clients work at Rapido's own facilities.
Nahúm Landeros is the People and Culture Director at Rapido, in charge of talent acquisition, people experience and administration, learning and development, and internal communications. He was brought in to help the company scale their nearshore staffing workforce and assist with the structure and strategic planning of the human resources (HR) department. Jorge Escatell, People Representative, and Mariana Ramirez, People Experience Manager, work in HR on Nahúm's team.
In February 2022, they partnered with Culture Amp to help address distribution issues with employee experience surveys, establish a stronger foundation of employee trust, and build a culture that could be sustained during Rapido's rapid expansion.
Challenge: Establishing trust in the employee feedback processes
Rapido initially started placing a small team of about 30 employees with clients. In three years, they've grown to 606 employees, with goals of reaching 850 employees by the end of 2023 and 1,500 employees by the end of 2026.
Prior to their work with Culture Amp, Rapido tried to initiate employee engagement surveys through another vendor, but the platform allowed employees to choose whether or not they wanted to remain anonymous and others could comment on their responses. As a result, employees started to fear that there would be consequences for honest answers, they lost trust in the surveys, and participation rates dropped.
"We were sending out a survey every three months, but you could tell who left comments. Even with anonymity, the fact that people could comment on employee responses – maybe even with the good intention to clarify a situation – opened the door to possible fights and mistrust. No one wanted to use it," explained Mariana.
Any survey questions related to follow-up actions based on employee feedback always received the lowest scores, so Rapido also knew employees were losing faith that their input could impact change. Meanwhile, Nahúm didn't entirely trust the platform's data.
"The employee engagement score didn't vary. It always came in at 95%, and I knew that couldn't be true. There are always factors that cause that number to fluctuate. I wanted a tool that would hit us in the face with reality, that would show us the real engagement score," he said.
Rapido needed new tools that employees would trust and appreciate enough to submit their candid, authentic feedback. They also needed to provide accurate data and help Nahúm and his team create clear action items that could be addressed in a timely manner.
Solution: Relaunch engagement surveys with more transparency and follow-up communication
Nahúm was aware of Culture Amp and brought the idea to Rapido's CEO and COO as a potential solution.
"We read through the case studies, so I could help them understand – this isn't just another surveying tool. It actually helps you. There are a lot of people involved in analyzing data, and it provides benchmarks from other companies, so we can understand specific impacts for different populations. What made me fight for Culture Amp was its People Science," he said.
Once the partnership was in place, Culture Amp advised Nahúm to be transparent with all employee communications surrounding the engagement survey. His team let employees know that HR would only get the survey results if a certain number of people answered. Employees were allowed to see all the questions ahead of time, and HR let them know that the questions had been chosen by Culture Amp's People Scientists. Employees also were reassured that there wouldn't be any way for HR to tell whether or not specific people had completed the survey. This proactive transparency helped establish employee trust in the process, Rapido's HR department, and the company overall.
Once the results were collected from the first Culture Amp employee engagement survey, Rapido held follow-up focus groups with the employees to emphasize that they would be part of the decision-making process around upcoming changes.
Results: A formal process for 1-on-1s and employee initiative programs based on real feedback
As Nahúm suspected, after the first survey with Culture Amp, the employment engagement score dropped from the artificial high of 95% reported by Rapido's previous tool to an accurate 82%.
"It was shocking for some people, but this was the real score. We needed it to have a worthy measure of engagement," he said.
Despite the lower engagement score, the participation rate for the first Culture Amp survey was a strong 87%. Previously, it had only been around 60%. Rapido had also onboarded a significant number of new employees as it switched to Culture Amp – circumstances that usually cause participation rates to drop, according to benchmarking data. Nahúm and his team took the significant increase as a sign that employees trusted the Culture Amp platform.
By the end of the year, both metrics improved. Rapido's employee engagement score rose to 84% and the survey participation rate reached 88%.
Introducing a structured method for 1-on-1s
One of the most important discoveries Rapido learned was that, in some cases, 1-on-1s weren't taking place with managers, and employees were craving in-depth conversations about their progress, goals, and career development.
However, Rapido's managers didn't see the value and didn't have enough structure in place to conduct meaningful 1-on-1s that resulted in clear objectives. In turn, they were missing out on opportunities to build relationships, provide constructive feedback, and improve their team's performance.
"We found out that 1-on-1s were mostly being used to talk about why employees were having a bad day, or they were dwelling on their mistakes. There wasn't any way to track their progress or figure out what factors caused their unhappiness, and managers didn't know what follow-up questions to ask about their workload or wellbeing," said Jorge.
In Q3 of 2022, Rapido decided to use Culture Amp's 1-on-1 tool to institute a formal process for biweekly 1-on-1s that equipped managers with data-informed, check-in questions. The Operations team stepped in to organize the necessary meetings and workshops, and their participation was crucial to the success of this initiative.
"We held a workshop with every single manager before implementing the 1-on-1s using several sources, including the Feedback Module in Culture Amp's Skills Coach tool, so they would have more knowledge about how to give effective feedback," said Nahúm.
Between October and December of 2022, Rapido saw the following improvements:
13% positive increase in response to, "I am happy here and I rarely think about looking for a job at another company."
10% positive increase in response to, "The heads and directors at Rapido Solutions Group have communicated a vision that motivates me."
7% positive increase in response to, "I believe there are good career opportunities for me at Rapido Solutions Group."
5% positive increase in response to, "I receive appropriate recognition for good work at Rapido Solutions Group."
5% positive increase in response to, "My manager has shown a genuine interest in my career aspirations."
As of March 2023, Rapido has conducted over 7,000 1-on-1s using Culture Amp.
"At the beginning, there was some resistance from the managers, but we've changed their minds. We've proven that 1-on-1s have purpose – that the purpose is to connect with their teams, discover what makes them more motivated, and help them be more efficient. Now, the 1-on-1s produce a mix of operational and personal results," said Jorge.
Changing employee culture programs to better suit employee needs
The initial drop in the employee engagement score was expected, but some of the direct employee feedback the survey provided did cause HR to take a step back. They discovered some of Rapido's employee culture programs weren't working as well as they believed.
For example, Rapido had been providing snacks and assumed that everyone loved the perk, but the survey results showed this wasn't the overall sentiment. Rapido follows a hybrid-work model, and employees who weren't in the office didn't feel as though they gained any benefit from this program. Similar feedback arose around the in-office lunch Rapido provided every Friday; many employees didn't care about it since they weren't in the office.
"We were being judged on those activities, and we didn't know! We thought we couldn't go wrong with snacks, so that was surprising. But we listened, and we redesigned those programs entirely," said Nahúm.
He combed through the employee suggestions, enlisted the help of the Finance team, and quickly took action. Now, Rapido takes a much different approach that benefits more employees. Every employee is provided with a restaurant voucher card, and they can choose to spend their stipend however they want. One Friday a month, in-office lunch is still provided.
Improving client and employee relations
The survey results also improved relations on the client-side. Rapido has many different clients, and the recognition clients give to the Rapido employees who work on their accounts can vary significantly.
"Some of our teams had an 86% engagement score, while others had a 68% engagement score. We wanted to understand why. It turns out, some of our clients send swag and Amazon cards when our teams outperform, some hold personal meetings to show they care. Those gestures had a positive impact on employee performance and contributed to higher engagement scores," said Nahúm.
As a result, Rapido created guidelines and best practices for employee recognition. Now, they provide them to all of their clients.
"We did it because of Culture Amp. We were finally able to understand what a difference that made," he explained.
Creating more opportunities for career development
Meanwhile, the employee engagement survey also revealed that learning and development was an area of opportunity for Rapido.
"Employees were asking for different ways to develop their careers. Our clients don't always have a team lead or manager position to offer, but our employees still want to learn and grow even if those positions aren't currently available," said Nahúm.
Rapido invested more time in creating different workshops for soft-skill training on topics such as KPI evaluation, conducting negotiations, closing difficult sales, and prospecting new leads. They also started a Quality & Development Department to help employees develop more technical skills, like enhancing their knowledge of tracking management systems or learning the requirements of a billing or accounts payable position.
In the future: More growth, continuing education, and additional training resources
Moving forward, Rapido plans to expand its use of Culture Amp as the company continues to grow. They want to use the employee engagement tools for onboarding and pulse surveys, explore personalized plans for employee development, and identify better ways to use Skills Coach.
"Company-wide, everyone benefits from Culture Amp. They always have advice about how to tackle problems, and they let us know we'll work together to find a solution. Our relationship with Culture Amp only opens up possibilities for Rapido to grow," said Nahúm.
Headquarters
Guadalajara, Mexico
INDUSTRY
Professional Services
CHALLENGE
Establishing trust in the employee feedback processes
SOLUTION
Relaunch engagement surveys with more transparency and follow-up communication
RESULTS
A formal, scalable process for 1-on-1s, culture programs based on employee needs, better client relations, and more opportunities for employee learning and development
Build a world-class employee experience today