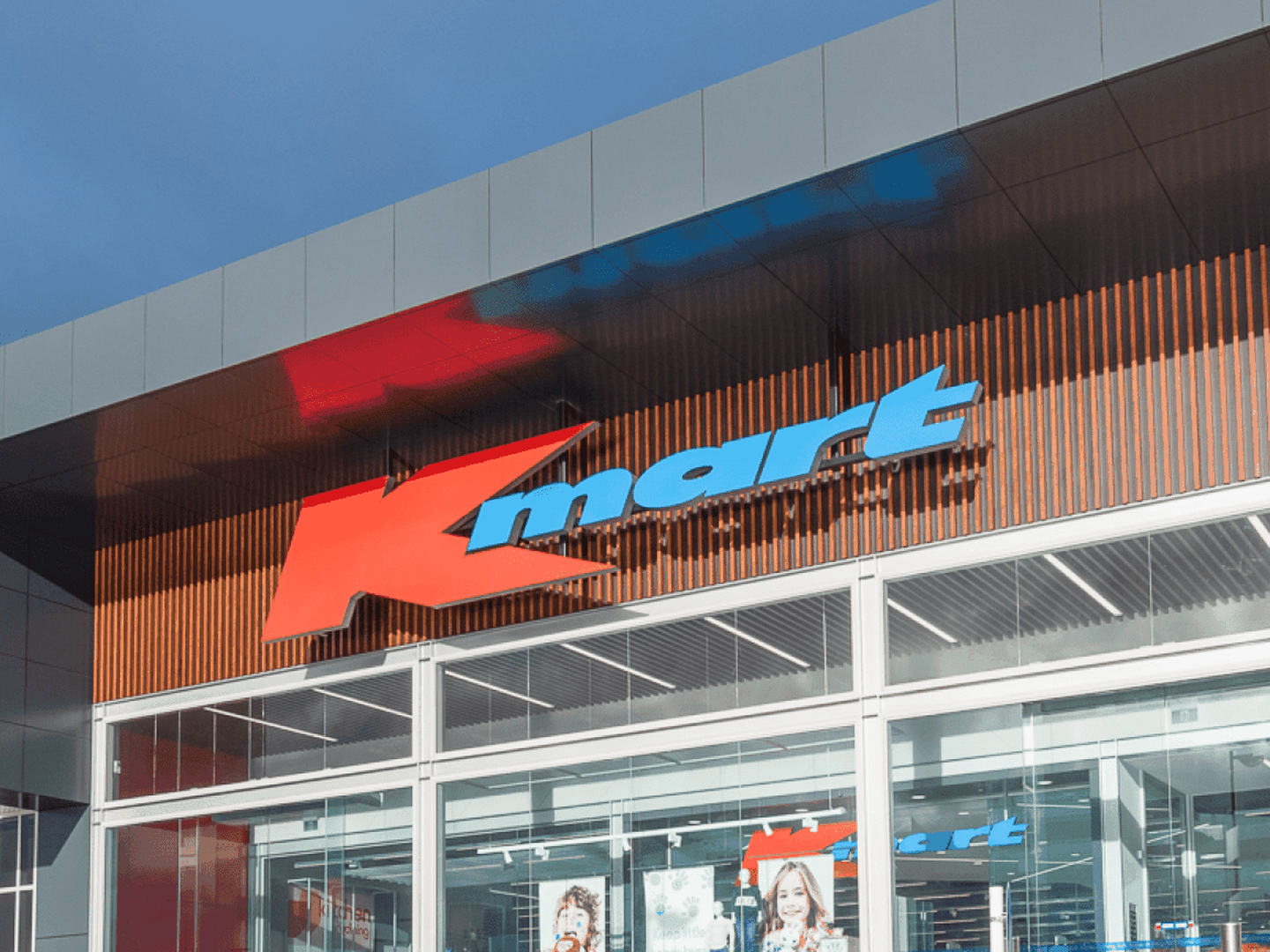 Statistics
235stores across Australia and New Zealand

34,000+employees

1,400+line managers
Kmart has been a household name in Australia for 50 years. Owned by listed conglomerate Wesfarmers, Kmart operates 235 stores throughout Australia and New Zealand, offering customers a wide range of apparel and general merchandise products at low prices, every day. Kmart's mission is to Make Everyday Living Brighter. Today, more than 18 million shoppers pass through Kmart's doors and online store each year, but history and reputation mean little to increasingly discerning consumers and in the face of digital disruption.
Long-standing retailers like Kmart must grab every inch of ground possible to differentiate from traditional bricks and mortar competitors as well as younger online retailers. One of the ways Kmart is achieving this is by capitalising on the increasing fusion of employee experience and customer experience.
Tristram Gray, the Chief People and Capability Officer of the Kmart Group, is accountable for driving the Kmart People Strategy to ensure the company's growth ambitions are realised. Tristram joined Kmart in early 2018 after nearly two decades overseeing HR functions for organisations in the technology and large retail industries. His team is responsible for the design and implementation of team member engagement surveys and improvement plans across the Kmart Group, using leading technology, tools and data analytics powered by Culture Amp.
Challenge: Achieving cultural consistency and engagement across the enterprise
With a vast, geographically dispersed workforce encompassing age groups spanning 15-year-olds through to 70-year-olds, Kmart recognised a disconnect between its cultural vision and how this was being experienced and implemented by team members across the enterprise.
Our People and Capability vision is to ensure Kmart is "a great place for our team members to work and grow together", but this needed to be more than a slogan on a wall. This vision is about being authentic and ensuring each team member's experience in our 34,000 strong workforce is a good one every day.
— Tristram Gray
Chief People and Capability Officer
To navigate the nuances of a distributed and diverse workforce, Kmart wanted a platform that could standardise feedback conversations on a large scale.
"We required clearer and more accurate engagement data to understand employee sentiment around Kmart's strengths and areas for improvement. Whether an employee works three hours a week in-store, in one of our Distribution Centres, or in a buying role in our national office—we needed data that could drive targeted initiatives to tangibly and sustainably improve engagement across every part of the organisation."
Solution: People management customised for Kmart
A tool that would achieve buy-in across the spectrum
With a clear cultural vision and demand for a new tool, Kmart selected Culture Amp as its new vendor in mid-2018. It was the first time Kmart had undertaken any systemic, enterprise-wide team member data-based feedback program. Culture Amp was a natural choice due to its ease of access, functionality, scalability and data analytics capability.
"A key reason for selecting Culture Amp was its ability to deploy the engagement survey on any device. We issued the survey through Kmart's team member app, in addition to desktops and laptops, and provided team members time to complete it during their rostered work hours.  Some employees aren't digital natives, so we set up a desk computer in every store allowing them to complete the survey in a private booth. The stores got really into it and made it an event. The first time we undertook the survey we achieved a 61% participation rate. The second time, we had 70% – over 23,000 people," says Tristram.
Powerful insights that speak to decision makers
In a listed enterprise, numbers speak volumes. Culture Amp's data, coupled with anecdotal feedback, immediately resonated with Kmart's senior leaders.
"Unless you're dealing with facts and data, you're dealing with opinions, and some of those are myths," says Tristram.
"Having the insight from Culture Amp has meant we can be more deliberate. Our Managing Director embraced the Culture Amp survey technology and data from the outset. He personally completed over 30 listening sessions at our stores, and another 17 in the national office as a follow up on the matters raised by our team members in the survey."
A surgical approach to performance data
At the core of its approach, Kmart believes in continuously discussing and acting on what is working well and what is not.  This creates a culture of open communication, which adds value, understanding and creates a platform for positive change in the business. Culture Amp's data has played a key role in enabling these conversations.
"We've taken a surgical approach. It's not about the overall average of Kmart. Culture Amp allows us to drill down into different teams, different stores, different locations. We can be clear about what is affecting those individuals and develop plans that impact them in a meaningful way on the issues they feel are important to their experience as a team member. The data created a massive conversation among all people leaders across the business," says Tristram.
Results: Performance and engagement part of Kmart DNA
Kmart's reimagined team member feedback and action planning mechanism has altered not only how its team members and people leaders approach employee engagement, it has also transformed the value the entire organisation places on the People and Capability function.
Faster and impactful responses to employee feedback
Through the strength of Culture Amp's data, Kmart was able to identify and act quickly on team member feedback, demonstrating to the workforce their perspective is taken seriously by senior leaders.
"For example, we learned that people really cared about their tenure, so we created team member name badges marking service recognition, which now get specially presented on anniversary dates and are worn proudly by our team members. As a forward-thinking, high-performance oriented business, there were varied views around this decision, but having the data saying that employees valued it meant we felt confident making the change," says Tristram.
The line manager link
One of the major insights gleaned from the engagement surveys was highlighting the important role played by the company's 1400-plus store line managers.
"We can do a lot of things centrally in the People and Capability function, but if your experience as an individual team member is poor, that is quickly forgotten. Line management weren't necessarily thinking in these terms and the feedback enlightened them to the impact they can have day-to-day. By executing the small 'one percenters' consistently and well–a simple thank you for a job well done or saying hello to every team member at the start of their shift – can make a huge difference to the entire team's experience." says Tristram.
"We (in national office) also obtained a much clearer appreciation of the daily pressures for our store-based line managers. From this, we developed 5-10 minute feedback sessions, allowing line managers to have brief fireside chats on the floor with their staff. They really love this new tool."
Connecting the dots between leaders and employees
After the first feedback survey, Tristram says Kmart also saw an opportunity for senior leaders to become more visible in the organisation.
"Employees told us they didn't feel as connected to our vision or inspired by our senior leaders to engage with this vision as they wanted to be. As a result, the Kmart Leadership team, including the MD, took active steps to become more visible and share the company's vision across a variety of communications channels. Linking what we're doing to the feedback in the survey has been critical in this process. We often say, "You told us this, so we did X to address it", or "We made X change as a result of team member feedback". It might feel  like marketing spin, but as with any communication you want teams to understand or act on, it's important to repeat it, and then repeat it some more! We were able to drive that measure up four percentage points in just 6 months."
Integrating people data into the C-suite agenda
Thanks to Culture Amp, team member engagement, people and culture are now fully engrained in Kmart's strategic direction. The Board reviews engagement and Pulse survey results twice a year and Kmart has set annual targets over the coming five years. Tristram's team is aiming to reach at least 70% engagement within the next three years.
"Our leadership discussions used to focus largely on sales, profit, remuneration, and safety. Now when we talk about store performance, we also talk about people and relate this back to the latest engagement survey. We are seeing the correlation between people data and business data; it's now part of the language and DNA of the company. Every senior people leader with a team greater than five people has an engagement KPI as part of their annual performance targets, and these are taken very seriously," says Tristram.
The secret sauce for engagement
In twelve months, Kmart has seen a strong ROI on engagement, with 50% of stores recording improvement. Some of these recorded dramatic leaps forward. The focus now is on understanding the other 50% to ensure the same result can be achieved.
"We are trying to isolate the variables to understand the stores that moved forward compared to the others. We're starting to create a formula of the things that do and don't have a large impact on engagement to achieve uplift across every store," says Tristram.
"Culture Amp has supported us to prove that great data and analytical capability – combined with committed leaders who implement targeted action plans – can shift the dial materially on employee engagement."
Headquarters
Melbourne, Australia
Challenge
Achieving cultural consistency and engagement across the enterprise
Solution
People management customised for Kmart
Results
Performance and engagement part of Kmart DNA
Build a world-class employee experience today