Case study
How Demodesk built a stable workforce with high retention in a remote environment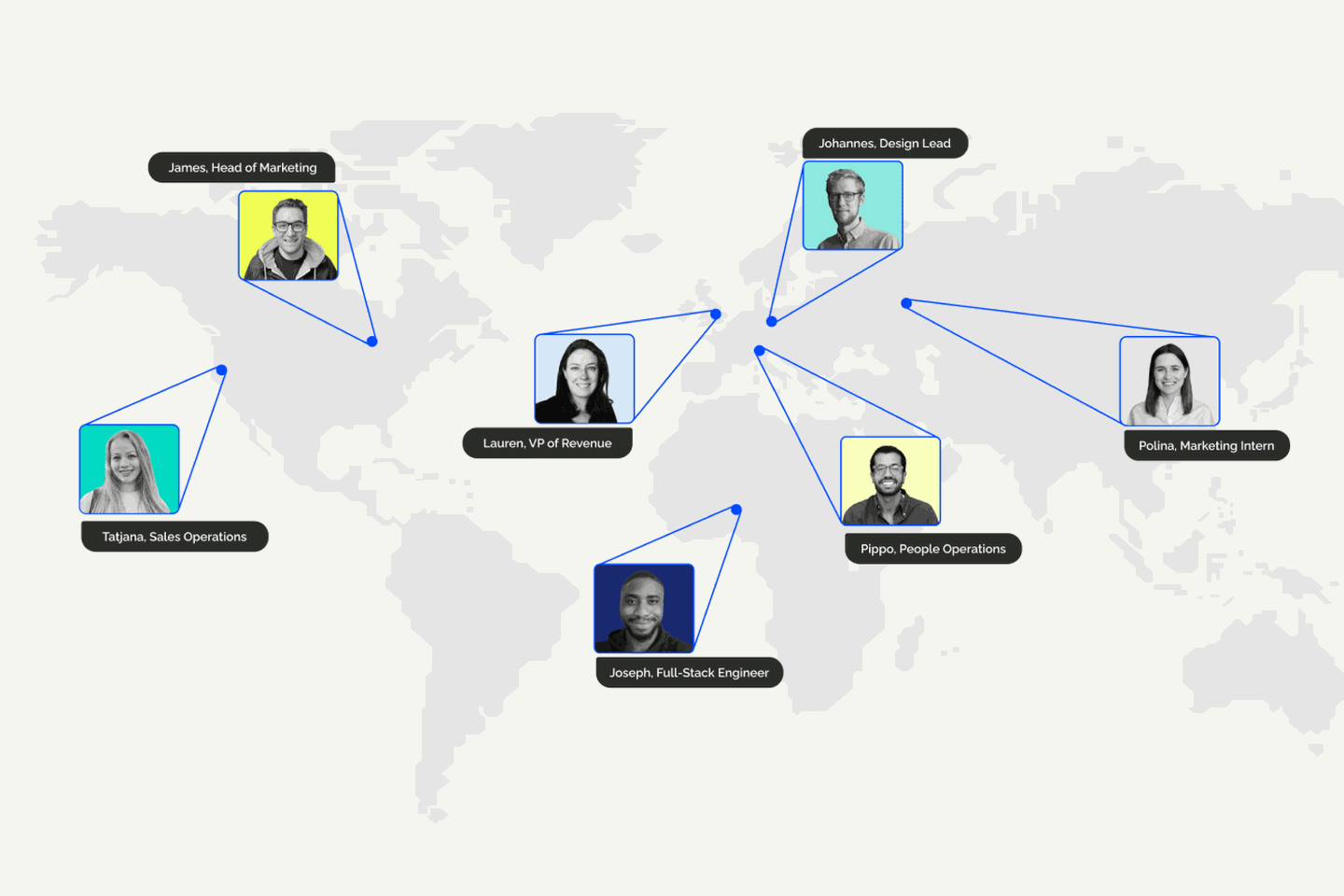 Statistics
45employees

19nationalities

160+customers

1751+users
Dynamic start-up, Demodesk, launched in 2018, when video conferencing was essential to the modern workplace but while screen sharing technology had made little progress over the preceding 20 years. Recognising this technology shortfall, Demodesk created the world's first intelligent customer meeting platform for remote sales teams – designed to enhance customer conversations.
The company has since secured $10.3M in funding and is on a growth trajectory to employ 70 people by the end of 2021.
Filippo Laita joined Demodesk as people operations manager in August 2020 when there were 20 people working out of the company's office in Munich, Germany.
Like most organisations, the Covid pandemic saw Demodesk's employee base shift to remote working. It was a point of reflection for the company - realising that people could do their jobs from any location - and in early 2021 Demodesk implemented a work from anywhere policy. It now has employees located around the world including Nigeria, Russia, the US as well as various locations across Europe.
Challenge: Building culture in a remote environment
"Recruiting and retaining people, especially SaaS developers is a huge challenge for IT start-ups," explains Filippo. "That's why adopting a work from anywhere policy makes sense - expanding the pool of potential employees while also creating a more diverse workforce in the process. However, as a company grows it's culture also evolves. If you're not seeing people in person it can be hard to gauge how happy everyone is at work."
To try to better understand how people were feeling, Filippo and his team would send weekly surveys across the organisation via Slack, Demodesk's communications platform. These would ask questions such as 'on a scale of one to 10' how happy are you at Demodesk?'. However Filippo admits that this approach wasn't particularly scientific and participation rates were often low. He also recognised that the entire process - from issuing the surveys to analysing the data - would become increasingly complex as the company scales.
"Our Employee Net Promoter Scores (ENPS) were fluctuating but we couldn't understand why," he continues. "We needed a more sophisticated solution that would provide us with better insight into the status quo at Demodesk, generate higher participation rates and could easily scale."
After evaluating a number of options, Demodesk decided that Culture Amp was best placed to support its company culture as the business transitioned to a more hybrid and remote-friendly mode of operation. Filippo explains the decision:
"We needed a solution which could allow us to hit the ground running, with minimal effort and in the shortest space of time. Culture Amp's pre-designed surveys allowed us to start engagement with employees straight away. The user interface is fantastic from both an admin and employee point of view, making surveys more appealing to complete.
Culture Amp's reporting functionality and suggested actionable items provides the inspiration and support that a small company, such as ours, needs to address any areas for improvement."
Finally, integration with our existing Personio HR system was an added bonus. It means that Culture Amp will always have access to up-to-date employee information, saving me the job of manually updating the records each time someone new joins the company."
Solution: Making people feel valued
Demodesk runs comprehensive employee engagement surveys on a quarterly basis as well as bi-weekly 'pulse' surveys which give a timely snapshot on any given issue.
The first quarterly engagement survey was carried out in March 2021 and showed that feedback and recognition were areas which could be improved at Demodesk.
People felt that the quality and calibre of feedback provided could be improved. The bi-weekly pulse survey also backed this sentiment up, with people saying that they weren't receiving the amount of feedback they'd been hoping for.
In response, Demodesk launched a number of initiatives to improve feedback across the company. These included educating managers on what feedback should look like, the importance of considering the individuals concerned and the means of communication used. A #thankyou channel was added to Demodesk's Slack platform as a means of gathering informal acknowledgements and a week-long feedback challenge held - when only positive feedback could be given.
The findings also showed that there was a lack of understanding of the company's vision, with 15% of respondents unclear on the company's goals. To address this, Demodesk encourages attendees at one of the company's 'all hands' sessions to share their interpretation of the vision. This resulted in many different interpretations which, when pieced together, helped give everyone a better understanding of the company direction.
Demodesk is also using the company 'all hands' briefings as a platform for teams to share their achievements and how these fit in with the company values. Of this, Filippo says that people were initially shy to speak up but once the compliments started flowing, everyone is now keen to get involved.
He continues: "What we have learned is that giving positive feedback isn't necessarily difficult but giving consistent feedback can be a challenge. Taking a more systematic approach to feedback means that there is more structure behind what's being said and everyone is thinking more about how and when to give feedback. People are feeling more listened to and the spirit across the company has improved as a result."
Results: A stable workforce with high retention
In the space of just three months, the changes implemented at Demodesk have already had a significant impact, as evidenced through the data gathered when the initial survey was repeated in June 2021.
This showed a 15% uplift in the number of people 'rarely thinking about looking for a job at another company.' Of the respondents who were favourable with the statement, 100% were working remotely, away from the Munich headquarters - reassuring Filippo that the right culture is in place from a remote perspective.
Recognition saw the biggest impact, rising from 66% in March 2021 to 90% June 2021 (a shift of 24%) in the number of people agreeing that they 'receive appropriate recognition for good work at Demodesk.'
Additionally, 94% felt supported by people at work compared to 83% in March 2021. "This is particularly encouraging as it shows that people feel that they have a bond with their colleagues, regardless of their physical proximity to each other", says Filippo. "It also shows that our onboarding process is working as 30% of respondents in June had joined the company within three months of the first survey running."
The ENPS scores have also stabilised with little fluctuation around the 85 percent mark of favourable ratings.
Victoria Hauzeneder, Chief of Staff at Demodesk, adds: "Culture Amp makes data-driven culture initiatives a possibility for start-ups. It's disrupting how we make decisions by providing the insight needed to grow our company culture in the right way. A happier workforce means that retention is high, keeping recruitment costs low. More importantly, stable teams ensure that valuable knowledge remains in the organisation, allowing us to build on our experience."
Moving forward, Demodesk plans to give managers more opportunity to improve professionally - teaching them how to read and interpret the survey data so that they can understand why they are seeing a particular set of results and support them in communicating the data to their teams.
A Culture Task Force is also being launched to allow the employees to shape culture at Demodesk so that everyone has the opportunity to thrive and feel motivated.
"Given the positive impact that our initiatives have had in just a few months, we're excited at the prospect of what can be achieved in the long term," concludes Victoria. "We operate in a highly competitive environment and, with Culture Amp's insights, plan to set new culture standards that others will want to follow."
Headquarters
Munich and Lisbon
CHALLENGE
Building culture in a remote environment
SOLUTION
Making people feel valued
RESULTS
A stable workforce with high retention
Build a world-class employee experience today