Introducing Amplify: Helping managers navigate the new world of work
We believe that managers are the linchpins of our organizations. The success of managers is the primary indicator of success within an organization. Yet, managers are consistently given a myriad of tasks without the necessary support to do their best. Things like being a leading expert in diversity and inclusion, being a therapist, and taking responsibility for the results of sentiment reports and financial reports all fall under a manager's scope of work. To continue delivering at this velocity, it's critical to provide them with the right tools and personalized support they desperately need to succeed.
We can't keep managing like this
To be clear, managers aren't failing. They're being failed. The housekeeping tasks and back-to-back meetings were never the most important part of being a manager. The real crux of a great leader stems from understanding (and engaging with) people in their infinite complexity. Inspiring a team to do their best work. Having difficult conversations in the face of disruptive change. Coaching them through the ups and downs of work-life (and life-life). That's what being an effective manager is all about.
These manager skills are often considered 'soft' – even though their impact can be quantified and measured. This approach has left managers to figure these skills out for themselves – or learn from their previous managers, who likely didn't have the appropriate training themselves.
It's time for something new: Introducing Amplify
We need to reaffirm the importance of manager development - giving managers the time, resources, and tools to develop themselves first, then do the same for others. We must remember that we can't push our organizations forward if we're not empowered to push ourselves forward.
Today, we're introducing a collection of new capabilities to equip managers to lead in today's work environment and have a greater positive impact on their teams. With Amplify, your managers can learn new skills to be more effective, incorporate them into their daily practice, and apply them in key 1-on-1 conversations with their team.
Playbooks combine the expertise and applied experience from more than 3,000 companies and thought-leaders to give managers quick answers, expert advice, and tools on various topics. Example Playbooks include building inclusive teams, managing remotely, and improving resilience. 
Skills Coach harnesses conversational microlearning so managers can put learning on autopilot as they receive bite-sized activities via Slack, Microsoft Teams, or email. The exercises were developed by our in-house team of people scientists and feature tipping point manager skills we've identified in collaboration with LifeLabs Learning. Skills Coach uses the latest behavioral science and spaced repetition techniques to drive positive change in managers. The highly actionable, interactive exercises take less than two minutes to complete and help busy managers put their new skills into daily practice. The first skill is 'coaching,' in recognition of the importance of the skill set, followed by 'giving feedback' and 'building resilience.' 
1-on-1 conversations give managers a best-practice approach and a centralized space to hold and track 1-on-1s with mentees or direct reports. By actively creating opportunities for managers to talk about issues beyond status updates, the tool helps managers put new skills directly into practice, leading to more meaningful and productive outcomes.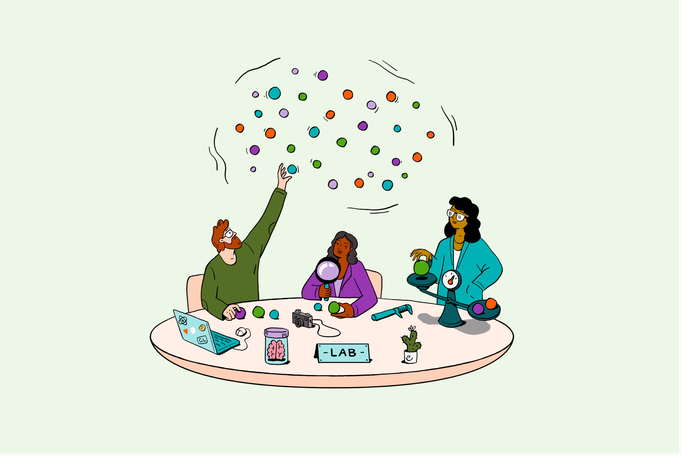 Build a better world of work
See how 4,000+ global organizations are creating a better world of work with high-impact insights and science-backed solutions.
Let's chat
Driving real behavior change at scale
Ellucian, a higher education technology organization with 4,000+ employees, has been part of the Amplify pilot program and has seen strong results.
"Ellucian fosters a learning culture and is committed to employee and manager development. Culture Amp's short, interactive daily exercises keep learning and skills alive over time - which is key for busy managers. With a self-directed and scalable training approach, our managers are building the habits to be even more effective."Kristin Swanson, Senior Talent Development Manager, said of the new Amplify product.
By coupling Culture Amp's technology with the behavioral science from LifeLabs Learning, managers and organizations have seen promising outcomes. 81% of managers saw changes in their own behavior after using the platform. Another promising result: While traditional learning programs struggle to demonstrate effective behavior change, 64% of direct reports also noticed behavioral improvements as their managers progressed through the program.
Speaking about their involvement, Co-CEO of LifeLabs Learning Tania Luna said, "We love the accessibility of Culture Amp's platform and are eager to leverage technology to offer just-in-time support for individuals who play such a massive role in their company's success. More great managers = more meaningful work = more great results = more fulfilled humans."
This is how we help managers help us manage. This is how we create systems and approaches that extend the intuitive ability of managers to connect, engage, inspire, and lead. 
We're redefining the manager's role around their attributes and potential as insightful leaders. By creating new tools and resources that scale and amplify their empathy, we're making it easier for managers to do what they do best – grow themselves, and their teams, into the people who will help us all weather the storms and chart a course toward a brighter future.
The new Amplify capabilities are available to Culture Amp customers today. To get started, contact support@cultureamp.com. If you'd like to see how we can help your managers, get in contact.
Build a world-class employee experience today