16 tips to make the most of Culture First 2023
Culture First Global, a virtual experience, is fast approaching! On November 1-2, 2023 we're connecting as a community to explore how to build an intentional culture that delivers results.
We've compiled a list of tips to help you prepare for this full-day event and get as much as possible out of it.
Before the event
Block off the time on your calendar. One of the most challenging parts of attending a virtual conference is that you're vulnerable to outside distractions. It can be difficult to focus on the sessions when your personal life is all around you, and your work is just one window (or tab) away.

To counteract this, clear your calendar, set yourself as "out-of-office," and turn your notifications off. Research has shown that multitasking doesn't work, and trying to do so can negatively impact both the quality of your work and your experience at Culture First.
Let others know you're busy. Create the right environment by letting the people around you know that you're attending a live virtual event. Create expectations around when you'll be free to talk and when you would appreciate focused quiet time.
Review the agenda and make a plan. Set aside 10 minutes before the big day to look over the agenda and identify the speakers you're most interested in. Decide which breakout sessions you want to attend, and set calendar reminders. Although most of the sessions will be available on-demand after the event, it's more exciting to participate live – and you don't want to risk missing the start of a session because you tuned in at the wrong time.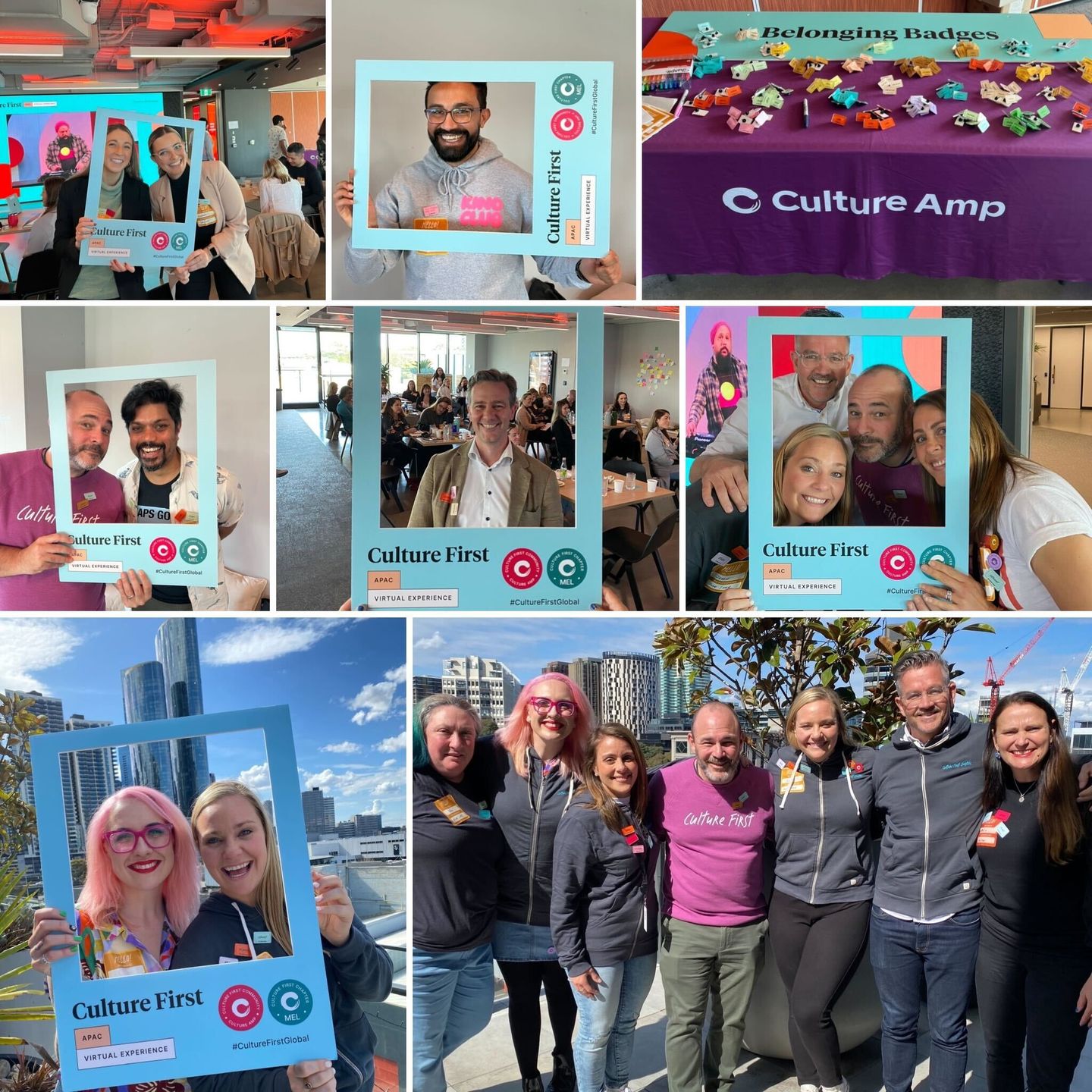 Attend with others. Just because Culture First is held online doesn't mean you have to attend alone! Invite your colleagues to join you, and consider organizing a viewing party with your teammates or ERG members. Make it an occasion, and encourage the group to register so you can attend together, whether you connect virtually or get together in the office. After the event, share and discuss your thoughts and learnings!

You can also meet and connect with others in your local community by joining a Culture First Chapter. You can register to join an in-person viewing party in any of the following locations: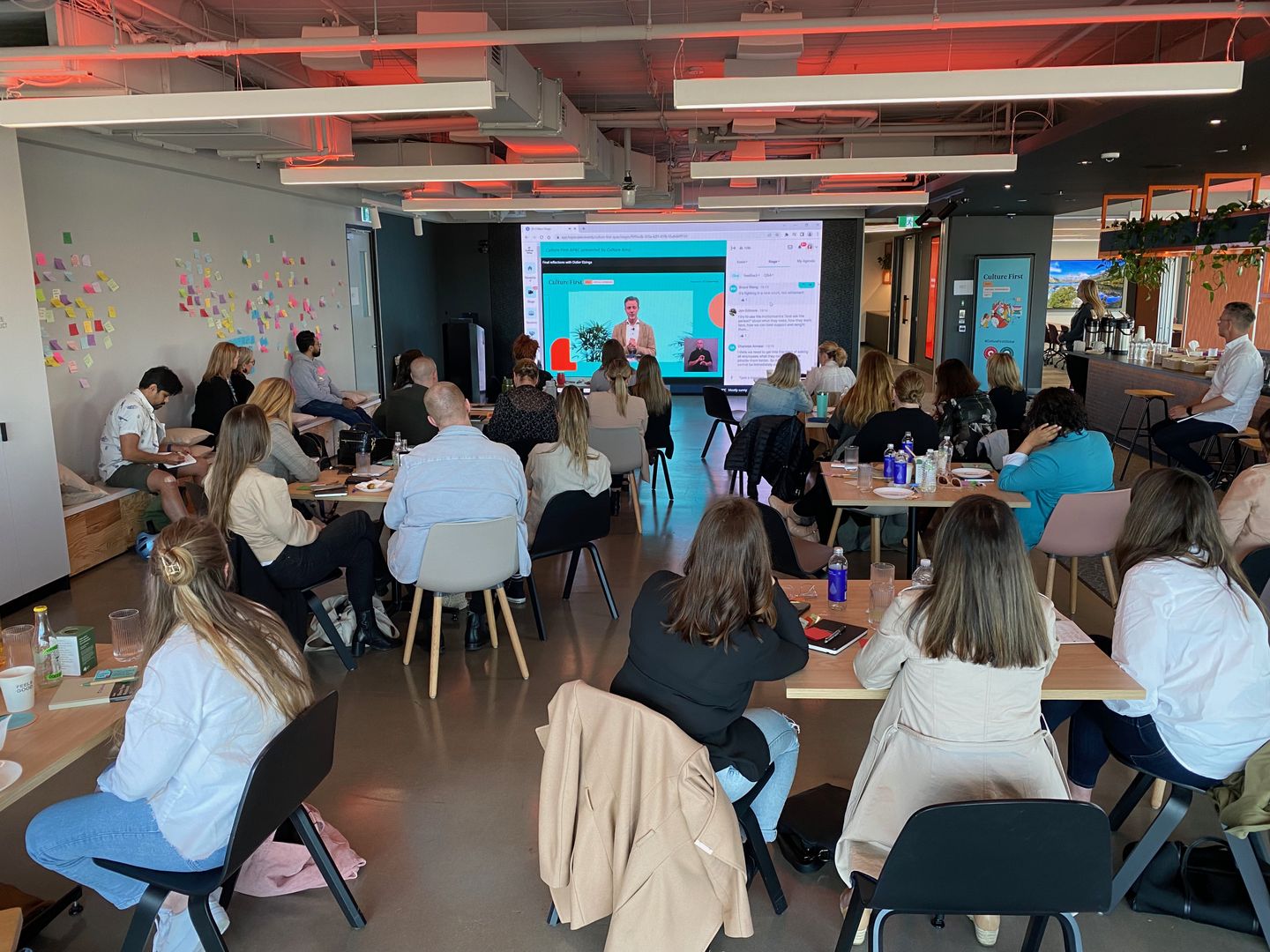 Pick out your "Belonging Badges." Every Culture Amp event aims to create an environment of inclusion, belonging, and intimate connection. One way we do this is through "Belonging Badges." At in-person events, these are pins that people wear to share aspects of their identity that aren't apparent through physical appearance.

At Culture First, you can choose and display your Belonging Badges on your profile. Examples of badges you will be able to choose from include: Adopted, Charged with a crime, Introvert, LGBTQ+, Single Parent, Thrill Seeker, and Veteran.

This year, Belonging Badges will be located in the photo booth. Once you take a photo, you can decorate your photo with Belonging Badges of your choice. Then, you can download the photo as a keepsake, share it on social media, and/or post it on the Photo Wall, where you can see other attendees and their Belonging Badges!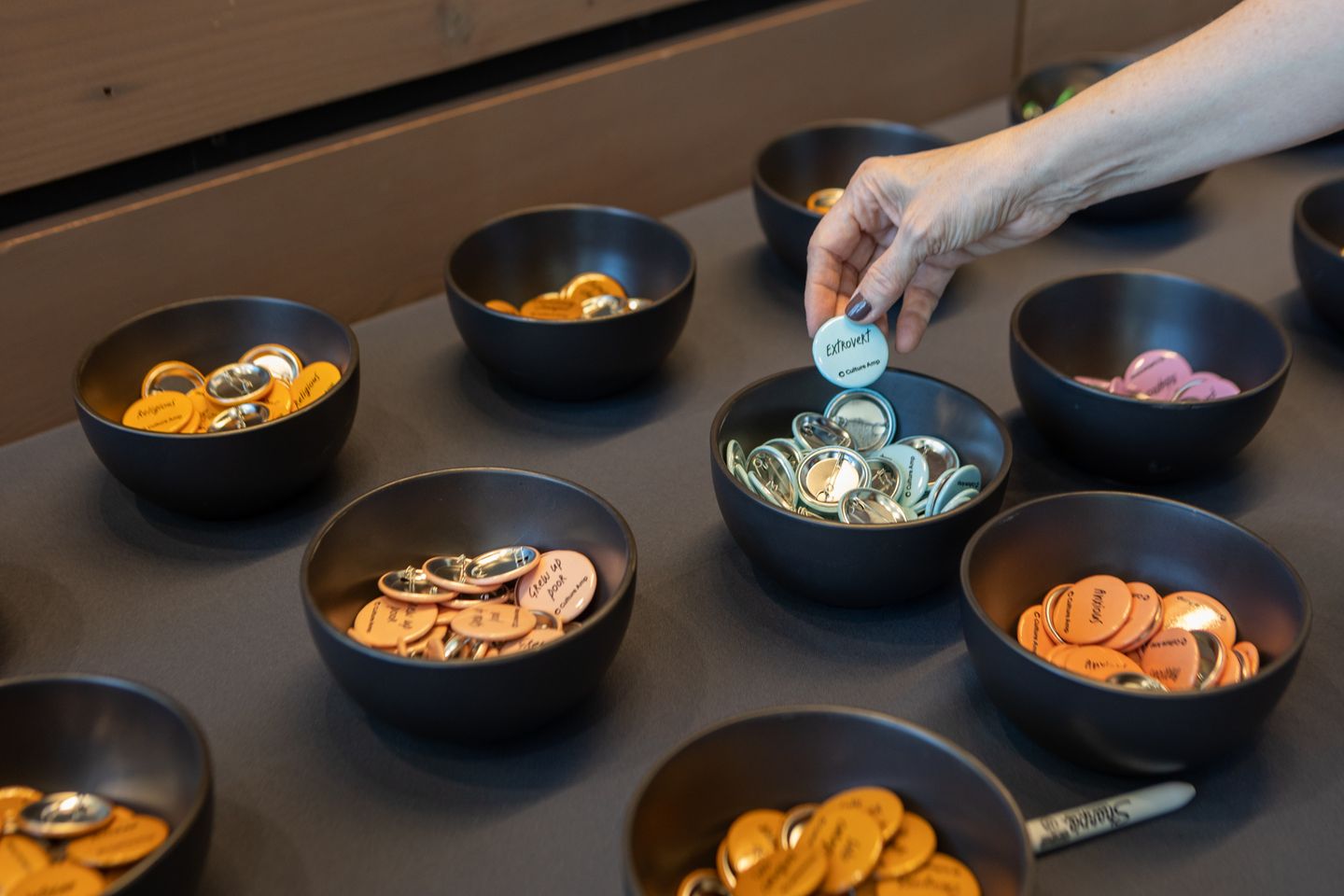 "I thought the belonging badges were a great touch that I had never seen before but will look to utilize in the future. Having the speakers share their badges upfront helped me connect with them as humans and not just professionals leading an event."

- Attendee from Culture First 2021
During the event
Join the opening session to kick-start the day. Culture First will begin bright and early on November 1st, at 9 a.m. PT in the morning. Meet fellow attendees, network, and learn how to navigate the platform.
Interact and connect. Culture First is an opportunity for the community to connect on the most pressing issues in today's world of work. Most of the sessions will be streamed live, so you'll be able to participate in polls, ask questions to speakers, and start conversations with other attendees. Using the platform, you can even have a private video call with someone you really connected with during the session, or schedule time to chat in the future.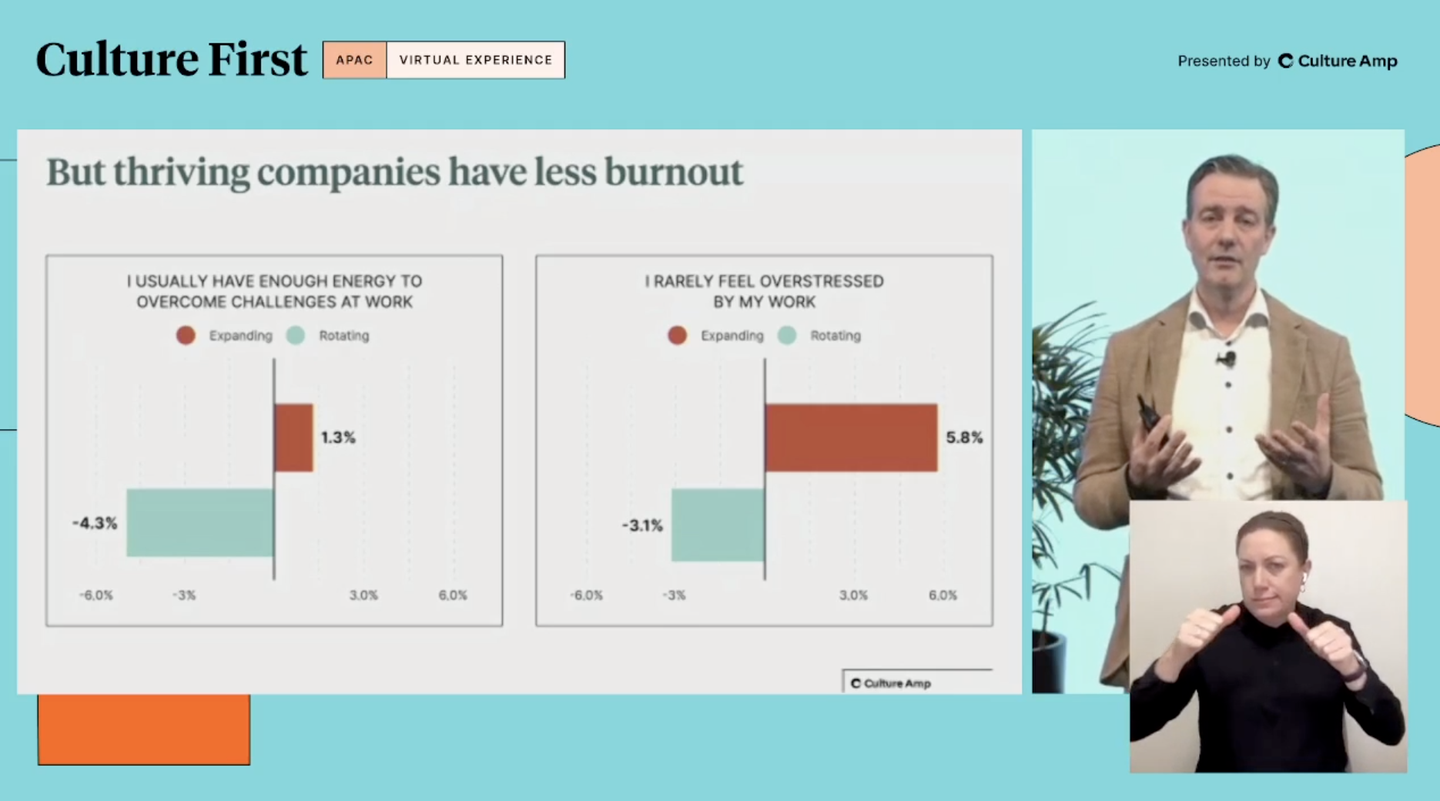 Network with others. Visit the Community tab during breaks to connect with other members of the community.
Take a break. Everyone needs time to relax, so be sure to stand and stretch regularly. You may not be sprinting across a large conference hall, but it's still quite exhausting to attend a full-day conference. In between sessions and during breaks, you can also relax by jamming out to the DJ on the main stage. This year, two Campers, Gurdip Dhanjal and Adrian Dickinson, will be bringing the music!
Snap a picture at the photo booth. Pop into our photo booth any time during the event to take a picture (or ten).
Share your experiences. Post pictures and takeaways on LinkedIn or Instagram!
Take notes. Have a way to capture your favorite thoughts and tips. Although taking notes digitally has become increasingly popular, we personally recommend a good old-fashioned notebook and pen. Research shows that taking notes by hand is better for learning, but every person is different, so use the method that works best for you!
"I was inspired by all the speakers but most of all the sense of community I felt from the other participants. I felt a part of something for the first time in a long time. I no longer feel so alone and small."

- Attendee from Culture First EMEA 2022
After the event
Reach out to your new connections. Stay connected with the people you met during the conference. Connect with them on LinkedIn, send a message, and find some time for a phone or video call.
Set up some time to review and re-watch. Was there a favorite session you want to revisit or a key point that you keep wondering about? One of the best parts of attending a virtual event is being able to re-watch the sessions on-demand.
Find your people. Just because the Culture First event has ended doesn't mean the Culture First experience is over. Link up with people just like you, living in your area – and discover what you can achieve together by joining a local Culture First chapter or our People Geek Slack.
Join us at Culture First, a global event series
Culture First Global is coming up soon, and we hope these tips will help you prepare and make the most of the experience. Together, we'll take a deep dive into topics around:
The business of culture
Managing managers
Performance redefined
Register now to make connections, hear from thought leaders, and gain actionable insights that will help you build an intentional culture that delivers results.
Build a world-class employee experience today