Employee engagement: What it is, why it matters, and how to get it right
Many HR professionals pride themselves on keeping up with the latest research in their field and finding new ways to advance their work. But as businesses of all sizes continue to face uncertainty, there's also tremendous value in narrowing your focus and going back to the basics.
The benefits of employee engagement are within reach – even for businesses that are cutting costs and asking their people to do more with less.
"Often during times of change and uncertainty, many organizations forget about doing fewer things and doing them really well," explains Devshree Bhatt, a Senior People Scientist here at Culture Amp. "Prioritizing your culture and engagement is one of them."

In the first session of our "Back to Basics" webinar series, Devshree talked with Leonie Boyd, Associate Director of Organizational Development and Culture at Plan International Australia, about the fundamentals of employee engagement.
What does it really mean? Why should organizations invest in it? And perhaps most importantly, why now?
What exactly is employee engagement?
Employee engagement is multifaceted and can mean different things to different people. During the webinar, participants used words like connection, belonging, alignment, and recognition to describe what engagement means to them.
To Leonie, engagement is "the relationship you have with the organization and whether that's a positive or negative relationship. That relationship determines how you invest your energy in your work."
At Culture Amp, we define employee engagement as the level of enthusiasm, connection, and commitment an employee has toward their organization. We break that down into five different areas:
Motivation: [Company] motivates me to go beyond what I would in a similar role elsewhere
Pride: I am proud to work for [Company]
Recommendation: I would recommend [Company] as a great place to work
Present commitment: I rarely think about looking for a job at another company
Future commitment: I see myself still working at [Company] in two years' time
It's important to recognize that none of these are static. "How you feel within an organization – that sense of engagement – fluctuates," explains Devshree. "I could be very proud of my organization but also be thinking about whether or not I want to stay there long-term."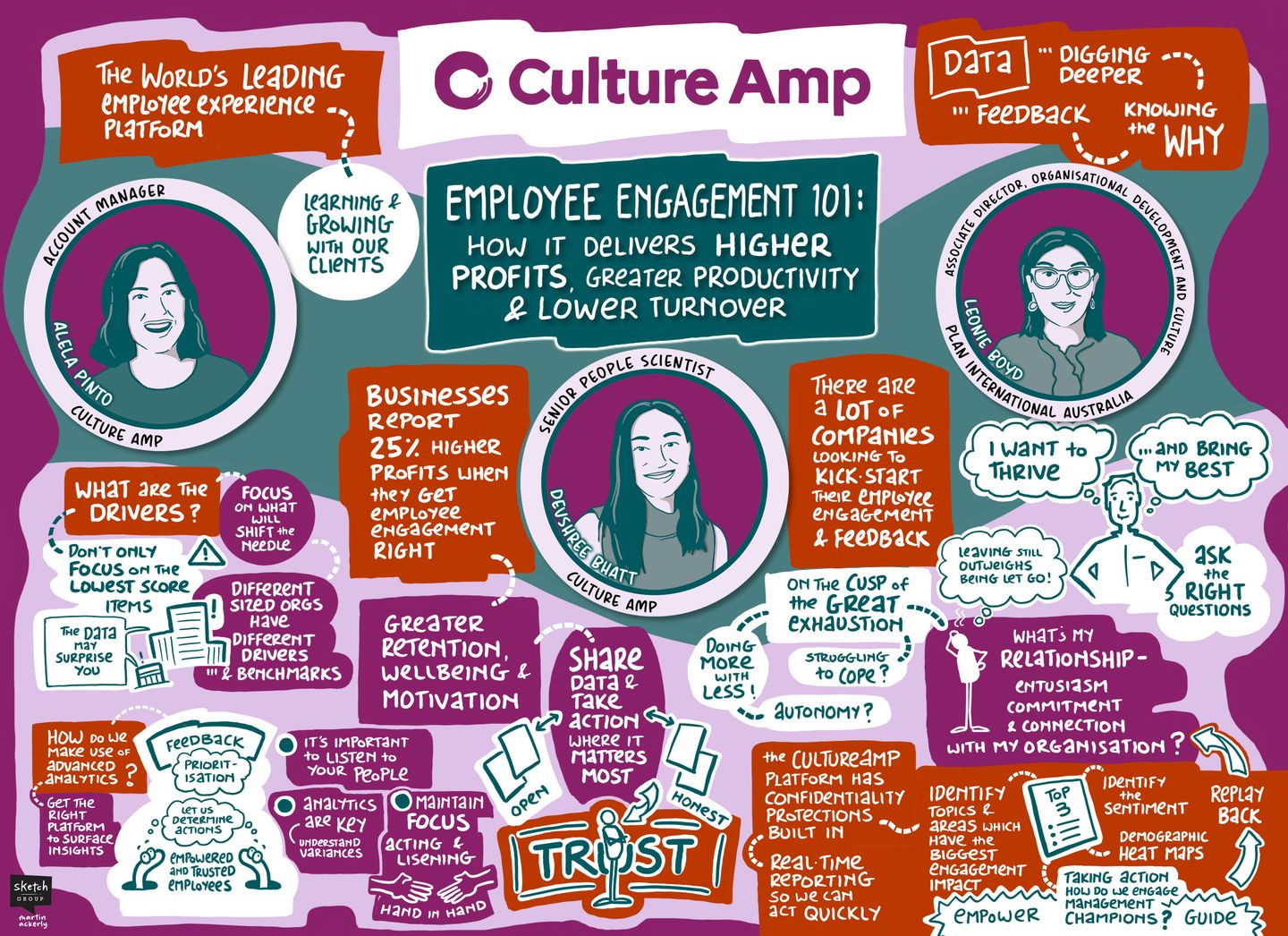 Benefits of employee engagement: Why does it matter?
In many ways, employee engagement is a moving target – and one that organizations need to commit to focusing on not just periodically, but consistently. But what's the business case for focusing on engagement? How can you get leadership buy-in?
Prioritizing employee engagement leads to a number of tangible and quantifiable benefits for both companies and employees. Culture Amp data shows that organizations that get the employee experience right see:
24% higher profits
5x less turnover
20% greater productivity
50% less sick days
2x innovation
The turnover point, in particular, resonates with Leonie, who joined Plan International at a time when the organization had gone through a significant restructure. Attrition had increased but nobody had pinpointed why. "We needed to invest in employee engagement to dig deeper," Loenie says.
Leonie isn't alone in looking at what the company stood to lose as opposed to how it stood to benefit. It's a point that holds true across most organizations and even human psychology in general: we're more motivated by losses than gains.
So for people who are struggling to get leadership's support to invest in employee engagement, Devshree suggests turning the above figures on their heads to emphasize what organizations risk losing if they continue to overlook engagement.
Measuring employee engagement: How to conduct an employee engagement survey
Improving employee engagement requires organizations to listen to their people and gauge where they most need change and support. Here at Culture Amp, we break an employee-centered approach to listening into three parts:
Collect: Survey your employees to uncover the information you need
Understand: Analyze the data to understand the drivers of employee experience
Act: Share the result, make a plan of action, and make a change
To get listening and engagement right, you need all three steps. You can't collect and not act. Or you can't act and not understand. Let's take a closer look at each step and how to make the most of it.
Collecting employee feedback
In this first step, you're designing your survey, assigning it to your people, and collecting the information that will inform your next steps. But before you spread your survey across your organization, there are a few important elements to think through.
The first is your survey design itself. Many organizations are tempted to do completely anonymous surveys, assuming it will generate the most candid feedback. However, that can limit your understanding. "Data not only comes in the form of the survey itself, but how you are making sense of that by using relevant, demographic information," says Devshree.
Are there gender differences in the feedback? Do managers respond differently from individual contributors? Do frontline teams respond differently from support teams?
While confidentiality parameters are always a good idea, make sure that your survey doesn't just give you answers but also the additional context you need to adequately dig into the data and its potential roots.
It's also crucial for organizations to cultivate trust before asking employees to complete a survey – an aspect that Leonie says she spent a good amount of time on. "We had previous surveys run by our global organization and we had less than 60% of people completing them," she says. "There wasn't any trust in the survey because there was actually nothing ever done from it."
Leonie says she fostered trust by prioritizing open communication, timeliness, and involvement. Here's how:
Communication: Leonie says her team communicated every step right at the beginning of the process. "We were open and upfront," she explains. "This is when we're doing the survey, why we're doing the survey, what to expect afterwards, and when to expect it."
Timeliness: Plan International also made sure to share survey results as quickly as possible to show people that this was something the company was taking seriously and wanted to take immediate action on. "Often when people do a survey there's a real time lapse before anyone starts talking about the results and that really can create a lot of distrust as well," she adds.
Involvement: The survey wasn't a top-down initiative either – team members were included at every step to reiterate that the organization would work toward those points together as a team.
"If you are open and honest and you're prepared to listen to what the feedback is telling you, people will be inclined to fill it out – but you have to really build that trust," Leonie says.
Understanding and making sense of employee feedback
You might have a hypothesis about what your employee surveys will reveal, but Devshree says the data can surprise you.
Once you have collected your data, you're ready to dig into it and explore what items are most closely related to employee engagement. Culture Amp calls this process "driver analysis" within the platform. In addition to reviewing the data you've collected, compare it with both internal and external benchmarks to contextualize your results.
One common mistake that Devshree sees organizations make during this step is only focusing on their lowest-scoring items. "Having worked with lots of different organizations from different sizes and growth trajectories, we know that what drives engagement for you today might not drive engagement for you tomorrow," she says.

Leonie says Plan International saw firsthand the value of looking beyond the scores. For example, the organization scored well in the competency of senior leaders. Yet, something different bubbled to the surface in team discussions following the survey. "One of the areas that people kept talking about and bringing up and suggesting ways in which we could improve was the senior leaders being able to engage more and communicate better across the organization," Leonie explains.
It's a solid example of why it's so important to collect the data but also to contextualize those results with benchmarks and follow-up conversations.
Acting on employee feedback
Data is only information – it's up for employers to act on what they uncover. "The part that I think a lot of organizations fall down on or struggle to get right is choosing a focus area," says Devshree.
Effective action planning is crucial, and there are a few steps organizations can take to get it right:
Analytics: Identify focus areas where action will help make the biggest change
Align: Prioritize focus areas that align with your organizational objectives
Vote: If you can't agree where to take action, put it to a vote
And while employees need to be involved in providing feedback, they should also be included in determining next steps. "We really wanted to include everyone in the action planning, at a team level and at the organization level," Leonie explains.
Every team at Plan International did a deep dive into their team results and then discussed actions to improve on their own focus areas. Those team focus areas were then brought back to senior leadership, which made it easier to identify what to focus on as an organization.
One of the focus areas that bubbled to the surface was career and development opportunities. Plan International dedicated time at a quarterly all-staff event to ask more questions about what employees wanted with regard to growth and development. "We got staff working in small groups to identify actions and things we could put in place across the organization. People felt really a part of that and were driving how we would move forward as an organization," explains Leonie. "Empower your staff to be part of the solution."
You might also need to experiment with different actions to determine what has the biggest impact. This isn't a one-time project – it requires incremental progress to really see meaningful change. As Devshree says, "Surveys aren't going to solve your problems as an organization. They help you diagnose them."
Create an impactful, personalized, and scalabale employee development program with these 7 tips.
Employee engagement: More important than ever
Getting the employee experience right is crucial, and that's particularly true in times of persistent change and uncertainty. If your organization's engagement efforts are being pushed to the back burner in favor of cutting costs or addressing seemingly more pressing priorities, it's worth revisiting the basics.
Investing in employee engagement demonstrates a commitment to your employees – and when you commit to them, they're far more likely to commit to you.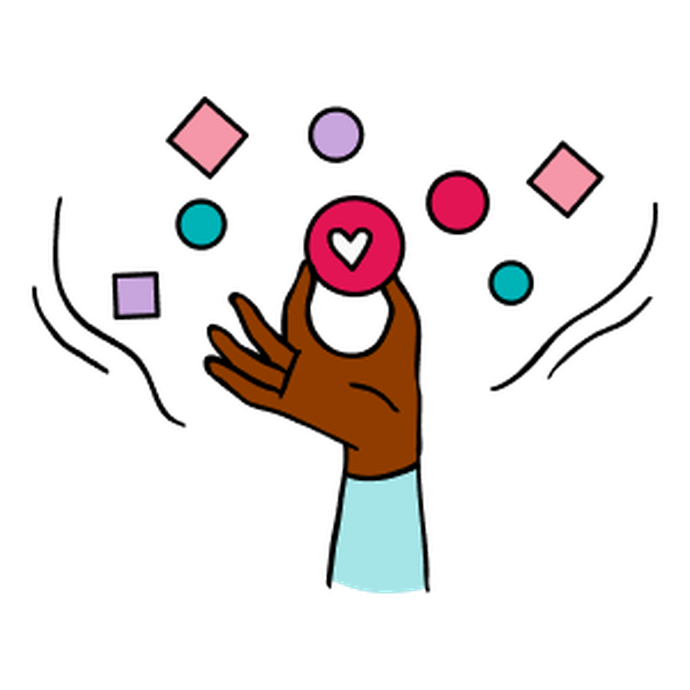 Get employee engagement right
Learn more about how Plan International Australia benefited by going back to the basics on employee engagement.
Watch the full session
Build a world-class employee experience today