Announcement
Dylan Alcott AO and Jamila Rizvi to speak at Culture First APAC 2022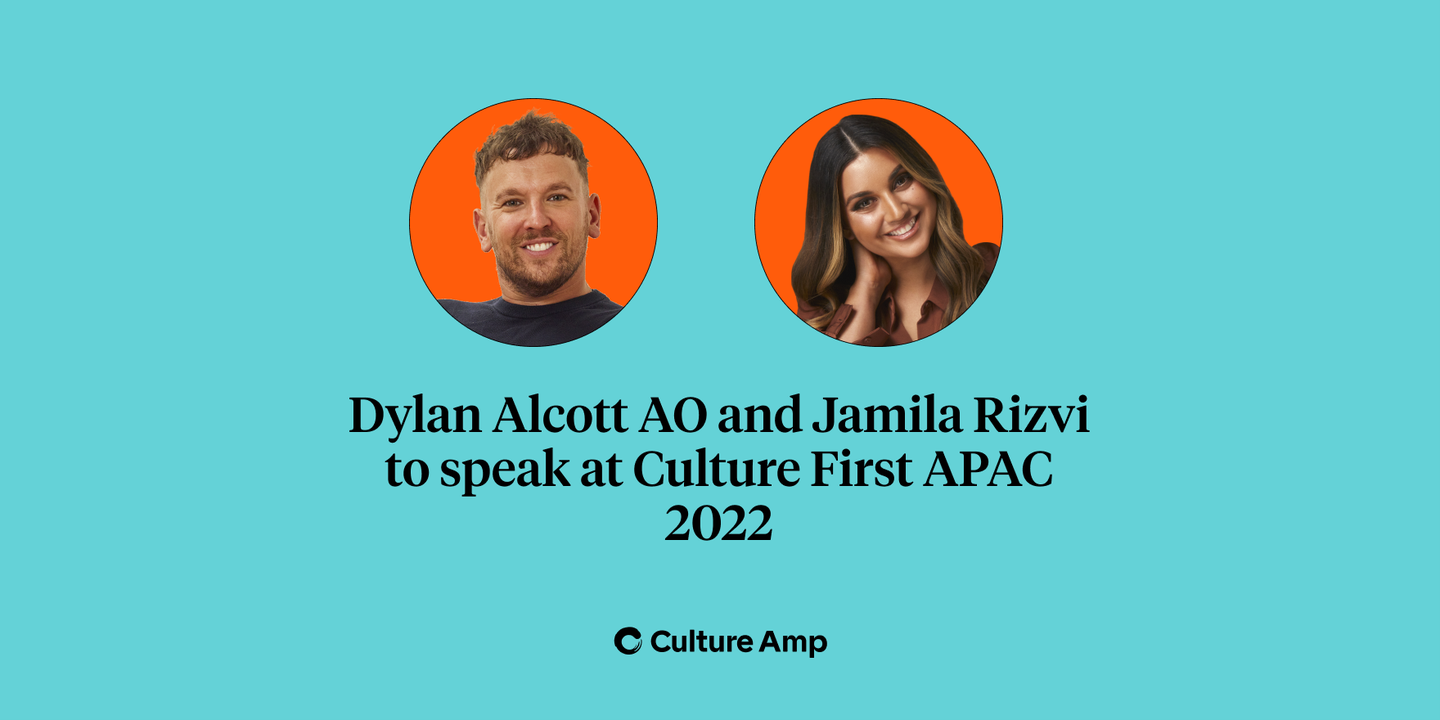 Delving into the role of culture, science, and innovation in building better workplaces and overcoming uncertainty.
Australian of the Year, Retired Tennis Champion, Paralympic Legend and Disability Advocate Dylan Alcott AO and best-selling author Jamila Rizvi are keynote speakers at Culture Amp's Culture First APAC on September 7
The Asia Pacific event kicks off the global event series that brings together a community of more than 20,000 people leaders, HR and talent professionals who collectively want to create strong workplace culture
Register to attend this fully virtual experience for free here
25 August 2022, Melbourne – Culture Amp, the world's leading employee experience platform, today released the full agenda for Culture First Global APAC which will be held on September 7, 2022. The upcoming virtual conference is part of a global event series that includes events in New York and London.
Headline speakers include keynotes from 2022 Australian of the Year Dylan Alcott AO and Jamila Rizvi, alongside Culture Amp Chief People Officer Edweena Stratton in conversation with Salesforce ANZ CEO Pip Marlow. There will also be sessions with Justin Angsuwat, Chief People Officer at Blackbird Ventures, General Manager of Human Resources at the Richmond Football Club, Sec Maljanek, and Chin Yin Ong, Chief People Officer at Grab, as well as leaders from NBN, Guzman Y Gomez, and Zento Group.
Culture Amp's community is now home to more than 100,000 'people geeks' who believe in creating a better world of work. The Culture First conference series is part of Culture Amp's ongoing commitment to improve understanding, amplify experience and inspire others to take action when it comes to culture at work.
This year's event will delve into how in a world that is experiencing a period of great uncertainty and change, employees look to business and their leaders and human resources leaders to provide them with clarity and direction.
Culture Amp will share its latest data with international and regional insights into employee experience, and how organisations can utilise data driven insights to overcome the unknown and navigate change.
Didier Elzinga, CEO and Founder, Culture Amp said, "We want leaders to walk away from Culture First with an understanding of why the workplaces that thrive are the ones where people and culture are put first. We know employees are looking to their employer for stability and guidance, particularly during unpredictable times, and with this, the role of people leaders and the human resource function has evolved.
"I am particularly personally excited to see the conversation between Salesforce ANZ CEO Pip Marlow and our Chief People Officer, Edweena Stratton. Ed and Pip worked together in the critical CEO / CHRO partnership at Salesforce, and they will dive into how trust is built at that level, what's on the mind of CEOs right now, and how CHROs can best support the CEO's agenda."
---
About Culture First
Culture First is a conference for HR professionals, people leaders, and Culture First advocates who wish to make positive change in the workplace. All attendees will learn from renowned thought leaders, skillful HR practitioners, and experts in the people and culture worlds on topics like creating outstanding employee experiences, how to equip managers to support employee development, reinforcing a growth mindset culture in your organisation, how to be a high performer - and encourage high performance, and more.
About Culture Amp
Culture Amp revolutionises how over 25 million employees across 6,000 companies create a better world of work. As the global platform leader for employee experience, Culture Amp empowers companies of all sizes and industries to transform employee engagement, develop high performing teams, and retain talent via cutting-edge research, powerful technology, and the largest employee dataset in the world. The most innovative companies across the globe, such as Salesforce, Unilever, PwC, KIND, SoulCycle, and BigCommerce depend on Culture Amp everyday.
Culture Amp is backed by 10 years of innovation, leading capital venture funds, and offices in the U.S, U.K, and Australia. Culture Amp has been recognized as one of the world's top private cloud companies by Forbes and one of the most innovative workplace companies by Fast Company.
Learn more about how Culture Amp can help you create a better world of work at cultureamp.com.
Culture First APAC Speaker Line-Up:
Keynote: Dylan Alcott OAM - Live in Conversation
Accomplished athlete, Paralympian, philanthropist, disability activist, and 2022 Australian of the Year, Dylan has won 15 Grand Slam singles titles and eight Grand Slam doubles Grand Slams doubles titles.
He is also the first male player in the history of tennis to win a "Gold Slam" being a Paralympic Singles gold medal and all 4 Grand Slam singles titles in the same calendar year. Dylan also has won three Paralympic gold medals and one silver across the sports of tennis and wheelchair basketball. His accomplishments transcend his athletic successes, he is an advocate for breaking down barriers for people with disability through sharing his own voice, creating Ability Fest a music festival that is both inclusive and accessible under the umbrella of the Dylan Alcott Foundation. In 2017, Dylan founded Get Skilled Access, an organisation of advisors with lived experience with disability, that partners with businesses and industries to ensure there are no barriers to employment for people with Disability.
Live in conversation for Culture First APAC, Dylan will recount his experiences as an elite professional at the top of his game and will also share how businesses can play a role in ensuring workplaces are environments where everyone's voice and ability is safe, heard and welcomed.
"Business leaders are responsible for creating the cultural frameworks that set up an organisation. Leaders set the tone for how biases (both conscious and unconscious can be challenged and in doing so truly adding top the value and bottom line of businesses, not just because it is the 'right' thing to do.
Speaker: Jamila Rizvi
Journalist, former political advisor for two Prime Ministers, best selling author and now Managing Director of Future Women, Jamila has a wealth of experience on what it takes to drive strong culture in a workplace that encourages gender equality, employee engagement and high performance mindset.
Contact
Jacinta Smith
+61 430 755 537 | jacinta@ofcharacter.com