Announcement
Culture Amp widens European gateway with Berlin office opening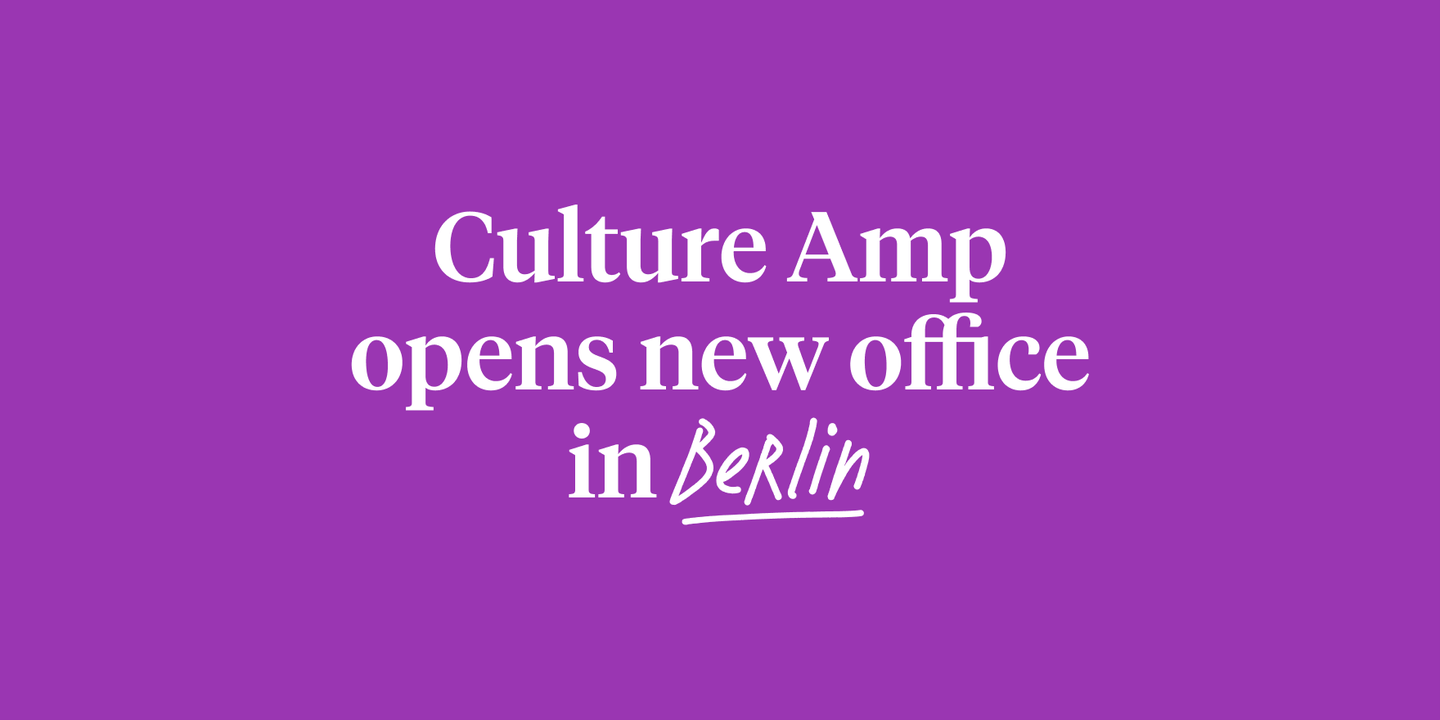 28 April 2022, Berlin. Culture Amp, today announced that it's widening its gateway into Europe with the opening of an office in Berlin.
With Culture Amp's employee experience platform already available in 45 languages and more than 40 countries, the foothold in Germany will bring enhanced support to existing and new European customers, optimize local talent and help create a better world of work for more organizations across the region.
Culture Amp empowers companies of all sizes and industries to transform employee engagement, develop high performing teams, and retain talent via cutting-edge research, powerful technology.
The company has amassed the world's biggest collection of employee insights, through more than 25 million responses. These insights enable organizations of any size, industry or location to benchmark themselves against others to help build a better work culture.
In the six years since Culture Amp first set up a European presence in London, the organization has experienced phenomenal growth as company culture is increasingly recognised as a key business driver for success.
EMEA now accounts for a quarter of the company's global business, with over 100 employees, 1000 customers and one million people supported by Culture Amp across Europe, the Middle East and Africa. In Germany, Culture Amp already works with a diverse range of brands from Emma, Coffee Circle, Demodesk to Personio and many others.
Scout24 is one of the first companies in Germany to benefit from using Culture Amp. Jenny Walther, lead employee experience & engagement, Scout24 comments, "For more than five years, our partnership has enabled us to continuously integrate employee feedback in our People & Culture strategy. By understanding what drives our employees' motivation and retention, we can take the most precise and suitable actions at the right time. As a result, we do not only enhance our culture, but also strengthen our company performance and success in the long term."
The opening of the Berlin office follows a Series F funding round in 2021 of US$100 million, designed to help the organization increase its presence in EMEA. The move solidifies Culture Amp's position as the leading employee experience platform in Europe, with plans to increase hiring across the region.
Nick Matthews, general manager and vice president EMEA, Culture Amp says, ''Whilst this is a truly exciting moment for Culture Amp as a business, it represents a broader maturing of the HR and People profession across Europe. More European organizations are putting Culture First to thrive in today's uncertain world, and none more so than in Germany. This investment will allow us to further support our customers and community of HR professionals and we are excited for the future!
About Culture Amp
Culture Amp revolutionizes how over 25 million employees across 5,000 companies create a better world of work. As the global platform leader for employee experience, Culture Amp empowers companies of all sizes and industries to transform employee engagement, develop high performing teams, and retain talent via cutting-edge research, powerful technology, and the largest employee dataset in the world. The most innovative companies across the globe, such as Salesforce, Unilever, PwC, KIND, SoulCycle, and BigCommerce depend on Culture Amp everyday.
Culture Amp is backed by 10 years of innovation, leading venture capital funds, and offices in the U.S, U.K, and Australia. Culture Amp is recognized as one of the world's top private cloud companies by Forbes and one of the most innovative workplace companies by Fast Company.
Learn more about how Culture Amp can help you create a better world of work at cultureamp.com.
---
Culture Amp erweitert mit der Eröffnung des Berliner Büros das Tor zu Europa
28. April 2022, Berlin. Culture Amp hat heute bekannt gegeben, dass das Unternehmen mit der Eröffnung einer Niederlassung in Berlin seine Präsenz in Europa ausbaut.
Die Plattform für Employee Experience von Culture Amp ist bereits in 45 Sprachen und in mehr als 40 Ländern verfügbar. Mit der Eröffnung der Niederlassung in Deutschland baut das Unternehmen den Support für bestehende und neue europäischen Kunden weiter aus, fördert lokale Talente und wird noch mehr Organisationen in Europa dabei unterstützen, eine bessere Arbeitswelt zu gestalten.
Culture Amp hilft Unternehmen aller Größen und Branchen das Mitarbeiter-Engagement zu verbessern, leistungsstarke Teams aufbauen und die Mitarbeiterbindung von Talenten mittels modernster Daten-Analyse Forschung und leistungsstarker Technologie zu stärken.
Das Unternehmen verfügt weltweit über die größte Datenbank an Mitarbeiter-Insights, bestehend aus über 25 Millionen Antworten aus verschiedensten Mitarbeiter-Umfragen. Diese Insights ermöglichen es Unternehmen – unabhängig von deren Größe, der Branche oder des Standortes – sich mit anderen Organisationen durch Benchmarking zu vergleichen und so eine bessere Arbeitskultur aufzubauen.
In den sechs Jahren, die seit der Gründung der ersten europäischen Niederlassung von Culture Amp in London vergangen sind, konnte die Organisation ein beachtliches Wachstum verzeichnen. Grund dafür ist die Tatsache, dass Unternehmenskultur zunehmend als einer der wichtigsten Faktoren für den Geschäftserfolg angesehen wird.
Die EMEA-Region trägt inzwischen ein Viertel zum weltweiten Geschäft des Unternehmens bei. Dahinter stehen mehr als 100 Mitarbeiter, die die Arbeitswelt von über 1000 Kunden und eine Million Menschen in Europa, dem Nahen Osten und Afrika durch Culture Amp positiv beeinflusst haben. In Deutschland arbeitet Culture Amp bereits mit einer Vielzahl von lokalen Marken wie Emma, Coffee Circle, Demodesk, Personio und zahlreichen anderen zusammen.
Scout24 ist eines der ersten Unternehmen in Deutschland, das Culture Amp erfolgreich einsetzt. Jenny Walther, Lead Employee Experience & Engagement, Scout24, kommentiert: "Seit mehr als fünf Jahren ermöglicht uns unsere Partnerschaft, das Feedback unserer Mitarbeitenden kontinuierlich in unsere People & Culture Strategie zu integrieren. Indem wir verstehen, was die Motivation und Bindung unserer Mitarbeitenden antreibt, können wir die präzisesten und am besten geeigneten Maßnahmen zum richtigen Zeitpunkt ergreifen. Auf diese Weise verbessern wir nicht nur unsere Kultur, sondern stärken auch langfristig unsere Unternehmensleistung und unseren Erfolg."
Die Eröffnung des Berliner Büros folgt auf eine Finanzierungsrunde der Serie-F in Höhe von 100 Millionen US-Dollar im Jahr 2021, die dem Unternehmen helfen soll, seine Präsenz in EMEA auszubauen. Damit festigt Culture Amp seine Position als führende Plattform für Employee Experience in Europa und plant, den Mitarbeiterstamm in der gesamten Region zu erweitern.
Nick Matthews, General Manager and Vice President EMEA bei Culture Amp sagt: "Dies ist nicht nur ein aufregender Moment für Culture Amp als Unternehmen. Es zeigt auch, dass der HR- und Personalsektor in Europa an Reife gewonnen hat. In immer mehr europäischen Organisationen hat die Unternehmenskultur Priorität, um in der heutigen unsicheren Welt den Unternehmenserfolg zu sichern. Dies ist insbesondere in Deutschland der Fall. Mit der Investition in die Berliner Niederlassung werden wir unsere Kunden und die HR-Community verstärkt unterstützen können. Wir freuen uns auf die gemeinsame Zukunft!"
Dr. Arne Sjöström, Senior People Scientist bei Culture Amp EMEA sagt: "Die Great Resignation stellt Unternehmen auch hierzulande vor besondere Herausforderungen. In den vergangenen zweieinhalb Jahren hat sich umso mehr gezeigt, das Mitarbeitende für Organisationen einen entscheidenden Wettbewerbsvorteil darstellen. Firmen müssen einen proaktiven und wissenschaftlich fundierten Ansatz verfolgen, um zu verstehen, wie sich ihre Mitarbeitenden fühlen. Nur so lassen sich Maßnahmen ergreifen, um eine positive Employee Experience im Unternehmen zu schaffen und das Engagement, die Leistung und die Entwicklung der Mitarbeitenden nachhaltig zu fördern." Dr. Arne Sjöström betreut von der Berliner Niederlassung aus Kunden in der DACH-Region.
Über Culture Amp
Culture Amp revolutioniert die Art und Weise, wie weltweit über 25 Millionen Mitarbeiter in 5.000 Unternehmen eine bessere Arbeitswelt gestalten. Als weltweit führende Plattform für Employee Experience unterstützt Culture Amp mit Hilfe von innovativer Wissenschaft, leistungsstarker Technologie und dem größten Mitarbeiterdatensatz der Welt Unternehmen aller Größen und Branchen dabei, das Mitarbeiter-Engagement zu verbessern, leistungsstarke Teams zu entwickeln und Talente zu binden. Die global innovativsten Unternehmen wie Salesforce, Unilever, PwC, KIND, SoulCycle und BigCommerce verlassen sich täglich auf Culture Amp. In der DACH-Region zählen Scout 24, Emma, Coffee Circle und Demodesk zu den Kunden von Culture Amp.
Hinter Culture Amp stehen zehn Jahre Innovation, führende Venture Capital Fonds sowie Niederlassungen in den USA, Großbritannien und Australien. Culture Amp wurde von Forbes als eines der weltweit besten Anbieter im Bereich Private-Cloud ausgezeichnet und von Fast Company in die jährliche Liste der "10 Most Innovative Workplace Companies" aufgenommen.
Unter www.cultureamp.com erfahren Sie mehr darüber, wie Culture Amp Unternehmen dabei unterstützt, eine bessere Arbeitswelt zu schaffen.