Case study
How Richard Crookes Constructions grew and nurtured employee engagement through rapid growth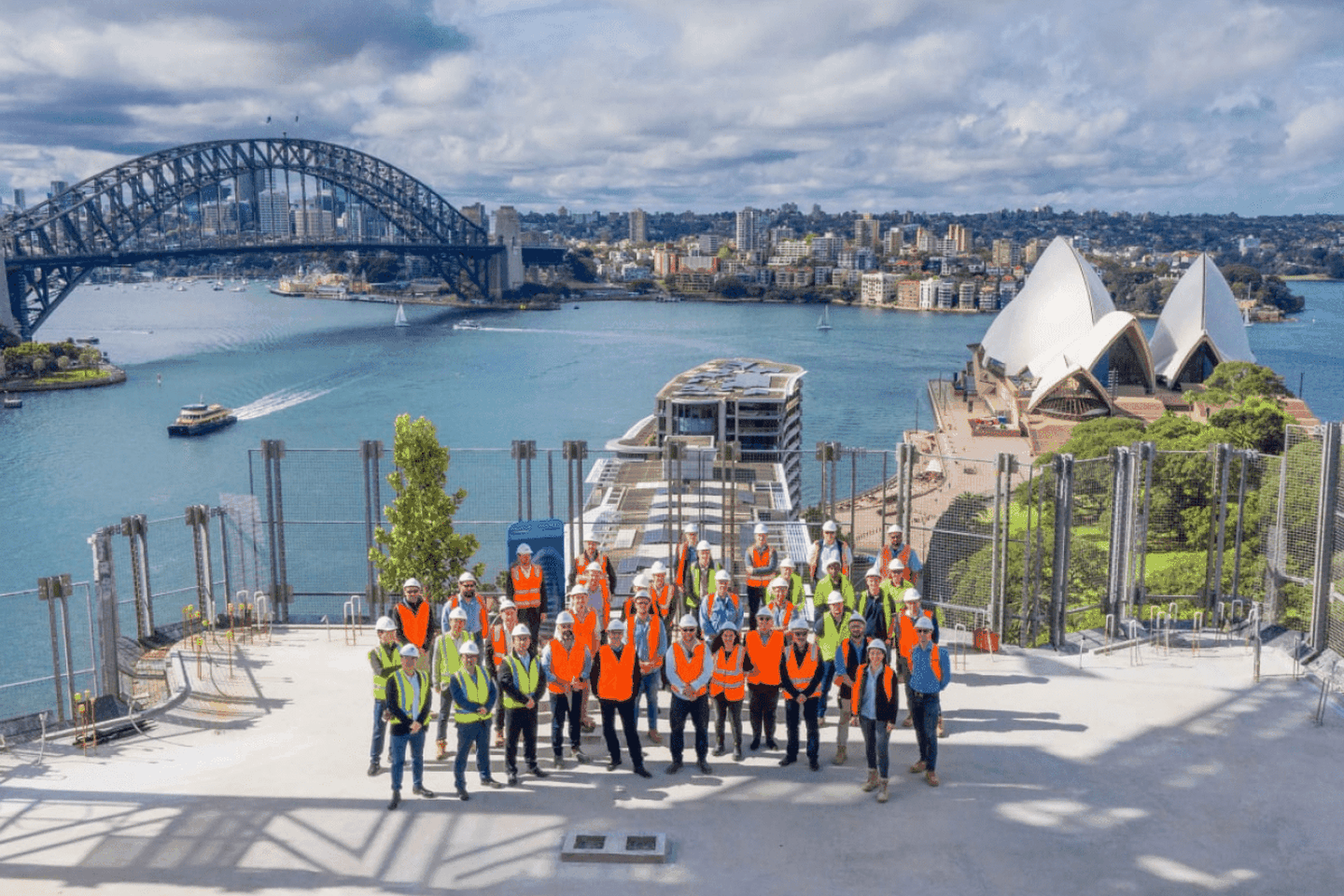 Statistics
750+employees

10%increase in employee engagement

3 statesOperational in NSW, ACT and QLD
Richard Crookes Constructions (RCC) is an Australian, family-owned construction company running projects of all sizes across sectors. The company philosophy is built on long-term relationships, dating back to the 1970s when founder Richard Crookes began building homes for his friends. Now under the leadership of his son, Jamie, the company's growth and delivery style has been shaped by its client focus, ensuring the business offering is collaborative and honest.
HR Business Partner at RCC, Nancy Fedele, joined the business in 2019. With a background working for large, fast-moving consumer goods brands, Nancy took on a new challenge in the construction industry managing a large workforce across states and divisions — a role that encompasses a range of HR and talent management responsibilities, including employee experience, engagement, and training.
Challenge: Maintaining a great "family" culture to support rapid growth and overcome industry turnover issues
RCC's long history of family values and its fun, collaborative team environment were a breath of fresh air for Nancy.
"There's no hierarchy here. They place trust in employees, and that's what it was like for me entering the role. They said, 'this is your baby,'" says Nancy,
As part of its commitment to culture, RCC had been using Culture Amp Engagement annually since 2016 to pulse-check sentiment across the company. However, it was soon evident that Nancy's biggest challenge was to put in place an engagement strategy that would cater to the changing needs of a business that had grown 40% in five years and continues to attract talent in an industry notorious for high workloads, high turnover, and little focus on wellbeing.
"When any business grows rapidly, there's a cultural shift. We wanted to make sure we grow but maintain culture and attract new people into that," says Nancy.
"As part of our growth, we had to recruit and onboard over 200 people. You can't do that without a great employee experience platform in place," she adds.
Solution: A simple, robust, and targeted engagement strategy
Nancy worked closely with the team at Culture Amp to create a more comprehensive engagement strategy that now includes company-wide Engagement surveys conducted quarterly, access to the 1-on-1 tool for managers to have conversations with their team members, and access to a range of support resources via the Skills Coach and Playbook tools.
"I can't stress enough how easy the tool is to use," says Nancy.
"I was expecting a two-day training course, but it was so pleasant and straightforward. Culture Amp knew our business and could see that annual Engagement surveys weren't right. They helped us break that down and develop a strategy that is second to none," Nancy adds.
Today, Managing Director Jamie Crookes is closely involved with the engagement strategy and supports the launch of every survey via company-wide communications, while Nancy's team sends out participation reminders via SMS. Some teams set aside an "hour of power" to complete the surveys. This approach has resulted in close to 100% participation each quarter for those groups, deliberately set time aside to focus on sharing feedback.
Result: A highly engaged workforce despite growth and change
Growing and refining its approach to employee engagement has seen RCC's culture flourish in the past two years, despite experiencing rapid growth and the pandemic's disruption.
Engagement sky high
Employees of RCC love that Culture Amp's tool ensures their voices are heard. Since the new strategy came into play, engagement overall has increased from 79% to 89%. Additionally, engagement on the question of 'Are you proud to work at RCC?' is hovering around 90%.
"Given COVID and the amount of change our employees have experienced across the business, we're very happy [with our results]," says Nancy.
"They see we are listening and making an effort to highlight and promote what our employees need and enjoy. People make the connection that their voice is heard, which is quite rare in business," she adds.
Pinpointing blind spots and ensuring proactive interventions
Culture Amp is enabling Nancy and the company's leaders to see their "blind spots" and act accordingly. For example, one of the first surveys identified that career progression and learning and development scores were lower among site supervisors.
"We realised they didn't have access to many formal training programs, so we're now focused on changing that. This year we're launching an industry-leading program for foremen and site supervisor teams," says Nancy.
Culture Amp also empowers Nancy and the executive team to identify potential issues early. After every Engagement survey, they meet with individual managers to discuss their team's feedback and iron out areas for improvement.
"For us, it's about early interventions. Whether at project, manager, unit level, we can go in and be very proactive," she says.
Targeted HR programs with a "less is more" approach
Culture Amp has helped Nancy identify what changes will move the needle on employee engagement and where to focus her time. For example, one survey revealed that employees were seeking more balance and flexible work. This led to the launch of a new employee benefit offering two "RCC U Days" of additional personal leave per year. Employees responded so well that the company now offers four "U Days" per year.
"Culture Amp said to me that we should only survey as quickly as we can act, and that completely changed how we operate and our leaders' perspective. We realised that it's okay to start with one or two key actions. You don't need 20. It's about what you do with that and allowing the time and space for your actions to have an impact. By understanding our business, Culture Amp allowed the tool to shine," says Nancy.
Other impactful but straightforward initiatives have been introduced to support employee wellbeing, particularly during COVID-19, including an employee assistance program, a parent program, and wellbeing resources.
Focusing on the "one percenters"
Nancy's next step is to dive deeper into Culture Amp's features and encourage teams to access the tools independently.
"Our strategy is solid. It's about looking at what next," says Nancy. "We want to see more employees and managers using the data for self-service. That will help us ensure they get results in a timely manner and will allow us to open up the Coaching Playbook and 1-1s to their full potential," she adds.
Another key focus will be mining the data to uncover the minor tweaks that can make all the difference to talent coming and going.
"We're in a very competitive industry, and talent is hard to find. The thing that Culture Amp helps us offer is the 'one percenters'," says Nancy.
Last year, for example, RCC added to its work perk program on the back of an Engagement survey, which included an RCC 12 days of Christmas giveaway competition.
"It was a bit of fun, but honestly, I've never received so much positive feedback," says Nancy.
Nancy is confident that in partnership with Culture Amp, the business can continue to nurture a culture that reflects its history and values as growth continues.
"Culture Amp is always challenging me on what's coming up. They have been so fantastic to partner with and pivotal in delivering our strategy. I love that I can brain dump ideas and never get a 'no.'"
Challenge
Maintaining a great 'family' culture to support rapid growth and overcome industry turnover issues
Solution
A simple, robust, and targeted engagement strategy
Results
A highly engaged workforce despite growth and change
Build a world-class employee experience today