How Aaptiv designed an employee wellbeing strategy for growth
As an employee at Aaptiv, a leading provider of premium digital fitness content, you'd imagine that access to amazing wellbeing programs would be standard - and you'd be correct. From on-site fitness classes to catered meals, people are treated to a host of programs to nourish their bodies and minds. But, it doesn't stop there.  
We spoke with Kate Blain, Employee Experience Manager at Aaptiv about how she's worked to create a comprehensive employee wellbeing strategy that goes beyond physical wellness. In this interview, Kate provides insight from her experience along with advice on how to start your own wellbeing strategy.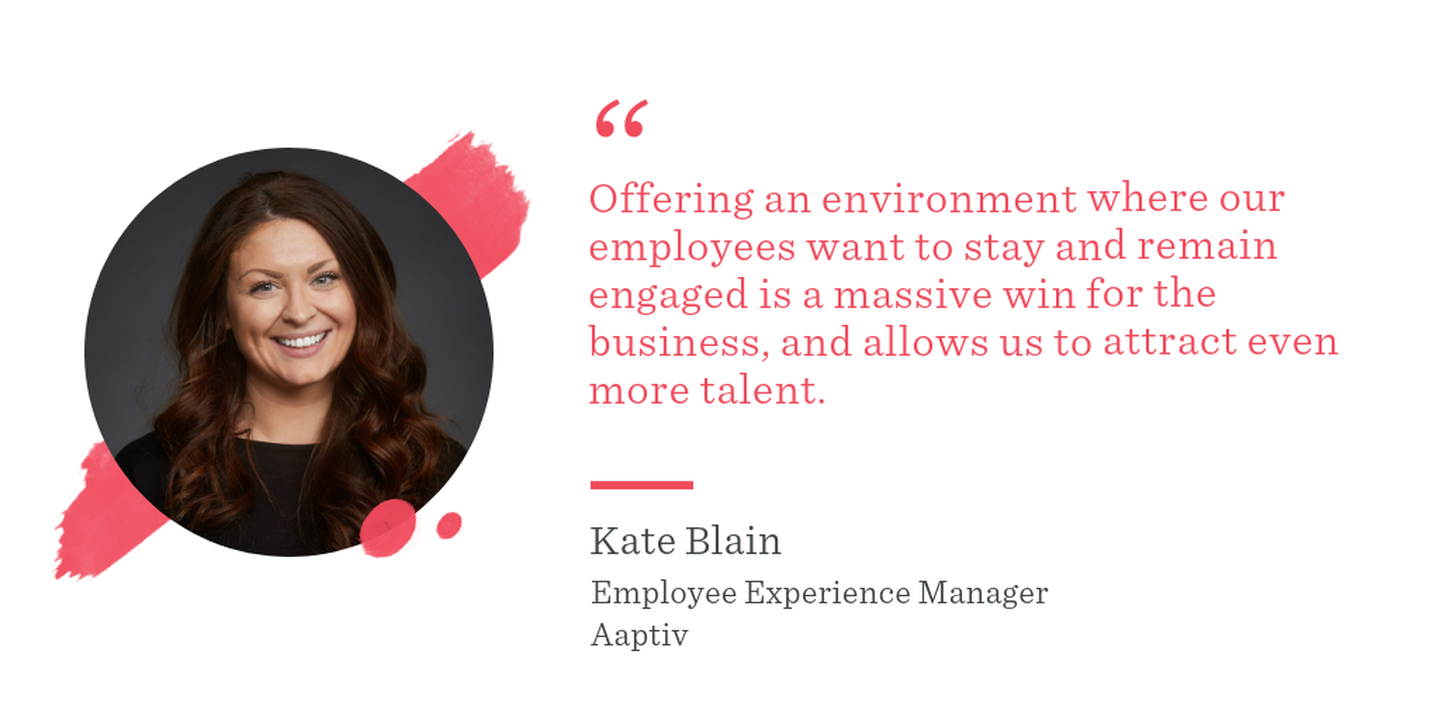 Did you consider the effects of burnout, turnover, or absenteeism when creating your wellbeing program?
Absolutely. We're a young startup (we turned three in January) that has experienced rapid success and growth very early on. Because things move quickly here, and workloads and timelines can be intense at times, we work hard to alleviate employee burnout.
About a year ago, we decided to transition to an unlimited PTO policy to encourage and ensure our employees were empowered to take the time off they need, whether it's for a vacation or a mental health day. When we transitioned to unlimited PTO we still require employees to submit requests via our HR platform TriNet to ensure managers and teams are given proper notice and we are able to ensure folks are actually taking time off. When we look at those numbers, we see that average vacation time increased 8x form 2017-2018. The average vacation time increased more than 2x from the 1st half of 2018 (standard PTO policy) to the 2nd half of 2018 (when we transitioned to unlimited PTO). The results have been great -- we've seen employees more engaged and committed while in the office. We also wanted to ensure our office was a place that employees were excited to work in, so we offer an experience that makes our team feel cared for and at home.
For example, we cater breakfast and lunch three days a week and have a fully stocked kitchen of snacks and beverages. We hold 15-minute, in-office meditations every Thursday afternoon, and in-office workouts led by our Aaptiv trainers. We also have generated a "Workout-Bot" on slack, created by one of our Software Engineers, which assigns different exercises to employees throughout the day (For example, @Kate, @Steve, @Susan do a 60 second plank) which has been a pretty big hit amongst the team and creates a lot of fun in the midst of the workday.
Another driving factor when developing our programming is overall employee engagement. We refer to our product and our users as #TeamAaptiv and we want our employees to feel like the core foundation of this "Team." It's an exciting product, and an exciting time, and we want our employees to have an optimum investment in the ride, and in return, feel that Aaptiv is equally invested in them.
We've built out three employee resource groups so far (a women's group, an LGBTQ+ group, and an African-American and Latino group) and hold a monthly "Culture Club" where all employees are invited to contribute their thoughts and suggestions on how to continue to foster an innovative and collaborative environment. With these groups, the overall goal is to make sure every single employee feels they have a voice and are supported. We also offer a $500 learning and development bonus to any employee who would like to seek further training or education in their field outside of the office. In addition, we work with gradifi to offer a $100 a month student loan contribution in hopes to help offer some relief to any financial responsibility our employees may be facing.
How do you demonstrate the ROI of your wellbeing program?
A huge factor will be the results of our next employee engagement survey. We launched our last survey in Q2 of 2018 and used those results to help drive the decisions for programming development. I'm very excited to see how the 2019 results compare to 2018 based on the action items and implementations over the past year.
Another win was being named one of Crain's Best Places to Work in 2018. This was our first recognition in this space, and results were based on a survey sent to our employees, so this let us know we were doing something right and felt great.
The final factor lies within our employee retention. Offering an environment where our employees want to stay and remain engaged is a massive win for the business, and allows us to attract even more talent. A lot of employees have been taking advantage of our referral program and bringing in people from their networks to join our team. This shows us that they enjoy working here and want to encourage their friends and colleagues to work here as well.
Build ROI into your wellbeing strategy with Culture Amp's new employee wellbeing guide
Get the guide
What is your advice for ensuring CEOs support wellbeing?
We're at a slight advantage here since, as a health and wellness company, overall wellbeing is something that is very important to our CEO Ethan and to our entire C-suite.
Our Chief Operating Officer Tracy Kim says it best; "We're committed to helping everyone live a healthier life – that includes Aaptiv members, as well as our amazing team members who come to work every day. At Aaptiv, employee wellness is not just a work benefit, but an integral part of our company's DNA."
How were you able to decide which wellbeing initiatives to focus on given the budget you have to work with?
Our surveys through Culture Amp gave us an overview of what areas of wellbeing our employees would like to focus on, as well as making sure the initiatives we rolled out aligned with our overall brand. This enabled us to spend our budget most efficiently.
For example, we offer a discounted corporate membership to New York Health & Racquet Club and are working to add a few more gyms to that menu for our employees to choose from, in order to align our employee brand with our product brand.
As a health and wellness company, we are at a slight advantage having low-cost access to resources other companies might not. Our trainers will lead meditations and workouts while they are in the office to record their workouts for the app, and other companies, in the health and wellness space that we partner with, will send promo codes and samples to offer our employees.
There are low-cost activities that many companies can do as well. For example, we hold internal lunch and learns hosted by different employees on a wide variety of topics of interest (like Excel 101 from a member of the finance team and DJ-ing 101 from a member of our Audio team).
A big item of feedback we received from our employee engagement survey was employees hoped to see and contribute to more social responsibility programming in the office. Since then we have partnered with a few non-profits, charities, and youth education groups to ensure our employees are able to give back. So far we have seen successes with Girls Gotta Run, Charity Miles, Live Out Loud, Toys for Tots and are gearing up for events with Apollo Theater Academy, Girls Who Code, and Cycle for Survival.
How are you planning to scale your wellbeing program as the company grows?
As we become more established as a company and as a People Team, we're constantly brainstorming new ways we can create an even better experience for our employees. I think a major factor in driving that program is that we practice what we preach. We encourage our subscribers daily to practice self-care, so it only makes sense we practice it ourselves.
We will continue to pull feedback from our employees on initiatives they'd like to see implemented and keep a pulse on other successful programs that can inspire us. I don't think there will ever be a day that we no longer feel the need to push for our wellbeing programs to be bigger and better.
What is your advice for other HR leaders looking to start a wellbeing initiative but unsure how?
Network, network, network. I try to attend at least one meetup a month in the HR/employee experience space and meet as many people as possible. I love setting up coffee dates with other folks in my field to share knowledge. I recently hosted a meet-up in our office for other employee experience and office operations professionals in our office space. One reason I raised my hand to host is that we were about to have our first employee leave for maternity leave, and I was in the midst of trying to brainstorm where to build a nursing space when she and our future new moms returned from leave. By having multiple eyes and brains that worked in my field I was able to pull some really solid ideas, suggestions and recommended vendors to build an awesome space for our Aaptiv moms.
I'm also a member of a People Professionals group called OrgOrg which I utilize every time I find myself stumped on what my next move should be. I know I'll get great feedback every time I send out a call for help in that group. I'm also part of slack workspaces full of HR leaders, recruiters, office managers, executive assistants and employee experience professionals (including People Geeks) where people are constantly posting questions, feedback, articles, resources and vendor recommendations. Slack has basically become my in-computer, all things People related resource library. My favorite thing about this field is that it is filled with people who are passionate about people and are always excited to share and help others learn and grow. It's a huge part of why I love what I do.
Build a world-class employee experience today