Case study
How Sanitarium committed to employee development, feedback and performance through goal and growth conversations.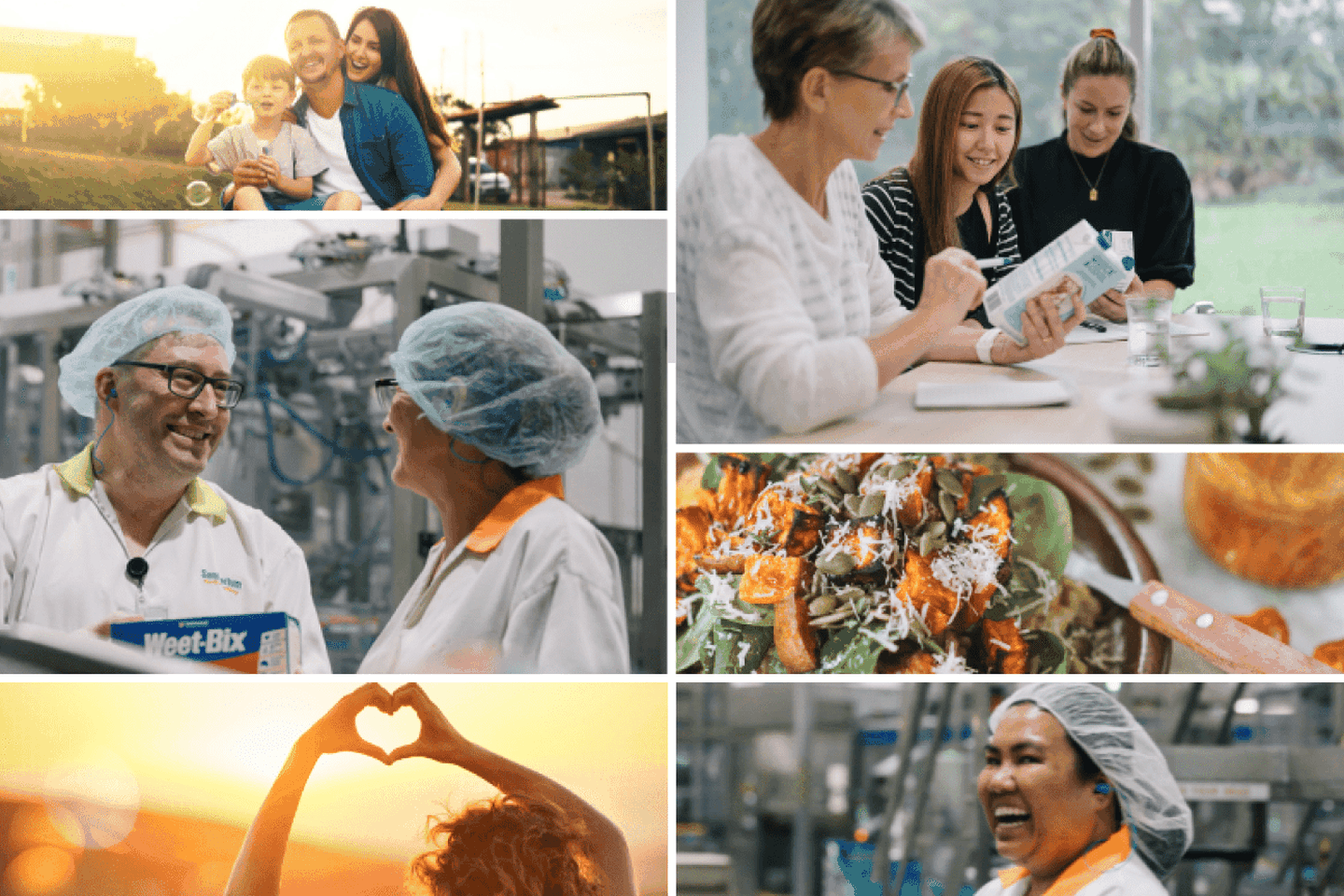 Statistics
1,100employees

25%increase in performance completion rate on end of year reviews

16%increase in survey participation
Founded in Melbourne, Victoria in 1898, Sanitarium has four factories in Australia and one in New Zealand. It started making health foods long before it became trendy and to this day actively promotes the benefits of wholesome plant-based foods. It produces a large range of breakfast cereals and vegetarian products, including Weet-Bix.
Sanitarium is Australia's largest health food company and is 100% Australian-owned. Caring for the community is a core value and Sanitarium does this by fostering good health and wellbeing through the Sanitarium Weet-Bix Kids TRYathlon series, tackling child hunger through the Good Start Breakfast Club, and providing Australians with a free nutrition advice service.
Challenge: Designing a business led performance review process
In 2020, Sanitarium identified the need to revisit their employee performance and development process. Internal surveys had revealed a level of improvement needed to be prioritised. The key challenge Sanitarium had with their performance and development review system was being able to input dynamic goal setting and encouraging quality conversations.
"The system we had in place was one that we had built ourselves and we used it in a set and forget type of way. We wanted to move to an environment where managers and staff were having continual conversations about performance improvement, and feedback could be added on an adhoc basis," Sanitarium General Manager People & Culture, Peter Hartnett explains.
The business wanted to move to a framework where the guiding principles behind performance review were clearer goal setting, optimisation of individual performance, development, alignment with the 'how' and feedback.
Solution: Setting goals successfully to build a high-performance culture
User experience and ease of use functionality were key to the decision to select the Culture Amp platform, a tool that has helped Sanitarium centrally manage engagement, performance and development. Rather than it being a HR driven decision Sanitarium engaged with their Emerging Leader cohort (a group of 8 - 10 leaders identified across the business as having high potential) to undertake an assessment of the business needs and review products in the market and make the final decision to select Culture Amp. These leaders became the Culture Amp champions.
"We wanted a solution that had a feedback mechanism so we could link personal goals to company goals. We particularly liked the 1-on-1 function, as it focuses on the person and gives the leader great insights into how they are feeling and really opens up the scope of the conversation." Sanitarium Group Manager Talent & Learning, Catherine Frogley says.
Sanitarium selected Culture Amp based on the look and feel, and user experience. They were most impressed with the built-in 1-on-1 process, the feedback mechanism and self-reflection feature.
An initial pilot championed by the Emerging Leaders group over a period of six months helped to assure business leaders that this was the right tool for the company to go forward with.
"The [platform enablement] sessions were run by emerging leaders, and they were responsible for launching [the platform] within their teams. They started with goal setting, then went onto 1-on-1s and [goal] tracking. Senior leadership was presented with feedback and decided to roll it out across the business, excluding for now our supply chain areas," Catherine explains.
Results: Increased participation and manager led development conversations
Culture Amp was first introduced at Sanitarium in 2020 and the business has just completed its first full financial year in July 2022 using the tool. A 100% completion rate has been achieved on the end of year reviews.
"Broadly speaking, we have hit our goals of increasing the quality of conversations and implementing a platform that is practical, accessible and easy to use. Two self-reflection cycles have been completed this past year and we ran a couple of employee engagement surveys achieving a participation rate of 86% among white collar workers, and 74% for blue collar workers in New Zealand," Catherine says.
"We've seen good participation rates, previously we achieved around 70%, so the real value of Culture Amp has been in the backend having the data instantly available to managers for action planning."
The success of the platform within the business can be attributed to it being a business-led, as opposed to HR-led, implementation. The pilot helped to create champions of the tool across the organisation.
"We learnt we needed to be continually working with the business to make the implementation a success. Reinforcement is key and asking [employees] to perfect the basics first before adding on other functionality has been important," Peter says.
He says the focus during the first year of using the platform has been about learning how to use it and maximise efficiencies. Self-reflections at the end of the last financial year were "amazing" and have made reviews easier, but he believes achieving maximum output from the system will be a two-to-three-year journey.
"1-on-1s are the most valuable part of the platform. It has created a great platform for people to have conversations and provides a good framework on how to check in on people, especially for junior managers," Catherine shares. "The 1-on-1 framework has gone a long way in helping to create a better culture, we get feedback from staff saying they want people to be interested in their development. The framework helps staff and managers to have conversations about development and direction."
Headquarters
Berkeley Vale, New South Wales
CHALLENGE
Designing a employee centred goal and growth process
SOLUTION
Setting goals successfully to build a high-performance culture
RESULTS
Increased participation and manager led development conversations
Build a world-class employee experience today