Case study
How H&H Group built an engaging, feedback-focused performance culture in under six months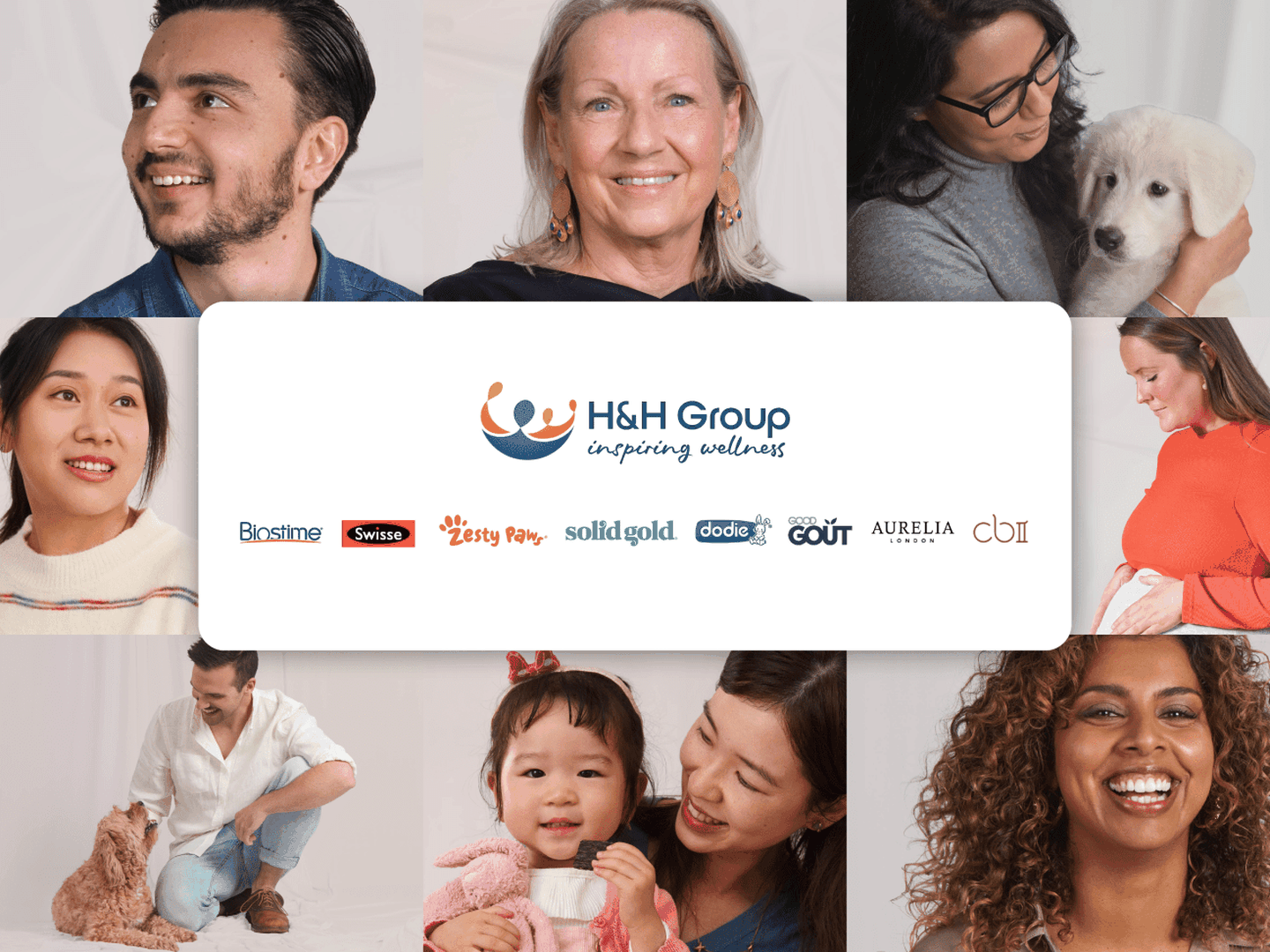 Statistics
3,400+employees

290team members in Australia and New Zealand

85%initial performance cycle completion rate
H&H Group is an innovative, dynamic global health and nutrition company divided into three business segments – Baby, Adult and Pet Nutrition and Care. H&H Group supports whole-family health and happiness by providing nutrition and wellness solutions backed by science through premium brands, like Swisse. The organization has more than 3,400 team members globally, with 290 employees working out of Australia and New Zealand (ANZ).
Kiria McNamara, Director of People & Culture at H&H Group, has worked in HR internationally for 11 years. Four years ago, Kiria came to H&H Group to lead the commercial business partnering team. Since then, she has held a number of roles within the Group and was recently promoted to Director of People Culture. Over the last few years, many of the ANZ team's local initiatives have been adopted by other regions within the H&H Group. In 2021, H&H Group earned the 17th spot on Australia's Best Place to Work list.
As the Director of People Culture, Kiria strives to build out H&H Group's mission to make people healthier and happier by ensuring its internal culture and practices align with the company's external ambitions. In other words, ensuring their consumers are healthier and happier requires that their team is also healthy, happy, and thriving. By empowering employees to do purpose-driven work that leverages their unique strengths, Kiria's team aims to foster a work environment that is agile, brave, and creative, with a strong focus on purpose and values.
Challenge: Finding a user-friendly performance tool that organisation leaders are excited to use
True to its mission, H&H Group has always sought to build a healthy, people-first, high performance culture.
Since 2017, H&H Group has successfully used Culture Amp to run bi-annual Engagement surveys. Through this relationship, it became increasingly clear to Kiria and her team that performance management was an area requiring improvement, with many leaders and team members referring to it as a time-consuming and cumbersome process. The standalone system they were using was clunky, inflexible, and focused solely on past events as a measure of performance, rather than being development-oriented.
"Our previous performance systems were very hard to customise. We'd ask if we could change the wording because it didn't feel like our tone of voice or culture, but that was difficult and often not possible. Team members and leaders didn't enjoy the process and therefore we had to push quite hard to ensure conversations were happening," Kiria says.
With this Culture First mindset, it was critical for Kiria's team to not only find an easier system to use but one that reflected their values and company culture.
Solution: Performance and Engagement in one, user-friendly tool
Having had a positive experience using the Culture Amp Engagement tool, Kiria's team decided to explore utilising Culture Amp's Performance solution as they thought about how their performance management process could be improved
"The clincher was being able to see Performance and Engagement alongside each other. Other systems don't offer it and we found it to be a real game changer. The user experience was really strong, super engaging, and simple, and the cost was similar to the existing platform. It can also be used across languages which is very important for our global teams," Kiria says.
Kiria's team officially introduced Culture Amp Performance into its toolkit at the start of 2021, and leveraged the integrated goal-setting tool to set goals based on the previous year's engagement survey feedback. Kiria's team guided leaders through the platform with demonstrations and drop-in sessions so they could effectively manage the new performance process with their respective teams.
Result: Growing an engaging, feedback-focused performance culture
Using Culture Amp's all-in-one Performance and Engagement tool, H&H Group was able to establish a feedback-focused performance culture in less than six months. In that time, 84% of team members requested feedback from peers and direct reports without needing external encouragement, which illustrated employees' desire for 360° feedback that came from not just managers and leaders, but from peers across the organization.
Aligning Performance and Engagement with business goals
Kiria and her team were thrilled with the results after launching their first performance cycle with Culture Amp. They found that 85% of H&H Group's ANZ employees had successfully completed a performance cycle - the highest completion rate since introducing a formal performance management tool.
"The feedback functionality and having engagement and feedback in one system has driven incredibly positive results, to the point that other regions have encouraged their teams to also implement Culture Amp Performance. We are now rolling it out in Europe and Asia," Kiria says.
The data has enabled Kiria's team to be more targeted and intentional about growing talent and ensuring development goals align with business objectives.
"Looking at engagement, performance and development in a silo make it hard to understand the real needs and challenges faced by our growing versus our high performing talent," she explains.
"With the increased visibility in Culture Amp Performance, we are putting in place the right commitments and actions rather than blanket development or engagement activities. We can now drill down and target retention strategies for different areas of talent and match that to the organizational goals we need to hit. People can communicate more openly about what they need, and we can be more creative in how we address that. It's exciting," Kiria adds.
Establishing a stronger feedback culture
The addition of Performance has enhanced H&H Group's feedback-driven culture. Leaders obtain feedback as part of the talent development reviews they undertake twice a year, with a new Insights section added that has allowed teams to share their thoughts freely.
"The feedback side of things is huge. It really challenges our thinking. We can ask ourselves, 'Is it what we expected? Do we need to do something different?' It's also very important in helping us nurture growing performers and identifying barriers so we can unlock more potential from those team members," Kiria elaborates.
Building leaders who love to lead
Above all other results, one of the greatest benefits H&H Group has seen since bringing on Culture Amp Performance is in how performance management has evolved from a complex and mundane "must do", to an engaging, dynamic process that leaders enjoy.
By giving leaders direct access to Culture Amp, Kiria's team has seen a significant lift in managers' own development, accountability and willingness to take action.
"Our leaders love it. They stalk us for the results every time we run a survey. Even our Managing Director is refreshing the platform live because he's so interested to hear from the team," Kiria says. "It has saved us so much time and drives more accountability. Performance is no longer just a People and Culture thing. Our leaders particularly like the supporting tools that guide them to take action based on their team's results."
One of the supporting tools H&H Group Leaders have begun using in their day-to-day work is Culture Amp's 1-on-1 meeting tool. Kiria and her team were pleasantly surprised to see managers beginning to use the tool on their own accord to initiate ongoing, individualized conversations with team members.
"People have started using the 1-on-1 tool even though we haven't officially launched it yet. That organic uptake is really valuable. We don't even need to encourage adoption," Kiria says.
By utilising the 1-on-1 tool, managers have the ability to drive structured conversations with their employees on the many aspects that go into building a positive employee experience. Along with this, Kiria knows that now company managers are using a science-backed tool, designed by organizational psychologists to help them become better coaches.
Looking forward
Looking ahead, Kiria and her team are widening their strategy for how they use Culture Amp, including embedding more of the rich insights and actions from the Performance tool.
"There's lots more to come. We're exploring the Skills Coach option as something our leaders could use to drive their own development," she says.
With Skills Coach, H&H Group managers will have the resources they need to improve their leadership skills with daily, two‑minute interactive exercises to drive new behaviors and form healthy habits.
Now that leaders are familiar with both the Culture Amp Engagement and Performance tools, Kiria also plans to give them more autonomy in using Culture Amp for customized needs.
"We want to give real-time access to leaders so they can run their own surveys, and stay on top of Performance conversations and goals themselves" Kiria explains.
The support and tools from Culture Amp continue to play a vital role in helping Kiria and her team design and evolve their performance and engagement approaches.
"Culture Amp's team are amazing humans. They're so open, curious, and responsive. It feels like a "co-design" relationship. They don't just give you a product –  they want to help you get the most out of it. The webinars, the articles, and the content makes it really meaningful. They are true leaders in the HR community," Kiria says.
Headquarters
Australia and New Zealand
CHALLENGE
Finding a user-friendly performance tool that organisation leaders are excited to use
SOLUTION
An all-in-one integrated, user-friendly tool for managing performance and engagement
RESULTS
An engaging, feedback-focused performance culture
Build a world-class employee experience today