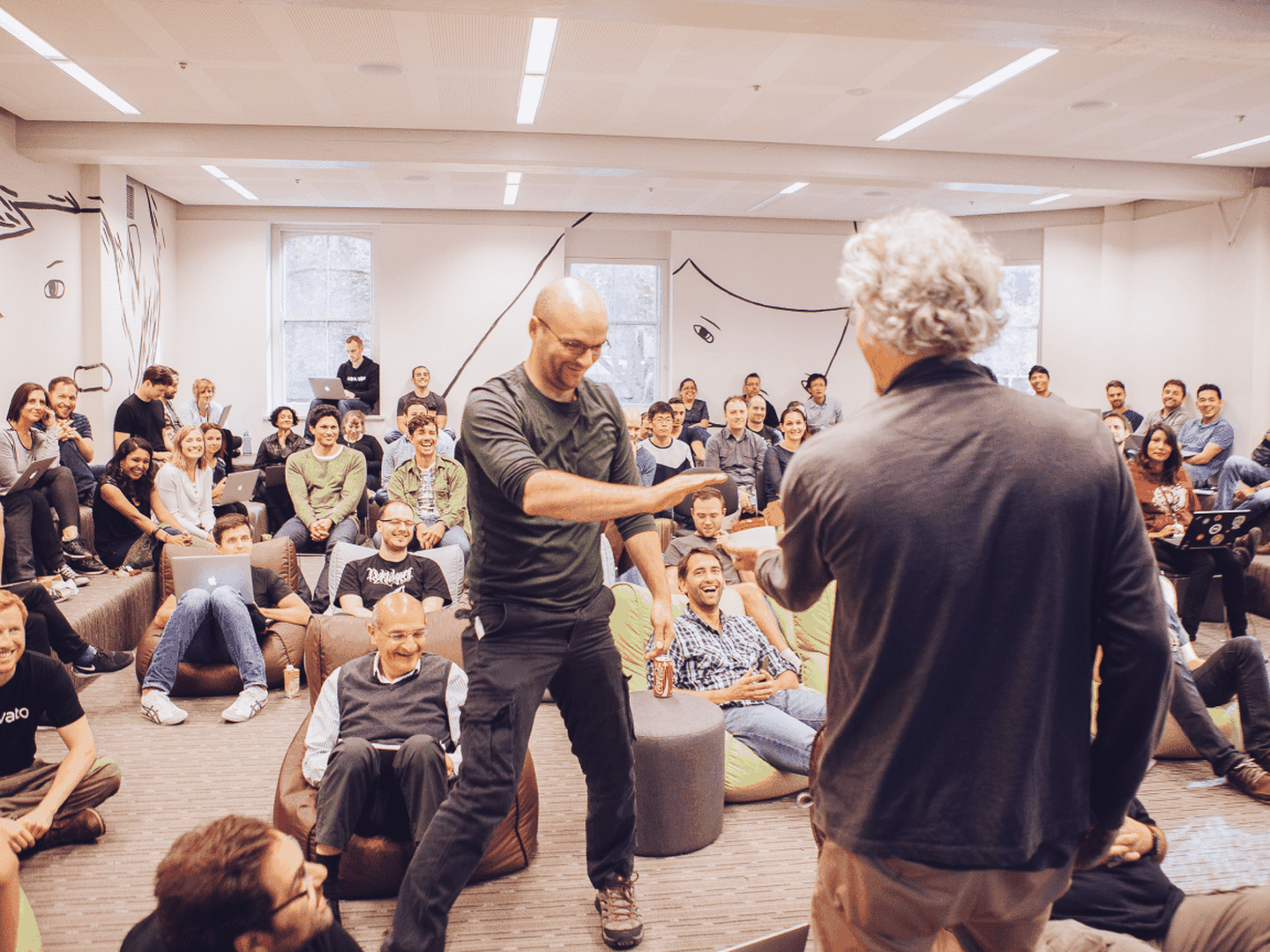 Headquartered in Melbourne, Australia and now approaching 11 years old, Envato is the leading marketplace for creative assets and creative people. While they've grown steadily over the years, their employee size more than doubled within the last four years (80 employees in 2012 to almost 300 employees now).
To maintain and sustain that growth, they realized they would need to invest in the company in different ways. Mainly, they needed to invest in their people. "I love the fact that we spend a lot of effort and time (more than any other company I've worked) on talking about people and values," says James Law, HR Consultant at Envato. After signing up with Culture Amp, Envato has implemented a fully flexible working environment, been nominated as a Great Place to Work, and continues to keep the workplace conversation a priority.
Gathering feedback for a growing company
As Envato grew, they were faced with new complexities that affect many growing companies and their culture. From James' perspective, "You go from something that's tight and easy to communicate and everyone knows everyone and pretty much reports to the CEO, to a business with HR corporate structures and finance structures and tax issues and all those challenges." This signaled that Envato was growing, but also presented new challenges.
James' goal within the company was to find a better solution to understand how people within this high-growth environment were feeling. He wanted to channel the original vibe and make employees feel as positive as they were when there was 30 people. James says Envato "dipped their toe" into engagement surveys through a "rudimentary" Google form. After this attempt, they used the Great Place to Work study which provided an annual snapshot of how people at Envato felt. However, for James, that was the issue. "It gave us a really good snapshot, but it only gave us a view of one point in time, annually. Everyone knows that business moves quicker than that."
Why Envato Chose Culture Amp
James Law, Amber Johnson (HR Manager) and Collis Ta'eed (CEO and Co Founder) looked at a mix of providers, ultimately choosing Culture Amp. They liked that Culture Amp provided real-time survey results, access to benchmark data, and a community of people geeks to learn from. Since implementing two surveys, people at Envato have given positive feedback on the ease of use of the survey as well as its UI and UX – important to their design-focused team. James' experience has been positive, specifically the ability for managers to do their own reporting, and how the platform slice and dices data, captures comments and understands demographics.
In September of 2015, Envato implemented what they call "Fast Feedback," their quarterly people pulse survey which had a participation rate of 83%. Their first survey prompted them to put a fully flexible work environment in place. Through the use of comment sections in their next survey, employees could explain in their own words how they felt about the change. James said the comments were overwhelmingly constructive to their planning and also personal and heartfelt. Part of the motivation to implement the fully flexible work environment is the company's attitude towards work and life blend. James explains that it's not black and white, "We feel as though the work life balance thing is over and it's just life and work and family and relationships and hobbies all into one big bucket."
How Envato Continues to Improve their Culture
Not only have internal responses and changes been positive, but Envato has also performed well when compared with New Tech Benchmark data. "It fills us with pride to see that we're right up there, even in the top tenth percentile of New Tech." Envato was also recently nominated as a great place to work by the Great Place to Work Institute. As self-professed Dan Pink fans Envato is focused on purpose, autonomy, and mastery within the company.
James believes that the company's greatest strength lies in their values and adherence to those values. Instead of being delivered top-down, their values were built bottom-up, and they're used to make decisions. James approaches the future with a realistic optimism and desire to improve saying, "There's a danger that you'll stuff up what made you such a great place to work previously. We're committed to ensuring that doesn't happen, and I think that Culture Amp has a big part to play in that. Our surveys allow us to not make assumptions, to deal with facts and data, and then start conversations that maybe we wouldn't have had without those facts and data."
Build a world-class employee experience today