Case study
How Emma used technology to improve the employee experience and drive efficiencies using employee data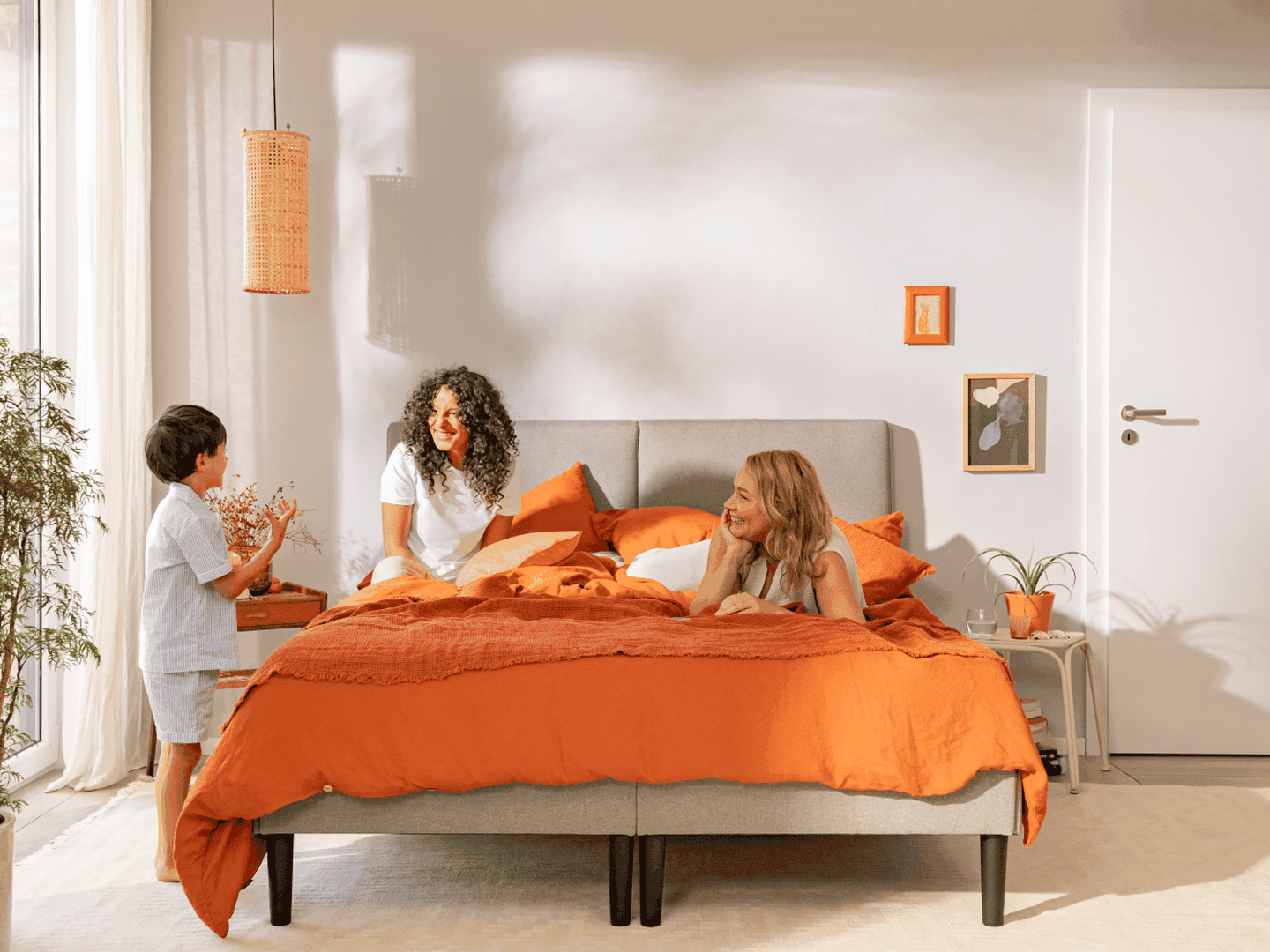 Statistics
800employees

75 languages spoken

65 nationalities

5% employee engagement score increase
Emma's mission is to awaken people to their full potential of sleep worldwide by developing the best sleeping solutions created and validated by a team of sleep experts. Founded in Frankfurt, Germany in 2013, Emma now has a presence in more than 30 countries across five continents. Unsurprisingly, the company has been named as one of the fastest growing companies in Germany and Europe.
Hannah Boerner is Team Lead Organisational Development and joined the company in September 2019 when Emma employed 220 people. Over the next 18 months Emma's headcount grew to 800, the majority of which are based in the company's biggest and most established office in Frankfurt.
Challenge: Complex and inefficient processes
When Hannah first joined Emma, the organisation undertook team 'barometer' surveys twice a year to get a sense of what mattered to employees. A further two times a year, each employee is assessed on performance and progression. These surveys were carried out using Excel and Hannah estimates that she would typically spend up to three weeks at a time analysing the results.
As the organisation grew, the logistics of running the surveys became more complicated. It was difficult to keep track of who had completed them so reminders would be issued to the entire organisation which was frustrating for those who had already responded.
"The team barometer surveys were time-consuming on many different levels," Hannah says. "It wasn't just analysing the quantitative data but working through the qualitative feedback and gathering the comments made. PDFs of team members' performance and feedback were created and sent to team leads for their records. Additionally, separate reports were created for each team's barometer survey so that they could compare their results against the wider company's. All of this took time and as the organisation grew the process became increasingly unsustainable."
In the summer of 2020, Emma started looking at alternative options to improve the employee experience and drive efficiencies for the HR team.
Emma had already taken steps to digitise elements of its HR, having implemented Personio as their People Operating System in 2019. Through Personio, Emma has streamlined HR processes such as payroll, contracts, onboarding, and internal communication. This brought new efficiencies to the organisation and created a single source of truth for employee data.
With Personio, Hannah and her team can see at a glance who is on which team, who they report into, their salary, contracted hours and how long they have been at the company so that they can mark an employee's 'Emmaversary' each year.
Hannah reviewed extensively a number of employee experience platforms including Personio partner, Culture Amp. The integration between Personio and Culture Amp removes the need to manually upload employee data into the platform. This placed Culture Amp as a front-runner in the evaluation process, however it wasn't the only reason why the employee experience platform was ultimately selected by Emma.
Hannah explains, "Culture Amp's flexibility meant that we wouldn't need to compromise on existing processes, such as our unusual approach of running Performance Reviews across the year, at different times for each employee. Not every employee experience provider was prepared to accommodate our established ways of working in order to provide a complete solution."
Solution: An efficient and integrated employee experience
With Culture Amp onboarded, every night at midnight, the employee experience platform synchronises with Personio - this means that the Culture Amp operates using the most recent and up-to-date employee data.
Hannah and her team don't have to manually input the details of new joiners or changes to a person's role such as a promotion, team change, or reporting structure as they now have a single source of truth across both platforms. Hannah estimates that this synchronisation saves her an hour a week, removing the risk of human error.
Emma ran its first team barometer survey with Culture Amp in November 2020. The findings showed the biggest room for improvement at the company was the feedback cycle.
Hannah explains, "We had been carrying out 360-degree development feedback which was timed around each individual, based on when they first started at Emma. We also had performance cycles that were timed by teams. It became apparent through the data that there was confusion as to how these two processes were connected."
Addressing this, Emma transformed its entire feedback process, with a clear separation between development and performance feedback. Performance feedback is gathered from peers and teams over a 4-5 week period. Developmental feedback is now continuous and happens informally, with employees able to request / give peer-to-peer feedback on an ad hoc basis.
Pandemic support
The People and Organisation team also used Culture Amp to run a series of wellbeing surveys during the pandemic. The goal was to understand how people were feeling and identify how Emma could support its employees, especially those who were struggling with the isolation of working at home.
The early surveys focused on social connection - how employees were coping with managing their energy and maintaining a healthy work-life balance. Responding to the findings Emma introduced a number of new initiatives. These included:
The Emma Wellbeing Programme - to support employees and provide access to an external therapist
A series of online courses and learning opportunities to help managers lead remote teams successfully
Access to physical activities such as gym and yoga sessions
Subsequent wellbeing surveys allowed Emma to adjust the support provided in line with changing requirements. While the physical sessions were no longer needed, managing energy levels and achieving a positive work-life balance had become bigger issues. Emma shifted focus and put additional measures in place to address these new concerns by providing, for example, guidance on how to set up a daily routine.
Results: 'Priceless' impactful change
When the team barometer was repeated in May 2021, it was clear that the changes that the team had put in place were having an impact. Every single question saw an uplift in positive responses. Employee engagement, in particular, saw a huge increase from 58% in November 2020 to 63% in May 2021.
There was also a 6% uplift in both people seeing themselves at the company in 12 months' time.
Emma continues to engage with its employees regularly and even ran a 'mini barometer' survey to check how well the results of the May survey had been communicated and if people had noticed meaningful change as a result.
Once again, the findings were positive with 70% of employees reporting they had the opportunity to participate in a discussion about the feedback they gave. Furthermore, almost half (44%) of employees who had been at the company for over 6 months reported seeing positive change at a team level.
When it comes to the biggest returns on investment since digitising the process, from Hannah's point of view it's the number of working hours that have been saved and the depth of insight being gained.
"The whole team is benefiting and everyone's lives are easier - you can't put a price on that," she says. "Because Culture Amp is so user friendly, we are getting better response rates. This gives us a bigger pool of data to scrutinise and base recommendations on. Team leaders also appreciate the ease at which the data can be viewed - on a single page - which makes it easier for them to review when hosting feedback sessions."
Looking to the future, Hannah has ambitious plans for how she uses the two platforms. For example, she's looking forward to utilising Culture Amp's Skills Coach to improve learning and introduce new habits.
"Personio and Culture Amp positively impact every single person at Emma," concludes Hannah. "Personio's single source of truth on employee data filters across the entire organisation while Culture Amp's integration with Microsoft Teams means that people are regularly engaging with the platform as part of their everyday means of communication. We're excited at the prospect of what else we can achieve moving forward."
Headquarters
Frankfurt, Germany
CHALLENGE
Complex and inefficient processes
SOLUTION
Recreating Emma's employee experience
RESULTS
'Priceless' impactful change
Build a world-class employee experience today