Improving employee engagement during times of change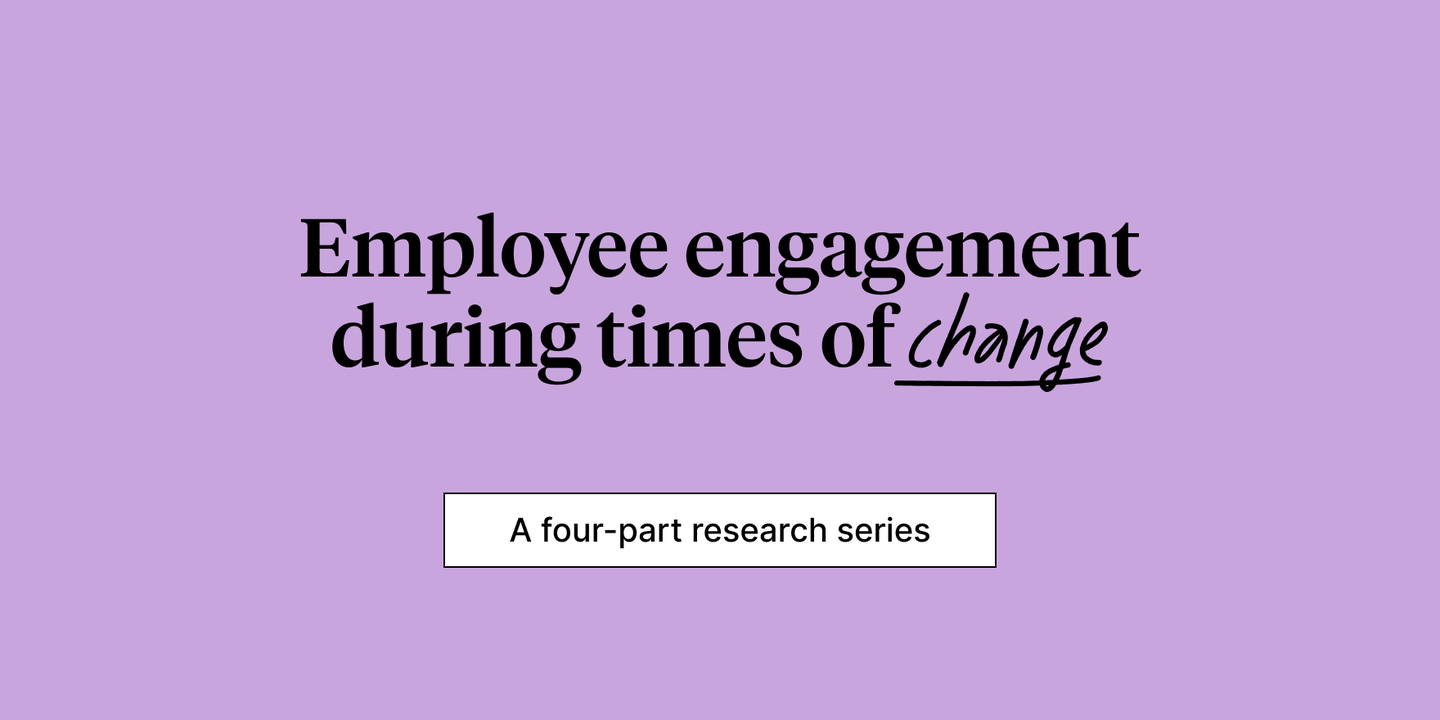 Change is difficult – and 2023 will likely bring a particularly tough set of problems to the table. And although we intuitively know that change is challenging, we don't understand exactly how – or to what extent – it impacts companies and the people who work for them.
With the possibility of a recession on the horizon, understanding and preparing for change may be one of the most important things leaders can do today. That's why Culture Amp's latest research series focuses on the impact of change on employee engagement.
We focus on employee engagement because it represents the levels of enthusiasm, connection, motivation, and commitment employees have to their organization. During times of uncertainty or sudden change, how your employees feel about their work and company (i.e., how engaged they are) has an outsized effect on how well your organization will fare in the coming months.
In this four-part research series, we will share our latest findings, which touch on the impact of layoffs, mergers, and acquisitions on the employee experience. To kick our research series off, we'll share our methodology – and give you a sneak peek of our findings!
Our methodology
This research series uses two main types of methodologies, drawing from both internal and external data sources.
Methodology 1 - Examining the impact of layoffs on employee engagement
For the next two articles in the series, which cover layoffs, our people scientists leveraged Layoffs.fyi to identify customers who went through layoffs between March 1, 2020, and November 30, 2022. We then matched these customers to their surveys to identify the ones who had conducted surveys both before (Survey 1) and after (Survey 2) the layoff.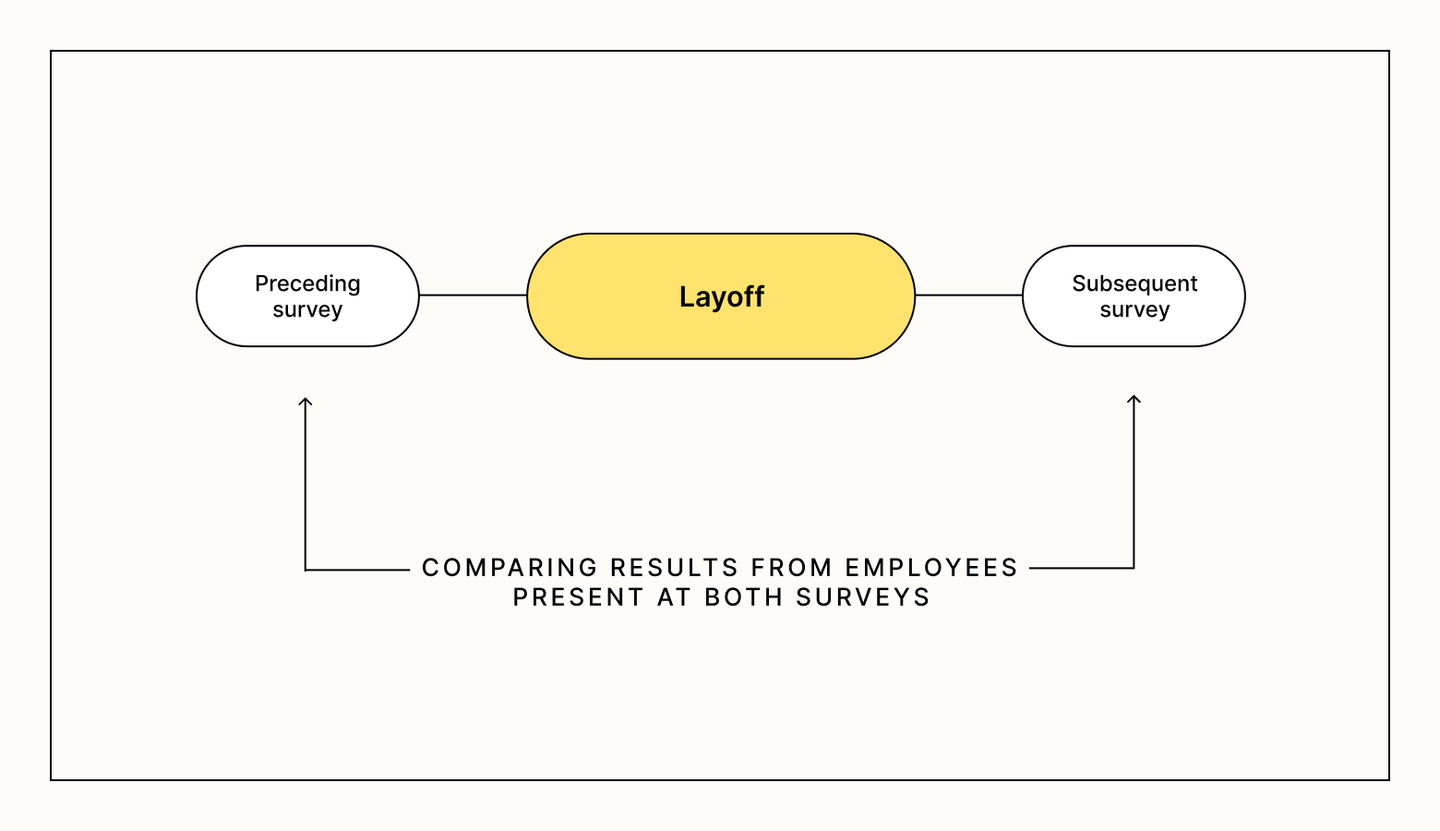 To understand the effect of change on the employee experience more generally, we looked at what Culture Amp calls Change surveys. Our customers use Change surveys to gather feedback and data when going through changes such as:
Mergers or acquisitions
Restructuring
Strategy changes
Agile transformation
Rapid growth
We compared a given company's Change survey scores to the global benchmark to understand how change affects employee engagement at the company level.
Methodology 2 - Investigating whether mergers and acquisitions affect employee engagement differently
For the fourth and final article, our people scientists investigated how scores differ for companies going through a merger, versus those going through an acquisition. Using the same Change surveys, we identified what type of change the survey was assessing and standardized them.
To determine whether a company was going through a merger or acquisition, we looked at the language they used in their change survey. For example, if their question included words like "integrate" or "merge," we would classify the change as a "merger." We then compared employee engagement results to determine if there were significant differences in how mergers and acquisitions affect employees at a company.
We also looked at the results of the change survey themselves to understand employee attitudes before and after the change.
What we found – and what you can expect
Some of our findings were exactly what we expected and what common knowledge would indicate. For example, our data validate the fact that change is difficult for organizations. By comparing companies' Change survey results to benchmark engagement results, we found that companies going through change generally score lower than the benchmark.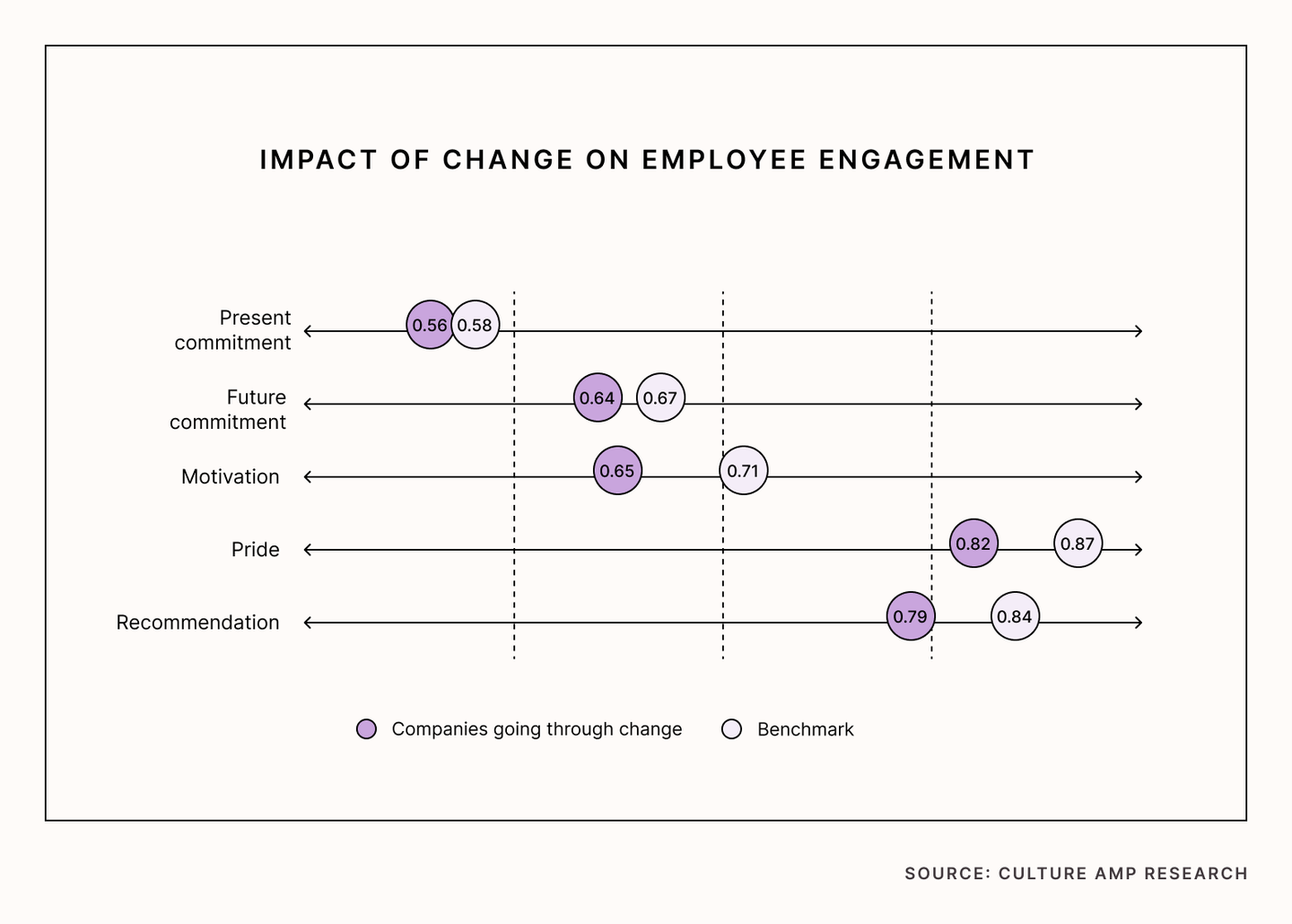 As you can see in the chart above, employees in companies going through change feel less favorably than employees in companies that are not going through change. Commitment, motivation, company confidence, pride, etc. are all negatively impacted.
Our people scientists also uncovered some unexpected trends and dispelled several myths – but you'll have to wait to see what these are. Over the next three weeks, look forward to our findings on:
The research will be published straight to the Culture Amp blog – and we'll be linking all of them to this initial article. To ensure you don't miss out, bookmark this page or subscribe to the People Geekly newsletter to get the latest HR insights, news, and events.
Authors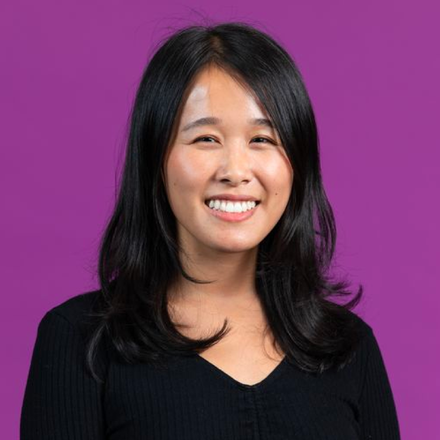 Senior Content Marketing Manager, Culture Amp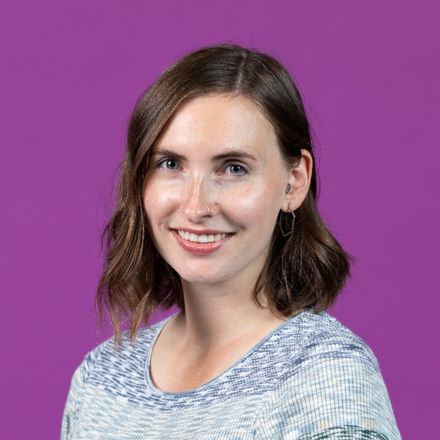 Lead Research People Scientist, Culture Amp
Build a world-class employee experience today